Aggregation is the future of advertising measurement
The evolution of digital privacy has accelerated over the last few years, and user sentiment has shifted, now more than ever, to a privacy-first approach. Best-in-class companies, including Apple and Google, have rooted their properties with the idea that the experience is the product. They understand that users want control over the way they engage with every product, including their most personal devices — mobile devices. We take our mobile devices everywhere, from charging them on our nightstand, to capturing once-in-a-lifetime moments. We record videos of birthday parties, book restaurants for special occasions, connect our smart home security, and experience so many other personal interactions on our mobile devices. We trust them more than any other device today. As that relationship becomes more intimate, we naturally demand a higher level of privacy.
Europe (GDPR), California (CCPA), New York (SHIELD), and more states are protecting their residents through regulations, and with the eventual removal of 3rd party cookies, the digital ecosystem has continued to evolve into a privacy-first model. The same is also true for the mobile ecosystem. We've seen Apple introduce privacy-first components with every release after iOS 7 in 2014 — from giving users the control of how they share their location to making sure they clearly identify Apple Search Ads while browsing. Now, with the announcement of iOS 14, tracking granular touchpoints as users navigate apps and experiences through IDFA (Identifier for Advertisers) will be a notion of the past.
These new privacy checkpoints will explicitly ask users if they want to share data with the latest game they just downloaded and if that data can be shared with other companies as well. In addition to newly downloaded apps, any apps that we already have on our phones that are using IDFA will need to proactively inform users of tracking requests and offer an opt-in service. With the language planned as part of the pop-up below, we expect the vast majority of users will decline and other major OS players will follow with similar opt-ins.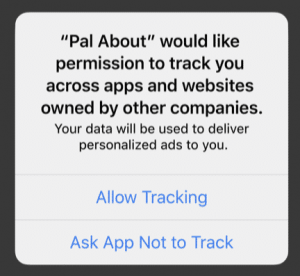 The inevitable loss of user-level data has shifted the access of digital measurement data to the campaign-level. Some mobile measurement platforms have begun building to the SKAdNetwork specifications to receive campaign-level insights, but there is a need to think beyond the next few months and focus on contextualization — a broader view of the channels, ads, platforms and experiences that users interact with at scale. People, processes and tools need to be reoriented away from a world of user-level insights to one that relies on contextual insights. For example, campaigns around user-behavior, retargeting and individual touchpoints will be replaced by campaigns based on content categories and other contextually relevant indicators.
When you can't go deep, your only alternative is to go wide. To get a comprehensive view of contextual insights, aggregation at scale is key. Going wide and aggregating effective campaign-level data across platforms from your advertising data sources into one solution will give you the visibility to counter the loss of going deep with user-level data.
"I use App Annie Ascend's API connectivity daily to collect and aggregate UA Spend and Revenue. It's easy to connect to, and gives me access to all of our collated data."
Mark Rayson, Lead Data Analyst at Kwalee
The most successful organizations in a privacy-first world realize that the experience is the product and going deeper on user-level data is no longer an option. Marketers and publishers, taking a wider approach with contextualization through aggregation, have the ability to improve that experience — with both content and advertising, all while putting privacy and consumers first.
App Annie is future-proofing advertising analysis by leveraging fully compliant data science to fuel side-by-side insights of your aggregated advertising metrics and market data to prescribe actionable insights.
Explore critical business insights in this new era with our advertising analytics solution: App Annie Ascend.