It's no secret that marketers have struggled with identifying and marketing to their target audiences on mobile devices. While market research and segmentation for traditional media has matured, mobile has been a blind spot — until now.
Today, App Annie is making it easier for product marketers, brand managers and agencies to make informed, data-driven decisions to guide their company's app and mobile media buying strategy. The new demographic and behavioral insights round out a suite of metrics available for App Annie customers, including active users, penetration, frequency, duration and data usage.
With this new offering, you'll be able to:
Inform your product roadmap — View what features resonate with your target audience and determine how to engage your audience best.
Optimize advertising campaigns — Understand which apps your target audience is using so you can target them in the right place.
Not an app publisher just yet? App Annie Intelligence can still inform your online and offline marketing strategy. By understanding what brands your audience is engaging with on their most personal device, you can:
Define your content strategy — See which apps your target audience engages with to better communicate with them.
Identify co-marketing opportunities — Learn which brands resonate with your audiences and identify new ways to reach them, wherever they are.
Uncover interesting insights about your audience's mobile app activities. For instance, did you know:
iPhone users of McDonald's were about 3x more likely than iPhone users of Starbucks to use Walmart. (January 2016, United States)
On UK Android phones, males aged 13–24 are more likely to use Soundcloud and Netflix than the overall population (2.8x and 1.9x, respectively). (January 2016)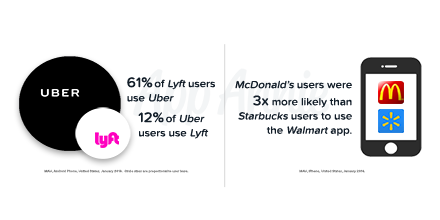 Marketers can no longer ignore mobile. App Annie Intelligence is already used by Coca-Cola, Nestle, Dentsu, CVS Health, Target, Google and many other world-class brands to gain unparalleled insight into today's mobile consumer.