Accomodating to social distancing protocols, QSR restaurants see uptick in app usage.
What's Happening: 
COVID-19 dramatically impacted the way consumers engage with quick service restaurants (QSRs). Consistent with their core value propositions of convenience and speed, many QSRs were forced to migrate from in-store service and instead double-down on curbside options. Many restaurants turned to mobile in order to incentivize consumers to continue their socially-distanced patronage. 
Why It Matters: 
Some brands innovated quickly to draw in consumers amidst COVID-19. From curbside pickup, to geofence ordering, to in-app promotions, QSRs tested various ways to keep customers engaged and coming back for more  For example, we saw significant growth in downloads for apps like Dunkin, Panera Bread and Pizza Hut — up 55%, 45% and 25% growth, respectively, in May 2020 versus Jan 2020 — all which have introduced specific initiatives to make remote ordering easier through their apps. Panera Bread introduced a new geofencing order system that notifies the restaurant when a customer has arrived, Pizza Hut offered contactless curbside pickups and enhanced safety measures and Dunkin promoted mobile ordering and contactless payments in its apps. Burger King is also testing an app within their European markets to test whether or not mobile apps can be applied to in-person dining.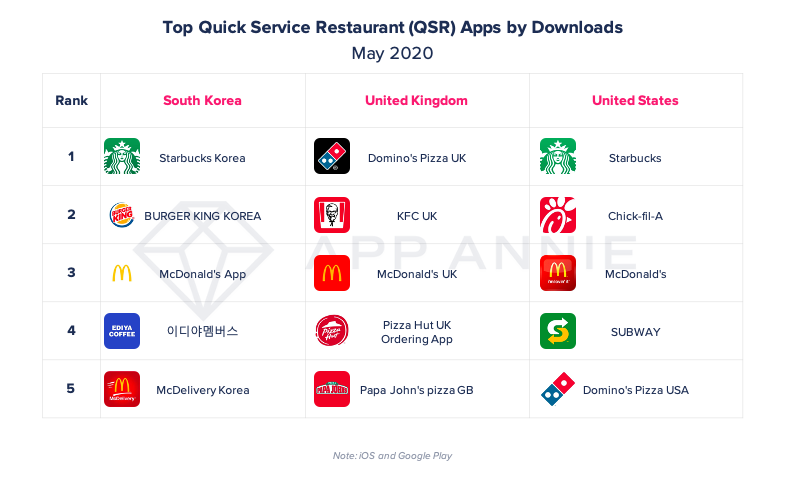 In April 2020, Papa John's reported a 27% increase in North American sales by way of mobile ordering. During the three months ending May 2020, downloads of Papa John's Pizza grew 25% from the 3 months prior and 40% from the same time period a year prior. Each new download represents a potential customer on a device that offers unparalleled access and engagement. With the average consumer spending 20% more time each day on mobile in April 2020 compared to 2019, mobile is more important than ever in capturing consumer's attention and maintaining brand loyalty.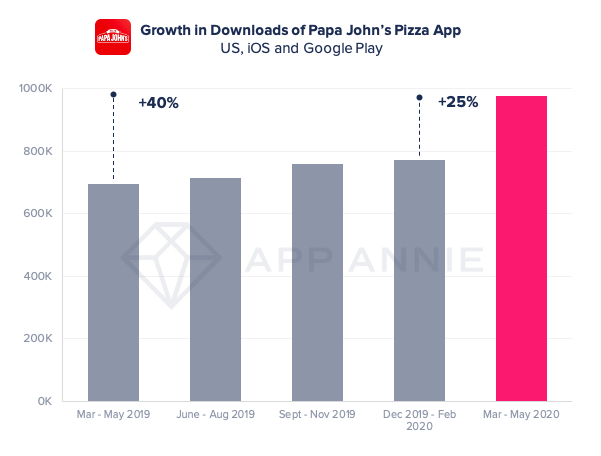 Go Deeper:
As states begin to ease restrictions on restaurants and outdoor dining, QSRs will need to effectively maintain the momentum of their mobile apps by prioritizing mobile-first features such as order ahead, contactless payments and curbside pickup options. 
For more information on the impact of the virus on the mobile economy, please see our blog post here: The Impact of Coronavirus on the Mobile Economy.
To hear more from our panel of mobile experts — including a special guest from Snap, Inc. — on the impact of coronavirus on the mobile economy, watch our webinar. 
Looking to make more of the mobile opportunity? Talk to an expert today.
This post is the latest in a Mobile Minute series that features App Annie's perspective on how mobile is impacting current events and consumer trends. Check in weekly for our take on the latest news cycles and how mobile transformation is shaping industries around the world.
DISCLAIMER
App Annie is a mobile market estimate service provider. App Annie is not registered in any investment advisory capacity in any jurisdiction globally, and does not offer any legal, financial, investment or business advice. Nothing contained in this communication, or in any App Annie products, services or other offerings, should be construed as an offer, recommendation, or solicitation to buy or sell any security or investment, or to make any investment decisions. Any reference to past or potential performance is not, and should not, be construed as a recommendation or as a guarantee of any specific outcome. You should always consult your own professional legal, financial, investment and business advisors.