As educators seek new tools, education apps provide a mobile-first approach to learning during the coronavirus pandemic.
What's Happening: 
Many school systems across the world have moved to a remote learning model for the remainder of the academic year. Students everywhere from early learning to university programs, have had to adjust to new methods of learning, as educators have had to shift to digital curriculums. To this effect, students, educators, and individuals everywhere are turning to Education apps to provide a convenient, digital-first education process. From organizational & productivity apps like Blackboard to more hobby-based learning like DuoLingo.
 As coronavirus cases spread throughout the world, Education apps across the board are being utilized more than ever before. Globally, we saw Education downloads in the peak week in March grew 90% compared to the weekly average of Q4 2019. 
While the US is the epicenter of the COVID-19 pandemic as of April 6, 2020, there is not a country-wide shelter in place policy. Rather cities and states have enacted lockdown measures. As a result, business, schools and universities have often acted even before government mandates. In the US, the growth rate of Education app downloads was higher than the global rate at 135%. In 2019 we found that Gen Z engaged 55% more frequently with non-gaming apps than older demos in the US. Education apps are key to reaching this mobile-native generation — keeping them engaged in online learning and communicating with them on their preferred device.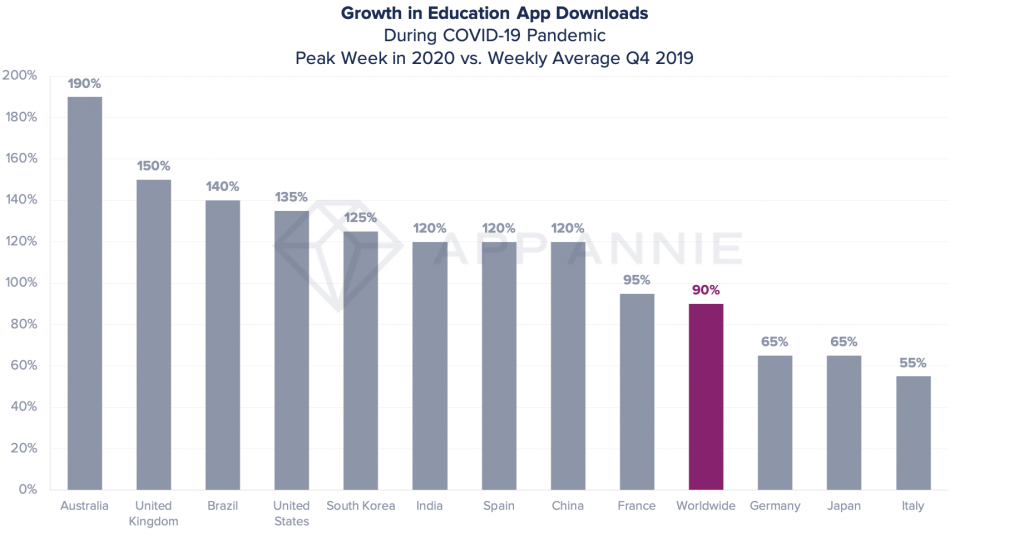 Why It Matters: 
While in-person instruction can be difficult to replace, educators are leveraging new tools so their students are best prepared to pick up where they left off amidst and complete the academic year. The top 3 Education apps in the US by downloads during the week of Mar 22 were Google Classroom, Remind: Safe Classroom Communication and ClassDojo, which saw 580%, 290% and 565% growth, respectively, versus the weekly average in Jan 2020. This represents a dramatic surge in demand, and an indication of the growing number of schools that have shut their doors amidst this crisis and, instead, turned to mobile to continue educating students.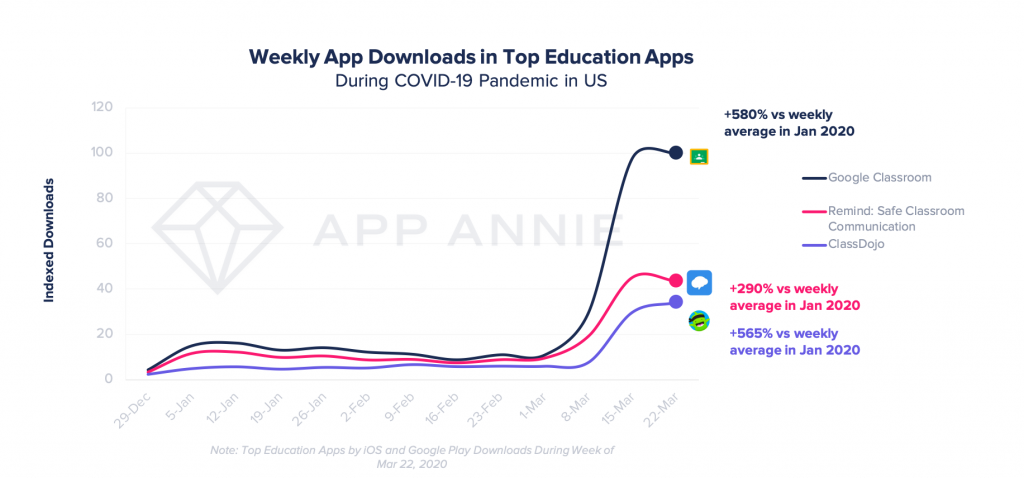 During the week of March 29 - April 3, Google Classroom was #4 among non-gaming apps by downloads in the company of ZOOM Cloud Meetings (#1), TikTok (#2) and Houseparty (#3). Flipgrid, a short-form educational video platform, has also seen strong growth, ranking #43 during this time period, up from #620 four weeks prior. The variety of offerings within apps like Google Classroom, Remind, ClassDojo and Flipgrid allow students to receive assignments, take lessons, keep track of their responsibilities, and submit work — getting as close to the regular educational experience as possible, without the in-person element to comply with social distancing efforts.  
Go Deeper:
These apps remain crucial to sustaining education outside the physical classroom, and the importance of a mobile strategy has never been more prevalent throughout the education industry and school systems. 
For more information on the impact of the virus on the mobile economy, please see our blog post here: The Impact of Coronavirus on the Mobile Economy.
To hear more from our panel of mobile experts — including a special guest from Snap, Inc. — on the impact of coronavirus on the mobile economy, join us for a free webinar on April 8th at 11 am PT, 2 pm ET. If you are located in Europe please join us on April 8th at 2pm BST / 3 pm CET or 11 AM SGT on April 15th if you are located in Asia Pacific. We will also be taking questions from the audience. Sign up through the link below: 
This post is the latest in a Mobile Minute series that features App Annie's perspective on how mobile is impacting current events and consumer trends. Check in weekly for our take on the latest news cycles and how mobile transformation is shaping industries around the world.