Level-up your strategy with these new ASO enhancements in our mobile marketing suite: Keyword Spy, Keyword Lists, and Search Visibility.
We recently launched an entirely revamped ASO capability within our Intelligence platform and today, we're excited to launch three new features. The features will provide app store optimization (ASO) and User Acquisition (UA) managers with the competitive intelligence they need to shape their strategy and ultimately improve conversions and impressions. 
To help our customers compete and win in the app market, we are launching: Keyword Spy, Keyword Lists, and Search Visibility. Let's break down all three to understand how they enable unprecedented internal and competitive visibility in the app stores.
Keyword Spy
One of the most requested features we've had from our customers is a way to better understand a competitor's ASO keywords strategy. With our new Keyword Spy feature, we'll show you the keywords that a competitor is targeting. And, we can go deeper in assessing the keywords that your app shares with your competitor and then identify keywords that are unique to your competitor. Find Keyword Spy within our ASO Keyword's Discover module.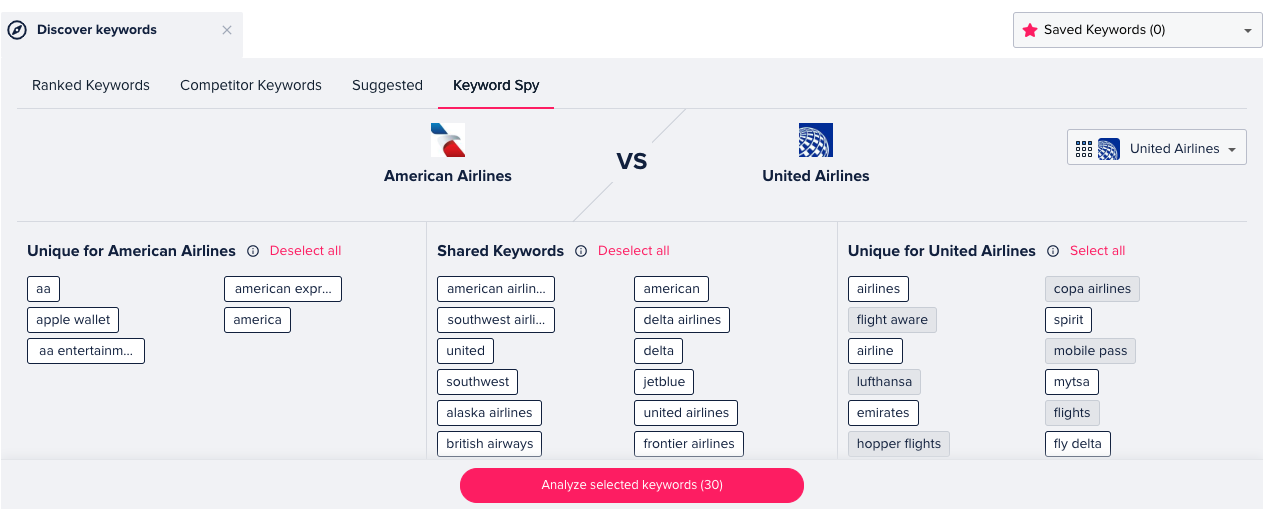 Improve Your Keyword Coverage
Keyword Spy helps app professionals understand where they're gaining ground on competitors and where they need to step it up. This can provide insight on what keywords you might want to add to or remove from your mix.
Keyword Lists 
With changing app store algorithms, rapidly evolving competition, and the pressure of paid search campaigns, maintaining an effective ASO strategy is becoming increasingly complex. Yet keyword optimization is still the foundation of any strong ASO strategy. Keyword Lists are simple, yet powerful, and enable you to better organize your saved keywords into separate lists. 
Keyword Lists Create Blueprints for ASO Success
As an ASO manager, you likely maintain many spreadsheets with different sets of keywords. It can be challenging to keep track of which keywords matter today and which may matter in the future. With our new feature, you can now save multiple lists of keywords per app.
Some ways that you may want to organize your lists include:
Primary keywords list:

Save your primary keywords that you're optimizing for today.

Brainstorming list:

Save keywords that you're not quite ready to commit to.

New version list:

Save keywords that focus on a new app version into a separate list.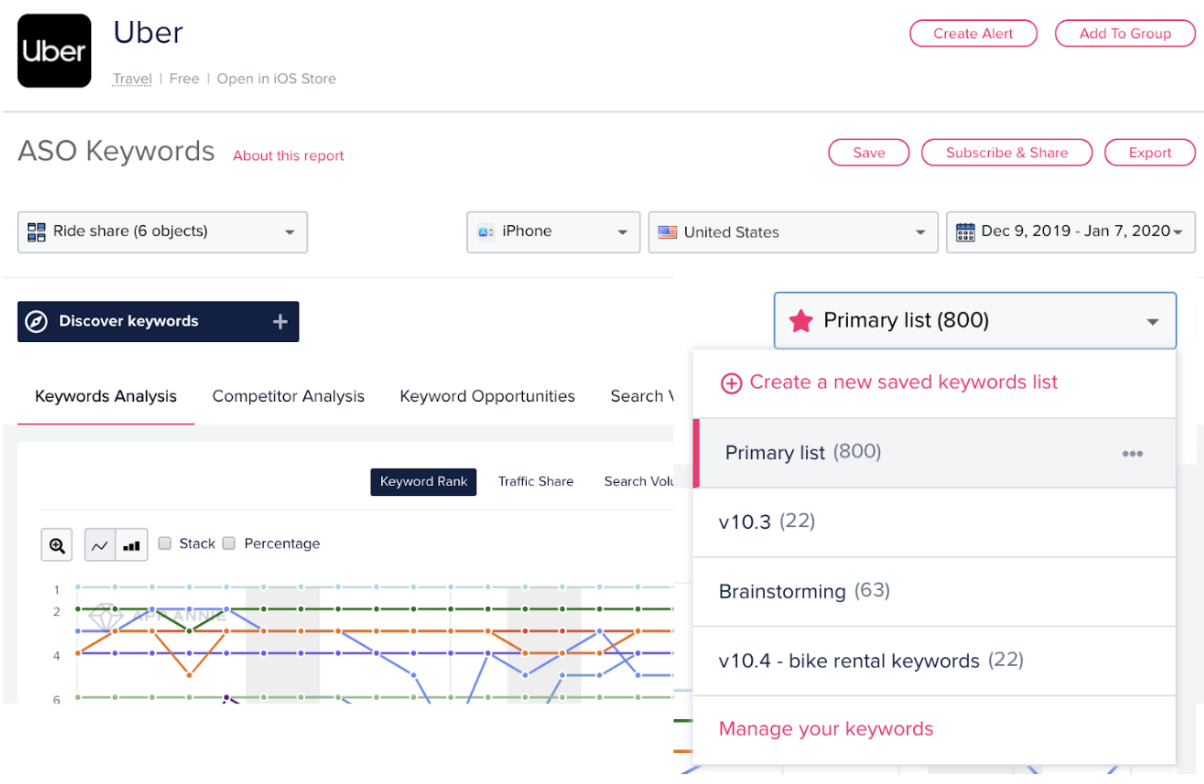 Search Visibility
Search Visibility is a new metric that allows you to benchmark your keyword performance against the competition. It does this by illuminating the overall effectiveness of ASO efforts for your own app, a competitor's app, or any app in the market.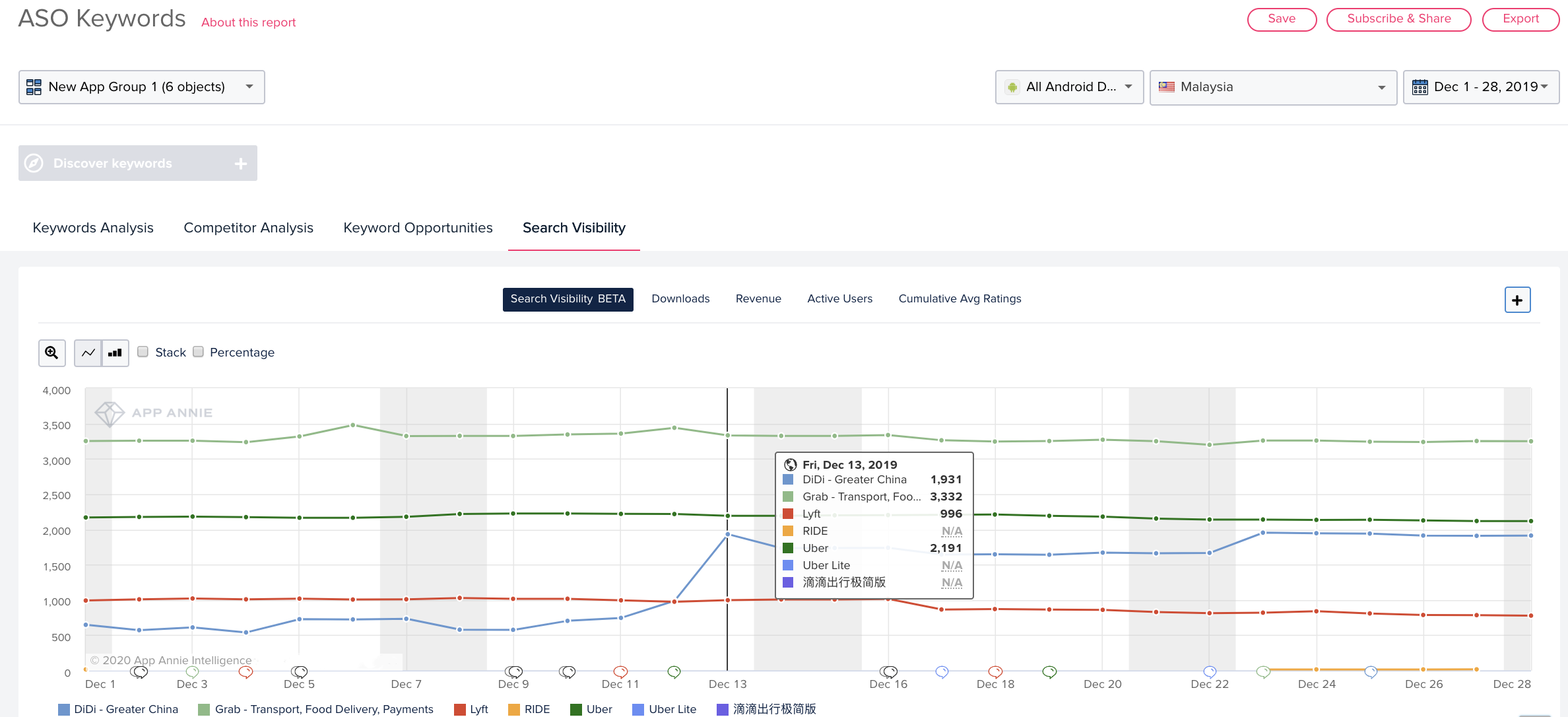 This app-level metric identifies how visible an app is through organic searches, across the iOS App Store and Google Play. We assign an index score between 1 and 6000 that measures traffic from the iOS App Store and Google Play with tremendous granularity. It enables our customers to see what impact changes in keyword campaigns, update schedules, and other marketing campaigns have—even when the impact is subtle. 
Apps scoring higher on the Search Visibility index are more visible in the app stores—the higher the score, the more visible the app. This metric lives on the ASO Keywords page. You can find it when looking up a particular app to gain a high level view of visibility in the app stores.
Drive App Success with ASO Enhancements
Want to learn more about Keyword Lists, Search Visibility, or Keyword Spy? Current App Annie customers can try out these new features here. 
Haven't upgraded your App Annie account yet? Get in touch with the App Annie Sales Team to get access to these ASO enhancements and more.