Our new Ad Monetization report gives you a view of how apps monetize with ads. Learn which ad networks and individual apps are running ads for any app.
We're excited to release a new report that rounds out App Annie's offering on Advertising & Ad Monetization Intelligence. Our new Ad Monetization report provides App Annie customers with insights into an app's ad monetization activities and strategy.  
With this data, our customers can now better understand the ad monetization strategies of their competitors and gain insights into the individual apps that are serving ads within their own app.  
App Annie Intelligence customers can use this new report to:
Identify the ad platforms on which an app is monetizing 

Uncover the individual advertiser apps that are placing ads in the app

Get a country view showing the app's global ad monetization footprint 
Identify Ad Platforms Used
Let's take a look at an example app: 2048 Balls 3D from Voodoo.
Clicking on the Ad Platform tab, we can see the ad networks from which the app 2048 Balls 3D was placing ads: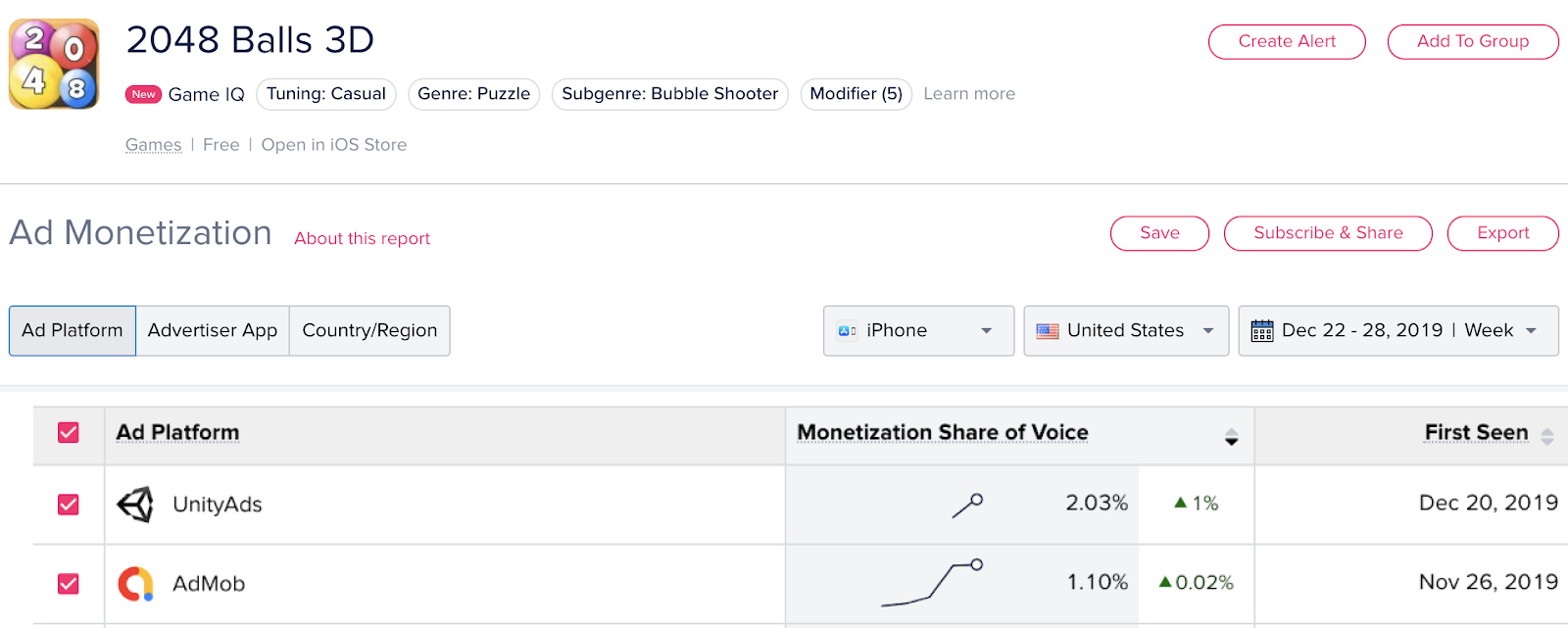 This app has been monetizing with AdMob for some time and has started monetizing with UnityAds in the past two weeks.
Uncover Advertiser Apps
Next, we click on the Advertiser Apps tab and can see the apps that are placing ads on 2048 Balls 3D, along with each advertiser apps' relative share of impressions within 2048 Balls 3D:

There are a number of games and social platforms advertising on this app.  
Woody 99 - Sudoku Block Puzzle has by far the largest share of impressions, while social platforms such as Instagram, Tiktok, and Facebook follow.
Our users may gain the following insights from this data:
Voodoo, the publisher of 2048 Balls 3D, may see opportunity with the social platforms that are already advertising on their app. These insights can be used to develop a direct ad partnership strategy and be taken directly to those social platforms to explore partnerships.

Voodoo might also be concerned that

Woody 99 - Sudoku Block Puzzle

has such a high relative share of impressions. This could indicate that there's a risk that 2048 Balls 3D's user base is being acquired by a competitor at too high of a rate.  
Explore Global Monetization Strategies
Next, to get an idea of the app's global monetization footprint, we can click over to the Country view.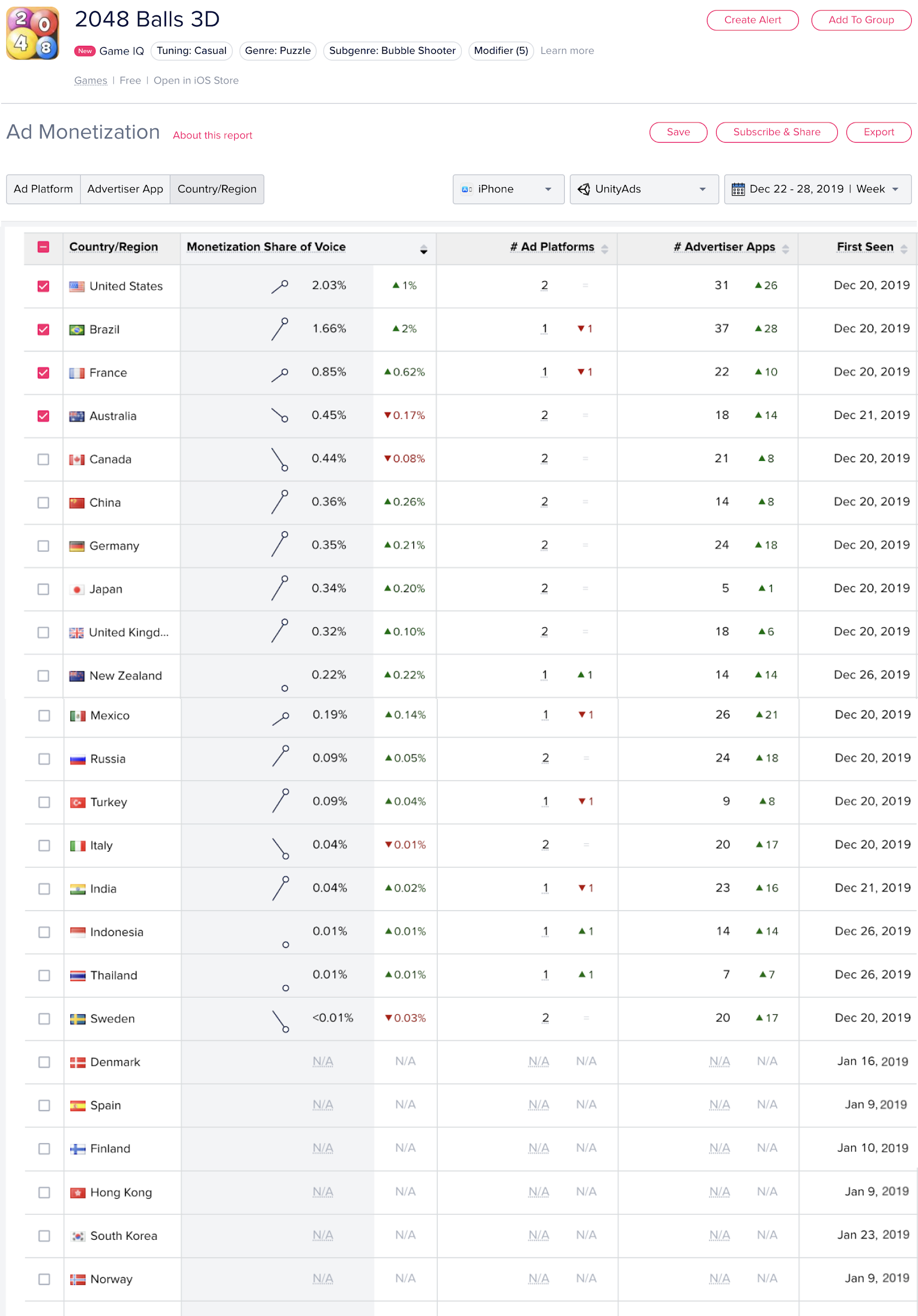 From this example, we can see that 2048 Balls 3D concentrates most heavily in the United States, where its share of voice is 2.03%. This means that of all of the ad impressions in the US on UnityAds, 2.03% of them are served within the 2048 Balls 3D app.
While concentration is especially high in the US, markets such as Taiwan and Hong Kong are not monetized.  
By contrast, a similar app such as Numpuz: Classic Number Game, employs a different monetization strategy with highest share of voice in east and southeast Asian markets, including Taiwan and Hong Kong, as seen in the image below.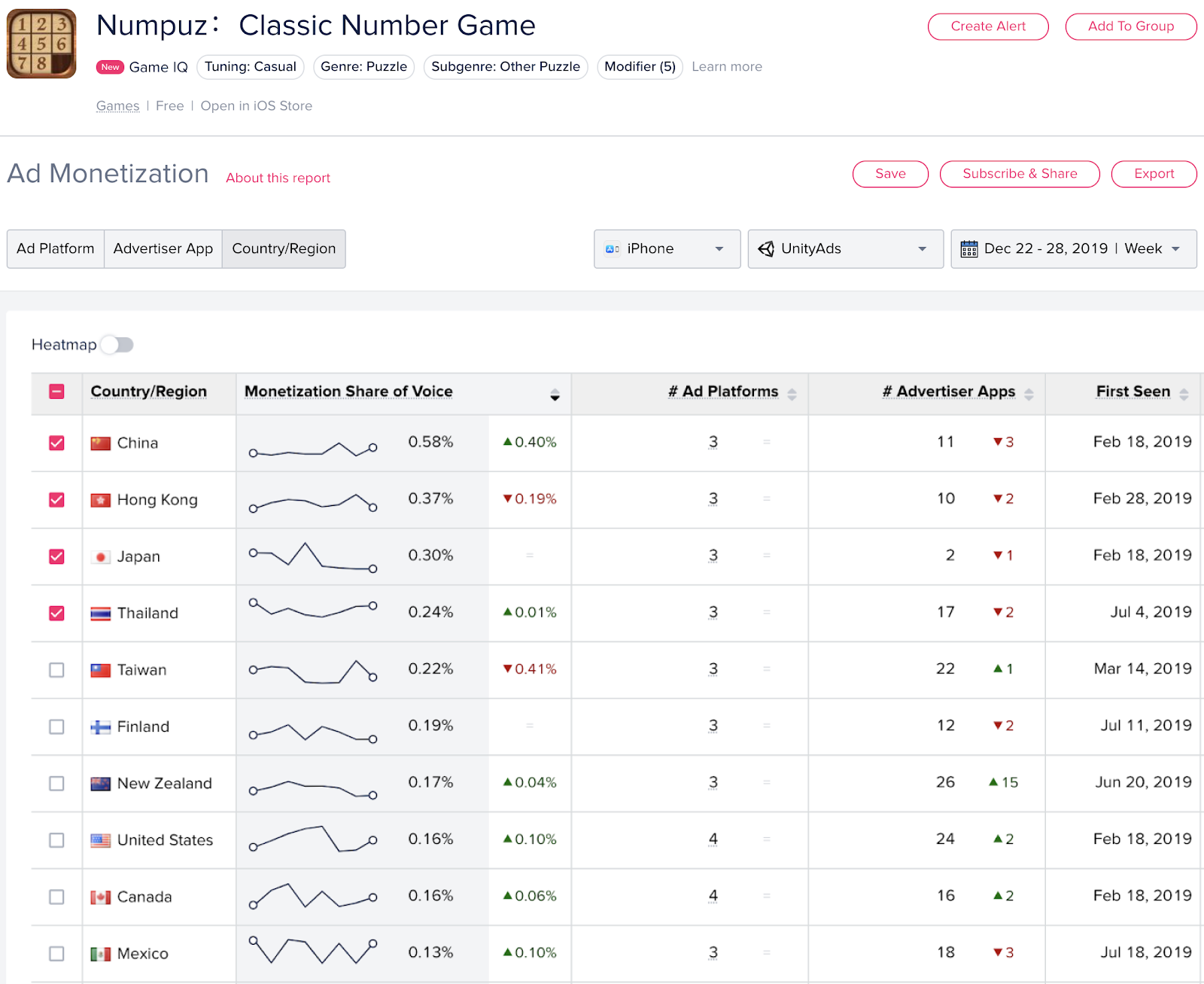 With the understanding that competitors are heavily monetizing in smaller Asian markets, the publisher of 2048 Balls 3D may take this insight to explore monetizing more heavily in Asian markets.
Drive Your Ad Monetization Strategy
Our new Ad Monetization report illuminates key monetization data that mobile ad monetization professionals need to access in order to drive global ad monetization strategies. Current App Annie customers can try these new reports here. 
Haven't upgraded your App Annie account yet? Get in touch with the App Annie Sales Team to get access to these Marketing Intelligence enhancements and more.