NBCUniversal's Peacock TV app generated over 10 million app downloads in the US since its July 15 expansion.
What's Happening: 
After an Xfinity-exclusive April launch, Peacock TV expanded its availability to the rest of the US on July 15, 2020. The service launched with over 20,000 hours of movie and television content and has already generated over 10.3 million app downloads in the US.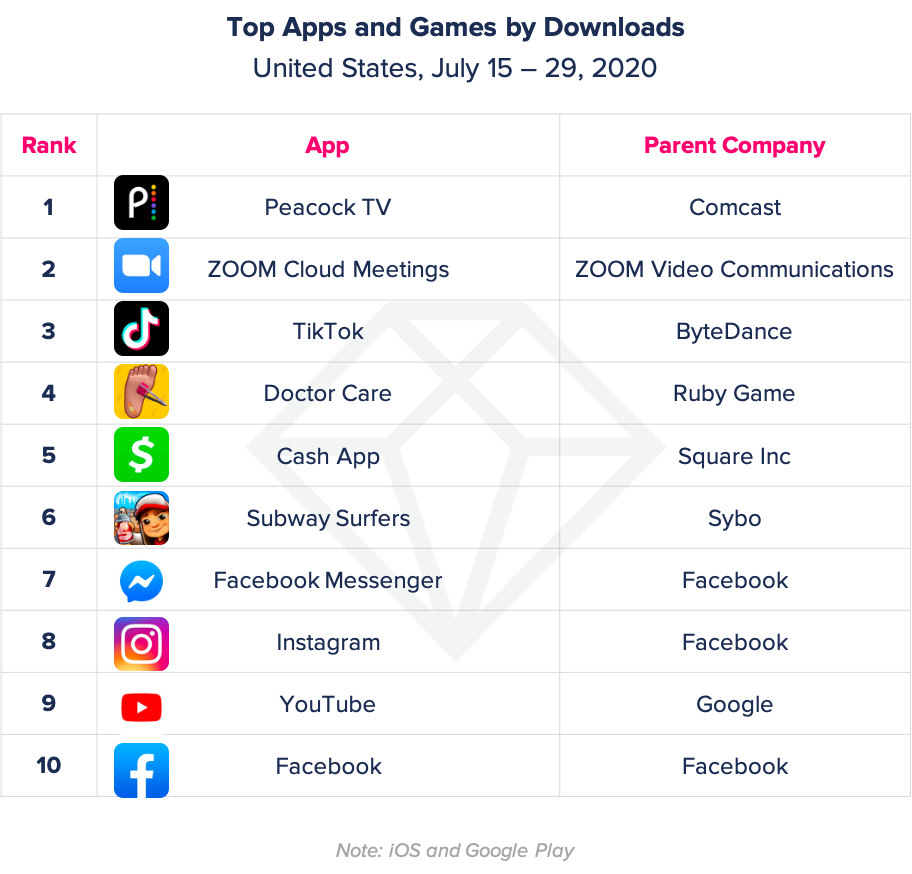 Why It Matters: 
The popularity of video streaming on mobile was already at an all-time high even before COVID-19 hit. With consumers spending more time indoors, and 4 hours and 20 minutes per day on their phones, many have turned to streaming to pass the time. Peacock TV is the latest in a line of recent high-profile releases in the past year, including Disney+, HBO Max and Quibi. As we discussed in our 2020 Predictions, the streaming wars are heating up in 2020 — with social networking apps like TikTok, Snapchat and Instagram adding to the competitive mix as the lines between social and entertainment apps continue to blur.
Peacock TV is taking a hybrid approach with its offering, with options available for an ad-based free tier, a $4.99/month ad-based tier that includes additional content, and a $9.99/month ad-free monthly subscription. It will be interesting to see how these options impact Peacock TV's growth throughout 2020.
Go Deeper:
The ongoing pandemic has proven that digital innovation is no longer just a nice-to-have within broader business strategies. Looking forward, mobile is increasingly the battleground for consumer attention. We've already seen monumental video streaming launches and expansions on mobile in 2020 — and expect to see continued competition in the space through the end of the year. 
For more information on the impact of how COVID-19 is reshaping the mobile economy, please see our blog post here: The Impact of Coronavirus on the Mobile Economy.
To hear more from our panel of mobile experts — including a special guest from Snap, Inc. — on the impact of coronavirus on the mobile economy, watch our webinar.
Looking to make more of the mobile opportunity? Talk to an expert today.
This post is the latest in a Mobile Minute series that features App Annie's perspective on how mobile is impacting current events and consumer trends. Check in weekly for our take on the latest news cycles and how mobile transformation is shaping industries around the world.
DISCLAIMER
App Annie is a mobile market estimate service provider. App Annie is not registered in any investment advisory capacity in any jurisdiction globally, and does not offer any legal, financial, investment or business advice. Nothing contained in this communication, or in any App Annie products, services or other offerings, should be construed as an offer, recommendation, or solicitation to buy or sell any security or investment, or to make any investment decisions. Any reference to past or potential performance is not, and should not, be construed as a recommendation or as a guarantee of any specific outcome. You should always consult your own professional legal, financial, investment and business advisors.