As consumers stockpile and adapt social distancing, grocery and food delivery apps such as Instacart, Shipt, Amazon Prime Now and Publix Delivery accelerate in downloads.
What's Happening: 
After the World Health Organization (WHO) officially declared the coronavirus outbreak a pandemic on March 11, 2020 and the Whitehouse declared a national emergency, communities across the globe were urged to practice social distancing and spend time at home. With schools closed, events cancelled and employees working remote, many are turning to delivery services that bring food (and other necessities) to their door. As COVID-19 pandemic spreads, we are seeing consumers turn to mobile to fulfill their needs. Engagement with grocery and food delivery apps have accelerated rapidly as consumers look to avoid personal risk and try to flatten the curve.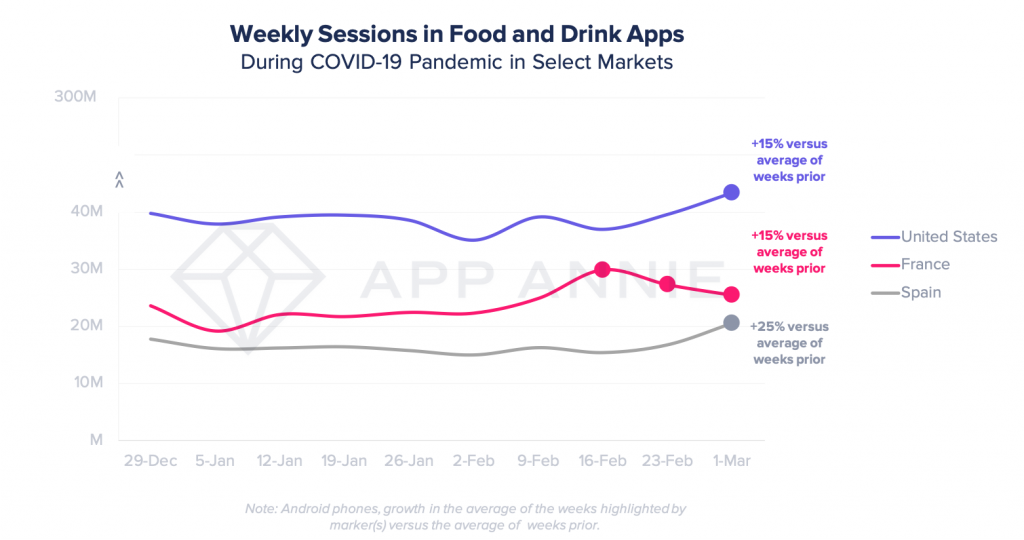 Why It Matters: 
As shoppers are met with long lines for groceries and essential items fly off the shelves, apps such as Instacart and Amazon Prime Now have become a valuable solution for those choosing to remain homebound. We've seen iOS downloads of Instacart more than double in the week of March 8th from the average of the weeks prior so far in 2020. Downloads reflect new demand, and new customers, for Instacart. Amidst the surge of demand from new customers, the company reported seeing 10x sales growth — a combination of increased demand from both existing and new users.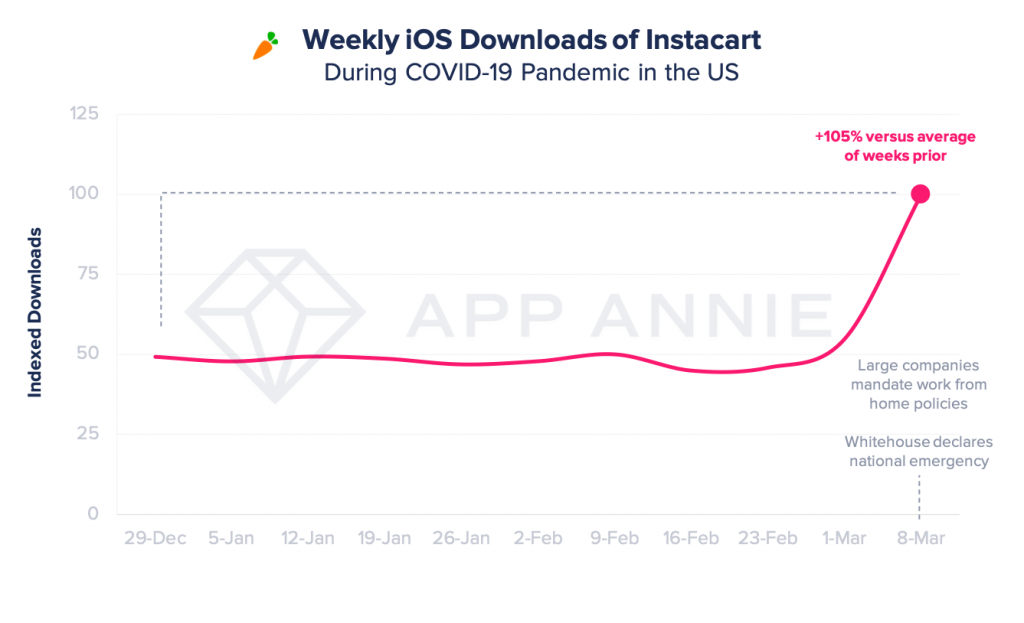 Other grocery delivery apps seeing increased demand during the week of March 8, 2020 include Shipt, Amazon Prime Now and Publix Delivery at 35%, 45% and 175% growth in iOS downloads week over week in the US. Sam's Club, which allows for mobile shopping and curbside pickup, saw an impressive 155% increase in downloads across iOS and Google Play combined during the same time period, as consumers turned to bulk providers to stockpile supplies. 
Food delivery apps top the Food and Drink charts for the week of March 8, with DoorDash (#1), UberEATS (#4) and Grubhub (#5) occupying 3 of the top 5 spots by iOS and Google Play combined downloads, indicating consistent demand. We expect usage to see a significant increase, especially given the rollout of contactless food delivery methods.
Go Deeper:
Slowing down the spread of the coronavirus means people will be staying at home for the foreseeable future. As the global economy continues to work to flatten the curve, we'll see more consumers heading to their phones to mitigate the burden. For more information on the impact of the virus on the mobile economy, please see our blog post here: The Impact of Coronavirus on the Mobile Economy.
To uncover more mobile insights, download our annual industry-leading 2020 State of Mobile Report:
This post is the latest in a Mobile Minute series that features App Annie's perspective on how mobile is impacting current events and consumer trends. Check in weekly for our take on the latest news cycles and how mobile transformation is shaping industries around the world.