In February, App Annie released our first app forecast, which introduced the use of advanced data science, industry expertise, and leading information assets to produce a view of the app economy that provides exceptional granularity. The forecast reflected how apps have ascended to become the primary way we communicate, share, shop and enjoy entertainment. We noted a trajectory of increasing downloads and revenue across countries as people around the globe embraced the app platforms of increasingly inexpensive smartphones and rising cellular data speeds.
Following an enthusiastic reception to our initial app store forecast through 2020, we are pleased to announce the launch of App Annie Forecast Intelligence. Forecast Intelligence is a product offering that delivers the powerful combination of proprietary modeling, and vast and detailed global data and industry insight — designed to serve those with the most demanding app economy forecasting needs. CFOs, strategists, marketers and investors, among other professionals, can use Forecast Intelligence to:
Scale investments in line with download and revenue development in 60 countries.
Benchmark performance and growth projections against those of competitors at large.
Get a true picture of market opportunity across app stores, including third-party app stores in China, with App Annie-developed categories.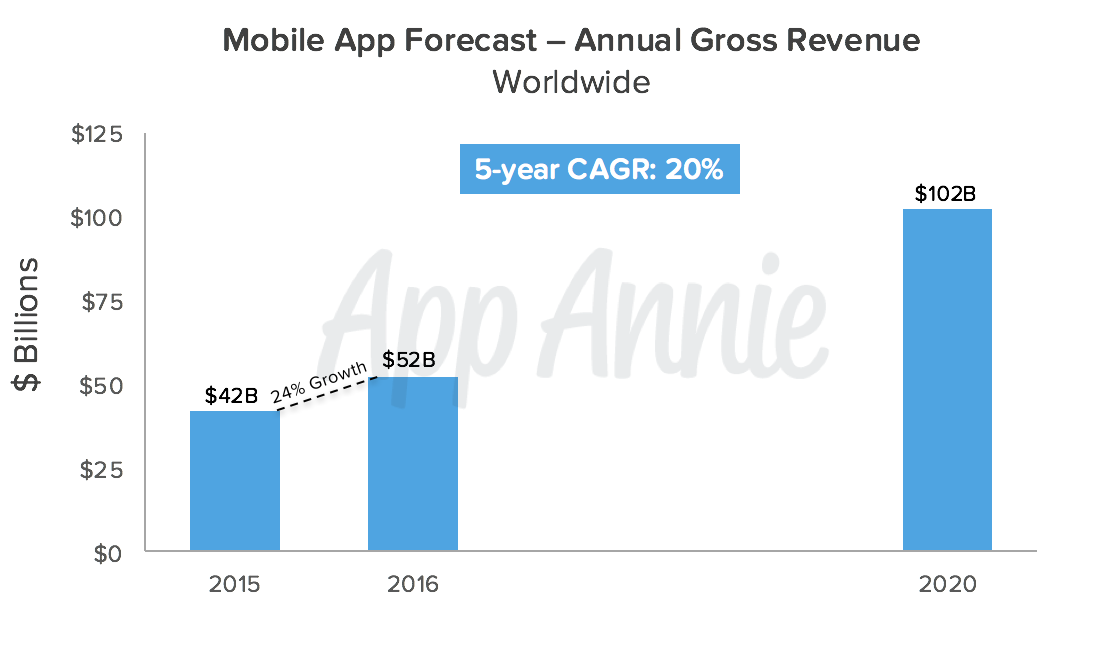 By 2020, App Annie sees global app store gross revenue exceeding $102 billion. While APAC will see the strongest revenue growth by that time, EMEA and the Americas will not be far behind. Mature economies such as the US, Japan and Western Europe represent more than two-thirds of app store revenue as their consumers use them to tap into a developed infrastructure of apps catering to convenience. These mature economies will continue to see strong growth in the coming year with a CAGR approaching 12%.
However, by 2020, App Annie expects emerging economies to account for 40% of the global total as their app store revenue grows at a CAGR of 29%. For many users in these markets, apps will be fundamental tools that assist with basic health and education. Among these markets, India will see the fastest app store revenue growth by far, well ahead of second-place Brazil, which itself will see faster growth than Argentina, Mexico and Indonesia.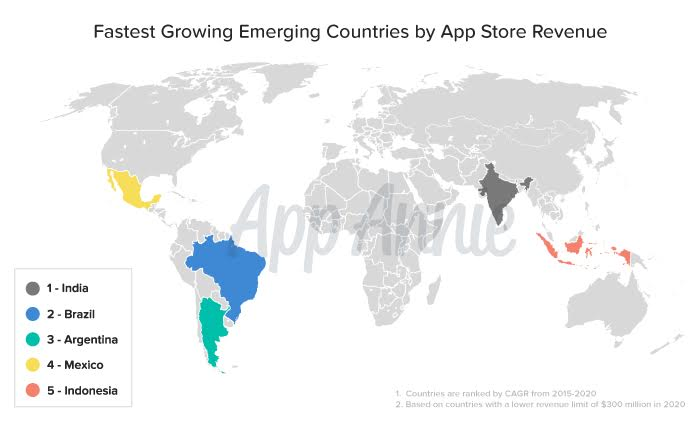 As we progress through the second half of 2016 and beyond, affordable yet capable smartphones will bring the benefits of apps to new populations around the globe. Platform vendors will continue to evolve key app experiences such as discovery, installation, personalization and deep linking for the user. And as they do, developers will increasingly tap into advances in artificial intelligence, object recognition and context awareness. All these factors will help apps shift the engagement paradigm of the smartphone interface beyond elegance to relevance.
Learn more about Forecast Intelligence and the many ways your company can leverage these insights. Contact your App Annie account manager or request a demo.
Build a Better App Business