As we moved into the second half of 2018, hyper-casual games topped downloads charts, video content fueled growth for downloads and consumer spend.
In Q3 2018 iOS and Google Play saw 29 billion global combined app downloads — the largest quarter ever, up 10% year over year. Global consumer spend nearly hit $20 billion — also the largest quarter ever, up 20% year over year.
iOS Narrowed Its Download Gap With Google Play
In Q3 2018, global Google Play downloads grew 15% year over year — fueled largely by emerging markets and Entertainment apps.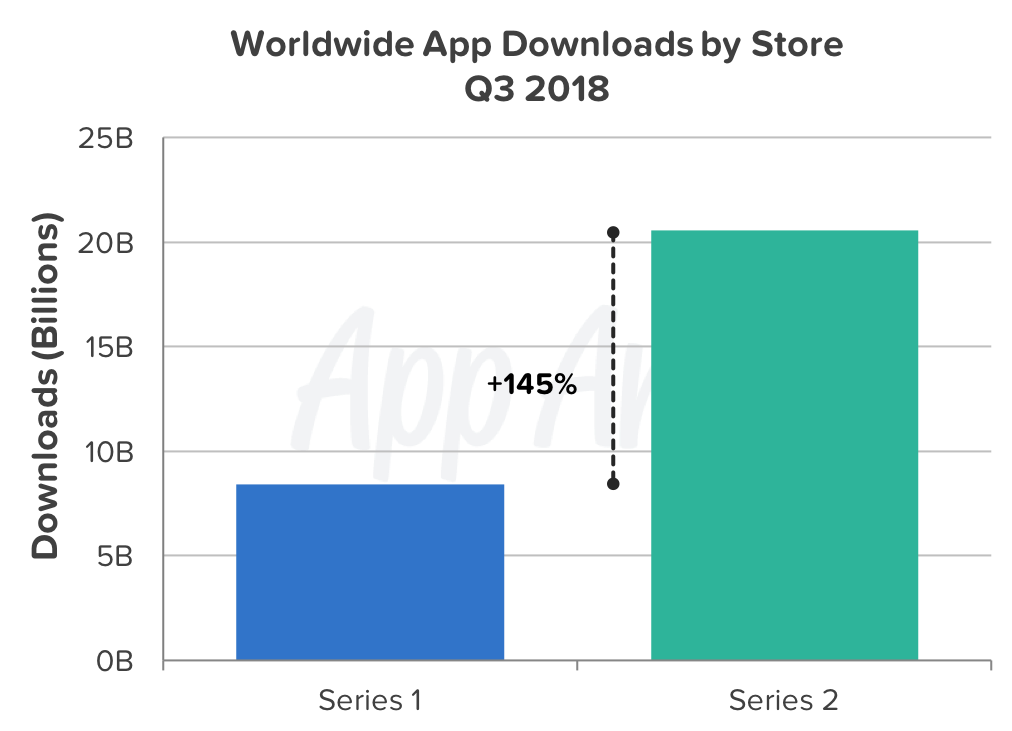 India, Indonesia and Brazil were the largest contributors to year-over-year Google Play download growth in Q3 2018 — a trend we reported on in Q2 2018 and throughout previous years. We expect this trend to continue in Q4 2018. Emerging markets are also key contributors of download growth on iOS. Vietnam and Turkey were the second and fourth largest markets contributing to year-over-year iOS download growth. The United States and Japan were the first and third, respectively.
Looking at drivers of growth within app categories, we see similar trends across both stores, albeit reflected in different categories. On Google Play, Entertainment apps — such as video streaming apps Netflix, OZEE and Sony LIV— drove the largest year-over-year download growth. However, on iOS, Photo and Video apps — including those with a heavy focus on video such as YouTube, Tik Tok (which now includes Musical.ly) and Instagram — drove the largest download growth year over year. While both the Entertainment and Photo and Video categories represent a desire for content consumption — especially video content — the latter also illustrates the collective demand for creation.
Google Play Consumer Spend Grew 25% Year over Year in Q3 2018 and iOS Retained Its Nearly 2x Lead
While the iOS App Store maintained its consumer spend lead over Google Play and grew 15% year over year, Google Play saw faster growth to reach its most lucrative quarter yet.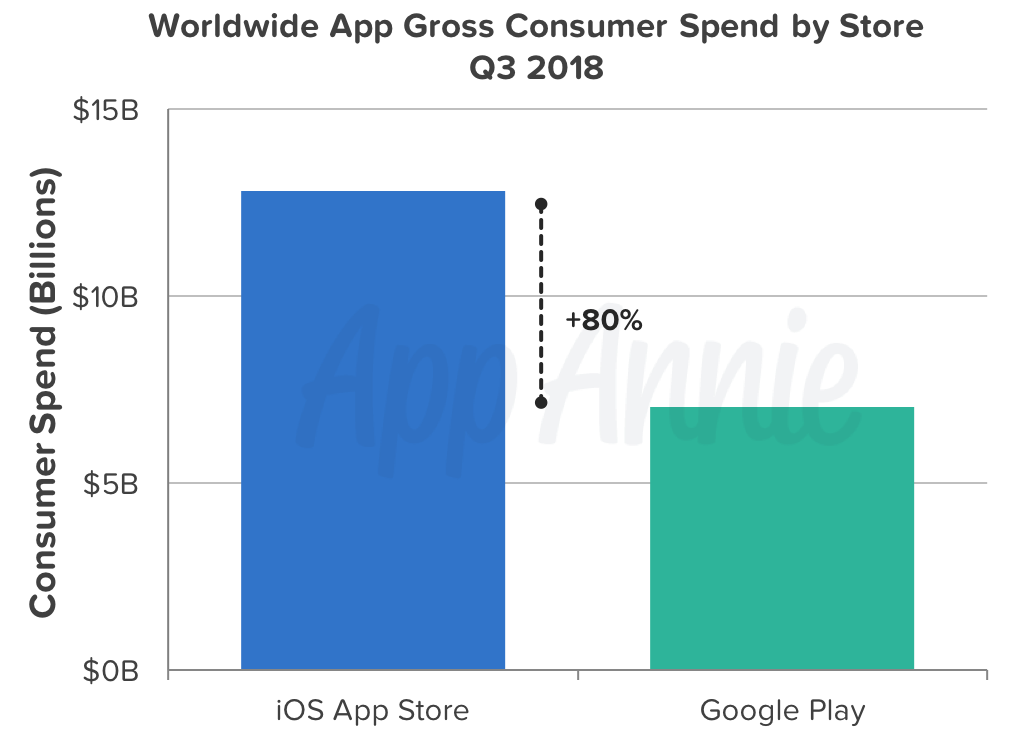 The US, Japan and Germany were the largest markets that fueled growth in Google Play consumer spend in Q3 2018 year over year. Games, Lifestyle and Social apps were the largest contributors of absolute growth in consumer spend year over year, while Music and Audio apps saw the largest year-over-year growth in market share.
In Q3 2018, the iOS App Store grew 15% year over year fueled by growth in the US, China and the United Kingdom. From a category perspective, Entertainment and Photo and Video apps both saw the largest growth in total iOS consumer spend as well as the largest growth in market share year over year. In terms of the latter metric, Health and Fitness apps ranked third for Q3 2018. Consumers are continuing to pay for app-based Health and Fitness services outside of the typical January bump — a clear sign that Health and Fitness apps have become an ongoing part of users' regular routines.
Hyper-Casual Games Dominated Downloads and Subscription Apps Topped Consumer Spend Charts in Q3 2018
Six of the top 10 Games by combined iOS and Google Play global downloads in Q3 2018 were hyper-casual games — indicating the mass appeal of mobile gaming and its power to migrate traditionally "non-gamers" to "gamers". Pokémon GO is an example of this — as we reported after its launch 2 years ago, this game captured non-mobile time and continues to do so. In Q3 2018, Pokémon GO ranked #5 by global consumer spend as seasonal events and social gameplay prompted users back into the game and encouraged richer gameplay.
Eight of the top 10 apps outside of games by global consumer spend in Q3 2018 were media streaming services that utilize in-app subscriptions. Strong Entertainment performance demonstrates that consumers are increasingly choosing to make their day-to-day purchases via apps — a trend that bodes well for retail apps during the Q4 holiday shopping season.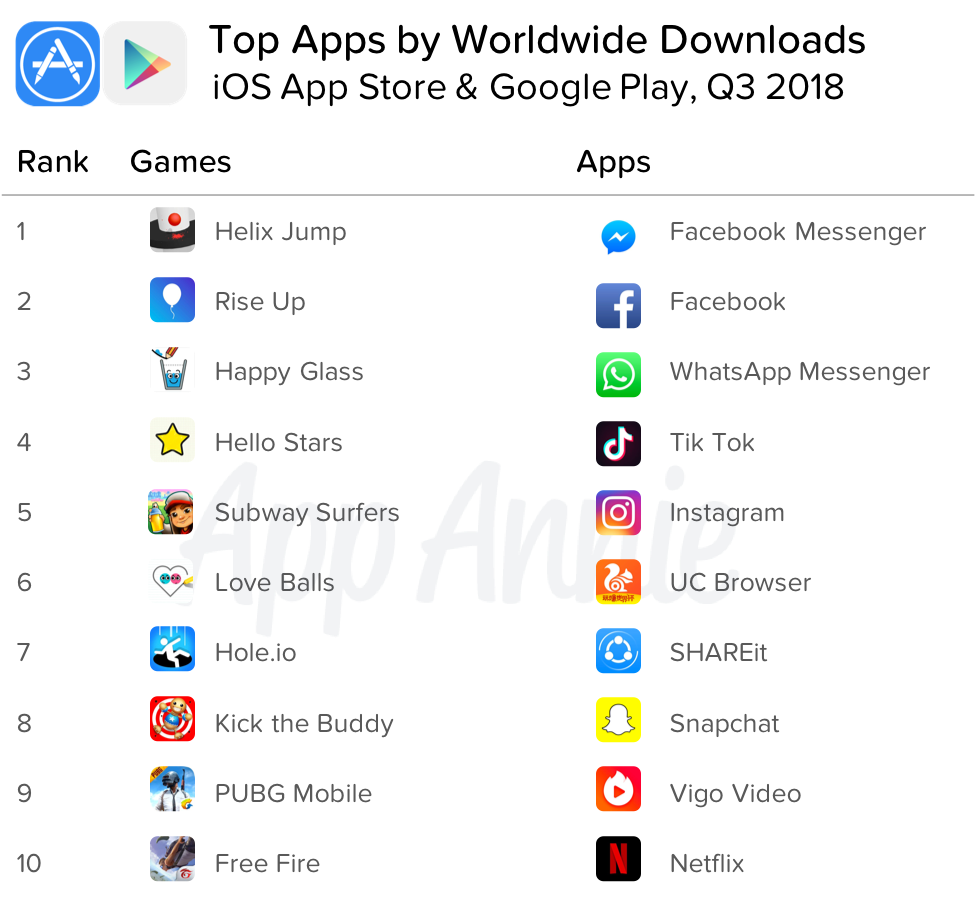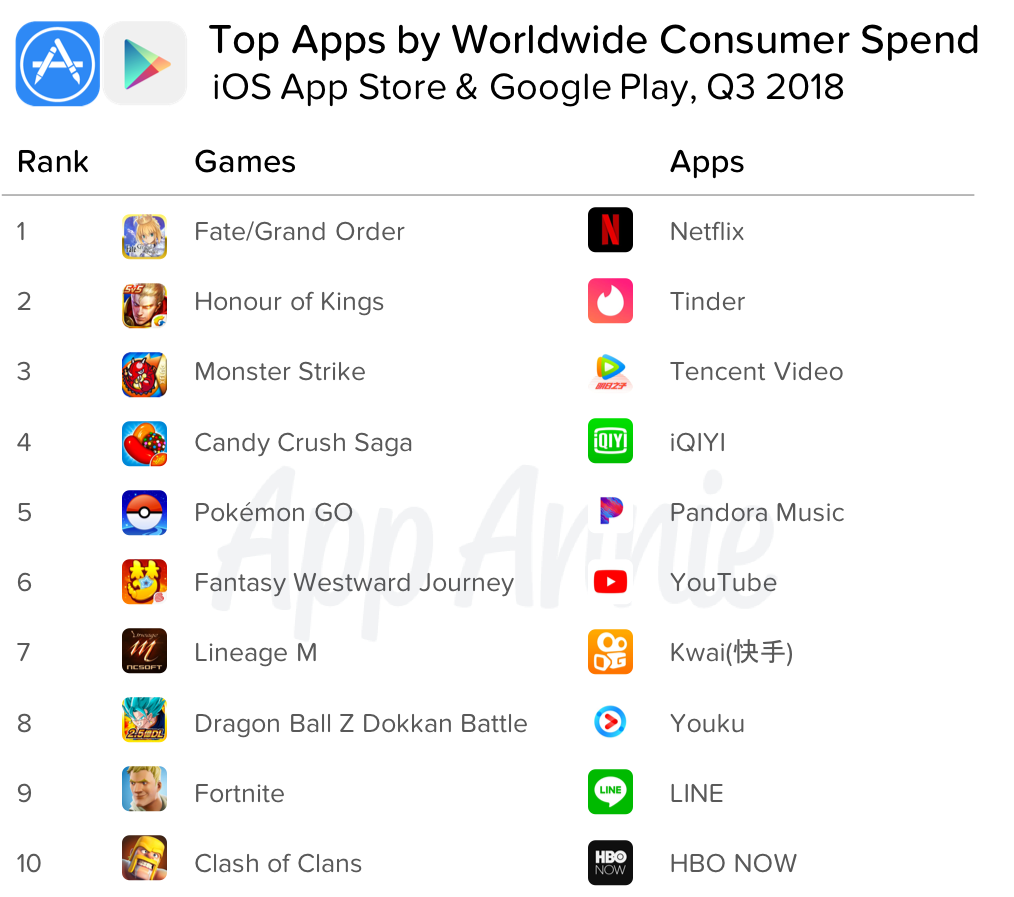 To read more of App Annie's insights into the mobile app economy, check out our 2017-2022 App Economy Forecast — the industry's largest and most trusted forecast of the app economy. If you're interested in looking into some of the data behind the app market yourself, sign up for our free product here and get started today.