As coronavirus pandemic grips the world, consumers are turning to mobile to manage their finances, stay informed and invest.
Consumers Turn to Finance In Economic Uncertainty
Consumers are turning to finance apps at record levels amidst volatility in the market and uncertainty over the economy. In the US we saw 55% growth in time spent in finance apps overall from the week of Dec 29 to peak week in March and April (April 12-18, 2020). South Korea and Japan have also seen phenomenal growth in time spent finance apps at 90% and 85%, respectively, for the same time period.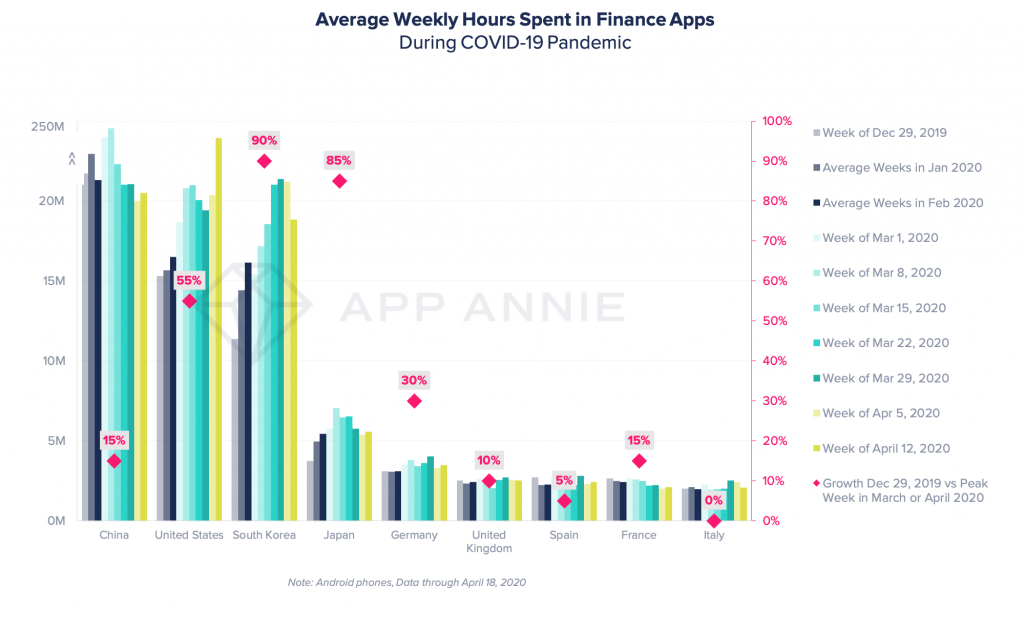 We have seen that it is common for consumers to access their banking apps daily — which is an entirely new behavior created by mobile as you wouldn't necessarily go into a bank branch every day. Given distancing policies from COVID-19, this is now increasingly the norm for interacting with your bank. We also see consumers turning to stock market monitoring and trading apps to access the stock markets from the same ease, convenience and security of their phones. 
Time Spent in Stock Market Monitoring and Trading Apps Grew 80% Amidst Market Volatility
Time spent in the top 10 stock market monitoring and trading apps grew 80% from the first week of January to the week of Mar 22 - 28, 2020 in the US. Similar to Health and Fitness, Finance apps tend to get a boost in January from seasonality due to new year's resolutions and increases in budgeting and financial prioritization. But this strong growth in recent weeks indicates consumers are increasingly looking to get involved and stay informed about the stock market, particularly at a time of economic slowdown from lockdowns.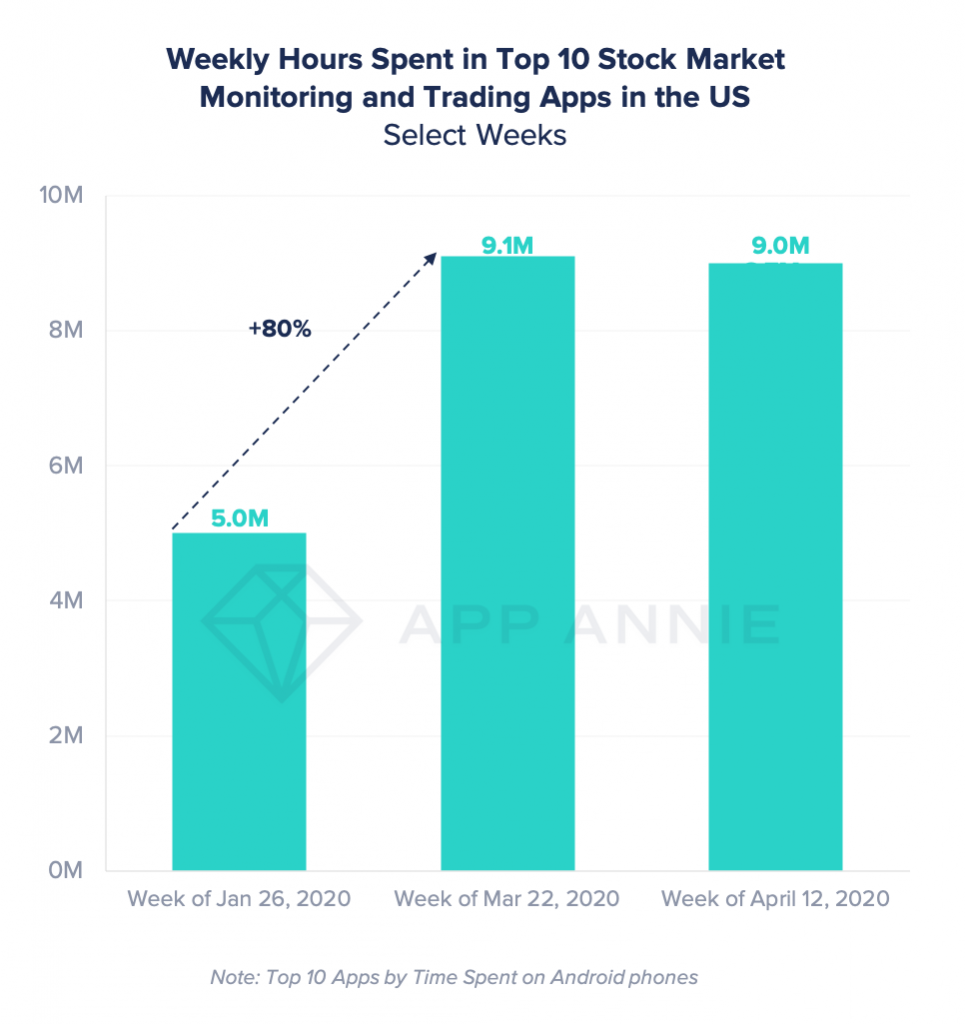 We've taken a look at the top stock market monitoring and trading apps by time spent during the week of Mar 22 and the week of April 12 compared to the week of Jan 26 to understand where consumers are spending their time. Robinhood, a fintech app by a company that pioneered zero-commission trading, ranked #1 for all three time periods. It is important to note that time spent doesn't necessarily equate to trading or investing. Consumers could also be checking their portfolio performance across equities, ETFs, options, or crypto as well as reading news on the financial markets, the performance of companies in their portfolios and monitoring movements from earnings calls.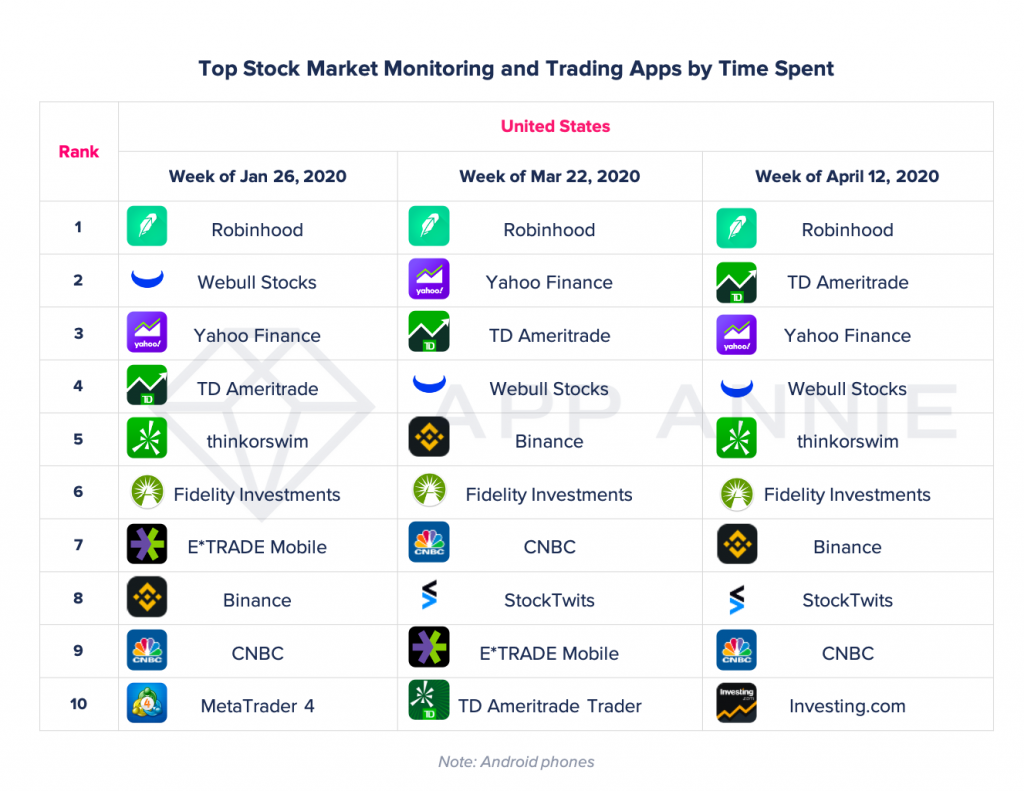 Robinhood in High-Demand During the Economic Headwinds of Q1 2020
We saw downloads of the top 10 brokerage apps surpassed 5 million in the US in Q1 2020, and Robinhood accounted for 35% of those downloads and over 50% of the downloads for the top 10 active trading apps.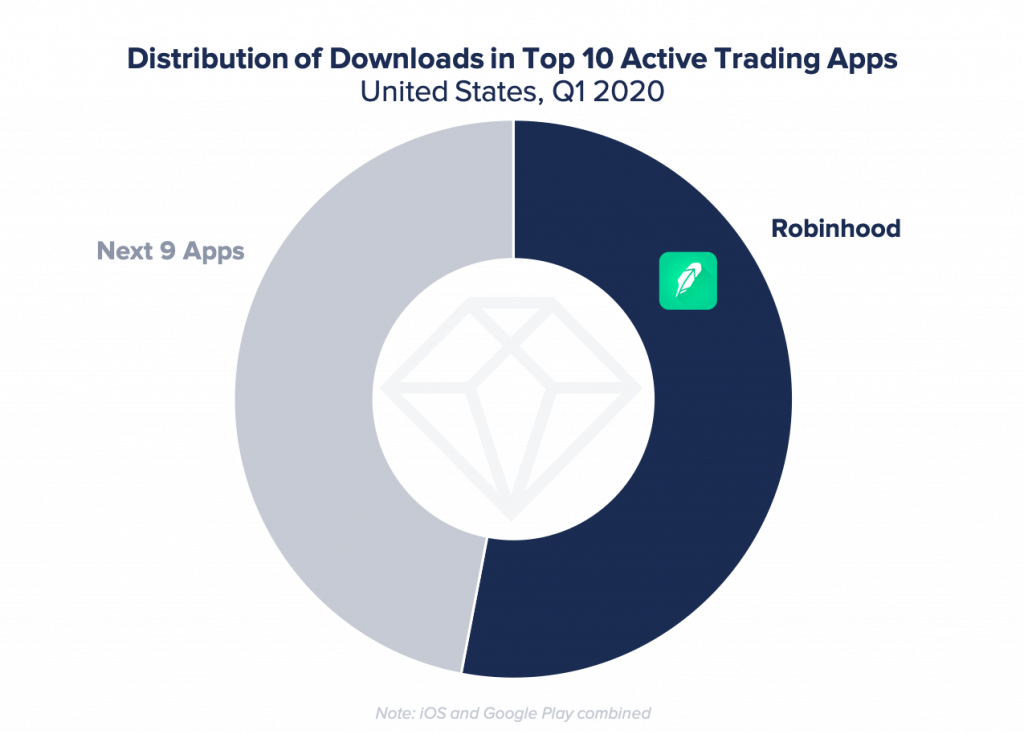 Part of the success fueling Robinhood's adoption is their prioritization of an engaging and enjoyable user experience. They offer a referral program — where if you refer a friend, both you and your friend get a free stock, which also encourages sharing and capitalizes on the network effect to reach new users. As you monitor your portfolio in real time, the interface changes based on the performance of your stock. If a stock is doing well, it will appear green, if it is not, it will appear red. The emphasis on an engaging and dynamic user experience cultivates stickiness and fosters frequent engagement throughout the day for users.
Robinhood Grew 260% in Time Spent Amidst the Coronavirus Pandemic
During the week of April 12-18, 2020, Robinhood alone accounted for over 40% of time spent in the top 5 apps by time spent — indicating the strong value and ease of use consumers are deriving at this time. We've taken a look at how much time consumers are spending each week in Robinhood as the coronavirus pandemic unfolds, and the economy and stock markets react. During this time, Robinhood has reached new heights for engagement, growing 260% in time spent on Android phones during the week of April 12, 2020 compared to the weekly average for Q4 2019.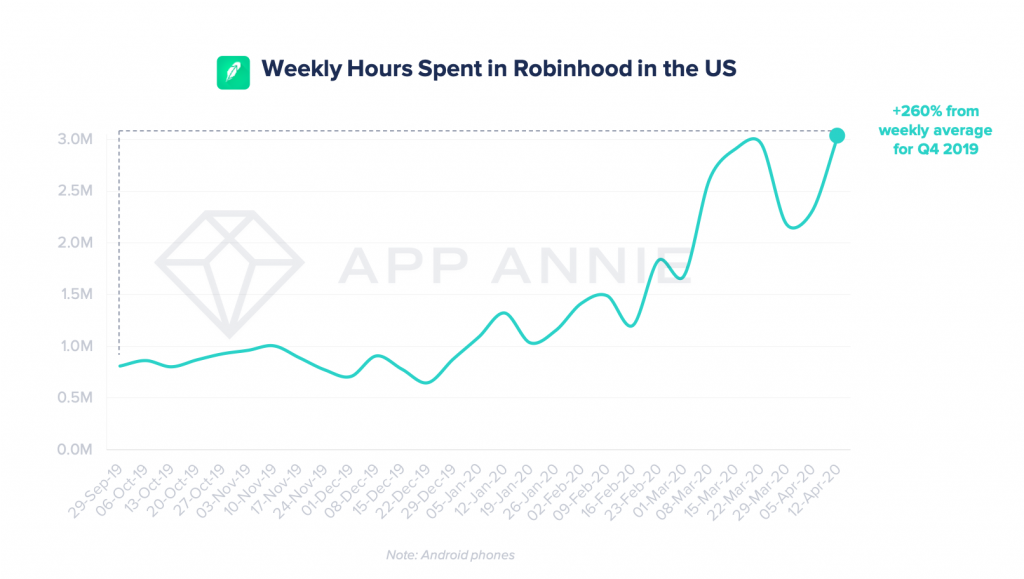 During these trying times, we are turning to our mobile devices to access financial information and to take action — whether that is budgeting, investing, sending or receiving money, checking your credit scores or just for peace of mind — from the ease and security of our device that's always within reach. 
We expect to see the impact of coronavirus felt in virtually all sectors of the mobile economy and continue to play out in the coming weeks. For more on how COVID-19 has already left a lasting mark on mobile, watch our free webinar featuring analysis and discussion from our panel of mobile experts. 
DISCLAIMER
App Annie is a mobile market estimate service provider. App Annie is not registered in any investment advisory capacity in any jurisdiction globally, and does not offer any legal, financial, investment or business advice. Nothing contained in this communication, or in any App Annie products, services or other offerings, should be construed as an offer, recommendation, or solicitation to buy or sell any security or investment, or to make any investment decisions. Any reference to past or potential performance is not, and should not, be construed as a recommendation or as a guarantee of any specific outcome. You should always consult your own professional legal, financial, investment and business advisors.