Disney+ launches in Europe with around 5 million downloads on day 1.
The Disney+ content streaming service launched in Europe yesterday, March 24th, starting with Austria, Germany, Ireland, Italy, Spain, Switzerland and the UK. With many Europeans on lockdown at home, often with children looking to be entertained, this launch comes at a time when people are even more inclined to stream content. Disney+ generated about 5 million downloads across the 7 new European markets, and is set to be one of the top streaming apps in the region.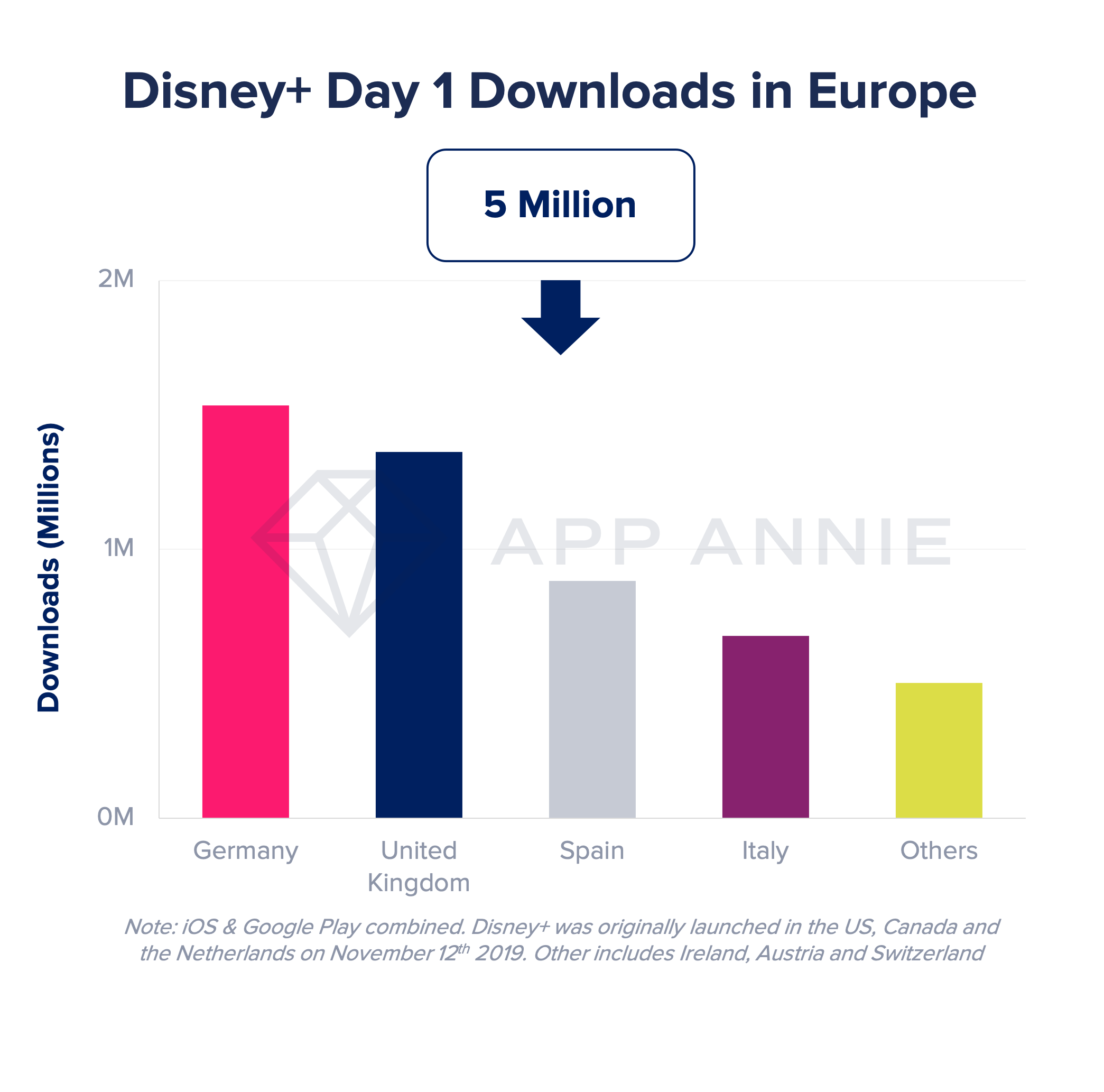 With schools closed, parents will be looking for ways to keep their children occupied. Disney+, with its array of kid-friendly programs, might be part of the solution for many households. Disney is aware of this natural fit and has made Frozen 2 available on Disney+ three months ahead of schedule.  
Disney+ is expected to become available in France in another 2 weeks, and additional Western European markets in the summer of 2020, followed by Latin-America and Asia-Pacific. The Asia-Pacific region includes some of the largest mobile-first markets in the world, and launching the service there will further drive downloads and spend. Disney+ began testing the service in India through its already popular Hotstar app, the 10th ranked app in India by time spent on Android phones in 2019. However, Disney has recently announced that the launch will be postponed.
Disney+ Has Seen Strong Adoption Since Its Initial Launch
So far in 2020, Disney+ is the 7th ranked non-gaming app by consumer spend worldwide — particularly impressive considering that this performance was based on only 5 markets, with the US being the main driver of consumer spend. The launch in Europe should result in further movement up the ranks.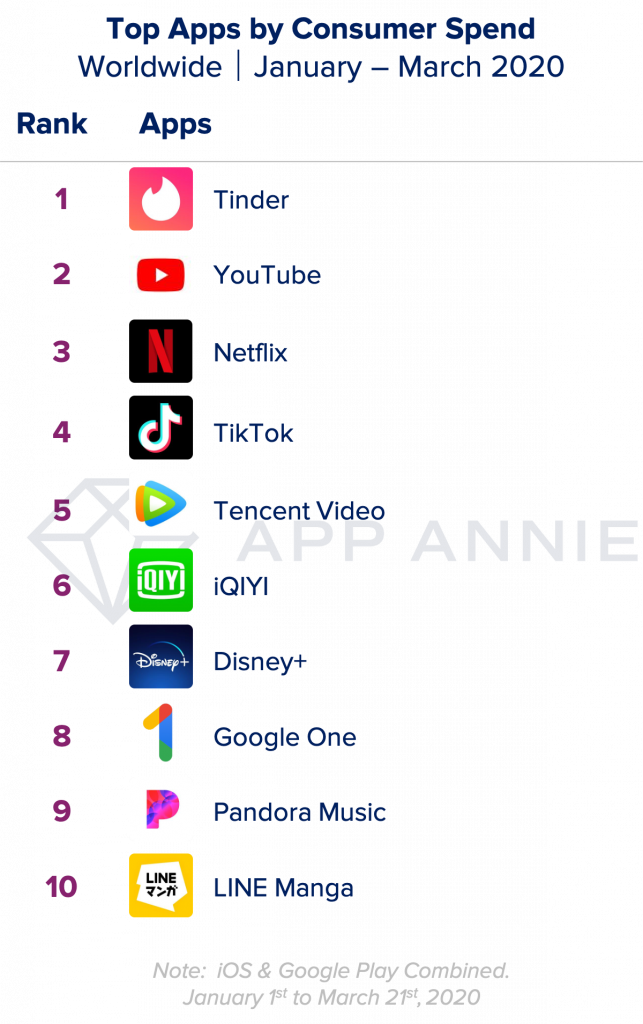 Consumer adoption is evident not just through downloads and consumer spend; but in where consumers are spending their time. Looking at December 2019, Disney+ users are spending an average of 3 hours and 10 minutes per month in the app. This is comparable to established players like Netflix (4 hours and 20 minutes per month), and Hulu (3 hours and 20 minutes per month). 
With increased social distancing measure taking effect in the US and across the world, free streaming service Pluto.tv (a subsidiary of ViacomCBS), saw a 75% week-over-week increase in time spent on Android phones in the US during the week of March 1-7, 2020. This is indicative of homebound consumers looking for new movies and series. The recent acquisition of Tubi TV by FOX, and the planned April 6th launch of Quibi further highlight the increasing competition among video apps for consumers' time and money. 
Original content, innovative content formats and distribution partnerships will be key factors in determining which platforms will be able to establish habits. By the end of 2019, 25% of Netflix users on iPhone in the US also used Disney+, the highest overlap of users among top video apps in the US. To be successful, streaming services will need to continuously benchmark themselves against these new competitors.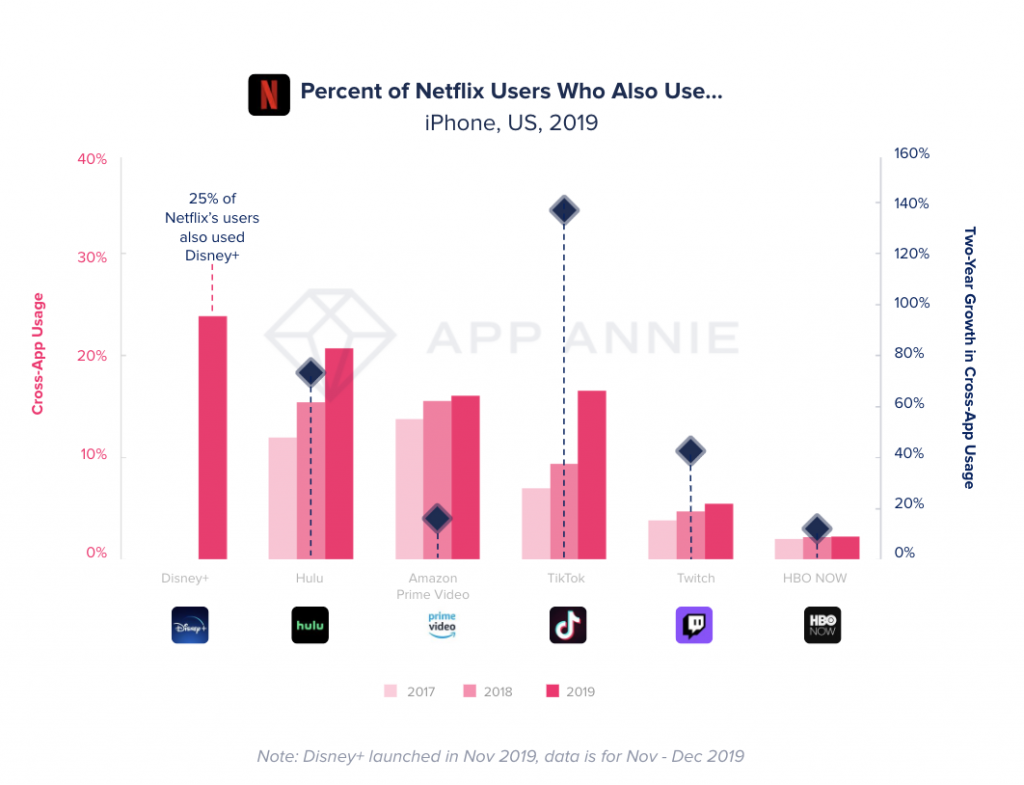 Putting this all into a European perspective, if Disney+'s uptake in European markets is similar to what we saw in the US, it would make Disney+ one of the largest streaming services by MAU in every European market it launched in. Further, there was a comparable amount of cross-app usage between Netflix and Amazon Prime in the UK and Germany during 2019 — 17% in the UK and 25% in Germany. This suggests that consumers in these markets are willing to support multiple subscription services. The question is how many, and for how long?
What Does the Market in Europe Currently Look Like?
YouTube and Netflix were the top 2 drivers of time spent in the UK, France, and Germany in 2019, and will likely remain Disney+'s main competitors in Europe. There are also a number of local competitors, sometimes acting as content aggregators, like BBC iPlayer ranked among the top 10 apps by time spent. Disney+'s recent partnership, with Sky in the UK & Ireland and Canal Plus in France, means that it will be available to access through OTT devices, and highlights just how important distribution partnerships will be establishing consumption habits.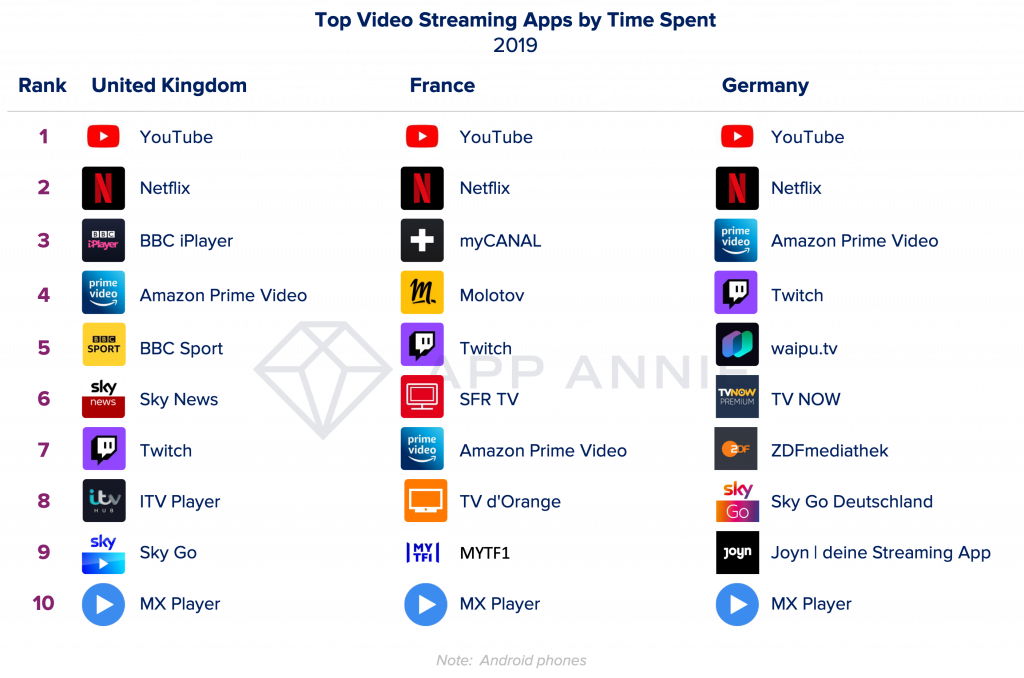 What's in Store for Video Streaming on Mobile?
The variety of streaming service options, along with consumers' growing comfort on mobile has resulted in a 50% growth in sessions in Entertainment apps globally from 2017 to 2019. While local players acting like aggregators will likely see increased traffic as a result of the Disney+ launch, others need to continue delivering engaging content to continue attracting consumers. 
To follow the performance of Disney+ and discover your own insights, sign up for a free App Annie account today: