As the app economy continues to mature, it's now clearer than ever that usage is the new currency for app publishers. With more apps entering the app stores each day, it isn't enough to track downloads or monthly active users (MAUs) to understand what the competition is doing — sophisticated publishers need to look at retention in order to plot out an app's growth trajectory and validate crucial product, marketing and investment decisions.
Knowing this, App Annie recently added competitive app retention data to Usage Intelligence. Using this new dataset, publishers can benchmark themselves against competitors and top apps to form a better picture of what success looks like and develop concrete ideas on how to build a loyal and engaged user base.
App Retention: A Multi-Purpose Dataset
Competitive retention data can help multiple functions better perform their roles with an improved understanding of the competitor landscape. For instance, user acquisition managers can see if competitors are retaining users following big UA pushes; product managers and monetization managers can form realistic industry benchmarks for retention and monetization; and investment analysts can see whether an app is truly engaging and "sticky" or if a company has to put significant spend toward downloads in order to maintain usage.
Key questions can be answered with app retention data, such as:
"What features are keeping my competitors' users coming back?"
"How does our user retention stack up against our competitors'?"
"What is the lifetime value of our target customer — what monetization potential exists?"
See how retention data from App Annie can inform your engagement strategy and help you grow a loyal user base for your app.
Monitoring Retention Rates Across Markets
Using Usage Intelligence, we looked at weighted average retention rates across a few key markets: the United States, Brazil, United Kingdom, South Korea and Japan. It's worth noting that across the board, average retention rates are higher for non-games. As users develop "app habits" they tend to gravitate toward a select few apps based on their day-to-day functional use. Games, on the other hand, tend to be swapped out or tried among many others at one point in time.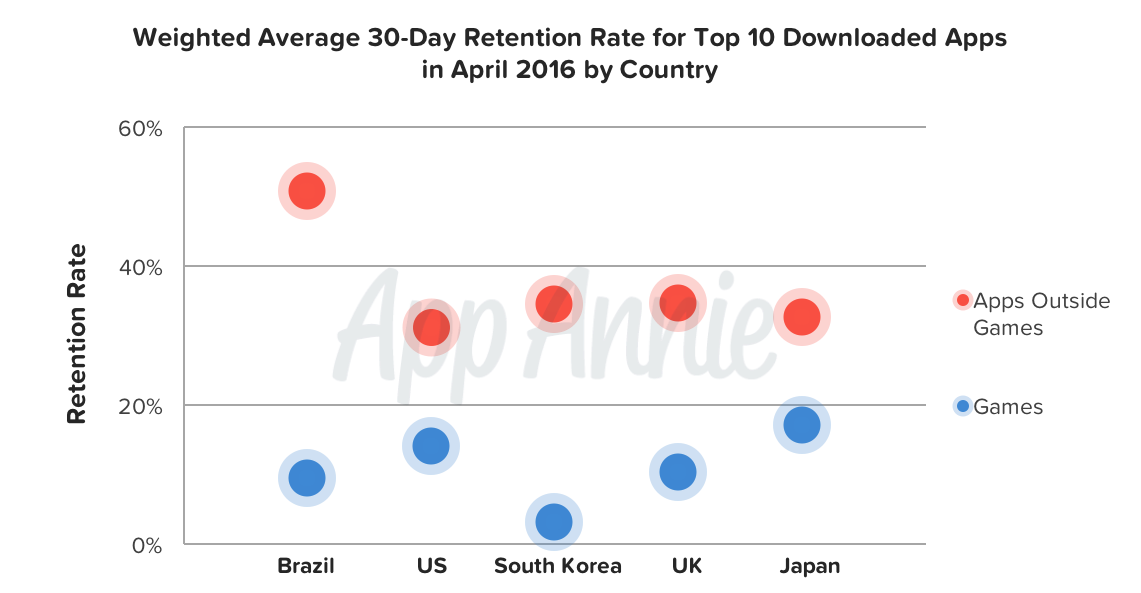 Based on the top 10 apps and top 10 games by downloads in each country in April 2016

Japan and the UK's weighted Games averages are based on only 9 of the top 10 games, as retention data was unavailable for 1 game in the top 10

Brazil's weighted Apps Outside of Games average is based on only 9 of the top 10 apps outside of games, as retention data was unavailable for 1 app in the top 10

Brazil's weighted Games average is based on only 6 of the top 10 games, as retention data was unavailable for 4 games in the top 10

The retention rate is weighted by downloads on a per app basis

30-day retention rate is defined as the rate of users who used the app 30 days after the initial install
Brazil has a much higher than average retention rate for apps outside of games — partially skewed by WhatsApp Messenger, which has an inordinately high 30-day retention rate — while South Korea has a noticeably lower retention rate for games. This could possibly be due to the massive popularity of gaming apps in South Korea as well users tendency to download several new apps a month — one could infer from this data that it may be more difficult to grab a South Korean gamer's attention. This data becomes valuable for app professionals considering expansion into new markets.
The Stickiness of Media and Entertainment Apps
With competitive retention data, you can also start to develop benchmarks across similar apps. We looked at some of the top music- and video-streaming apps on Android — Netflix, Pandora Radio, Amazon Music and Spotify — to analyze how their retention rates compare to the average retention rate of the top 200 apps by MAUs.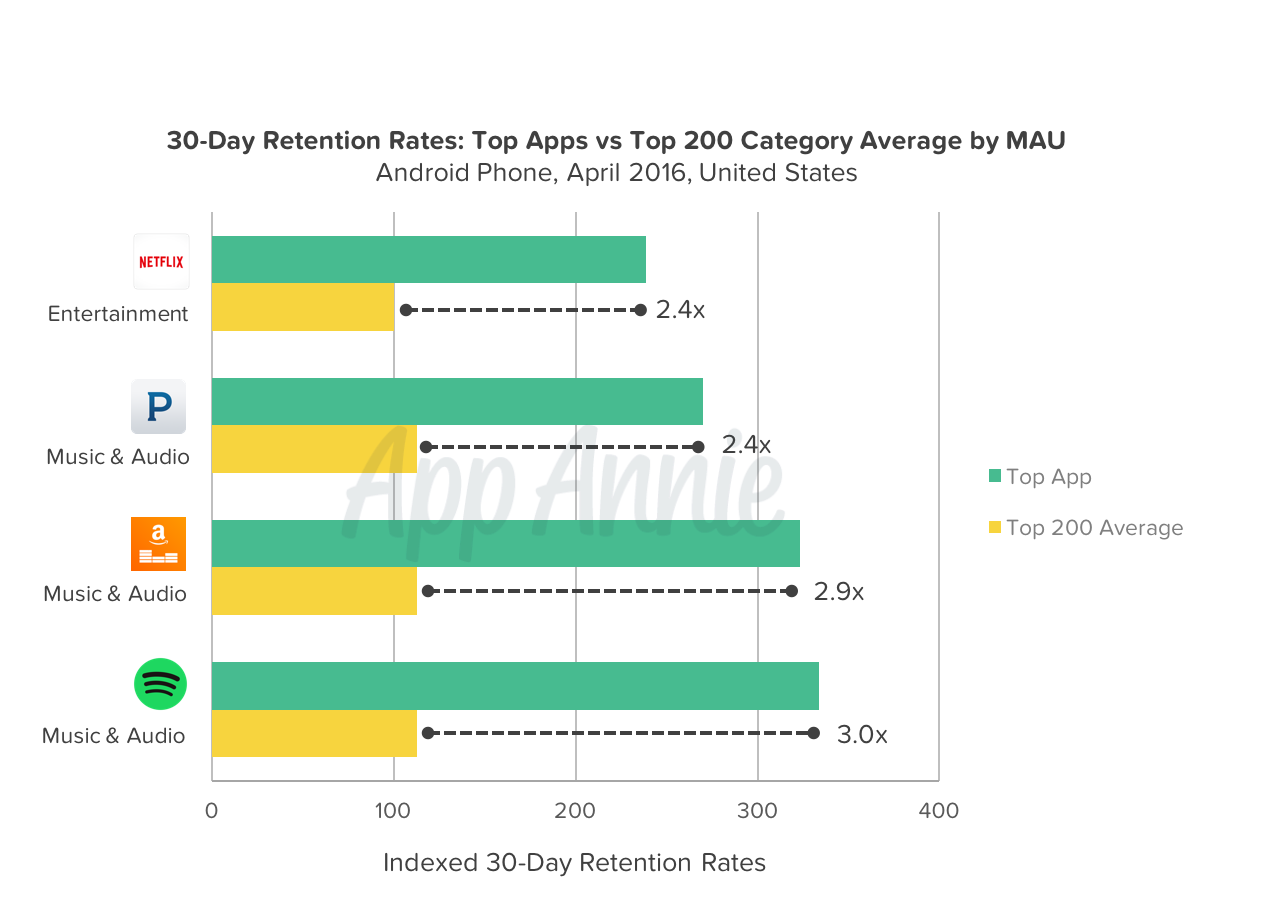 The Top 200 Average is at the category level. For Netflix, this is the Entertainment category. For Pandora, Amazon Music and Spotify this is the Music & Audio Category.

Top Apps by 30-day retention rates are selected from the top 100 apps by MAU in the US
It's clear to see that media and entertainment apps have the potential to have very high retention rates. All of the examples we analyzed had an indexed retention rate that was more than double the average, with Spotify leading the pack. It goes to show that apps that provide a good user experience and useful function – like being able to consume media at home or on the go – are able to develop an engaged user base.
Over the next few weeks we'll be talking to app professionals to get their tips and tricks on improving user retention and churn rates — so stay tuned! If you already subscribe to Usage Intelligence, this new data is available to you today. Request a demo and get insights into how you can use competitive app retention data to fuel your app engagement strategy.
Build a Better App Business
Don't miss a single app-related update — subscribe to our blog to get more free app industry reports, conference updates and guides. Have something to add? Share with us on Twitter.