We received more than 100 questions during our recent webinar. See top questions and watch the video replay.
At the end of October, we hosted a webinar that uncovered some of the best-kept app marketing secrets from leading mobile experts. We received many insightful questions — in fact, so many that we couldn't get to them all during the live event! In this post, we address some of the recurring themes that emerged during Q&A and are relevant to mobile marketers from all walks of life.
If you weren't able to tune in live to our webinar, you can view the full video below.
Best Practices for Ratings and Reviews
Q: Each time an update is made to an app, it causes the associated reviews to be migrated to past versions. Does this reduce the impact of reviews?
A: Users always have to option to toggle between ratings and view all versions as opposed to just reviews of the current version. However, this does give more weight to reviews that are associated with the current version of an app. Publishers can use this knowledge to their advantage. If an app is flocked with numerous bad reviews due to a bug or unreceptive update, publishers can launch a new version of an app to de-prioritize negative reviews and start fresh.
Additional reading: 3 Ways Ratings and Reviews Can Boost App Downloads
Q: Do words in app store reviews contribute to keyword search ranking?
A: Apple and Google don't publicize their exact algorithm, so no one can say for certain. However, if there are specific keywords that your users are writing, these likely are the words that are most relevant to your user base. App publishers should consider using those words in their keyword bank, and prioritizing earning a higher rank for those keywords. Ratings and reviews are a natural way to increase app discovery and organic downloads. An app that is rated higher with more reviews will in turn rank higher than other apps in its category. Potential users browsing app stores could also be influenced by high ratings, leading to an increased amount of conversions.
Additional reading: Figuring Out the Best Keywords for Your App
Getting Started With App Marketing
Q: I'm a game developer, how do I start crafting a marketing strategy? And with so much competition, what suggestions do you have for beginners to stand out?
A: You've got an app, and are ready to release it to the world. But where do you start off in crafting your marketing efforts, and how do you make sure they're effective? I'd recommend taking a look at our two latest playbooks — the App Store Optimization Playbook and User Acquisition Playbook.  And be sure to read up on best practices for fine-tuning your ASO and UA strategies. One of our panelists, Eric Seufert, maintains MobileDevMemo, which aggregates top mobile content, and has written a book titled Freemium Economics that provides excellent insights for app developers.
As for standing out in the competition, make sure that you're putting your best foot forward by taking every opportunity to test all elements of your marketing campaign. Soft launching your app in a market that closely resembles your targeted audience will help you to test and iterate on tactics, ensuring that you're best positioned for app marketing success.
Additional reading on app marketing and soft launching:
Choosing the Right Keywords
Q: Does the order of words in an app title affect their keyword significance?
A: The order of keywords do not appear to have an affect on the weight of keywords. However, the order of words may affect how a potential new user will learn what your app is all about. Additionally, including important keywords in your app name will give them more weight in the keyword algorithm, as opposed to including them anywhere else on your app store page. Be cautious of adding too many keywords, as Apple may reject your app submission if the app name comes off as spammy or uses someone else's intellectual property. As a best practice, utilize keywords sparingly and relevantly in an app's title. Be sure to A/B test to figure out the best version of your app title!
Additional reading:
Developing Impactful Creative Assets
Q: When creating a video, should it be a general overview of the app or feature our app's competitive advantage?
A: This depends on what type of app that you have. Games, for instance, may want to focus on key parts of gameplay, while productivity or business apps might utilize explainer text or feature parts of the app's functionality that set it apart. Those without a gaming app may want to focus more on the competitive advantage. In contrast with Games, users are less likely to install multiple non-gaming apps that offer the same functionality.
As a general rule:
Lead with your best, most exciting feature at the start of the video to captivate your audience.
Be sure to keep a good pace and frontload your most important messages to prevent viewers from dropping off.
Utilize screenshots and elements of your app's interface to give users an idea of the look and feel of your app.
Ensure that graphic elements and and text included in your video will look good on mobile and are legible to the viewer.
When developing a video on a computer screen, keep in mind it will look very different on a smaller screen.
Additional reading: How to Create an Effective App Store Video
Q: When icon A/B testing on Google Play, should I test multiple icons or just market and one variant?
A: If you've got the means to run multiple tests, do so. One app icon may be well received in a certain market, and completely underwhelming in another. Begin to formulate which elements specific cultures and markets respond to best through A/B testing, to inform how to create and ensure effectiveness of your additional marketing collateral.
Additional reading: How to Pick an App Name, Icon, Screenshots and Keywords
Q: How often would you refresh screenshots?
A: Refreshing screenshots to remain relevant is key. Be sure that screenshots reflect the current UI of your app, so as not to mislead any new users once they download your app. If you have the means, refreshing images that may capture more users, such as seasonal themes could see higher levels of engagements and downloads. And thanks to Google Experiments, Android developers have it easy, developers are able to set up tests and collect results within Google's dashboards. iOS developers have options too, with solutions like StoreMaven available.
Screenshots are important and a key asset you should focus on nailing. According to StoreMaven, of all assets on an app store page, they attribute to the largest potential lift in conversion rates at 20–30%.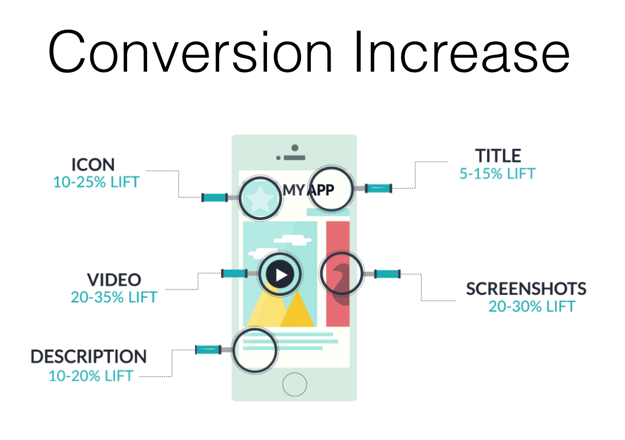 Additional reading:
Interested in exploring different ways to monetize your app? Be sure to join us on Thursday, December 8 where we'll cover the projected growth of app monetization and share best practices from leading apps.