Super Mario Run is poised to be a global hit thanks to its best-in-class marketing game plan.
Everyone's favorite cartoon plumber is getting ready to hit the small screen. After 35 years of entertaining children and adults around the world, Mario is coming to iPhone and iPad.
Super Mario Run launches December 15 and will be available in 151 countries and 10 languages, including English, Japanese, German, French, Spanish, Portuguese, Italian, Dutch, Russian and traditional Chinese. The endless runner-style game will include three modes, which are free to try. However, there is a one-time in-app purchase of $9.99 in order to unlock the full game.
While it remains to be seen how different regions will monetize, one thing's for sure: Nintendo has run a best-in-class app launch, and is poised to reap the rewards come December 15.
Let's look at the different app marketing tactics they've used to drive interest and momentum leading up to Super Mario Run's launch.
Best Practices in App Marketing From Super Mario Run
1. A High-Profile Debut
You can't ask for better exposure than being featured at Apple's press events. Many publishers covet the opportunity to be given visibility at the event — even if it's just their icon on the iPhone home screen.
Nintendo went a step further, and had Creative Fellow Shigeru Miyamoto appear alongside Apple CEO Tim Cook to introduce Super Mario Run. The five-minute demo walked through gameplay and teased a holiday release date.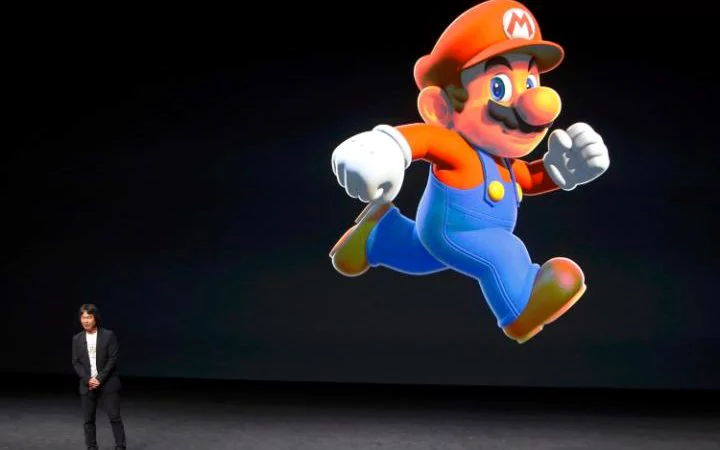 Shigeru Miyamoto, considered the father of Mario and one of the most influential figures in the history of video games, introduced the world to Super Mario Run during Apple's September press event. (Credit: Reuters)
This press opportunity garnered countless media mentions where Nintendo was included alongside the rest of the day's announcements. It was a brilliant move on Nintendo's part to get out there early and align their reveal with a major media moment.
2. Close Collaboration With the iOS App Store
Nintendo didn't just coast on the positive press — they helped users turn interest into intent. That same day, Super Mario Run was featured on the iOS App Store with a call to action to sign up for a launch-day notification. In just over a month they racked up more than 20 million notification sign-ups.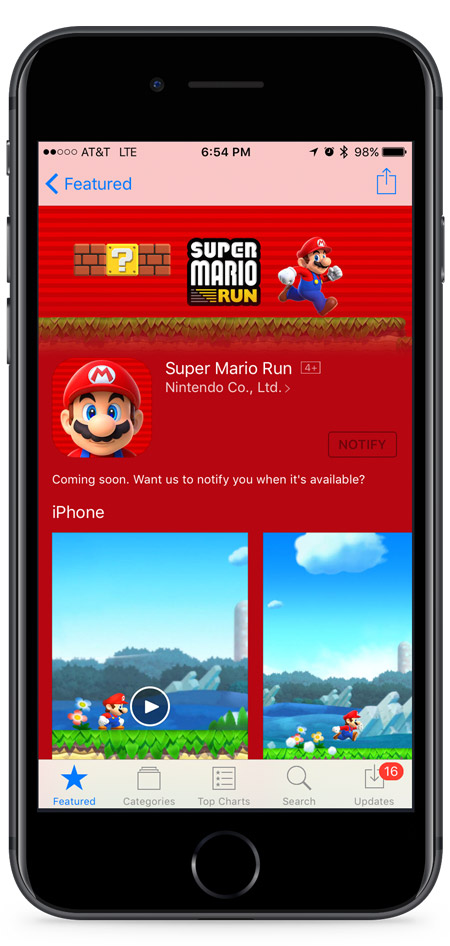 Now this isn't exactly a new tactic. In March of 2015 Google Play Store rolled out app pre-registrations to help developers notify users once their app is available. Games like Clash Royale have used this to great effect. However, this marks the first time the iOS App Store has allowed users to sign up for launch-day notifications. At this point, it's unclear if this is a one-off opportunity, or if Apple has plans to open this feature up to all developers.
Since announcing its release date and price on November 15, Super Mario Run has continued to be featured across the iOS App Store and across countries. Using our new Feature History report we can get a sense of the app's worldwide App Store visibility.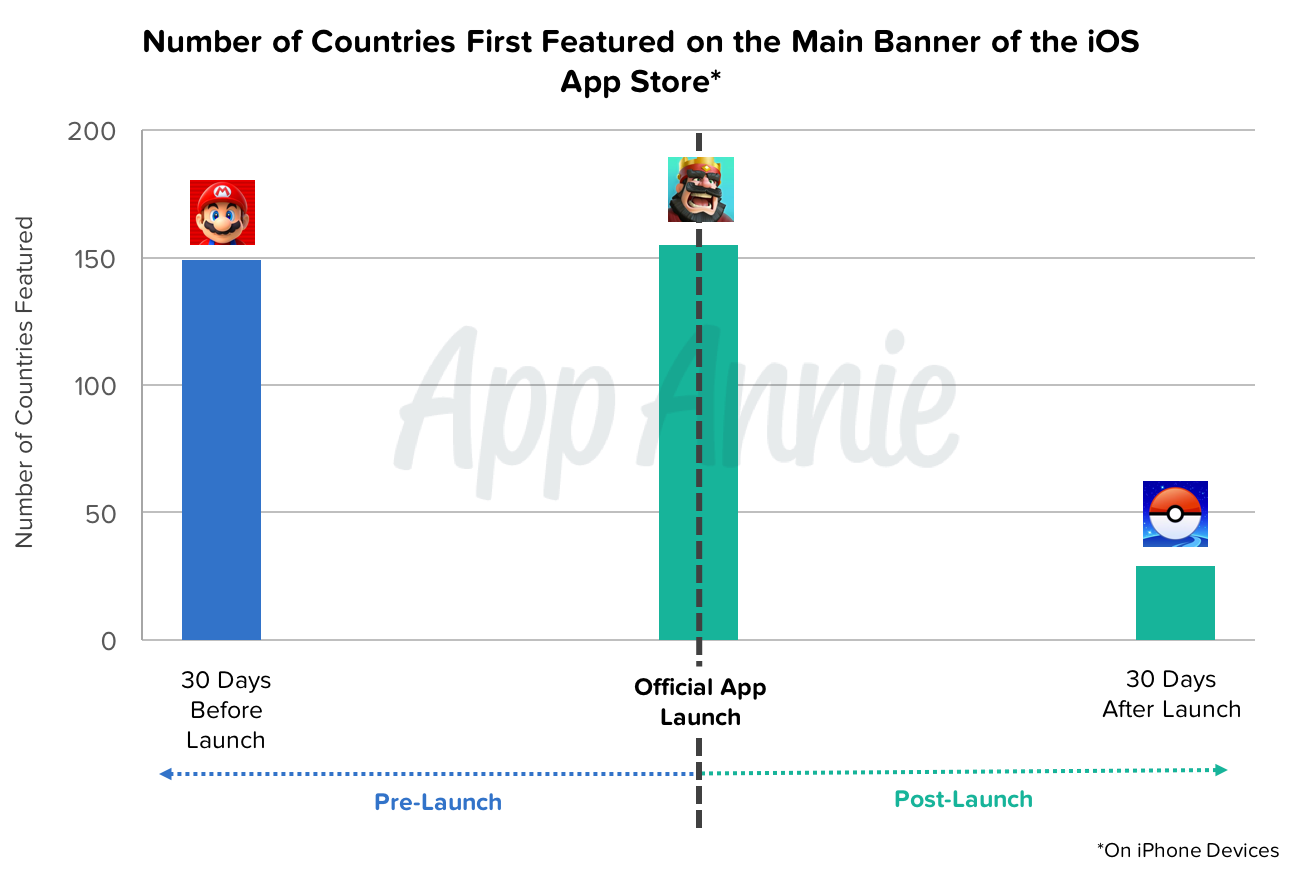 Super Mario Run was featured on the main banner of the iOS App Store a month before its official launch in approximately 150 countries — which is largely unprecedented for games on any platform. Clash Royale was similarly featured wide on the day of its official launch, and monumentally successful Pokémon GO was first featured a month after launch.
This level of pre-launch publicity is likely to have a great impact on the Super Mario Run's official launch-day success. And this second featuring push has no doubt driven up the number of pre-registrations, as getting featured on the iOS App Store can be an incredibly effective user acquisition (UA) tactic.
3. Website With a Wealth of Information
Miyamoto's presentation and the subsequent media coverage offered additional details on what people could expect from Super Mario Run, but naturally they wanted more. Nintendo was prepared — right after the Apple press event, supermariorun.com went live. At launch, the site was mainly used for collecting pre-registrations, and included a brief overview of the game along with a video and several screenshots.
The site and its content have grown more robust leading up to the release. By the time the launch date was announced, the Super Mario Run website featured additional extended gameplay previews (which have already racked up millions of views) and a closer look at the three modes: World Tour, Toad Rally and Kingdom Builder.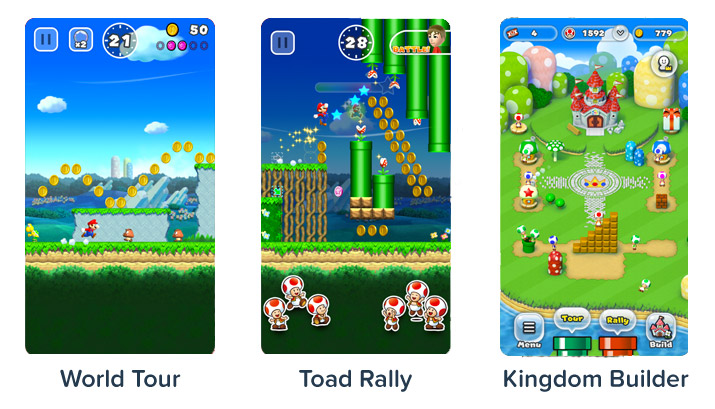 Super Mario Run offers three different modes of gameplay. Users can download the app and preview each level before committing to a $9.99 purchase.
Having an owned destination with updated content works for two major reasons:
It helps educate journalists and gives them re-usable assets, which in turn helps make sure the right messages are spread
It keeps prospective users engaged and continues to stoke their interest by revealing new and exciting updates
4. A Well-Maintained App Store Page
As mentioned in our guide to app store optimization (ASO), an app store page and the assets within are critically important. According to Apple, 65% of App Store downloads come from search. But once users find an app, the icon, screenshots and description need to help convince them to install. An ASO strategy needs to take all of these elements into account.
Super Mario Run has been sure to put its best foot forward. As soon as its release was announced it had screenshots available for both iPhone and iPad. And we can't forget the icon — you'd be hard-pressed to think of a more recognizable cartoon face.

Even though launch is still two weeks away, Nintendo has been active in refining its App Store presence. On November 15, the app's name and description were both updated. The new description provides a more in-depth overview of gameplay and the different modes available.
Additionally, Super Mario Run has been able to effectively translate its iconic IP into keyword domination. The game already ranks #1 in search results for "Mario," "Luigi," and "Nintendo," among other branded searches. This should ensure that even those who haven't pre-registered for the game will easily be able to find it.
The Return of Pay-to-Play? Why $9.99 Isn't As Crazy As Some May Think.
The biggest question around Super Mario Run is whether the price point is too steep for a mainstream mobile game. Many mobile users will never monetize — even a $0.99 purchase can be too large a hurdle to clear. Nintendo's choice flies in the face of conventional wisdom around mobile game pricing — will it pay off? Nintendo shareholders would certainly like to believe so. We won't know the answer for a few weeks, but it's important to keep in mind the following factors.
The Holiday Season
In a season of gift-giving, app store gift cards are a simple and low-effort gift. In fact, a recent survey from the National Retail Federation showed that 56% of shoppers plan to buy gift cards this holiday season. Many users with iTunes gift cards will not think twice about spending $10 on an app.
Super Mario Run's Global Presence
Super Mario Run will be available in an astounding 151 countries at launch. This includes many Asian countries, like Nintendo's home turf of Japan. As noted in our Q2 report on average revenue per user (ARPU), Japan is a unique market that monetizes extremely well, maintaining a strong lead in ARPU over all other markets. In our app monetization report, we noted that the majority of mobile app revenue in Japan comes from the app stores. We anticipate that mature markets similar to Japan will drive the initial success of Super Mario Run.

The Strength of the Intellectual Property (IP)
One cannot overstate how beloved Mario is and how popular the video game franchise has been over the past few decades. Pokémon GO's explosive success should serve as an example of how an especially strong IP can perform. When people feel connected with a brand, they generally have a higher propensity to spend.
The franchise has a reputation for high-caliber content. In fact, in a recent interview Miyamoto shared that the preservation of quality was a key reason Nintendo was a late entrant into mobile. "The hardware has to provide a stable experience and until recently we felt that we couldn't get that, but the response that these systems can provide is good enough now," he said. This commitment to a superior gaming experience may convince more people to take the plunge and spend $9.99 to unlock the full content.
Nintendo's Console Heritage
Mobile game revenue is heavily driven by in-app purchases — and microtransactions more specifically. There's no doubt that Super Mario Run's pricing is an outlier, but it's not the first to enter this territory. (At $11.99, Grand Theft Auto The Trilogy has performed reasonably well.) The fact that console games typically range from $30–$60 sets a different — and higher — expectation for gamers seeking a Nintendo-level experience. With Nintendo's gaming pedigree and the iconic Mario IP — well, if there's a game where a publisher can test the upper limits of pricing, this is the one.
What Can Super Mario Run Learn From Pokémon GO?
Super Mario Run comes on the heels of the record-shattering Pokémon GO. Both feature strong Nintendo IP, but the similarities largely end there.
Pokémon GO had novelty (by mainstreaming augmented reality), and was able to integrate itself into users' lives by absorbing previously "non-mobile time." The game was noticeably absent from app store home pages at launch, and didn't earn its first major feature until August 8. Additionally, infrastructure issues and a lack of communication from Niantic led to many frustrated would-be players worldwide. Despite these hiccups, the game has gone on to be incredibly successful, with word-of-mouth marketing being an especially strong acquisition channel.
Nintendo has set Super Mario Run on a course for success with a tight, integrated marketing plan. The one question remains: Is Super Mario Run prepared for its popularity?
This is where Pokémon GO provides an interesting point of comparison. Publisher Niantic leveraged Google Cloud to deliver the app to users around the world. The technical team had developed a launch target as well as worst-case scenario in order to ensure server stability. The actual traffic at launch was 50 times the initial target, 10 times the worst-case estimate.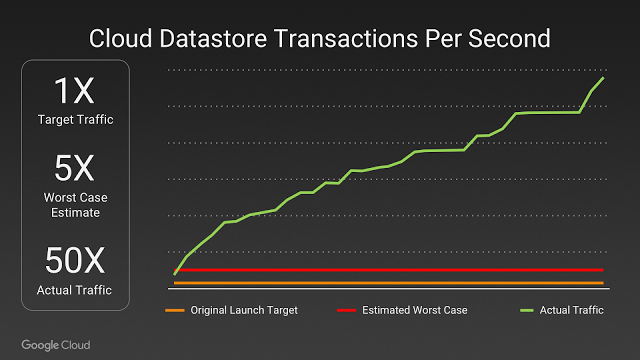 It's important to keep in mind that this was when Pokémon GO was only available in a few countries. On December 15, at least 20 million users in 151 countries will get a notification that Super Mario Run is now available, and countless more will pour into its App Store page based on feature placements, social media, news and word-of-mouth mentions. We're hoping the technical team behind app has their game face on. You only get one chance to make a first impression.
We'll be following Super Mario Run throughout December and over the coming months. Be sure to check back in for the latest updates.
Build a Better App Business
Subscribe to our weekly digest to see more app industry reports, conference updates and guides.
Want to take your app business to the next level? Track the performance of millions of apps across the world with download, revenue, demographic and usage estimates from App Annie Intelligence. Request a demo today.