Streaming video apps are using fall premieres as a UA hook. See how they're using exclusive content to drive trial subscriptions and installs.
Historically, television broadcasters ran big campaigns to promote the fall seasons of new and returning shows. As many consumers trade their cable plans for streaming apps, networks have had to shift their distribution strategy and adapt by either creating a complementary app or finding a streaming partner.
Despite the rapidly evolving media and entertainment landscape, "appointment viewing" is alive and well — even for apps offering on-demand streaming.
Many apps are using this as a hook to re-engage existing users and acquire new ones.
HBO NOW ran a mobile user acquisition (UA) campaign this May to promote its launch — plus the newest season of Game of Thrones. The app promoted some of HBO's most popular shows and ran ads offering new consumers a free one-month trial.
SHOWTIME Showcases New Content
SHOWTIME used its fall TV lineup as an opportunity to launch a UA campaign for its iOS app. The app launched in July of last year and is one of the newer networks to go mobile. To gain traction, SHOWTIME focuses on highlighting fan-favorite shows and offering exclusive free trial offers to new users — much like its burst UA campaign for summer premieres this year. In September, SHOWTIME ranked #11 for overall share of impressions on AdMob for US iPhones and #2 in Entertainment.
SHOWTIME utilized these in-app banners highlight new and popular shows.
In addition to using in-app banners, they explored using different ad formats and platforms to reach new customers. Teasing new content can be the catalyst for keeping users engaged and paying past their 30-day free trial. Exclusive and original programming has proven to be a competitive differentiator. Amazon, Netflix and HBO are prioritizing and making big investments in this space. Netflix alone took home nine Emmys this year for its original programming and HBO's Game of Thrones nabbed three.
Networks Adapt to Mobile
Cable networks are seeing shifts in consumer behavior and looking to staying nimble by offering companion apps that complement traditional cable subscriptions. Like SHOWTIME, cable staples such as ABC and CBS are using mobile ads to showcase new and returning programming. Cable providers are utilizing different types of creatives — such as repurposing TV ads for the mobile screen or showcasing the catalog of offerings available on their apps.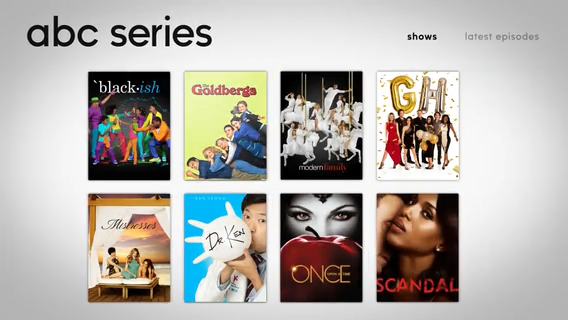 ABC highlights popular series available for streaming at any time on their iOS app.
These campaigns prioritize content consumption — without emphasizing a specific platform — over app installs. Looking to demonstrate their omnipresence, cable providers are opting to market streaming apps as to supplement, not replace, traditional cable. In addition to creating awareness around their fall lineups, the mobile push is helping many of these apps climb the charts.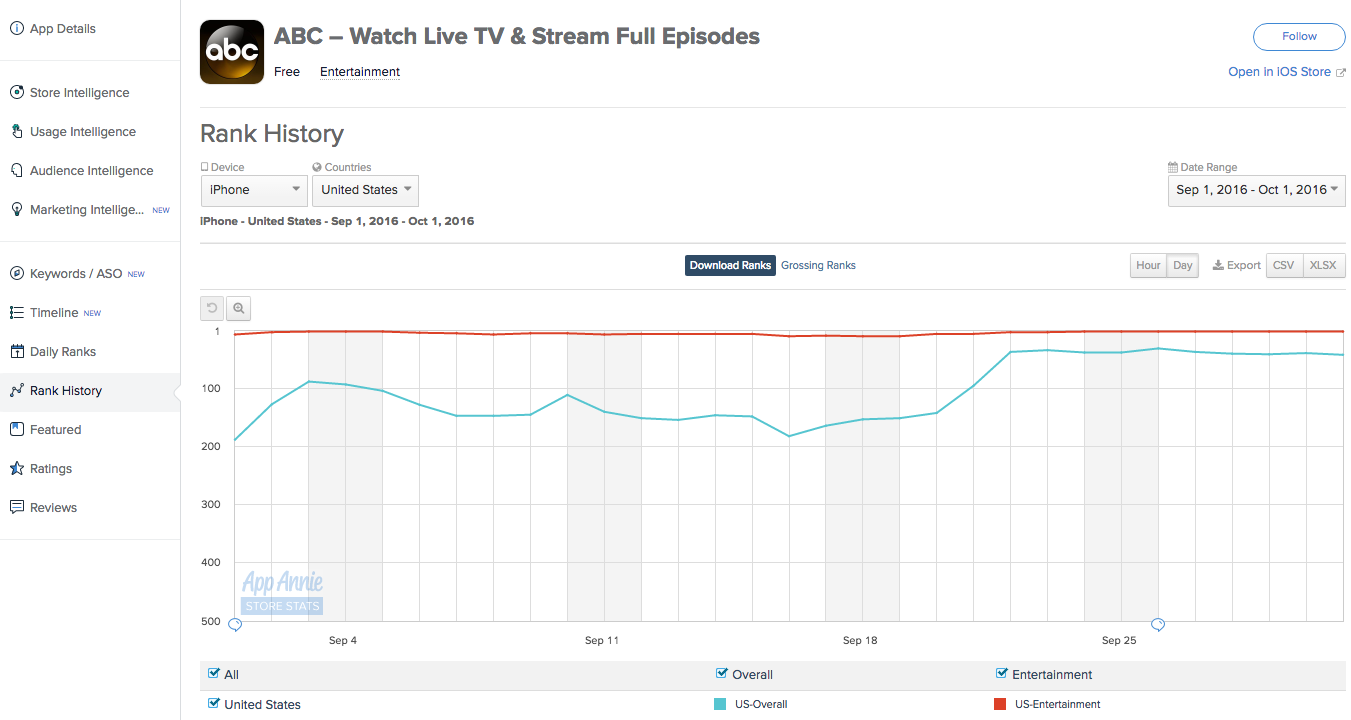 ABC saw a jump in iOS downloads during the last two weeks of September, when fall TV shows premiered.
While ABC remained steady in the top for Entertainment category on iOS, there was a noticeable climb for overall ranking in the United States toward the end of September when fall shows premiered.
Other Apps Promote Anytime Programming
While some streaming apps are directing advertising efforts toward this season's content, others are in maintenance mode — pushing the app's value proposition over any one series. Online-first services may have off-cycle premieres to focus on for original content, like Netflix with season premieres in April for Unbreakable Kimmy Schmidt and June for Orange Is the New Black. Starz and Syfy followed this approach and stuck to general UA campaigns for fall highlighting the ease of streaming, while incentivizing access to their content with free trials.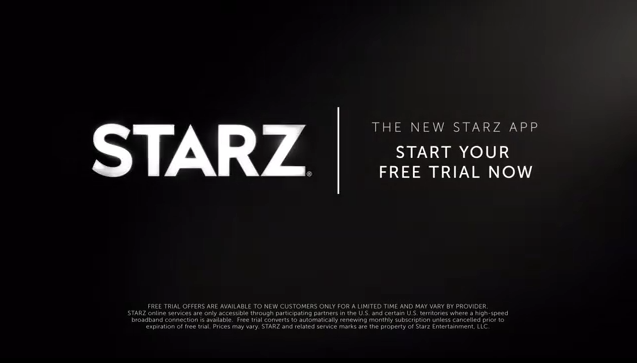 Starz features a movie trailer along with a free month trial at the end of the video.
Maintaining a UA campaign year-round — focusing on key features and content — can continue to bring in a steady stream of new installs, trials and subscribers. Then, when new content premieres, advertisers can swap out creative and increase their budget to hook potential subscribers seeking out their next binge fix.
Mobile UA and Streaming Are a Match
More consumers are turning to mobile for their entertainment needs. It only makes sense that companies — and their ad dollars — will follow. Some are using the opportunity to promote their availability across platforms, while those with an in-app subscription revenue model are aggressively working to drive app installs and subscription trials. Providers that have truly embraced mobile — like HBO NOW, which claimed one million subscribers as of March — see that the additional spend on user acquisition is yielding strong results.
Build a Better App Business
Gain unparalleled visibility into your competitors' user acquisition campaigns. Request a demo of Marketing Intelligence.