Our holistic guide will show you how to master app store optimization, take you through the definition of ASO and equip you with app marketing strategies to support your app store search optimization and the benefits of ASO.
In our latest guide, we take you through the key steps of how to master App Store Optimization, the benefits of ASO, and how to master app store visibility to get discovered by users. 
The more you focus on key ASO strategies, the more chances you have to boost your organic app downloads.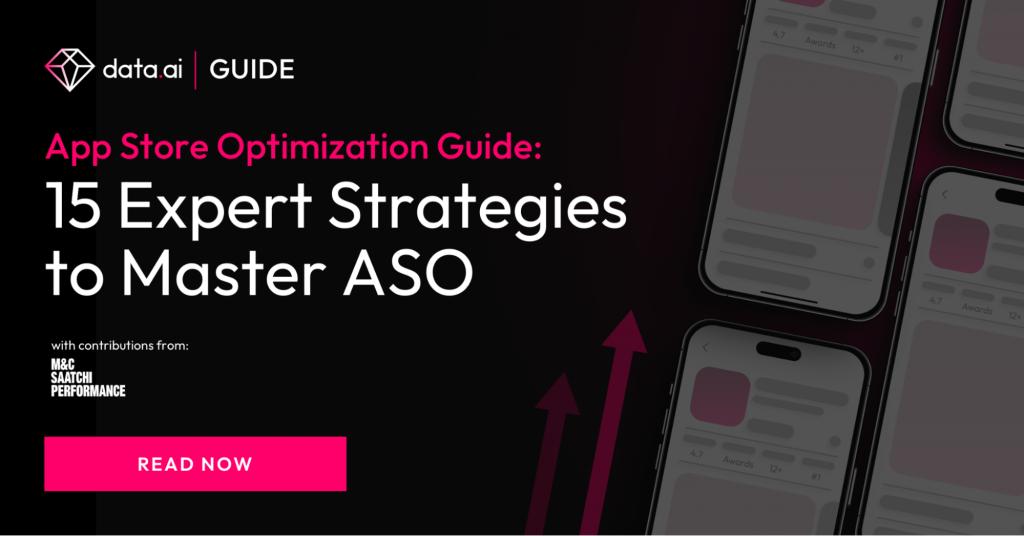 Jane Butler, Managing Director, App Promotion, Americas at Google explained,  
"People expect fast, reliable, personalized experiences from the brands they interact with, and we often find that the best way to deliver that experience is through apps."
How Does ASO Work
?
As a mobile marketer, your job is to cut through that clutter and get in front of the right audiences. Increasing exposure for your mobile presence helps increase app downloads, boost store rankings and ultimately drive revenue for your business. 
ASO is the ongoing process of testing and measuring updates to app store marketing assets, with the goal of increasing visibility and driving more downloads. App store search optimization is incredibly important to organic discovery. 
For many app publishers, the first thing that comes to mind when they think about ASO is building out a keyword strategy. While certainly an important component, optimizing your app for organic discoverability goes well beyond keywords. 
What Does ASO include?
ASO is much more robust and strategic than many may think, comprising research, testing and a lot of creativity. In this blog post, we'll equip you with best practices for improving app discoverability and downloads among quality users. And for more, head to our ASO playbook to complement the Google Play Developer Console and iTunes Connect. 
ASO includes many facets:
Maximizing your app store assets:

App Icons

Video 

Screenshots

Choosing competitive keywords

Categorizing your app

Keeping tabs on your competitors

Creating a user feedback loop: the influence of ratings and reviews 

Leveraging search ads for strategic discoverability 

Monitor the competition's keyword bidding strategy 

Using branded & generic keywords to maximize your

discoverability

Going global:

ASO localization

Analyzing ASO

: tracking paid and organic downloads
Ultimately, these tactics all work together to create a harmonious and robust App Store Optimization strategy. 
Why is ASO Important
to a Robust Marketing Strategy?
According to Apple, 650 million visitors come to the app stores each week and 77% of app downloads come through organic searches on the iOS App Store — you can optimize your chances of being discovered and downloaded through strategic App Store Optimization (ASO).
Organic search is more important than ever with the impact of IDFA. IDFA reduces the impact of paid advertising as advertisers lose access to user level data. Mobile market data is critical to fueling an insightful marketing strategy for both paid and organic efforts in this new environment. 
How Do We Overcome the Challenge of
App Store Visibility
in Today's Mobile Environment?
The challenge of App Store Optimization: how do you cut through the clutter and get in front of the right audiences? 
The app market is one of the most competitive spaces in the world. And it's crowded — with more than 150 billion downloads in 2022. Still, nearly a third of these downloads went to the top 1,000 apps in 2022. Between the sheer number of apps and the skyrocketing costs of advertising, successfully acquiring and retaining users is more challenging than ever.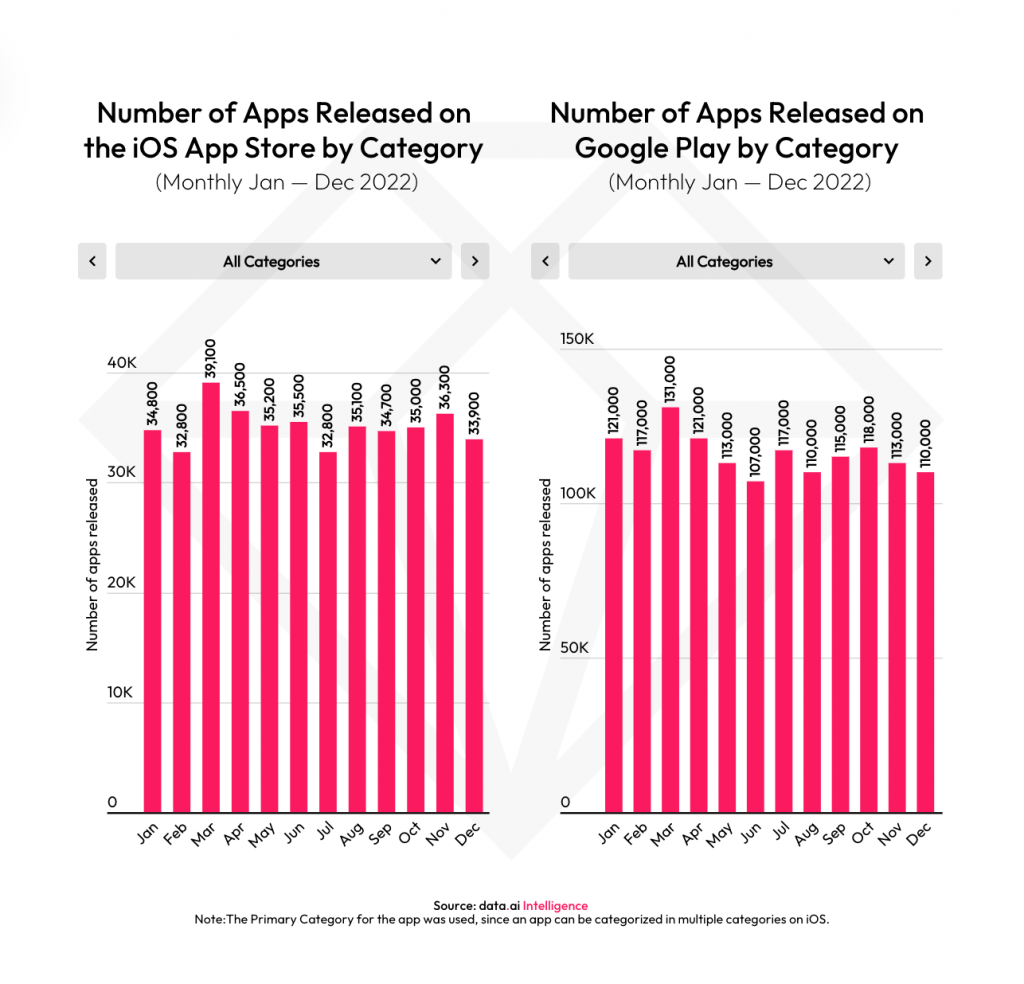 Across both app stores, more than 100,000 new apps and games are launched each month. App Store Optimization is vital to getting noticed and driving downloads.
While there are challenges, the opportunities App Store Optimization presents from knowing how ASO works, the benefits of ASO and the importance of ASO  are worth the investment. 
App Store Optimization is much more robust and strategic than many may think, comprising research,  testing and a lot of creativity. In this ASO Guide, we'll equip you with ASO best practices for improving app discoverability and downloads among quality users. In addition to data.ai's expertise, we'll share insights from the industry's best and brightest, and offer actionable advice and tips you can apply to your own App Store Optimization efforts.  
What Are
App Store Optimization Guidelines?
There are a number of areas you should consider with your app store search optimization. These include the use of keywords. With millions of apps available between the app stores, choosing keywords that will move the needle for your business is no easy feat. Your keyword strategy should neither exist in a vacuum or be static — it must be fluid and continuous, taking into account competitor and cultural changes plus the impact on your app's ranking, downloads, engagement and revenue.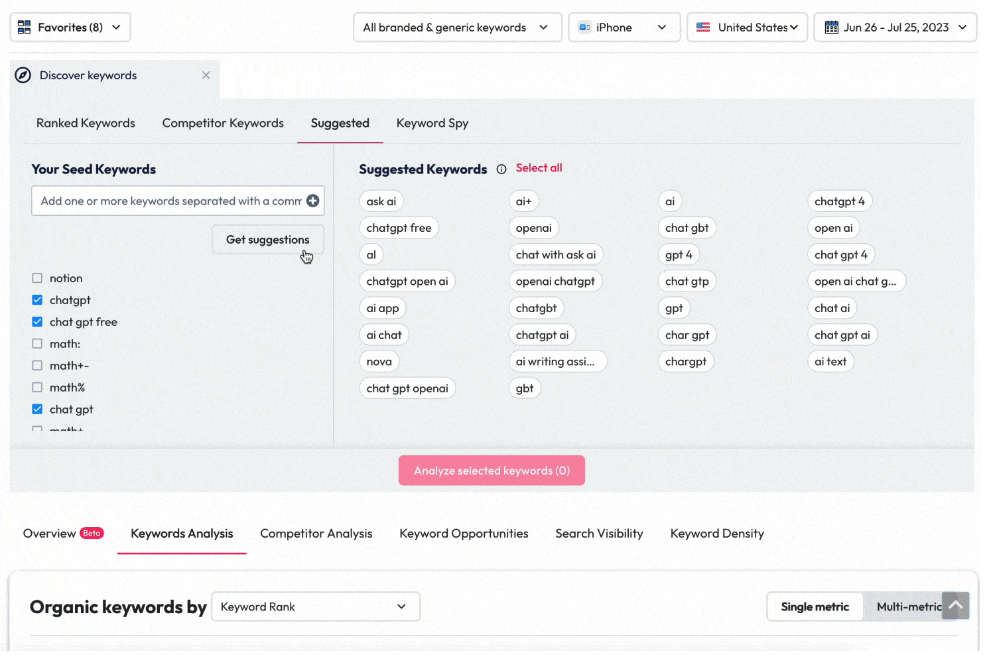 data.ai's ASO tools help you identify how to choose the right keywords for ASO by analyzing keywords for search volume and difficulty to rank so you know how to get your app noticed.

Aligning your offering with the keywords that people are searching for online will be essential to generating app downloads from a valuable audience. Thanks to machine learning, data.ai can suggest new keywords if you simply type in a few seed keywords to point our algorithm in the right direction. 
Another area to consider is your app store assets: 
What is the state of your

app store conversion optimization

? 

Are you leveraging your screenshots, description, app store updates and keywords to your advantage?

Have you tested your creative assets?
 ASO best practices state that your app store inventory is one of your greatest assets. 
How to Rank in the App Store
Often Depends on the App Stores' Guidelines:
As part of your app store optimization efforts, pay close attention to the different requirements between the Google Play and iOS app stores. Tailor your strategy by following the iOS app store guidelines and the Google Play guidelines. Ultimately, playing the strengths of each app store will benefit not only your app store search optimization but your app store conversion optimization. For instance, iOS offers a keyword bank and Google Play doesn't. This often means you may need to update your app store description on Google Play more regularly as your keyword strategy evolves.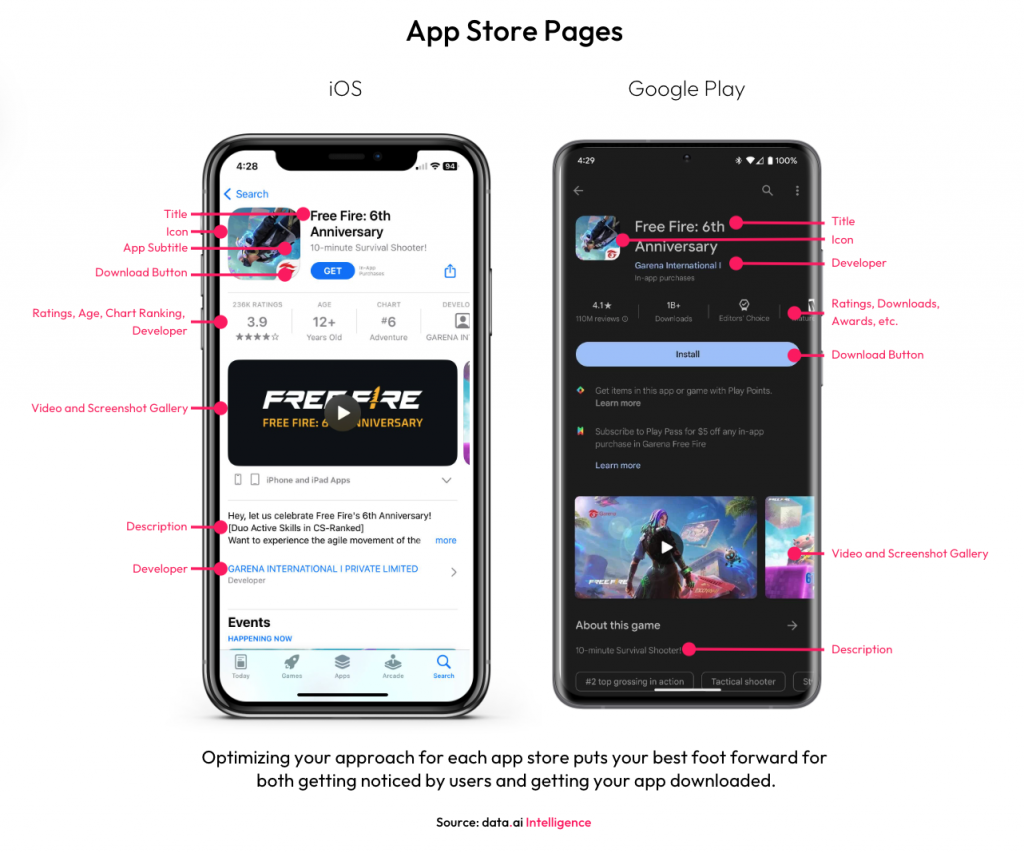 App Store differences are incredibly important to test. iOS and Google Play each offer different experiences that affect how to get your app noticed and ultimately impact ASO app conversion rates from store page to download.
Onboarding doesn't begin when users open your app for the first time — it begins at the app store. Providing the right mix of app metadata (e.g., your name, description, and creative assets) helps to reduce friction during discovery, download and first use. 
Finding the right assets, driving the most relevant messages and matching user expectations are crucial. Testing app store elements can increase your conversion rates and prevent conversion decrease over time. 
ASO Tips
For Creative Testing Based on App Store: 
The first view of your app makes Google Play and iOS App Store users fundamentally different. Developers are often confused to find that their best performing Google Play creatives perform drastically lower on the iOS App Store. You can view live app store assets on data.ai's app store pages to get a feel for how creatives differ across stores. 
ASO Tips For Testing Creative Assets on Google Play: 
Video

- If there is a video then the poster frame is extremely important as only 6%-10% of users ever click to watch the video. 100% of them will be exposed to the poster frame. Keep videos short (about 10% of users will drop off every five seconds!) and show your strongest messages first. Video — but only when done well — can impact conversions by 24%. 

Screenshot Gallery

- Within the screenshot gallery, the focus should be more on the first screenshots that appear in the first impression (which also depend on the orientation and the chosen screenshots resolution). 37% of users who scrolled through the gallery installed the app. This is up nearly 40% from the previous Google Play Store design where screenshots were below the fold.  

Icon

- Your icon is crucial for a good conversion rate. Plus it's the one element that stays relevant after a user downloads. Testing icons can increase conversions by

11%.

Short Description

- 100% of your users will see the short description text (the 80 characters before the "read more" button), and only an average of 5% will expand your full description. Changing this text can increase conversions by 13%.
ASO Tips For Testing Creative Assets on the iOS App Store: 
Feature Graphic

- For some apps, this will be the first image users see — appearing at the top of the app store page and visually occupying approximately one-third of the screen. On Google Play, StoreMaven found feature graphics could lead to a 31% lift in conversion rates.   

First Two Screenshots

- On average, 31% of users scroll through your gallery and only 8% see your full gallery, so your first two images by far have the most impact and can improve your conversion rate by

18%.

Poster Frame/Video Presence

- When you add a video to iOS, it takes the place of your first image, fundamentally impacting the way users engage with the page. On iOS, the poster frame (the image beneath the video) must be a frame from your video. You absolutely must be aware of this when designing your video. While only 7% of users will actually watch your video on iOS, 100% will see your poster frame. Testing poster frames and videos can increase conversions by 40%.

Icon

- On iOS, your icon has more prominence than on Google Play, increasing your conversion potential by 18%.
Measuring Success: Why
App Store Optimizatio
n Is a Living Process
So you've updated your creative assets, improved your ratings and reviews and successfully boosted your app's downloads and rankings. All done, right? 
Not exactly. 
ASO is an ongoing process, something that requires nurturing and attention and, you guessed it, optimization. 
What Does Optimization Entail? 
Monitoring your keyword rankings (and your competitors')

Spotlighting new features and UI enhancements

Updating and testing creative assets to highlight app updates

Analyzing reviews and rankings and leveraging feedback

Adjusting the marketing levers that drive downloads and spark reviews

Localizing your app's metadata to increase discoverability and conversion across regions

Optimizing your mobile web presence to drive traffic to your app store page and convert to app users

Tracking your paid vs. organic downloads mix to uncover the efficacy of your ASO efforts

Monitoring competitors' keyword bidding
Implementing a holistic and iterative App Store Optimization program will not only improve organic discoverability, it will increase your chances of convincing users to download your app.
In an increasingly cluttered app store, it's no longer enough to choose the right keywords. You also need to think through how you're telling a story to target users around the world. And the only way to improve over time is to stay on top of your rankings, reviews and ratings — as well as your competitors'.  
As the industry standard for mobile intelligence, data.ai makes monitoring your ASO performance easier than ever. You'll be able to see the impact of key changes to keywords, categorization and creative assets, and uncover new avenues to success. 
For more ASO Tips and strategies download our latest App Store Optimization guide: 15 Experts Strategies to Master ASO. 
Looking to make more of the mobile opportunity? Talk to an expert today.