Games are critical to the mobile app economy. In Southeast Asia, a region with over 630 million people — all potential smartphone owners — this is no different. Just like we have seen in many regions, Games is the highest-ranking app category in Southeast Asia and is showing remarkable download and revenue growth year-over-year. This is definitely a region to watch in the upcoming year.
To help shed light on this fast-growing region, we present our latest free report, Emerging Southeast Asia: Mobile Gaming's New Frontier. This report investigates the drivers propelling the growth of mobile games and evaluates the opportunity and competitive landscape within this region's key countries.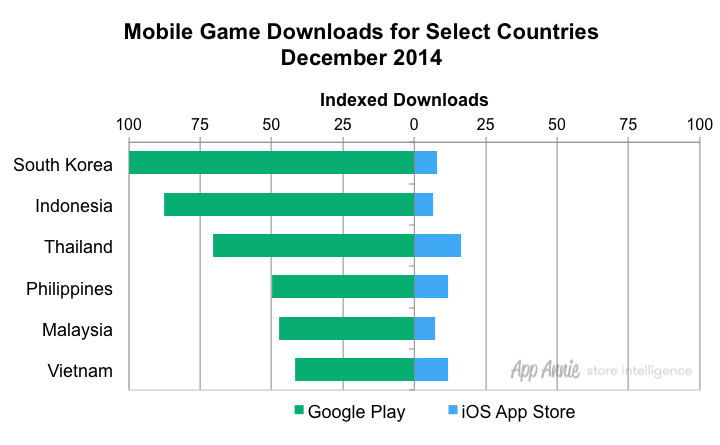 Combined game app downloads in five emerging Southeast Asian countries were nearly three times that of South Korea.
Below is what you can learn from our free report:
Mobile Gaming is Driving Emerging Southeast Asia's App Market
Gaming is massive in emerging Southeast Asia. So much so, mobile games account for a higher proportion of app store downloads than game-loving South Korea. There are plenty of gamers in Southeast Asia — and their fingers are just waiting to press 'Install.'
Understand Opportunities for Developers in Southeast Asian Markets
Optimize your user acquisition spending in this growing region. We evaluate the competitive landscape in this region's key markets, as well as the unique opportunities available to developers hoping to gain traction.
Top 10 Charts for Downloads and Revenue
See the top-ranking games for key markets in Southeast Asia side-by-side. Understand which ones strike a chord with gamers — and their wallets. Get insight to which games mobile device users love in each region.
To gain access to the full 22-page report, click the download button below:
Want More? App Annie Has It
Subscribe to our blog to see more app industry reports, conference updates and product news. We love hearing from our readers, so share your questions and comments below or on Twitter.
Want to perform your own analysis? Create a free Store Stats account or request an Intelligence demo today.