Launched by Alibaba in 2009 as a reimagining of "Singles' Day," China's record-breaking 11/11 shopping festival has entered its 7th year. Seven years of exponential growth later, the annual festival's momentum shows no signs of slowing down. The latest data for 2015 from Alibaba boasts a transaction volume of RMB 91.217B (USD $14.31B) over 24 hours, a 59.7% surge from 2014 — dwarfing the USD 2.04B recorded on Cyber Monday 2014.
While the online shopping festival remains a largely Chinese phenomenon, its sphere of influence has gradually expanded to affect online sales across Asia and beyond. By replicating the formula for Alibaba's success, e-commerce heavyweights outside of China hope to boost stagnant local sales, while keeping an eye on savvy Chinese shoppers.
The Push to Attract Shoppers Starts Early
The fight for consumers started way before 11/11.
With mobile shopping accounting for increasing sales volume in China, shopping apps have become the latest battleground for user engagement. A few weeks ahead of the shopping festival, app developers for e-commerce giants, such as Alibaba's Taobao, Tmall, and their competitors, pushed out app updates designed for 11/11, hoping to boost public interest. The iconic "11.11" date was added on each app icon, creating buzz for the upcoming event.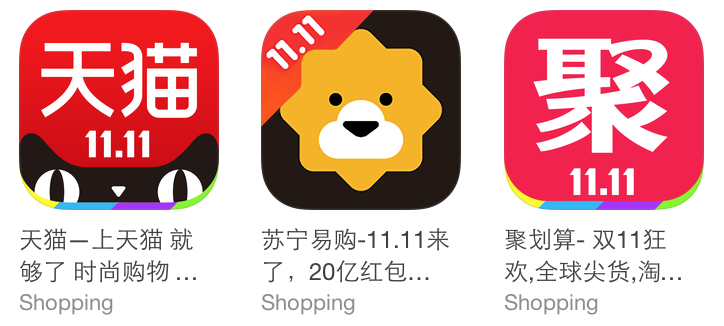 Similar to our observations from last year, popular apps in China under the newly added iOS Shopping category saw increased download activity prior to 11/11. Using Store Stats, we discovered the iOS download ranking for Tmall has risen sharply during the few weeks leading up to 11/11. The app hovered in the 50s at the end of October. As 11/11 draws near, its ranking has soared to claim the #2 spot.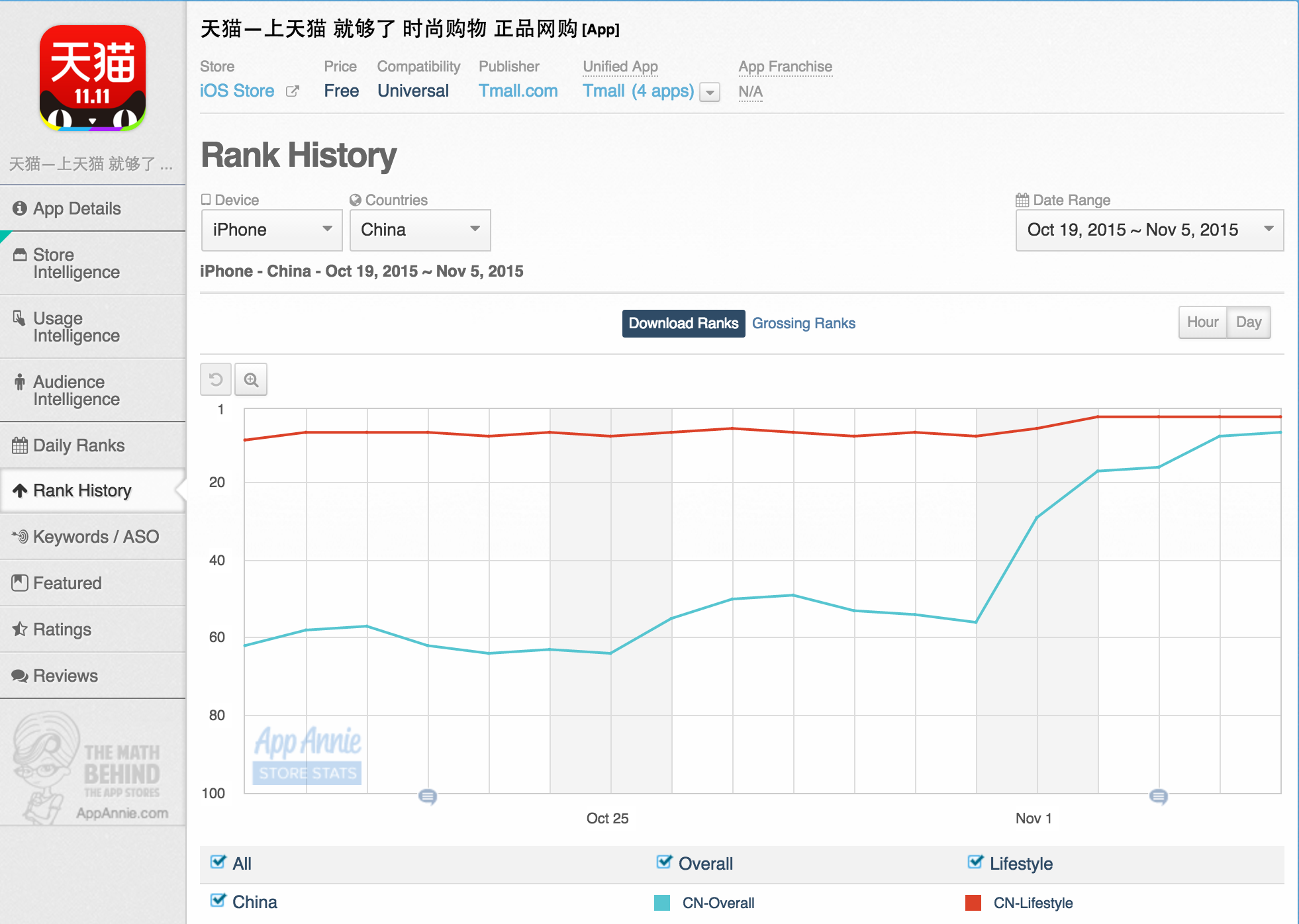 On 11/11, five out of the top six free apps on the Chinese iOS App Store all belonged to the Shopping category, including Jingdong and Suning.com. This chart speaks volumes of the shopping festival's grasp on the Chinese public.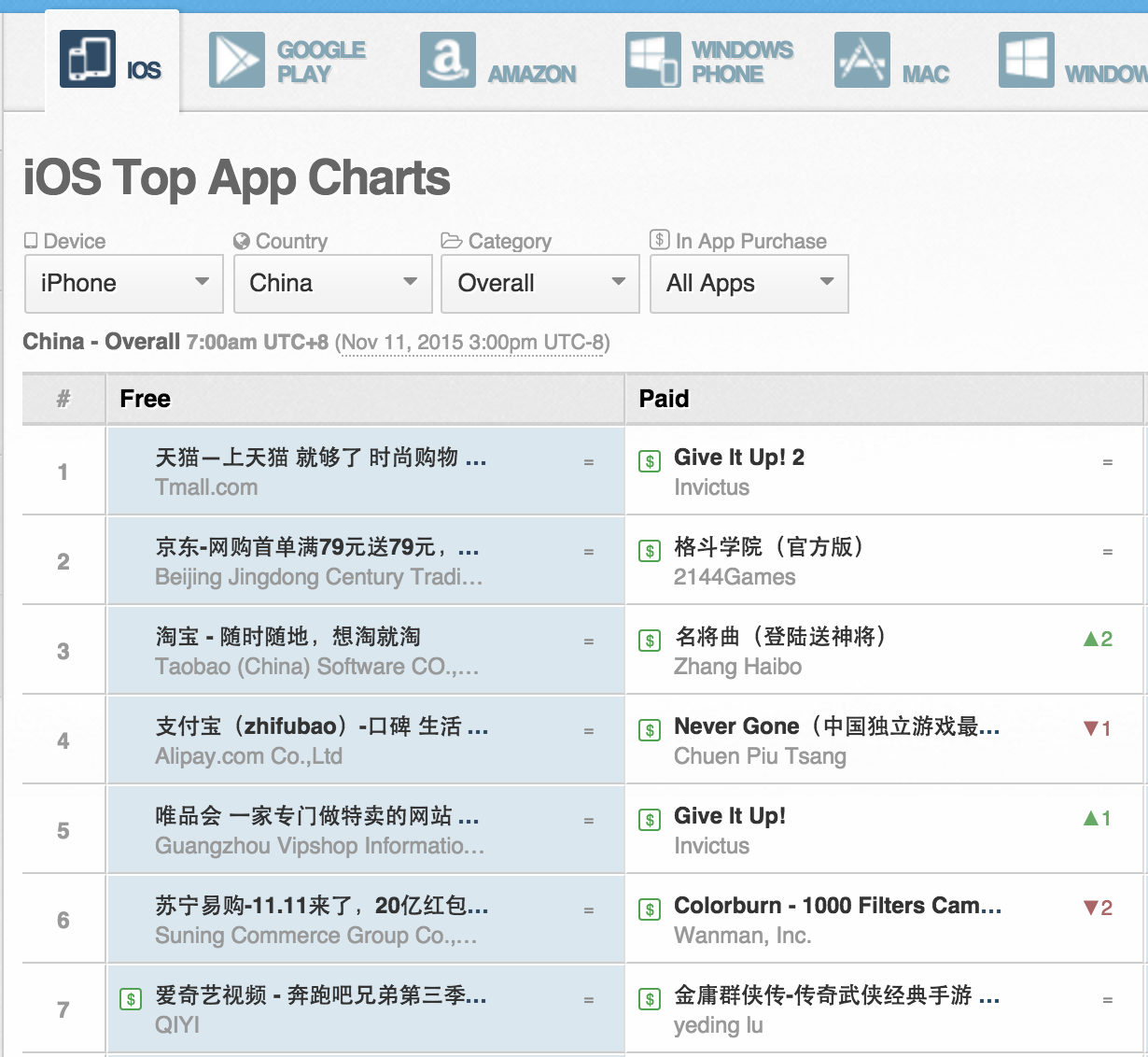 Softbank Leverages Alibaba's Playbook in Japan
Yahoo Japan, whose owner Softbank is a major stakeholder in Alibaba Group, introduced a local shopping event named "いい買物の日 (Good Shopping Day)" with partners. Playing on the Japanese pronunciation of the number "one," which is identical to that of "good," Yahoo Japan hopes to replicate Alibaba's success.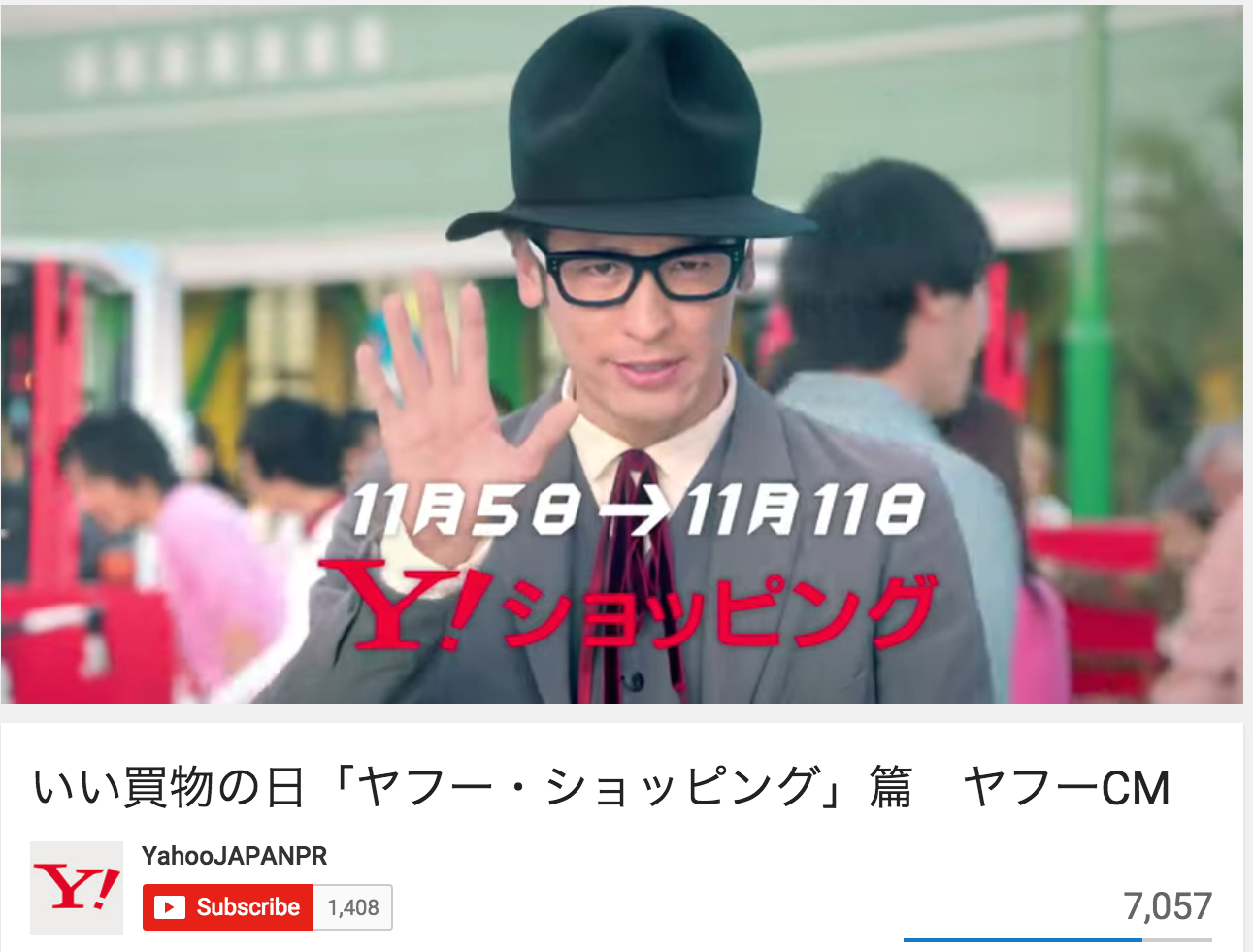 AliExpress Wins Over a Global Audience
For Alibaba, the source of its future expansion could come from outside of China, as Chinese retailers have also learned to cater to a more global consumer base. AliExpress, which connects local Chinese sellers with fervent buyers abroad, joined in on the 11/11 fun as well. Having already established itself in countries such as Spain and Russia, where it is opening up the platform to selected Russian retailers on 11/11, AliExpress steadily moved in on other major markets. Using Store Stats, we observed that download rankings — mainly for Google Play — have spiked for key markets like Brazil and India, which is Google Play's second and third largest market by downloads, respectively.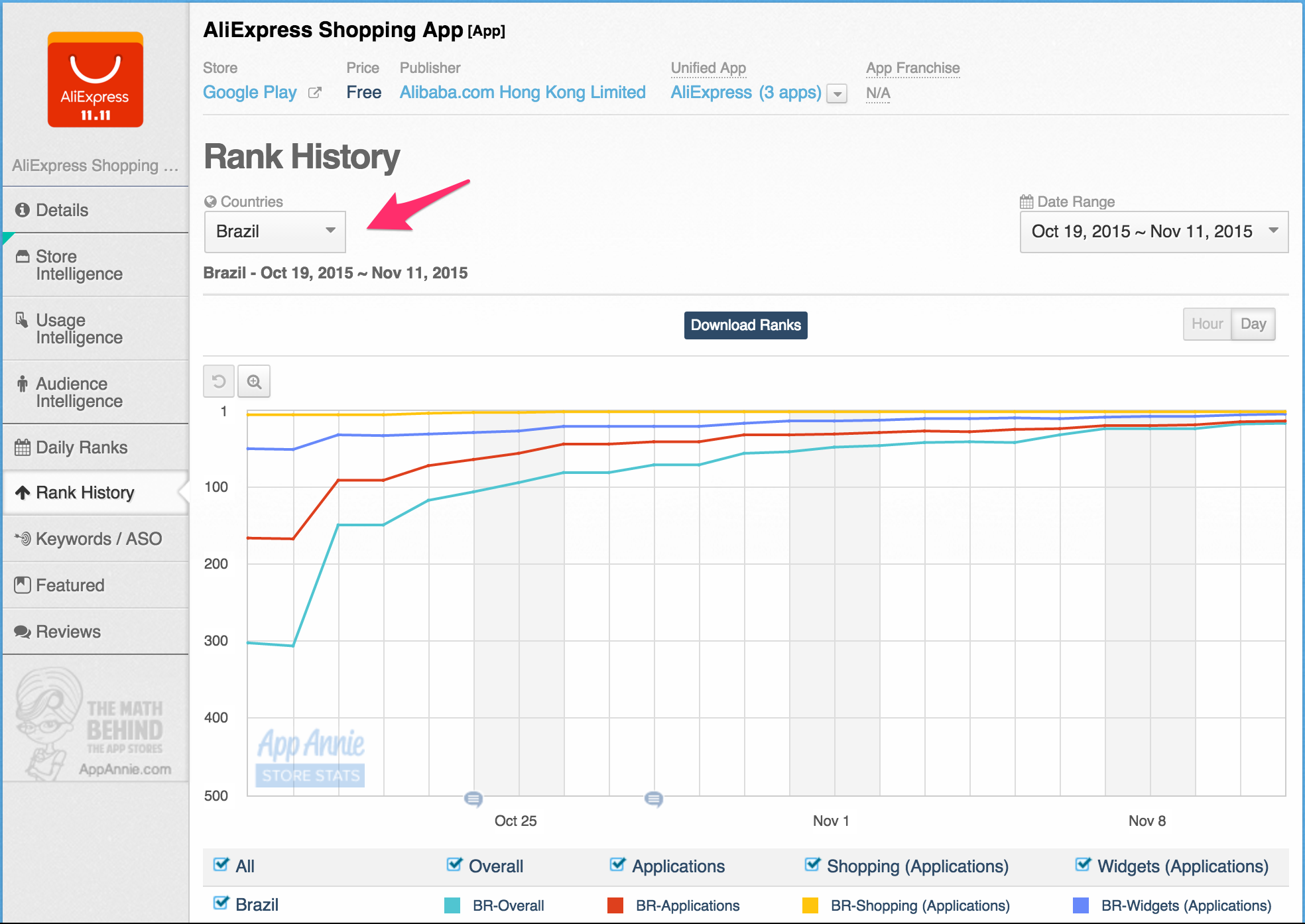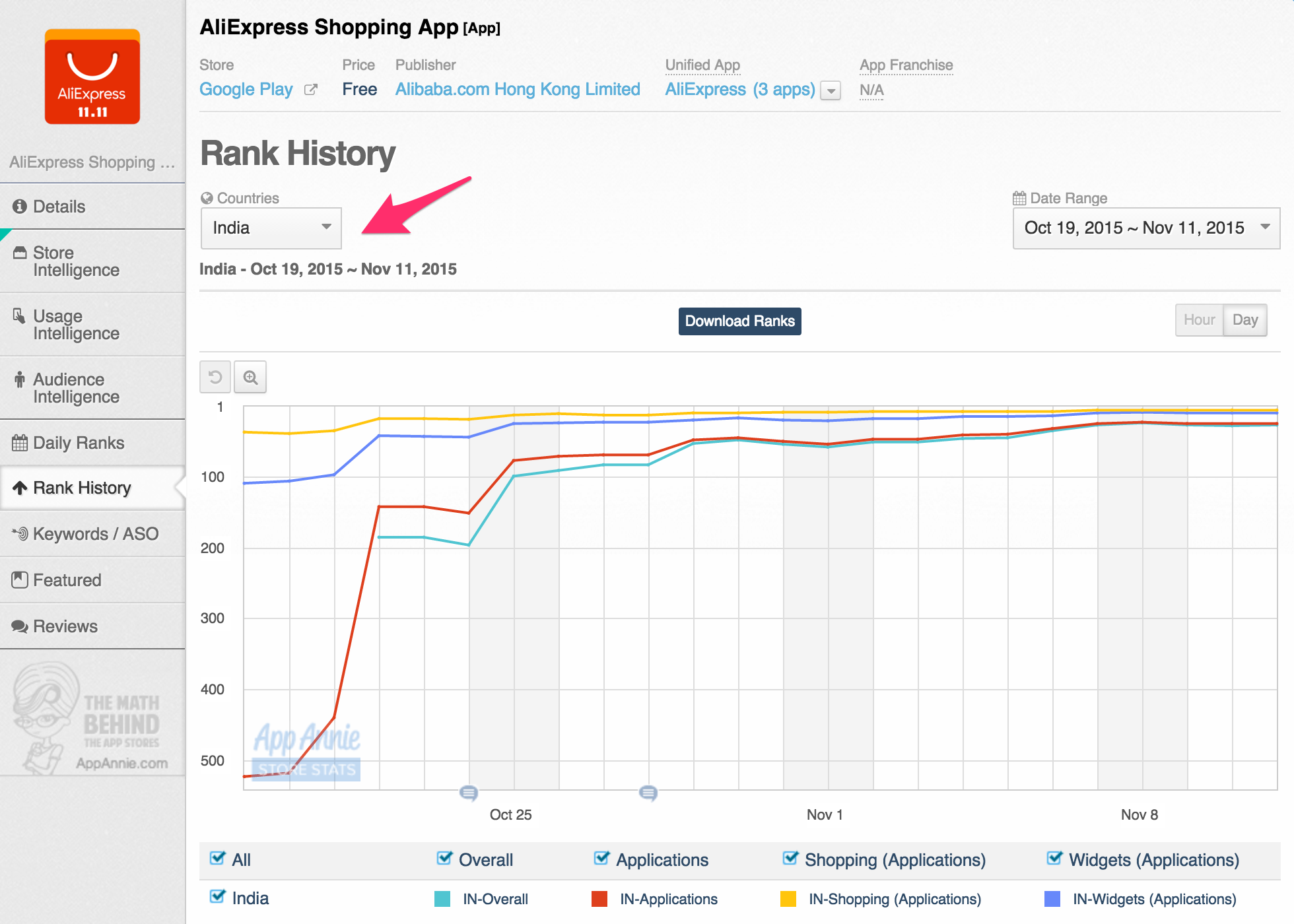 11/11: What to Look For
As 11/11 operations have matured in China, domestic retailers are eyeing the even more lucrative global market. In the future, we could expect more promotions targeting overseas consumers from Chinese e-commerce giants. At the same time, foreign competitors have shown their willingness to partake in China's shopping extravaganza, capturing affluent Chinese shoppers' heightened purchasing power.
Want More? App Annie Has It
Subscribe to our blog to see more app industry reports, conference updates and product news. We love hearing from our readers, so share your questions — or tips you've discovered yourself — below or on Twitter.
Want to perform your own analysis? Create a free Store Stats account or request an Intelligence demo today.