Similar to viral hits Agar.io and Happy Wheels, Smashy Road: Wanted is gaining strong momentum in term of downloads on the iOS App Store and Google Play in the United States, Canada, the United Kingdom and more. The game has been repeatedly featured on Google Play, boosting its mobile popularity.
Smashy Road: Wanted leverages the popular mobile trend of 8-bit visuals to help drive downloads. However, its gameplay and user retention strategy take a page from classic console games Grand Theft Auto and Grand Theft Auto 2.
We'll dive into what made this action-packed police chase game a huge success, and what other developers can learn.
An International Download Hit
Smashy Road: Wanted has been trending throughout October 2015 to be the #1 non-IP game in worldwide combined iOS and Google Play downloads. Other new big contenders in October included the IP-backed Need For Speed No Limits and Minions Paradise. But what makes Smashy Road: Wanted impressive is being such a huge success from a small studio with no established property. The game's publisher, Remco Kortenoever, only has a few other games released on mobile.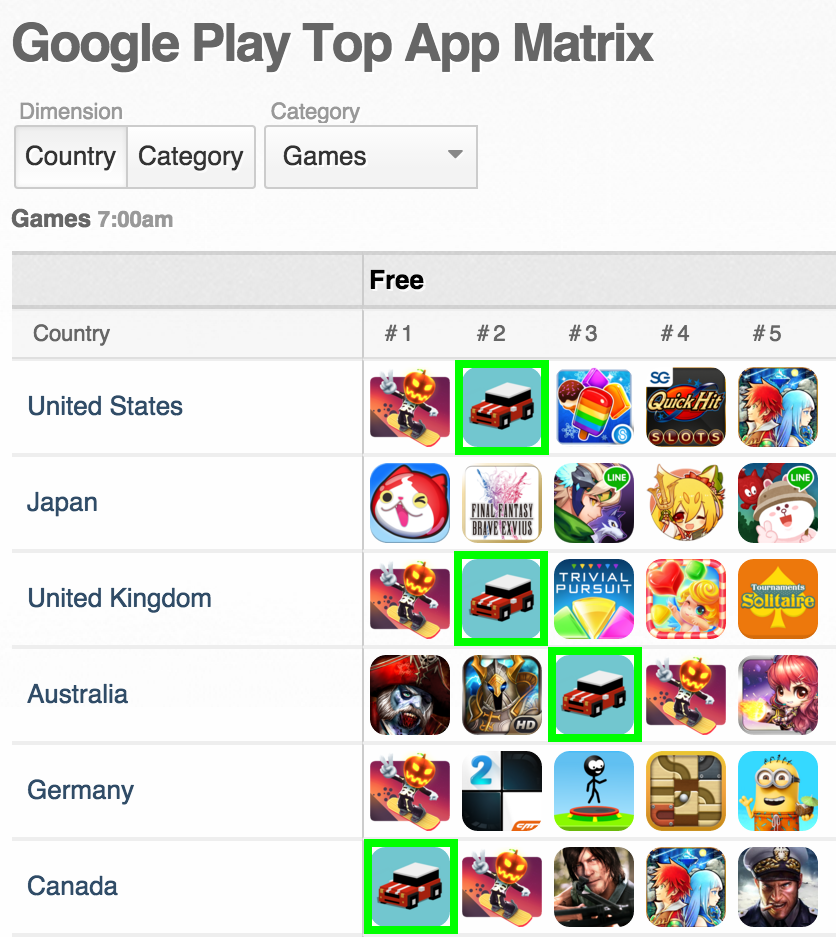 Smashy Road: Wanted remains a popular Google Play download in English speaking countries.
Smashy Road: Wanted has continued its traction into November 2015, ranking among the top five game downloads in countries such as the United States, Canada, the United Kingdom and Australia on Google Play and iPhone. During this time, the game has also remained within the top #25 downloads for games on iPhone in countries like Italy, the Netherlands and Switzerland.
Engaging Monetization
Like many successful mobile games, Smashy Road: Wanted does have some in-app purchases. However, this is not the game's key method of monetization. Instead, the game features a strong user-centric ad monetization strategy powered by AdColony and AdMob.
David Pokress, SVP Monetization & Publisher Relations at AdColony, was impressed with Smashy Road: Wanted's rapid success. "We find that when ads are additive to the app experience and reward players in a relevant way, they can result in very impressive revenue."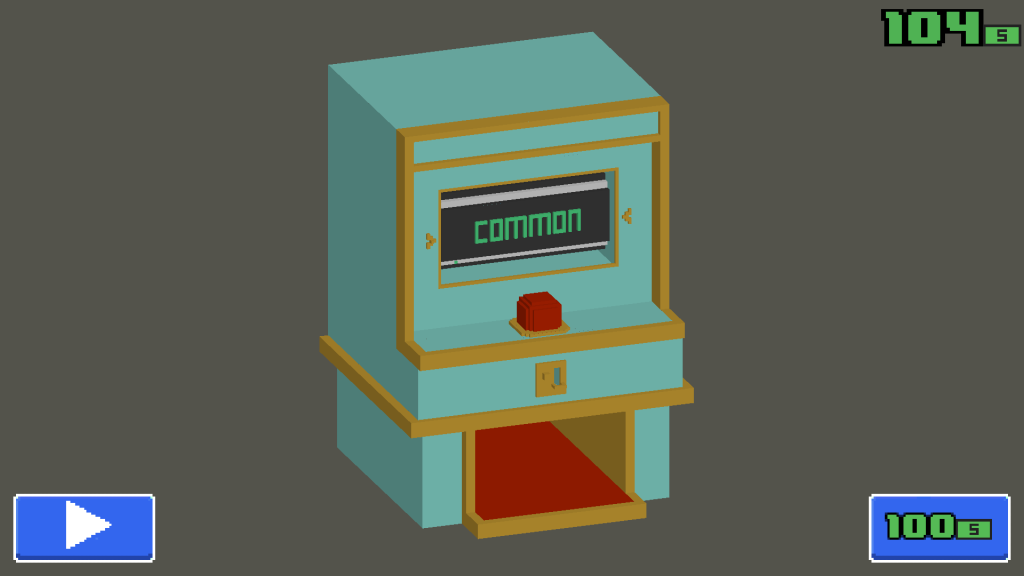 The gashapon machine can be used to gain new cars for free. Users can watch ads to earn in-game currency.
Users can watch ads to earn in-game cash, which can in turn be spent on a gashapon machine — a vending machine type popular in Japan that gives random prizes — to earn cars for free. Gashapon systems are commonly used in Japanese game monetization, and was very successful in the Western releases of Blood Brothers and Rage of Bahamut.
Each viewed ad impression rewards $20 of in-game currency; after five views, users can spin the gashapon machine, which costs $100. With enough watched ads, it may be possible for users to collect every unlockable. This is both a great savings for the consumer while allowing the developer to monetize.
"The Smashy Road: Wanted team has cleverly woven ad monetization into the game's mechanics, creating an inviting way for players to opt-in and interact with brands to enhance their gameplay," said Pokress.
Classic Fast-Packed Action
Smashy Road: Wanted is designed with hooks to get users into the action right away and partake in fast gameplay sessions. This is similar to Agar.io which wasted no time in allowing first-time players to experience the core gameplay and features.

The top-down car chase gameplay is very reminiscent of the original Grand Theft Auto and its sequel.
The simple high-speed chase mechanics are refreshing but mimic the early gameplay of the Grand Theft Auto (GTA) franchise. The first two GTA games were released in the late 1990s on consoles and featured top-down police chases. Smashy Road: Wanted captures a similar aesthetic and its nostalgic gameplay may be a factor in its popularity.
The Rise of 8-Bit Mobile
Many mobile games have returned to the retro 8-bit style made popular in the 1980s. Minecraft, Crossy Road, and Tiny Tower are all games with similar visual designs to Smashy Road: Wanted. Some app store browsers could assume that games in this style are from the same designers or publishers, leading to possible confusion.
We used Store Intelligence to take a peek at the four mentioned 8-bit games to see which countries were responsible for the most downloads from January 2015 to September 2015. Unsurprisingly, the United States led the charge followed far behind by the United Kingdom and Canada. Outside of the predominantly English-speaking countries, Japan, Brazil and Russia also contributed to 8-bit mobile download popularity.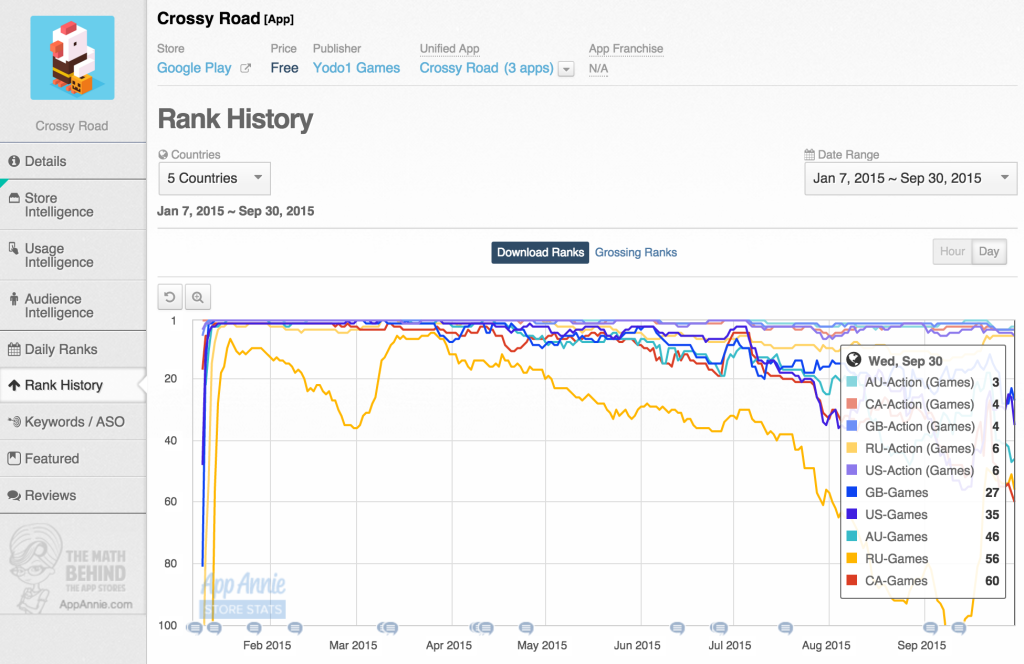 Crossy Road's downloads in the United States, the United Kingdom and Canada have played into the overall popularity of 8-bit games.
Simple Success
Smashy Road: Wanted provides some great pointers on mobile game design and monetization. It doesn't always take a juggernaut to launch a widely popular game and, in turn, generate a significant amount of revenue through both in-app purchases (IAPs) and advertisements. Nostalgic and welcoming gameplay and visuals are a great way to gain app store downloads and retain users. The use of ads to power in-game currency is a smart tactic, which allows players free rewards while maintaining revenue flow.
Small independent and first-time game developers should take note if they want to recreate Smashy Road: Wanted's success.
Want More? App Annie Has It
Subscribe to our blog to see more app industry reports, conference updates and product news. We love hearing from our readers, so share your questions — or tips you've discovered yourself — below or on Twitter.
Want to perform your own analysis? Create a free Store Stats account or request an Intelligence demo today.