The 88th Academy Awards airs February 28th, 2016 to honor the cinematic achievements of 2015. Motion pictures like The Revenant and Mad Max: Fury Road are at the epicenter, receiving 12 and 10 nominations, respectively. Still, while box office receipts show that plenty of people still wanted to see the year's top films on the silver screen, growing evidence shows that many are happy to leisurely stream them on mobile devices via apps like Netflix and HBO NOW.
Using App Annie Intelligence we were able to pinpoint the top video streaming apps by downloads, revenue and usage. Additionally, demographic and behavioral insights allowed us to see ages and genders that gravitate toward specific apps.
Netflix and HBO NOW Lead for Downloads and Revenue
Using similar methodology from our Mobile Video Streaming Report, we examined the top video streaming apps in the United States. Specifically, we looked at combined iOS App Store and Google Play store downloads and revenue from August 2015 to January 2016. While this did include apps well-known for their movie selections, it also opened up the door to other video streaming apps that feature television, news, sports and original programming.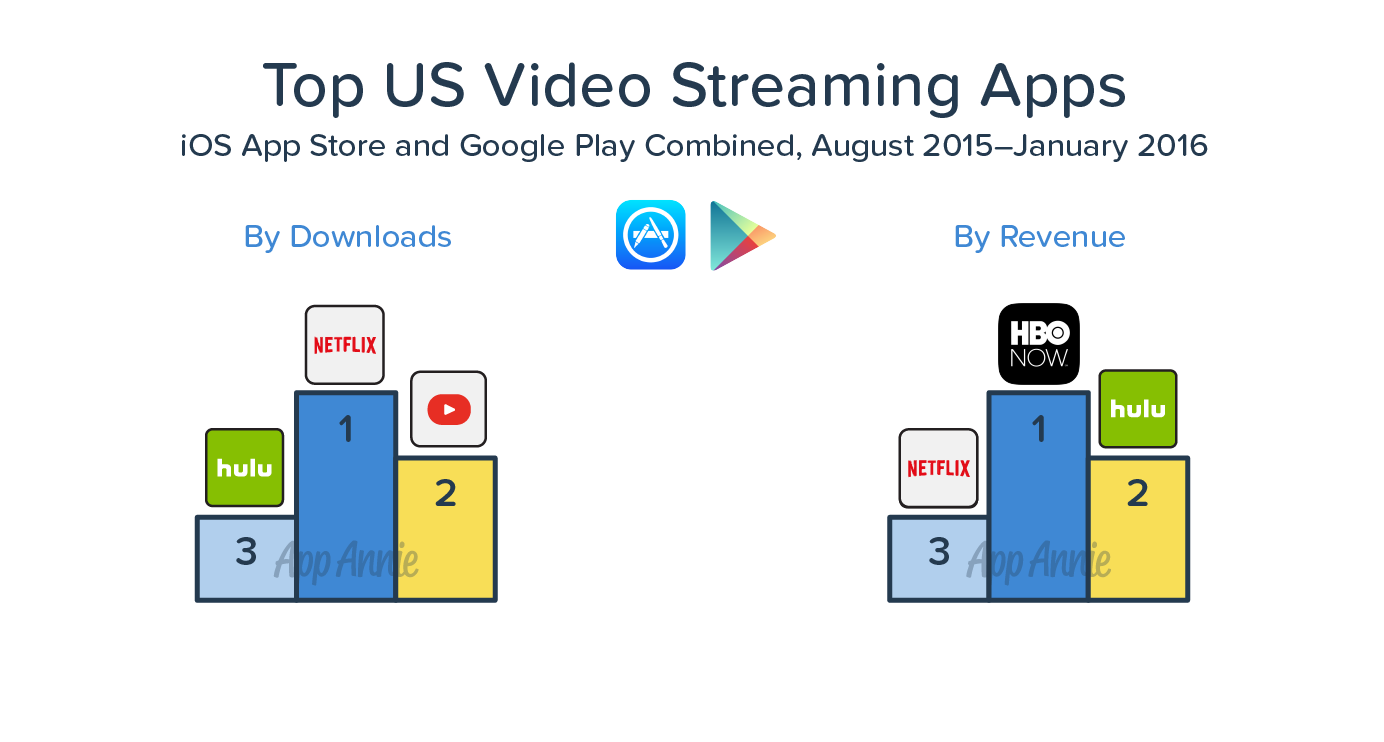 iOS and Google Play Combined Top 3 Video Streaming Apps by Downloads
iOS and Google Play Combined Top 3 Video Streaming Apps by Revenue
Among video streaming apps, HBO NOW has appeared in iOS revenue charts since May 2015 and has pushed the cord-cutting trend further mainstream. It's no surprise that the app has taken the top spot in our iOS and Google Play combined revenue ranks.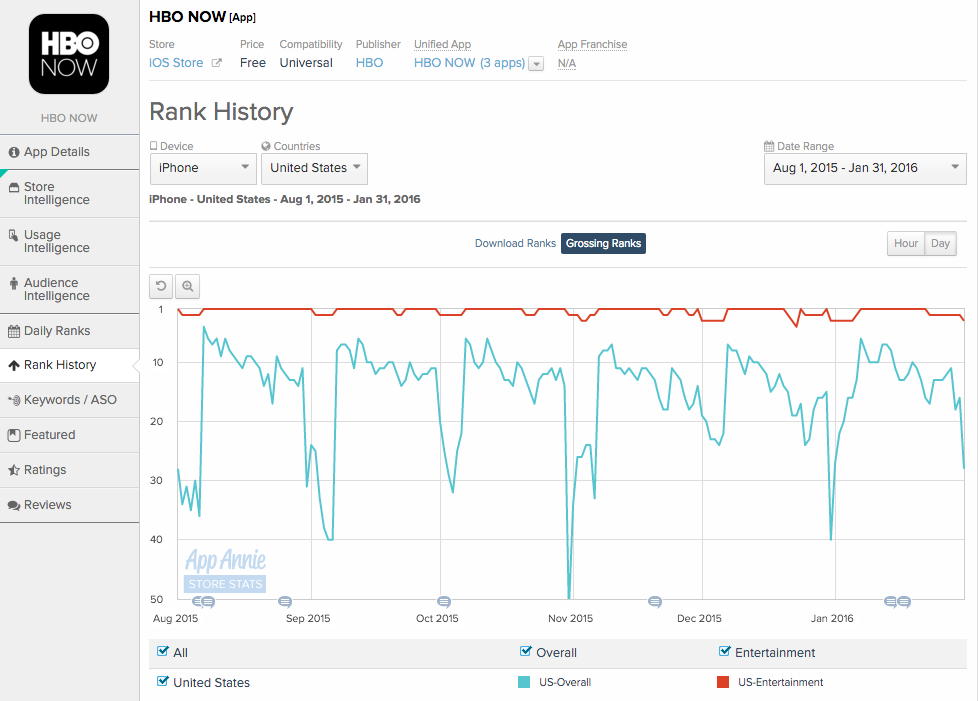 HBO NOW's grossing rank in the Entertainment category on iPhone in the United States never fell below #4 from August 1, 2015 to January 31, 2016.
HBO isn't alone; we've covered Netflix's revenue growth several times. While HBO Now may be at the top in the US, Netflix has become a global force rapidly expanding into new markets. In January 2016, Netflix took the worldwide lead on iOS revenue. Although Netflix is still behind HBO Now in the US in terms of revenue, it's continually performed at the top of video streaming app downloads in the US. Growth is anticipated to continue.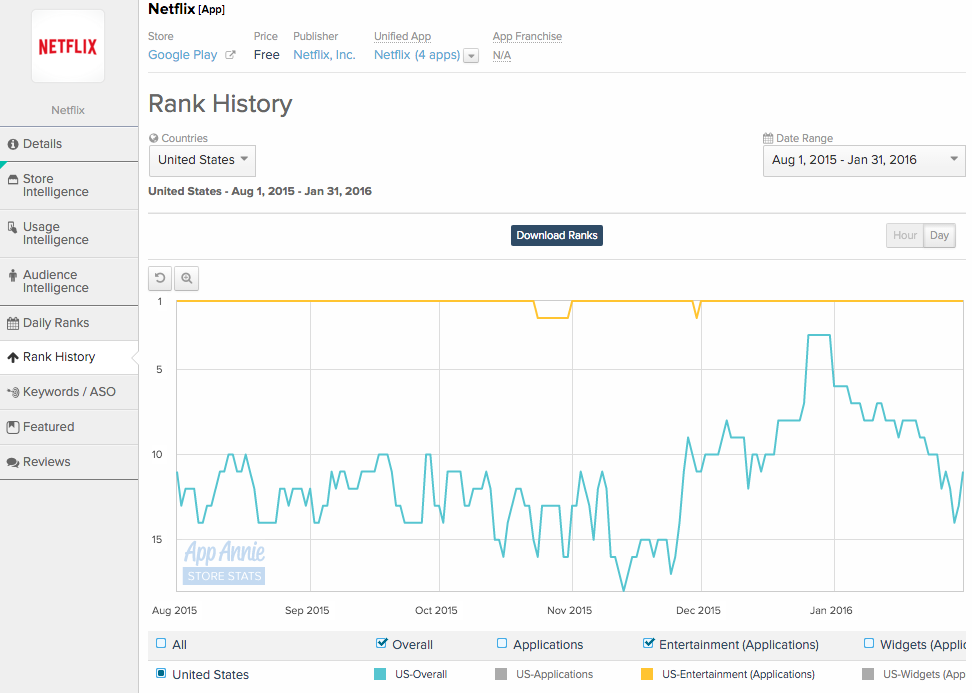 From August 1, 2015 to January 31, 2016. Netflix on Google Play stayed in the top #18 Overall and top #2 for the Entertainment category in the United States.
And the Award For Best App Across Age and Gender Goes to …
With Intelligence's demographic insights we took a look at US iPhone users to examine average monthly active user (MAU) for various age ranges and genders. Without further ado, we present our winners of "The Annie" — our way of honoring this season's top video streaming apps.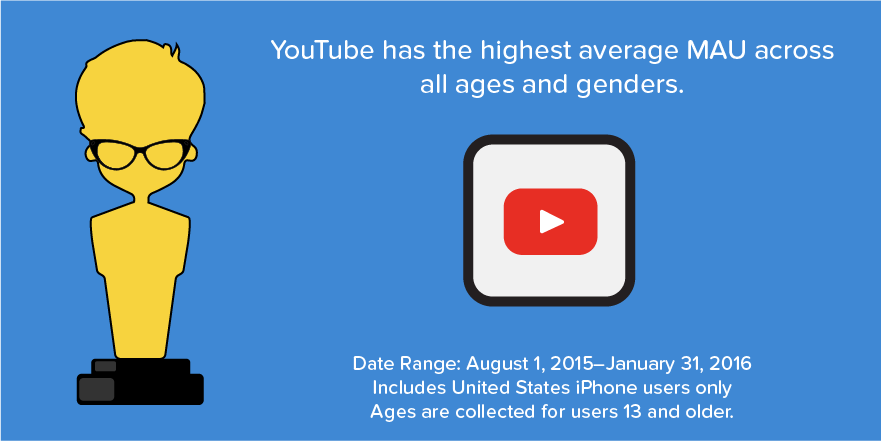 This year proved that cat videos — or at least the platform that powers them — continue to hold steady in the #1 spot. Across all ages and gender groups (Males, Females, 13–24, 25–44, 45+, and all users), YouTube led for average MAU. Coming in second was Netflix.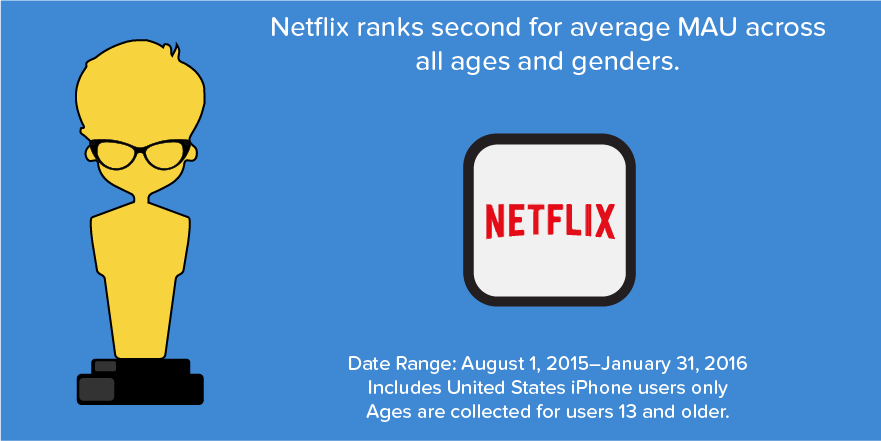 Third place was a different story, with ESPN taking the spot among males and users above the age of 12. However, among females, #3 in terms of average MAU was CNN App for iPhone. Who Will Take Home "The Annie" in 2017?
It's clear that this is just the beginning for video streaming. In terms of downloads, revenue and usage there are clear winners — Netflix, HBO NOW and YouTube — but expect this category to grow. For instance, in early February 2016 Buzzfeed launched Buzzfeed Video; knowing the brand's knack for viral content, could this app one day enter the winner's circle? This is definitely a space to watch.
Want More? App Annie Has It
Subscribe to our blog to see more app industry reports, conference updates and product news. We love hearing from our readers, so share your questions and comments below or on Twitter.
Want to do your own analysis? Create a free Store Stats account or request an Intelligence demo today.
Notes: