After much speculation — and just in time for WWDC — Apple has announced some significant changes to the iOS App Store, changes that will no doubt greatly impact how publishers promote their apps and generate revenue. With any major app store update comes the question: what does this mean for my apps? We'll cover the big changes and the opportunities they're expected to bring when they debut in the fall.
The iOS Store App Store And the Road to Developer Revenue
From humble beginnings in 2008, no one could've predicted the success Apple's App Store has seen in less than 10 years. When the App Store opened up to developers, Apple introduced the idea of a 70/30 split, giving developers a 70% cut of the profits made. But with new App Store updates come a big reward for user retention. After a customer remains subscribed to an app for a year, a developer's cut will jump up to 85% of their share made from the App Store.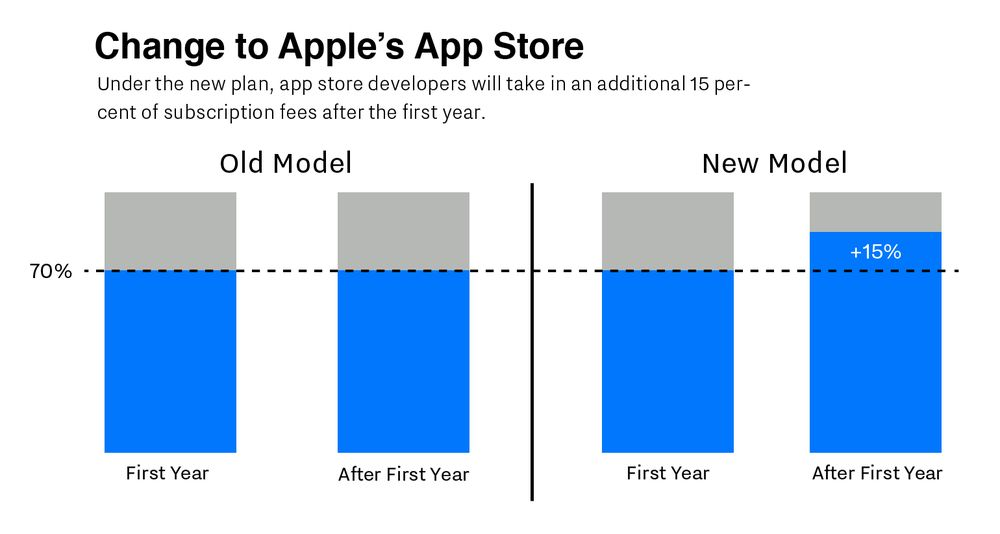 App developers will now receive 85% of revenue garnered from the iOS App Store if they retain a customer's subscription for a year.
In contrast to Apple's old model — which catered to a one-time app purchase, typically complemented by in-app purchases post-download — this new model caters to those that charge a monthly service fee, like music streaming and video streaming services. And with these updates, Apple has also opened up in-app subscriptions to all apps, representing a sea change in app store economics. Changing an app's monetization model is never an easy decision —  Apple recognized that and, in turn, created over 200 different pricing options for subscriptions to make this transition a more seamless interaction.
This change also poses added incentive for developers to ensure that users are not only interested in an app, but engaged and returning for more month after month. If implemented by publishers and adopted by consumers, these recurring fees will be a great way for developers to consistently see revenue and build a sustainable, long-term app business.
Sponsored Search Ads — A New Way to Ensure Discoverability
One of the most talked-about features is the addition of search ads — something developers have been clamoring for. This new feature will enable publishers to put some of their user acquisition budget toward search visibility, which is critical, since according to Apple 65% of downloads come from directly from searches on the App Store. This feature launched last year in the Google Play Store and is a welcome addition to iOS.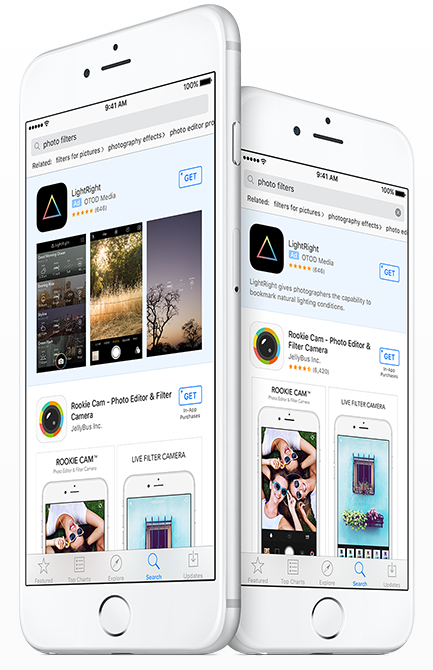 Search ads will appear at the top of search results and be highlighted in blue for additional visibility.
This new addition can remedy some of the strain that smaller and indie developers have felt in trying to compete for visibility in an increasingly cluttered marketplace. Taking a cue from the widely used pay-per-click model, developers will only pay when consumers actually click on their sponsored ad. Given the near-ubiquity of ads online, the change is expected to favorably impact developers while only subtly changing the user experience for consumers downloading and purchasing apps.
These updates will require a shift in how app publishers think about their business model and, if they choose to pursue a subscription model, the functionality and content required to create an engaged user base. We're eager to see the changes these will usher in come fall and how app publishers choose to take advantage of these new features. In the meantime, we're looking forward to seeing what other exciting updates Apple has to share during WWDC next week.
Build a Better App Business
Subscribe to see more app industry reports, conference updates and guides. Have something to add? Share your questions and comments on Twitter.
Want to take your app business to the next level? Create a free account to dive deeper into Store Stats or request an Intelligence demo.