As students and teachers head back to school, apps are the real teacher's pets – streamlining and simplifying student participation and communication
Apps are now part of a student's back-to-school shopping list. As students return to school in August and September, many are downloading apps to complement their classroom experience. But it's not just students who use them, apps are now a part of the entire education ecosystem. Students use apps to turn in homework, take quizzes, do research or access school information such as their syllabus. Parents, teachers and students use apps to communicate directly and instantly; parents use them to access grades, bus routes, and lunch menus; and teachers use them to keep classes organized. Apps offer parents, students and teachers a bridge between their daily lives and the device that is always with them: their smartphones.
Apps Are a Back-to-School Necessity for Students and Parents
In both the United States and the United Kingdom, we have seen a surge in downloads of Education apps as students head back to school this autumn. In the UK, the weekly average of Education app downloads across iOS and Google Play combined grew 60% during this back-to-school time period compared to the four weeks prior. In the US, this growth was even larger at 75%. Even as we head further into the school year, the download increase isn't over yet — we expect to see a surge in downloads through October as demand remains high in the first semester of school. In 2016, downloads maintained these elevated levels throughout October at nearly the same rate as September.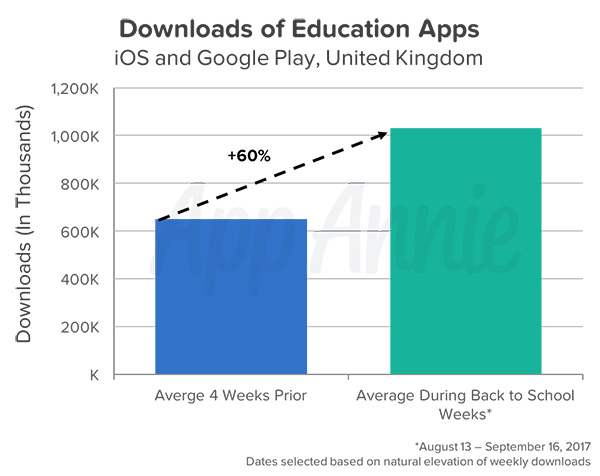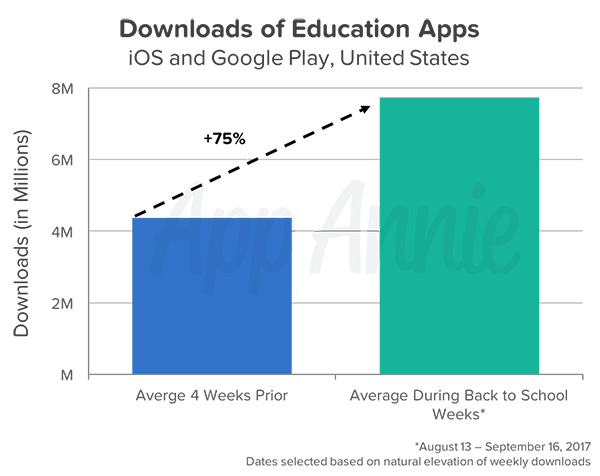 With its newest software release, iOS 11 and redesign of the App Store, Apple has prioritized back-to-school apps in curated features. We expect these features to play a role in elevated downloads during the September and October timeframe.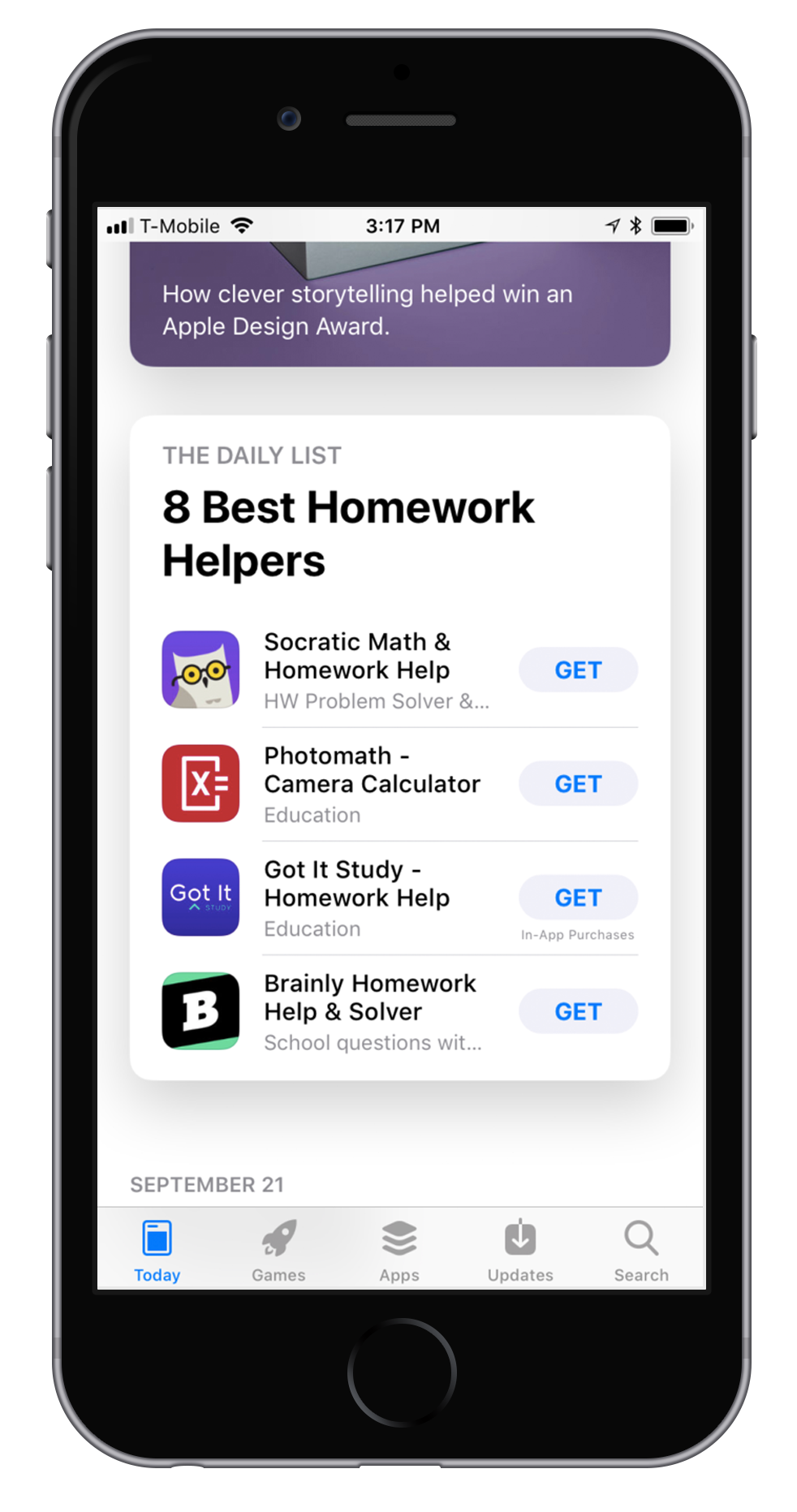 Apple featured a selection of homework helper apps to capitalize on the back-to-school season and heavy app-usage of millennials and Gen Z.
The Most Popular Education Apps During the Back-to-School Period
To determine which Education apps are the most used as students go back to school, we took a look at the top Education apps by weekly active users (WAU). This metric takes into account both historical downloads and new downloads prompted by the start of the 2017 school year to give a more holistic reflection of the popularity of the apps. WAU is also an important metric to consider over monthly metrics for the back-to-school time period since students often start school in weekly waves depending on when their school year starts in their state and even county.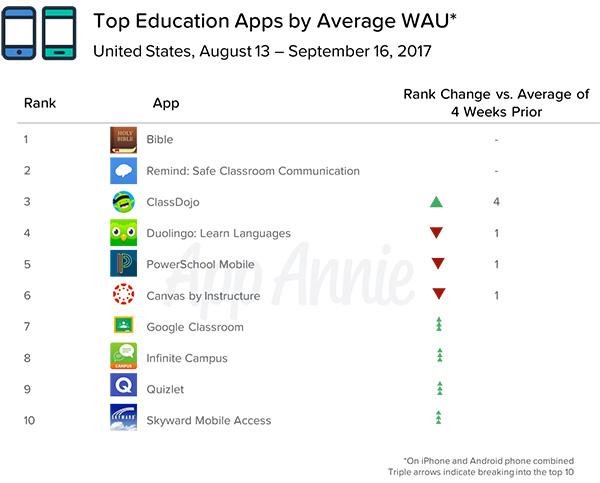 Top Education apps in the US by average WAU fulfill a diverse set of needs surrounding the in-school and after-school experience as well as with the parties involved: students, teachers and parents. The #2 ranking app, Remind: Safe Classroom Communication, fosters a reliable communication channel among teachers, parents and students. Communication apps are a highly saturated category, with existing user preferences that can make it a difficult market to break into. It is impressive that Remind has broken into this market through the lens of Education applications.
Other top ranking apps like Canvas by Infrastructure, Google Classroom and Infinite Campus center around class participation such as distributing or submitting assignments, viewing grades and attendance or communicating with instructors. In particular, Google Classroom and Infinite Campus saw strong growth in users and broke into the top 10 apps by average WAU, indicating demand among this year's back-to-school essentials.
We have seen similar trends in the UK beginning in September. Education apps that center on homework and exam submissions like Show My Homework and parent-teacher communications such as ParentMail and ClassDojo saw the greatest growth in user base.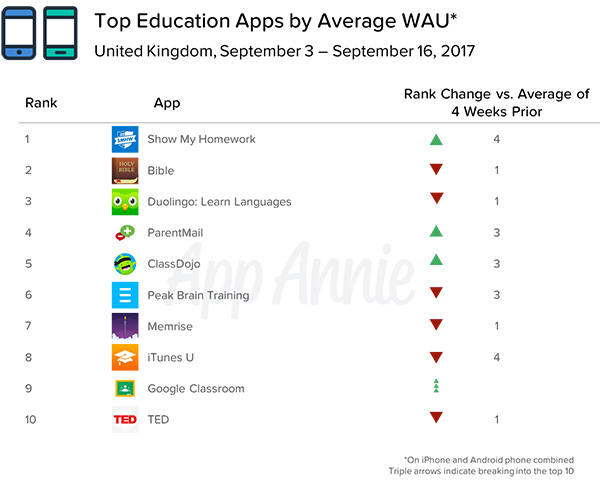 Apps are bridging the work students do in the classroom with their experience outside the classroom, creating new channels for communication, increasing access to information and fostering greater accountability. They complement to the classroom world of textbooks and lectures and successfully bring school work into the center of students' lives: their smartphone.
ClassDojo Sees Record Levels of Users
Across both the US and the UK, ClassDojo ranks in the Top 5 apps by average WAU during the back-to-school time period, seeing strong growth in users compared to the four weeks prior. This indicates a high level of demand for the services this app provides. Its downloads provide further evidence of this point: ClassDojo saw an all-time high for monthly downloads in August 2017 across iOS and Google Play combined.
Looking at its user base in the US, ClassDojo has seen a 75% increase in the last two years by peak smartphone WAU. This indicates that ClassDojo has both successfully attracted new users as well as re-engaged existing users, which is a particularly impressive feat considering the long summer holiday that precedes the start of school. Users' positive experiences from past school years helped drive them to return to the app. ClassDojo has seen impressive reviews at 4.6 out of 5 stars since its launch in 2012 to through September 20, 2017 on iOS in the US. App publishers could target schools — and even school districts — to onboard their app as part of school resources to reach the broader teacher, parent and student network and cultivate stickiness with these users.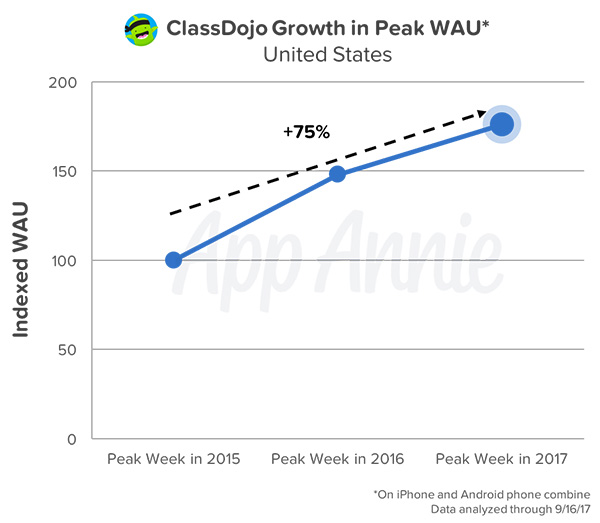 ClassDojo is targeted toward teachers and parents of young children in grades K-12. Its user base reflects this as the app skews towards those aged 25-44 at 60% on iPhone and Android phone in August 2017 in the US, likely representing parents of students. The second largest age group is those aged 45 and over at 30% and 25% on iPhone and Android phone, respectively.
The Future is Bright for Education Apps
With advancing technologies such as Augmented Reality (AR) and Virtual Reality (VR) and the prioritization of device manufacturers to better support these technologies, Education apps stand to gain traction. The applications of AR and VR in an educational setting are infinite, providing "real-world" enrichment to textbook learning. Both open up alternative learning styles and applications of knowledge. Education apps are making their way into the classroom, and their roles as communication and participation tools are just the beginning. We are excited to see how apps evolve to further foster the attainment of knowledge in the years to come.
To uncover how consumers are using apps around the world, check out our App Usage Report.