The sun is out and the fields are groomed — baseball season is upon us! Sports fans across the United States are piling into stadiums to watch their favorite teams go head to head, but here at App Annie, we're looking at the app stores to find the next big mobile trends. It turns out the sports industry has a huge opportunity ahead of it with video streaming taking off across the world, plus all the other ways fans engage with their favorite sports like fantasy leagues, news apps, podcasts, you name it. Summer sports are starting up, so now's the perfect time to look at which Sports apps topped the charts in 2015 in the United States, United Kingdom and Japan. Read on to see which apps took home a trophy. They're the all-stars you should be watching in 2016.
The United States: Sports Leagues Top the Charts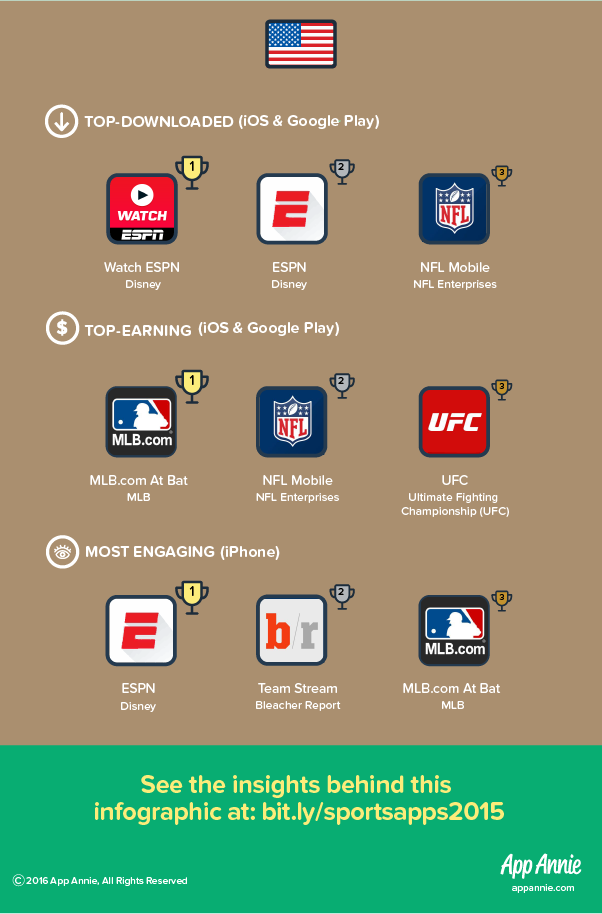 In the US, when it comes to watching sports, ESPN is one of the first brands that comes to mind. It's no surprise, then, that Disney's sports media franchise holds top spots for the most downloaded and most engaging apps. ESPN hasn't yet released a separate subscription app like HBO NOW, or there's a high chance it would've made the top-earning list as well.
MLB.com At Bat, MLB's standalone app that offers premium subscriptions as in-app purchases, was 2015's top-earning app. Baseball fans proved they have an appetite for watching live games off the TV, and that trend should continue as mobile video streaming gains popularity.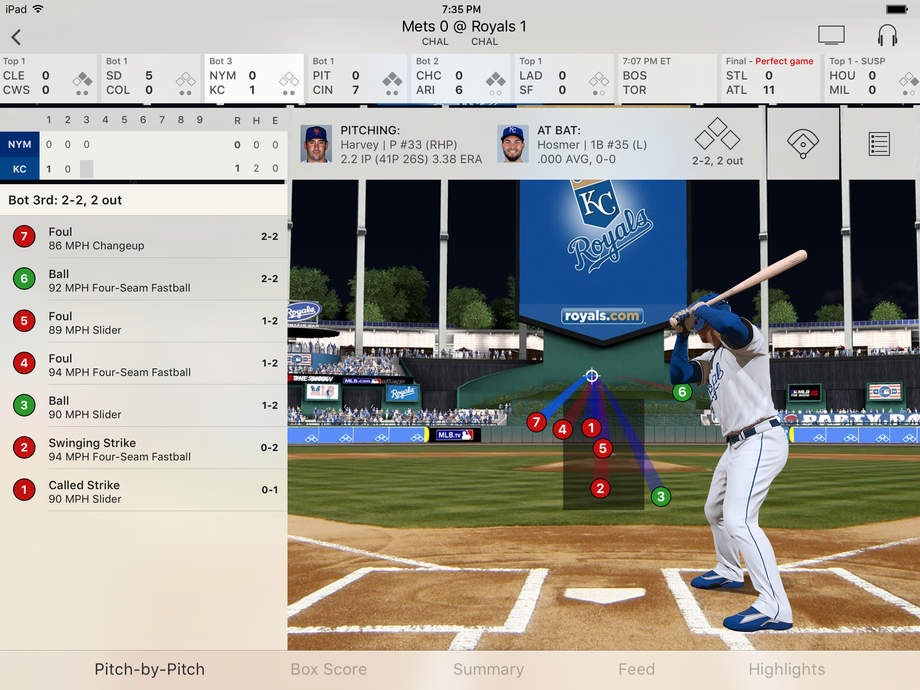 NFL Mobile, UFC, and Bleacher Report's Team Stream also performed admirably, proving Americans love (American) football, fighters duking it out in cages, and keeping up with sports news. More importantly, it goes to show there's opportunity for sports leagues large and small — as well as sports news franchises — to make it big on mobile.
The United Kingdom: Networks Rule the Podium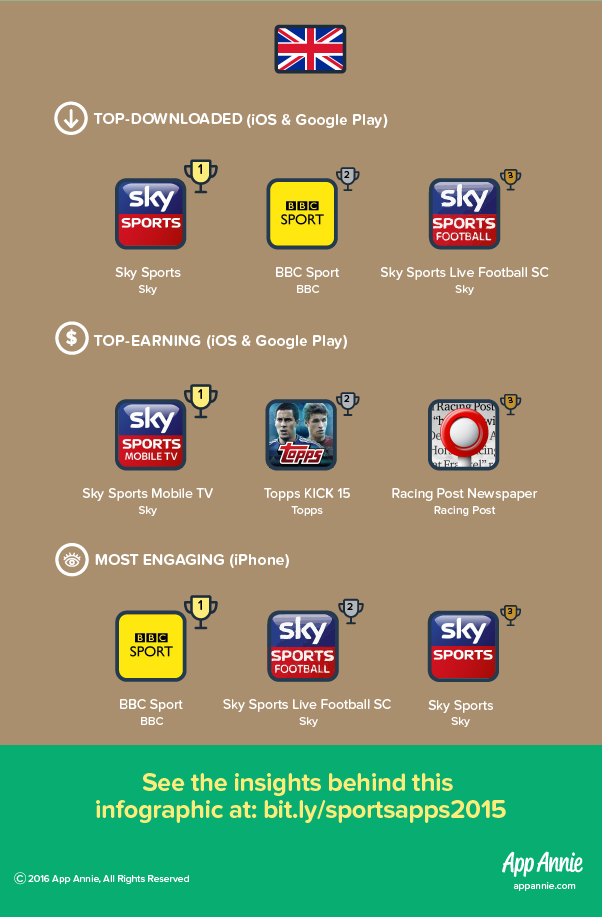 Meanwhile, in the UK, the sports landscape looks slightly different. Where the US saw sports league apps in each Top 3, broadcasters Sky and BBC dominated the category with their branded apps Sky Sports and BBC Sport, respectively. Being networks, their top apps cover a range of sports (with the exception of Sky Sports Live Football SC) and offer fans the ability to read news, watch live and on-demand video, track scores and more.
The sports leagues that did break into the Top 3? Football (the soccer kind) and horse racing. Topps Kick 15, a card-trading app from a company that historically printed physical trading cards, proved that there's a market for digital collectibles among football fans. With in-app purchases ranging from $0.99 to $3.99 and a frequently updated roster of cards, players have incentive to come back and purchase again and again. Horse racing fans helped the iPad-only app Racing Post Newspaper make the rankings, which packages detailed databases, early-access news and bet management in their premium monthly subscription.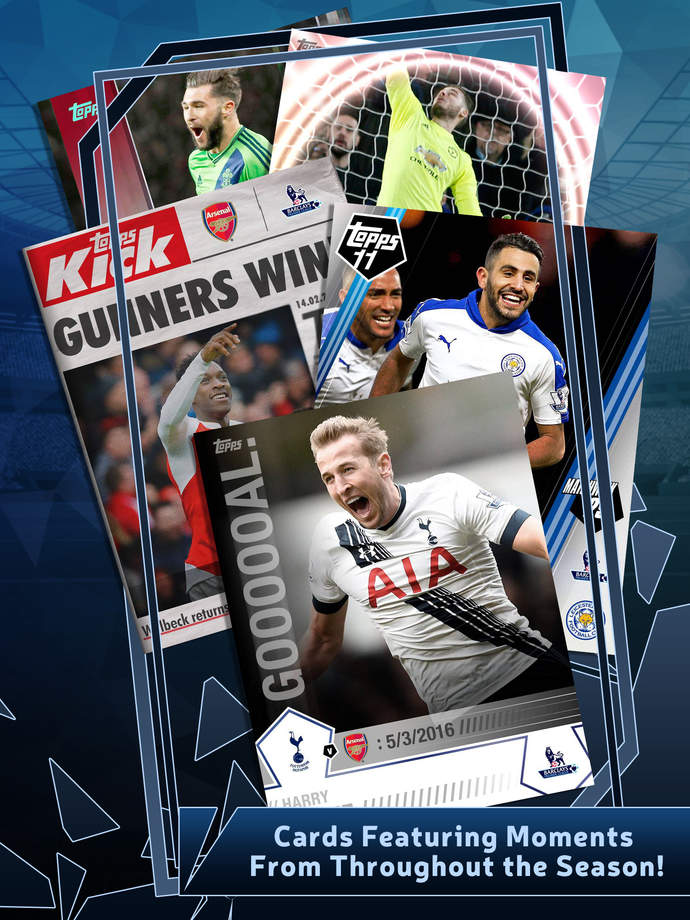 There are opportunities for other major sports leagues to attract die-hard fans to their apps with news, live video and other league-specific perks — it'll be interesting to see which features companies adopt in 2016 as fans increasingly shift to mobile. Another key takeaway is the potential of niche sports like horse racing: there may be untapped or underserved audiences in your market that are looking for great mobile content for their sport.
Japan: After Baseball, It's About Golf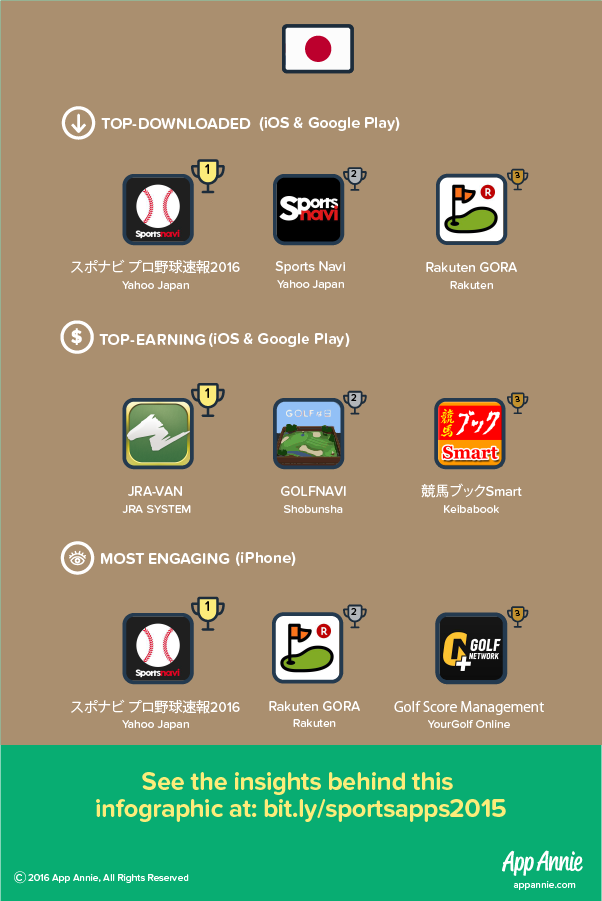 Japan bucks the trends seen in the US and UK with sports-specific apps dominating its rankings. It's the only region in this set that doesn't have a major broadcast network or general sports service at #1 in any of the three categories. That's not to say Japan isn't into sports — just that certain sports are appealing to mobile users more than others.
Yahoo Japan topped download and engagement rankings with スポナビ プロ野球速報2016 (previously 2015), a baseball-specific derivative of its Sports Navi app. Fans can track baseball game stats, receive news alerts and more. From an app store optimization (ASO) perspective, users also know they're getting the most recent version of the app thanks to its decision to include the current year in the app name, which could reflect how sports fans consider apps in this region.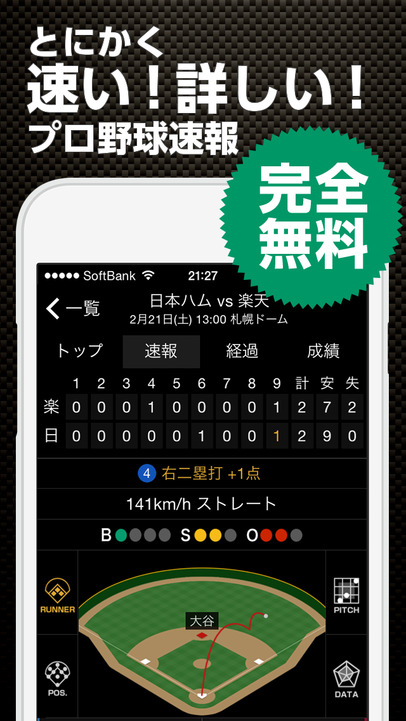 Golf apps made an impressive showing on Japan's rankings, particularly in the top-earning and most engaging categories. Apps like GOLFNAVI and Rakuten GORA placed right alongside general sports apps, showing just how popular golf is in the region — and how unique its app economy is. Beyond golf, horse racing apps JRA-VAN and 競馬ブックSmart made the top-earning category, proving how lucrative horse racing can be on mobile (similar to the UK).
While Yahoo Japan and Rakuten might appear frequently in each Top 3, other publishers also made the list. Much like the US and UK, there are opportunities for publishers to target high-spending, underserved segments of sports fans to provide apps that give critical news or make it easier to enjoy the sport. Publishers that integrate key features and implement a strong monetization strategy (such as subscriptions or in-app purchases) could shake up these rankings.
2016: It's Anyone's Game
Wish you had a trophy of your own? Take the lessons above and apply them in 2016 to your app. Between using the freemium model (listing your app for free but including in-app purchases), tapping underserved sports fan segments, and offering quality-of-life improvements to enthusiasts, there are plenty of ways to make the rankings next year.
The best way to get better is to train. On the app store, data are the weights. If you want to dig into which Sports apps are dominating your region — and what's helping them succeed — take a look at App Annie Intelligence.
Want this infographic as one image? We've got you covered. (And before you go, help spread the word to your friends and colleagues with the share buttons below.)
Start Building a Better App Business
Subscribe to see more app industry reports, conference updates and guides. Have something to add? Share your questions and comments on Twitter.
Want to take your app business to the next level? Create a free account to dive deeper into Store Stats or request an Intelligence demo.
Infographic Methodology
A Sports app is defined as an app that lets users engage with a sport by providing sports-related information, facilitating play, or tracking the sport and/or its celebrities.

Sports apps primarily intended for retail shopping or couponing are excluded.

Source: App Annie Intelligence

Time Period: January 1, 2015–December 31, 2015 (Granularity: Monthly)

Category: iOS - Sports; Google Play - Sports; iPhone - Sports

Country: United States, United Kingdom, Japan

Top-Downloaded: Downloads (iOS and Google Play Combined, Unified)

Top-Earning: Revenue (iOS and Google Play Combined, Unified)

Most Engaging: Monthly Active Users (iPhone, Non-Unified, Averaged Over 12-Month Period)