Snapchat — now Snap Inc. — has entered the hardware game. What does this mean for its burgeoning ad business?
On September 24, Snapchat entered the hardware space with the launch of Spectacles. With that, the company shed the "chat" part of its name and rebranded as Snap Inc.
Spectacles are camera-enabled sunglasses. Compared to predecessors like Google Glass, the premise is simple: Users tap the corner of the frame to take a 10-second video, which will then sync with Snapchat on iOS and Android, using either Bluetooth or Wi-Fi. And unlike the camera on your smartphone, they have a 115-degree, wide-angle camera which captures circular video from a point-of-view perspective, enabling videos to be viewed landscape or portrait mode (or a mixture, if you rotate your phone).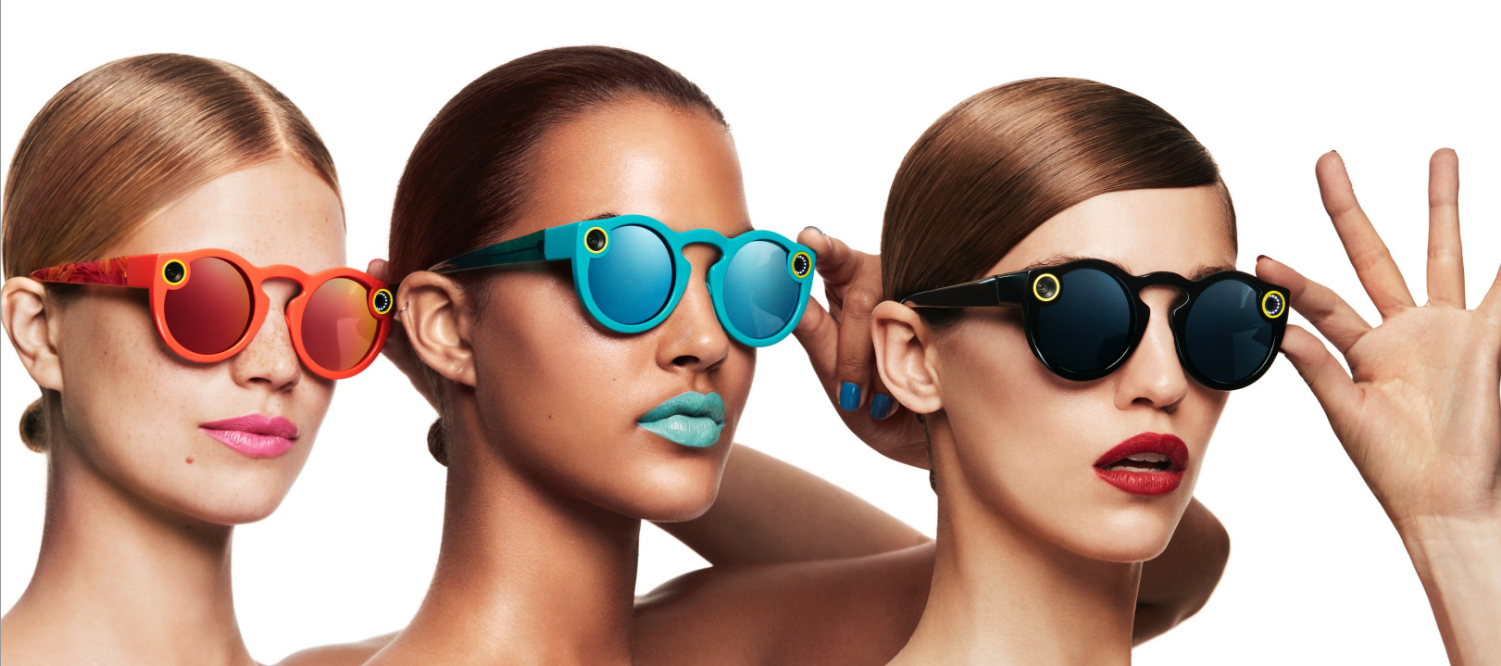 Launching this fall, Spectacles will initially be available in either coral, teal or black.  
The week of the announcement, the company went so far as to declare within its message statement that it is now a camera company.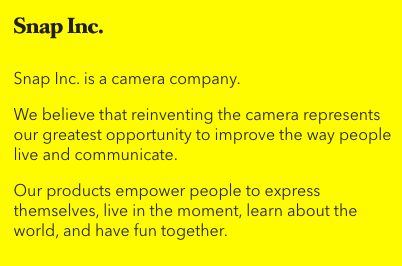 What do we believe this means for Snap Inc.? Proclaiming itself a camera company doesn't mean that Snap is pivoting to a hardware-driven revenue model. And the initial price point ($129) and modest expectations on this first push — Evan Spiegel was quoted as saying "It's about us figuring out if it fits into people's lives and seeing how they like it." — doesn't lead us to believe that Spectacles will be a core focus of Snap Inc.'s business.
Rather, it looks like the launch of Spectacles is intended to:
Help Snap Inc. retain and bolster its dominant revenue model based on advertising
Increase Snapchat's stickiness with its most valuable and engaged users, as the new device works exclusively with the app
For those following Snap Inc., this represents its latest move on the path to business maturity and an eventual IPO. In recent months, the brand has invested serious effort in moving beyond independent influencers to court NBCUniversal to produce original content for Snapchat, and introduce digital ad targeting that brings it closer to parity with other ad-supported social platforms. This is a significant shift from what Snapchat launched as: a fun, ad-free way to send and receive disappearing media.
Driving Snap's Ad Business
Chief Strategy Officer Imran Khan spoke recently at Advertising Week in New York to share some impressive stats about Snapchat's growth. The app now how 150 million daily active users (DAU), with 60 million coming from the United States and Canada.
Naturally, it was also an opportunity to play up the app's unique strengths when it comes to advertising, like Snapchat's customizable lenses and full-screen vertical video ad formats. These play with sound once clicked, and about two-thirds are viewed with sound turned on. Compare this to Facebook, where advertiser videos autoplay with sound turned off by default and are competing for user attention among personal updates.
The launch of Specs may give Snapchat advertisers a new way to think about video formats. Specs' lenses contain a video camera with a 115-degree-angle that shoots circular video, which could give brands the best of both worlds in terms of vertical- and horizontal-framed video. In addition, it may lend itself to a more immersive experience than most video ads today. This represents yet another step of alternate video formats — like 360-degree video, which YouTube and Facebook both support — being mainstreamed for consumer and advertiser use.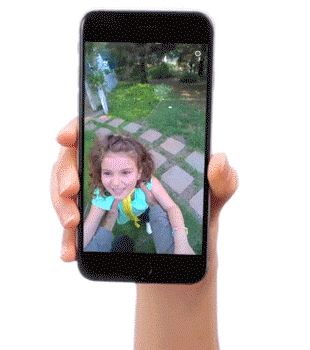 Outfitting Its Core User Base
Let's get this out of the way: Specs aren't for everyone. But for $129 and a design similar to Ray-Bans (which retail around $150), it isn't difficult to imagine a world where the new gadget catches on with younger, fashion-conscious Snapchat users with disposable income. According to App Annie Intelligence, in August 2016 45% of active users in the US were aged 13–24 and 52% were female. And according to Khan, on any given day the app reaches 41% of US consumers aged 18–34. This is an advertiser's dream.
For the foreseeable future, video taken with Specs can only be fed directly to Snapchat. This may:
Further bind Specs owners to Snapchat, leading to an increase in usage of the app, which will naturally lead to an increase in circular video consumption among their followers.
Leverage the network effect — whereby usage of Specs by its early adopters creates more engagement and value for all Snapchat users. This, in turn, may pique the interest of advertisers. And until circular video is widely supported on other platforms, the ad dollars may flow to Snapchat.
Given the above, Snap Inc. doesn't have to sell that many sunglasses for its experiment to be a success. Relying on key opinion leaders, celebrities and power users might be enough to boost engagement and advertising revenue.
Can Spectacles Shatter the "Glass" Ceiling?
Recent media coverage has focused on whether Spectacles will succeed in a world that wasn't ready for Google Glass.
First of all, we need to address that the two are fundamentally different. Spectacles are camera-enabled sunglasses that capture video intended for upload to Snapchat. Google Glass was a computing device, complete with a viewable display and intended to work with third-party apps.
Eyewear wearables haven't caught on with consumers (yet). Specs' simplicity, in addition to the below factors, put the sunglasses in a position to catch on with Snapchat's core audience.
Fewer Barriers to Adoption
Glass originally launched through an invite-only Glass Explorer program. While demand — albeit among early adopters — was high, the $1,500 price tag for an alpha product dissuaded many would-be Explorers. In addition, there were device compatibility issues — particularly with iPhone — and a limited suite of apps at launch.
In comparison, at $129, Specs is priced at the going rate for most fitness trackers and is an easier purchase to justify. And the scope of its focus is narrow: snap a video and upload to Snapchat. It's building on the basic value of Snapchat and focusing on doing one thing well.
In 2016, there's significantly less social stigma around recording devices. Google Glass was met with a lot of resistance and some Explorers were faced with harassment. Today, with apps like Periscope and features like Facebook Live, interest in and demand for live-streamed video is significantly higher and has reduced some of the negative sentiment associated with recording video in public.
Design Is More Quirky Than Creepy
People were very uncomfortable with Glass' display and the (misguided) belief that at any time they could be recorded by users without their knowledge, leading to the device being banned from many public spaces. Specs have taken a familiar eyewear design and added a camera. When users record a snap, a light in the frame goes on to make it clear that a recording is being taken.
While not everyone may find the design or colors appealing, if you compare it to the top-selling designs from leading eyewear retailers, there's a clear similarity in the frames. This could bode well for initial sales. The global eyewear market size is expected to grow at a CAGR of 3.5% to 3.77 billion units by 2022, putting it around $165 billion. High-end sunglasses are expected to be a significant revenue contributor.


From left to right: Spectacles, Illesteva Leonard, Maui Jim Tail Slide, Oakley Holbrook, Ray-Ban Wayfarer.
Audience Focus Is on Tastemakers, Not Techies
At launch, Google Glass targeted developers and technology enthusiasts willing to push social and technological boundaries. While this was important for selling the vision of the platform and encouraging others to develop third-party apps for Glass, it did little to help mainstream the device.
Conversely, Specs will be going after its power users, which will no doubt include celebrities like Kylie Jenner — who happens to be the most-followed user on Snapchat. Snapchat's bevvy of social and celebrity influencers have long used the platform to drive their followers to try new products. Given Snapchat's female skew, trendsetters like Jenner are in a strong position to influence these users.
Snapchat's Lasting Impact
Over the years, Snapchat has popularized several features that have gone on to be adopted by other apps: disappearing media and messages, photo filters and stickers and Stories, to name a few. Given its track record, we think it has the potential to mainstream circular videos, which could have an effect on OEMs as well as networks like Facebook and Twitter.
So you might not own Spectacles. Your immediate friends might never purchase them. But there's little doubt about it: you're going to feel their impact.
Build a Better App Business
Subscribe to see more app industry reports, conference updates and guides. Have something to add? Share your questions and comments on Twitter.
Want to take your app business to the next level? Create a free account to dive deeper into Store Stats or request an Intelligence demo.