Asia currently houses more than half the planet's population, so it's no wonder that new business models tend to catch up quickly in this lucrative market. For the fast-growing ride-sharing industry, it's no different. On the one hand, international giants such as Uber have poured resources into Asia with mixed results. On the other, regional competitors from each market have capitalized their local know-how to stay ahead in the race for home domination.
One thing is for sure: The ride-sharing industry is just hitting its stride. This will be a hot space to monitor over the coming years as global partnerships and new regional players hit the market.
China: Uber and Didi Chuxing Locked in a Heated Battle
After a steady process of market consolidation, the ride-sharing industry in China is essentially a market of two players. Didi Chuxing — after merging with Kuaidi Dache — is one of the two key market participants. With the recent announcement of Apple's $1 billion investment in Didi Chuxing, the momentum behind this app is certainly going strong.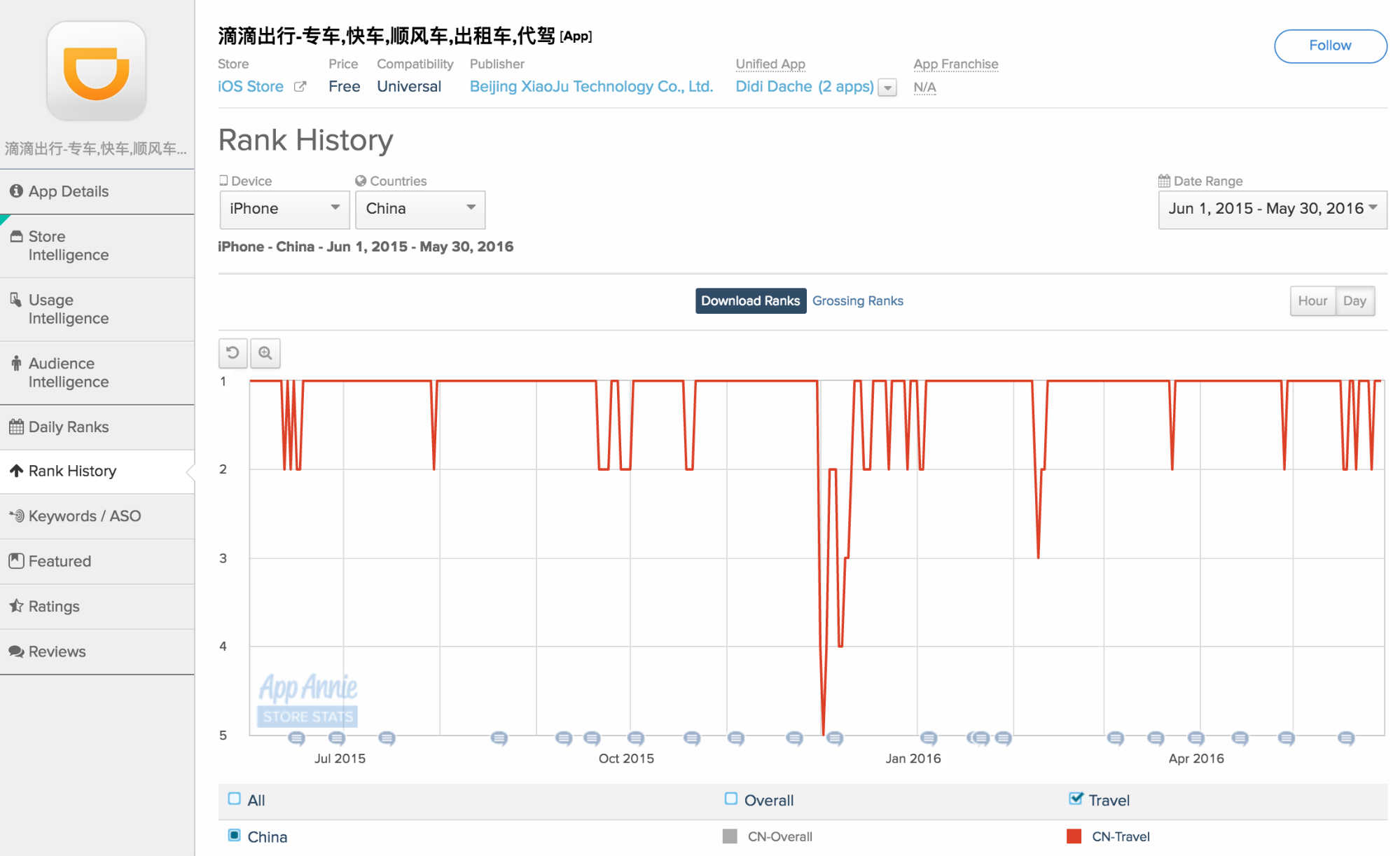 Didi Chuxing stayed on the top five for the iOS Travel category in China over the past year
Aside from its ride-sharing services, which extends to cover taxis and a wide range of private-owned vehicles, Didi Chuxing is also quickly adapting to the transportation realities of China, where traffic congestion is a common sight. The company has continued to churn out innovative new features to cater to its Chinese customer base. For example, Didi Chuxing runs a series of shuttle bus services, similar to those offered by US-based Chariot, along popular commute routes in Beijing. Tickets for these buses go as low as CNY ¥6 (less than USD $1).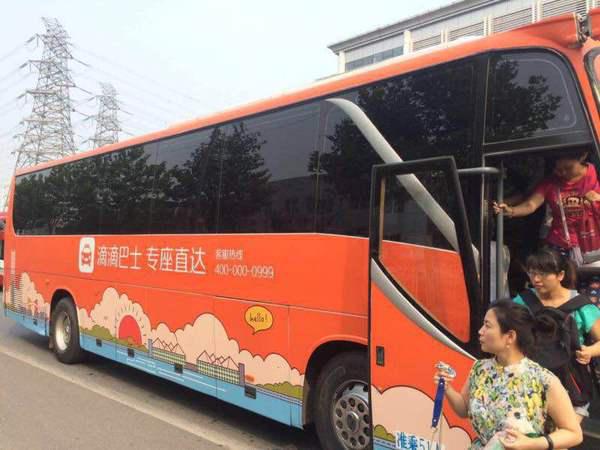 Didi Chuxing offers shuttle bus services in Beijing to stay current with consumer transportation needs.
Facing a resourceful local competitor, Uber has partnered up with local giant Baidu in order to provide customers with a more seamless user experience. Uber has since rolled out "People's Uber" in select cities, offering ride-sharing services with often heavily subsidized prices that are comparatively lower than those of taxis.
South Korea and Japan: Government Regulations Complicate the Market
In South Korea, taxi-hailing apps dominate the ride-sharing industry. However, this is not because taxis are preferred over private-owned vehicles; it has to do with the Korean government's ban on taxi services offered by private drivers back in 2015.
In March of the same year, Kakao, the same group behind the nation's most popular messaging app, launched a taxi-hailing app KakaoTaxi. It is currently the most popular Google Play transportation app in South Korea.
Kakao has integrated its whole service offering into KakaoTaxi. Once the journey has started, the driver is automatically directed to Kakao Navi, while the rider gets to send details about the ride, such as the driver's name and the plate number, to friends using KakaoTalk. KakaoTaxi has since secured a large amount of taxi drivers by signing Memorandums of Understanding (MOUs) with national taxi organizations. The app's intuitive user interface makes its adoption process among taxi drivers in their 50s and 60s a lot smoother.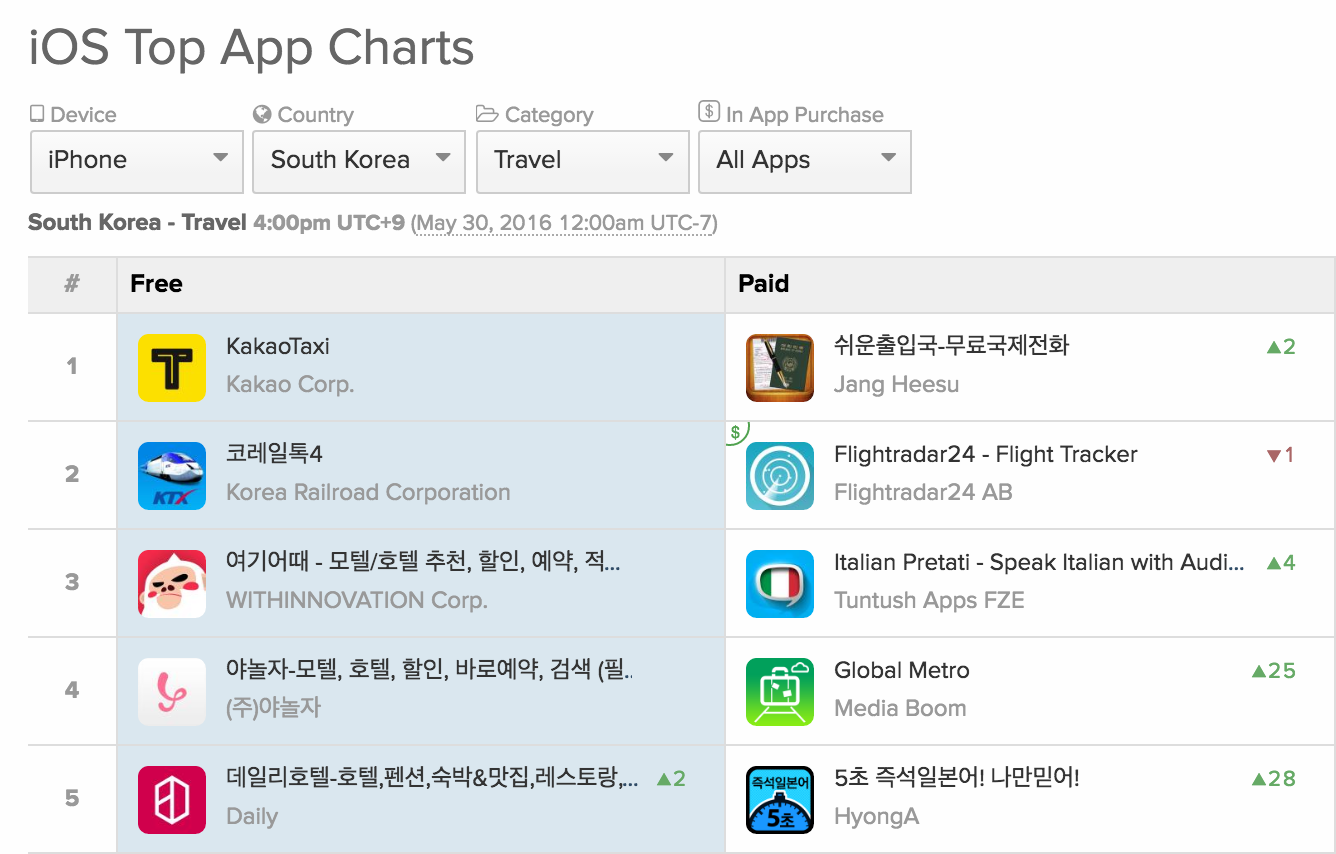 KakaoTaxi dominates iOS Travel apps in South Korea
Uber has also faced resistance from local regulations in Japan, where Uber, which recently announced its collaboration with Toyota, is only allowed to hire drivers with commercial transport licenses. Competition from local companies has since heightened as well. Besides apps such as Japan Taxi and Nikko Taxi, which are offered by traditional taxi companies, Internet giants like LINE and Yahoo Japan also provide taxi-hailing service within their apps. For example, LINE Taxi allows users to request a ride from LINE's familiar interface. Already, monthly sales from the two apps — including Japan Taxi and Nikko Taxi — has now surpassed 10 billion JPY.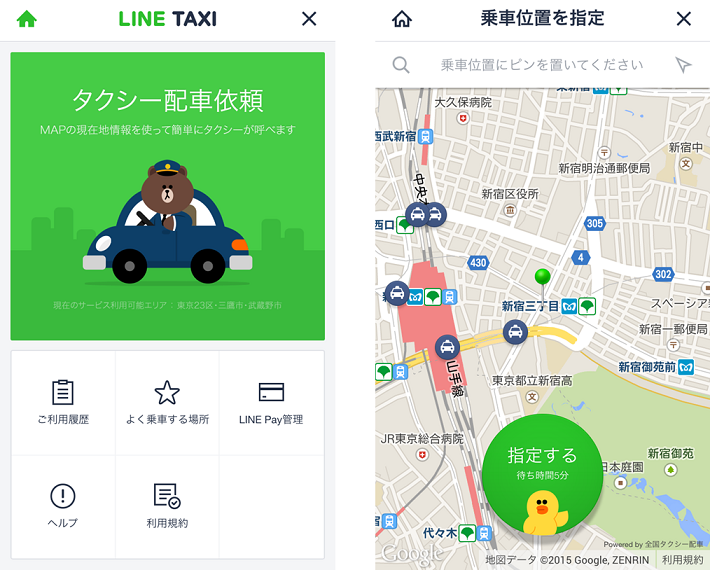 LINE TAXI is conveniently integrated into LINE, tapping into its substantial user base.
The Battle for Ride-Sharing Dominance Continues Throughout the Rest of Asia
All over Asia — in markets as diverse as Indonesia and India — a head-to-head battle continues between regional and global ride-sharing apps. As smartphone adoption rapidly increases in emerging markets such as India and Southeast Asia we've seen a huge jump in the number of users using at least one ride-sharing app.
Similar to major Asian markets like China, regional competitors have come up with unique solutions to fit local transportation needs. Grab, a regional player in Southeast Asia founded in Malaysia, has firmly established itself as a market leader in the region. Grab currently holds the top position among ride-sharing apps in Malaysia, the Philippines, Singapore, Thailand, and Vietnam by combined iOS App Store and Google Play downloads.
"Meeting local needs is a mission core to Grab's culture and the reason why we innovate," said Cheryl Goh, VP of Marketing, Grab. "In places like Indonesia and Vietnam, we offer motorbike services because they are the quickest and cheapest way for locals to get around. With 95% of the region preferring cash, Grab users get to pay the way they prefer, whether it be cash, credit card or — in the near future — mobile wallets."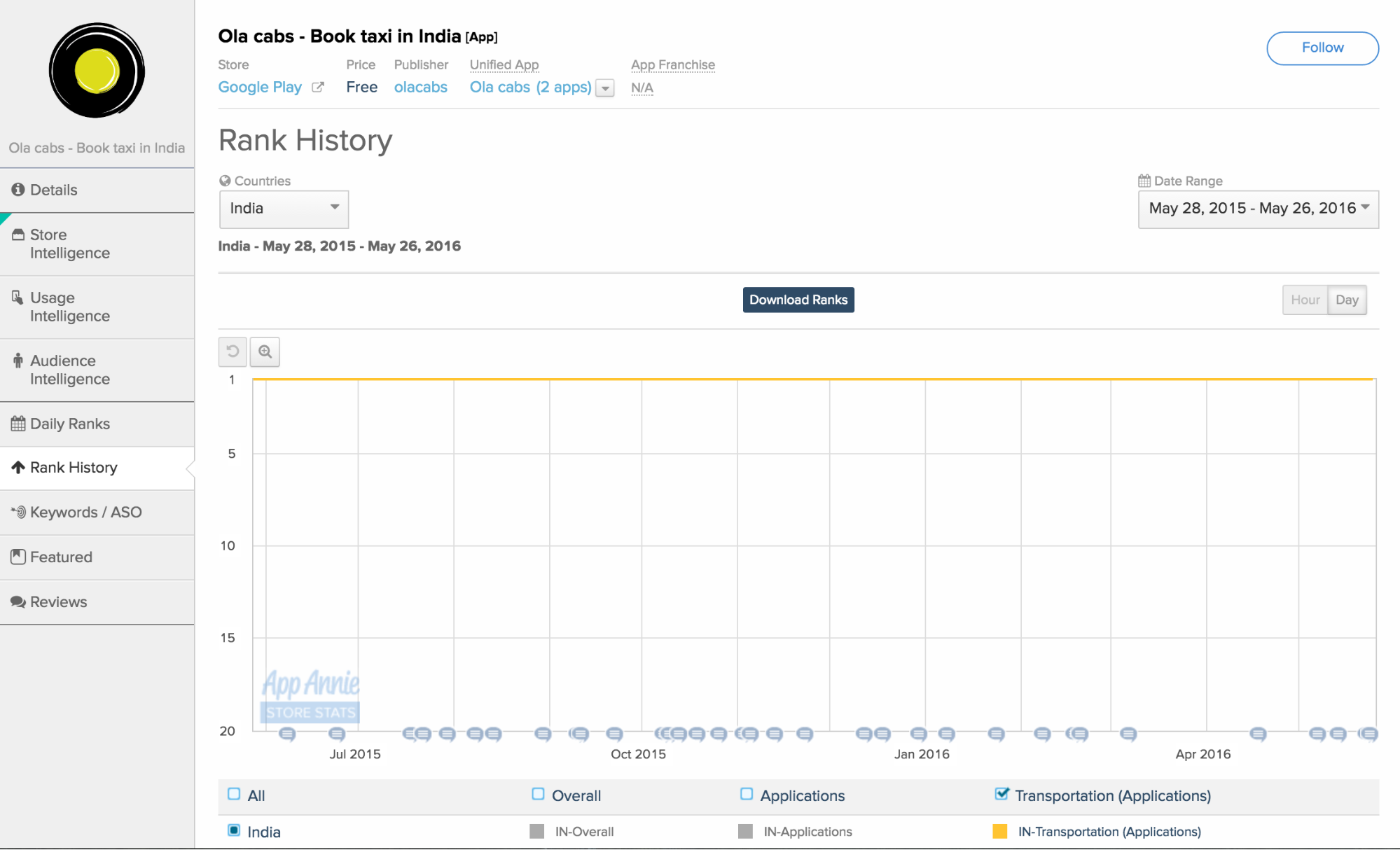 India's Ola Cabs never slipped from the top spot on Google Play's Transportation chart over the past year in its home market.
To compete with these local players, Uber has adapted to the local markets as well, including rolling out a brand new app redesign with an emphasis on "city character." It now accepts cash payment in certain markets due to low credit card penetration in the region. In Indonesia, for example, it has seen its performance greatly improve over the past year.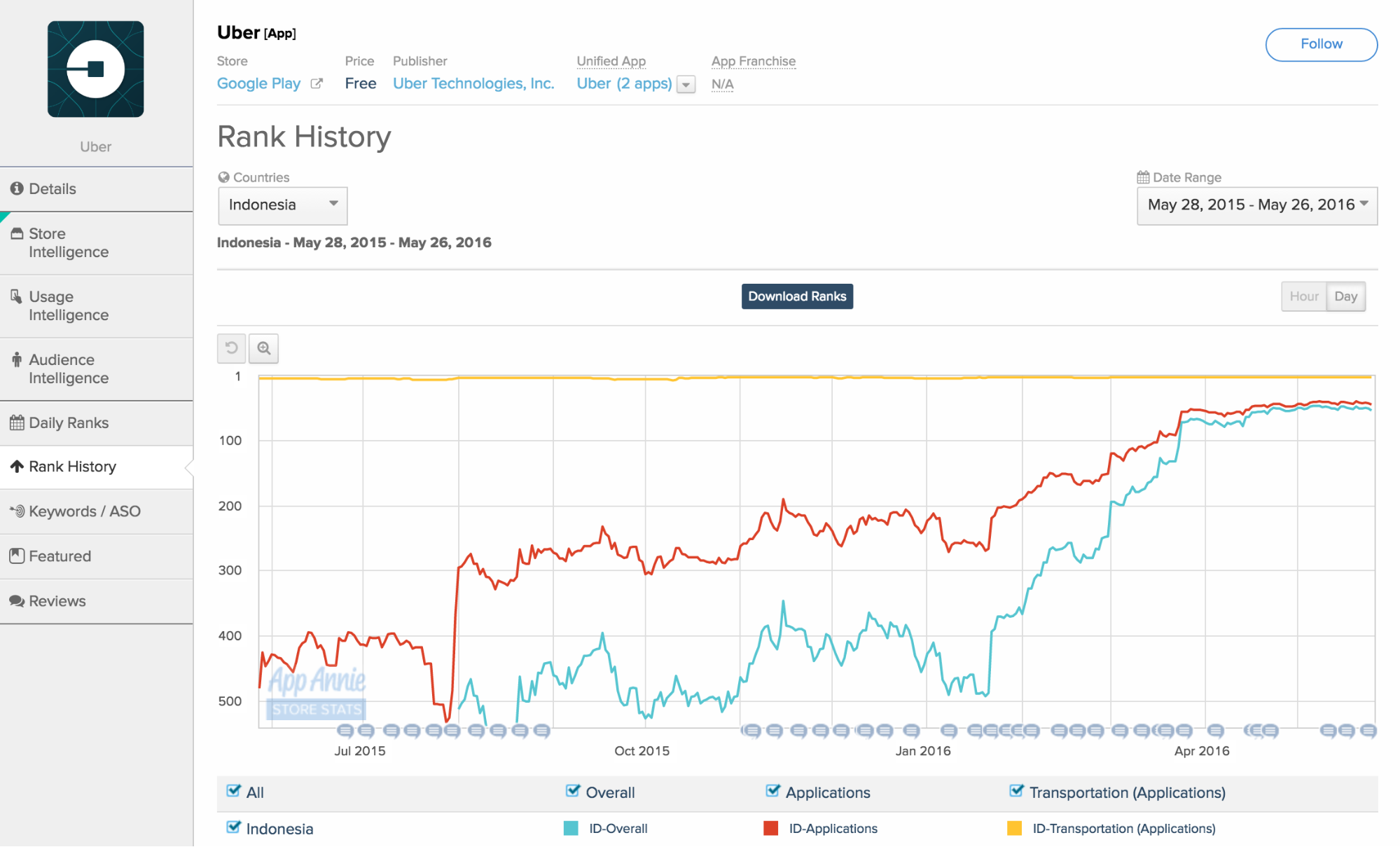 Uber has seen its adoption among Android users in Indonesia increase significantly over the past year.
Regional Players Pave the Pathway for Global Expansion
Starting in April 2016, Chinese users of Didi Chuxing are now able to hail rides from Lyft without leaving the app when they are traveling in the United States. Each fare is then converted to CNY, allowing riders to pay using WeChat Pay.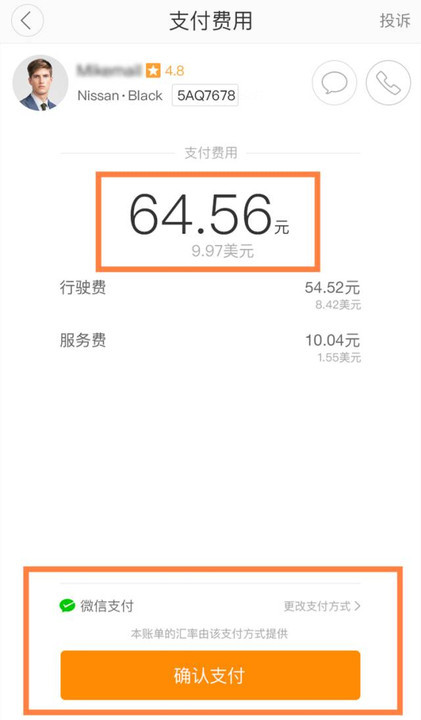 Chinese users can use WeChat Pay to pay for Lyft services in the United States.
This new development is the result of a service alliance agreement signed by Didi Chuxing, Lyft, Ola and Grab last December. With all four services receiving financial backing from Softbank, the alliance came as no surprise to some. As we examine each market across Asia, we realize that each regional app has integrated local tastes into its user experience, offering users an appealing alternative. With more market consolidation coming in the region, regional alliances like this could greatly benefit local companies in their quest for a more global presence.
Build a Better App Business
Don't miss a single app-related update — subscribe to our blog to get more free app industry reports, conference updates and guides. Have something to add? Share with us on Twitter.