Prisma is climbing the ranks with its unique photo editing capabilities. Is it the next MSQRD?
While Pokémon GO has dominated the press as the latest craze in mobile, it hasn't diminished growth for other apps. Photo-editing app Prisma has also gone viral, climbing the top charts in several countries and accumulating over 20 million downloads to date worldwide for iOS and Google Play.
What's helped Prisma stand out? The app uses convolutional neural networks — essentially a form of artificial intelligence (AI) that can be trained to apply selected styles to new photos. The use of neural networks for images most recently entered the public consciousness when Google shared its work in training AI to recognize and classify images. This resulted in some developers creating software for consumers to create their own neural network-modified images.

The image on the left is an original photograph, while the one on the right has been processed through an algorithm.
Prisma applied this general idea, but trained its neural network on popular art styles, such as pop art, cubism and impressionism. Rather than apply a filter overlay, the app actually leverages an algorithm to "repaint" the photo in the style of the selected artistic technique.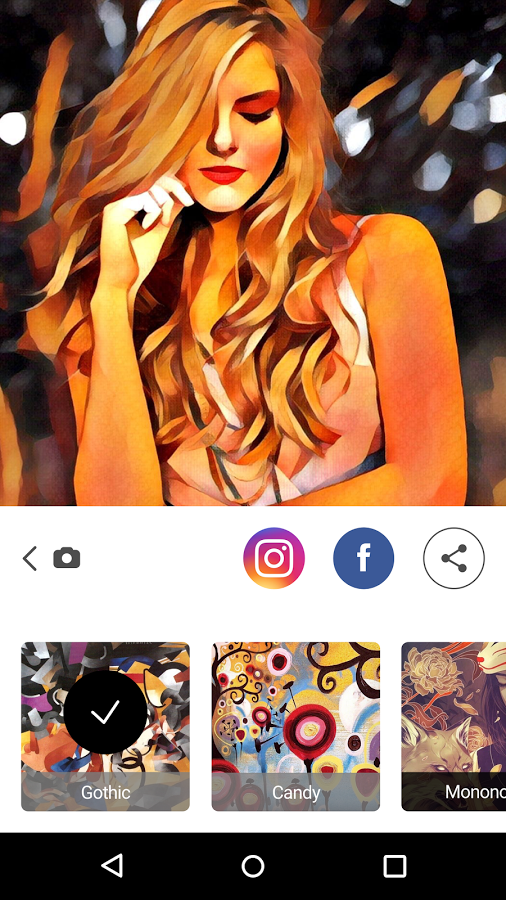 Prisma doesn't employ filters, per se, but instead "repaints" uploaded photographs using an algorithm trained in popular art styles.
The app launched on iOS in June 2016, but didn't take off until the first week of July. when it made two important changes for app store optimization:
It changed its icon from a plain blue triangle to its current icon.
It changed its name from "Prisma - art filters and photo effects" to the more ASO-friendly "Prisma – Art Filters and Photo Effects for Images, Picture Editor for Instagram"
Within two weeks of making these changes, Prisma entered the top 10 for Photo and Video apps on iPhone for the United States, United Kingdom, France, Germany, Russia, China, South Korea and Japan.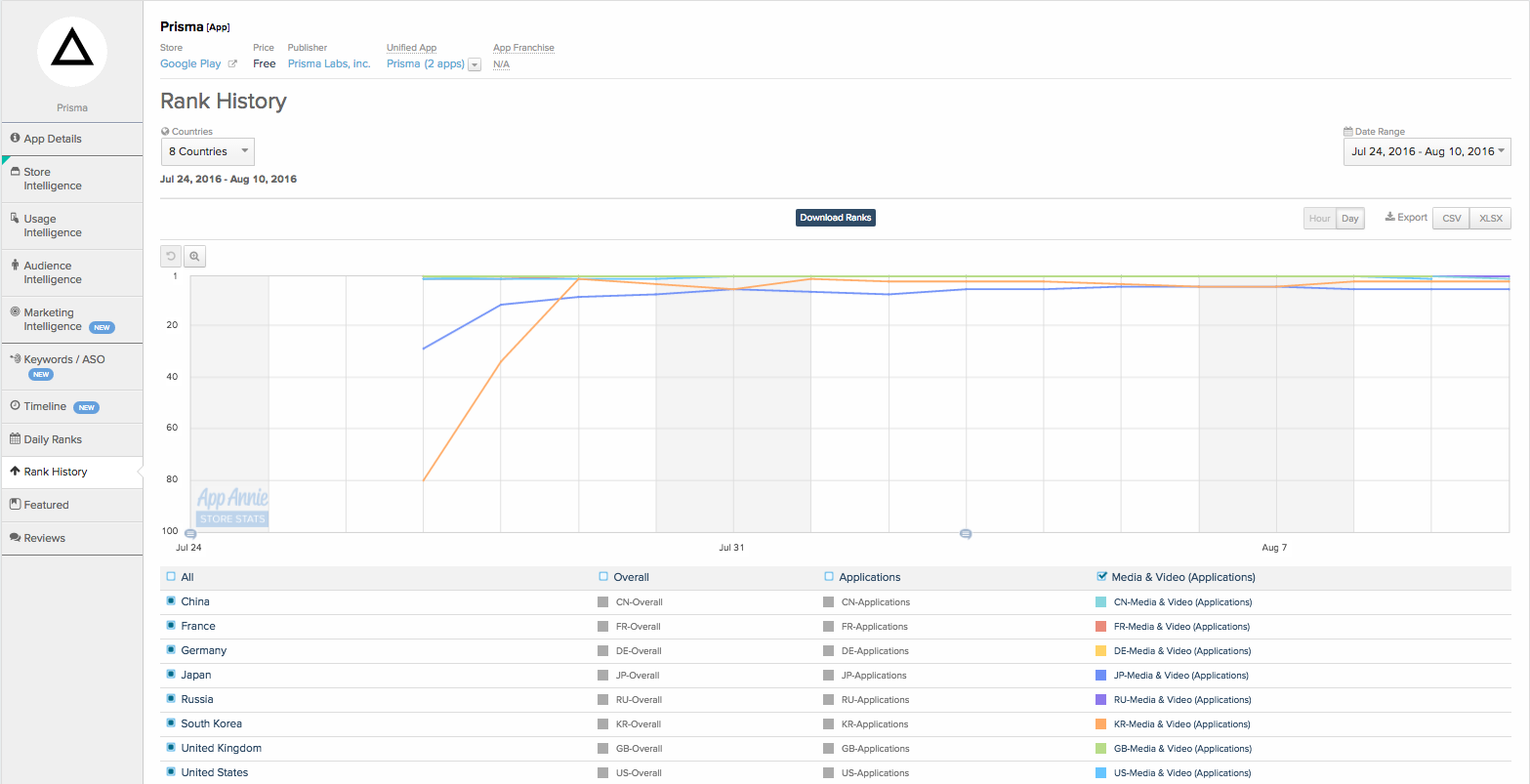 After making important ASO updates, the Russian-developed app topped the Photo and Video charts in the US, UK, France, Germany, Russia, China, South Korea and Japan.
Aside from ASO, the app has made a few smart moves to propel itself up the charts. The first is its social promotion strategy. Prisma essentially serves as a companion app to popular photo-sharing apps like Instagram and Facebook, making word-of-mouth marketing from users sharing their own edited photos a prime way to support additional user acquisition. Prisma's final photos come complete with a watermark in the bottom right, making it easy for users to identify and search for the app.
Another thing they did well early on was to monetize early by selling sponsored filters. The first partners were Palmolive and ride-sharing app Gett, which made the strategic choice based on Prisma's popularity in its home country, Russia.
"We saw how fast the app was blowing up, especially in Russia where we have a strong presence," said Nahshon Davidai, Gett's CMO, in an interview with DigiDay. "We thought it was a hip and cool app to quickly jump on and stand out in a crowded space."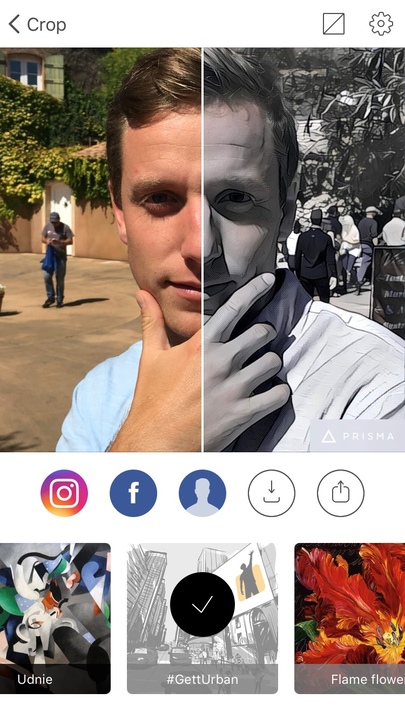 Screenshot from Prisma, showing the original photo (left side) and sponsored filter #GettUrban (right side).
The sponsored filters create a powerful revenue stream for the new company and are — at least for now — lightly branded in a way that doesn't detract from the user experience, like more traditional advertising could potentially do
With all the momentum behind Prisma's iOS debut, its Google Play launch on July 24 resulted in an even faster rise to the top charts. Within three days of launch the app reached the top 10 for Media and Video apps in the Google Play Store for the US, UK, France, Germany, Russia, China, South Korea and Japan.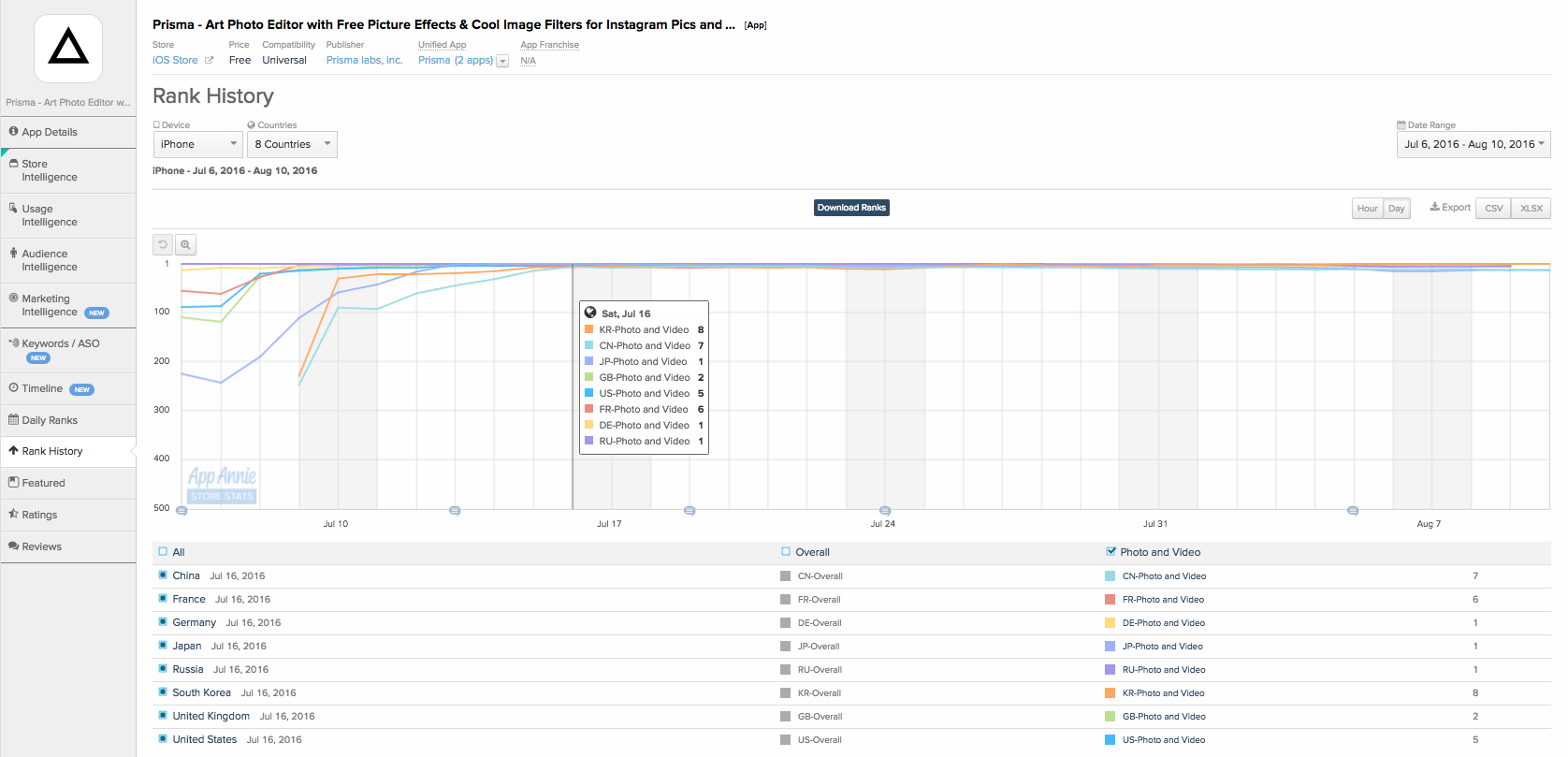 Prisma's Google Play launch resulted in a quick rise to the top of the Media and Video charts in key countries.
What Publishers Can Learn From Prisma's Virality
Prisma implemented a few key features and marketing tactics to generate buzz and simplify user interaction with the app. Here's what publishers should keep in mind.
ASO Matters: Prospective users' first impression about your app generally comes from the app store preview page. Prisma was smart to keep refining its app icon and name to help clarify its value proposition while drawing users in through search.
Social Sharing Is a Strong Way to Drive UA: Prisma added in Instagram and Facebook integrations to streamline sharing abilities for users, making it easy and accessible to post to social media and helping to increase the viral appeal of the app.
But Branding Is Important for Supporting WOM Marketing: Adding a watermark on the bottom right-hand corner of the photos adds the potential to increase and amplify awareness when users are sharing their creations on social media channels.
Monetize Early Without Compromising UX: Partnering with sponsors to create branded filters early on opened up a new and easy way for Prisma to monetize and sustain growth.
Prisma May Be the Belle of the Ball, but Is It the Next MSQRD?
Prisma's road to success sounds very similar to that of MSQRD, an app developed by a team in Belarus that offers Snapchat-like facial filters and face-swapping capabilities. The app quickly went viral, ultimately resulting in an acquisition by Facebook.
Using App Annie Intelligence, we looked at the cross-app usage for Prisma. The app directly competes with other photo-editing apps. Overall — and perhaps unsurprisingly — there's a strong overlap between Prisma and MSQRD, as well as with Instagram's companion apps, Layout and Boomerang.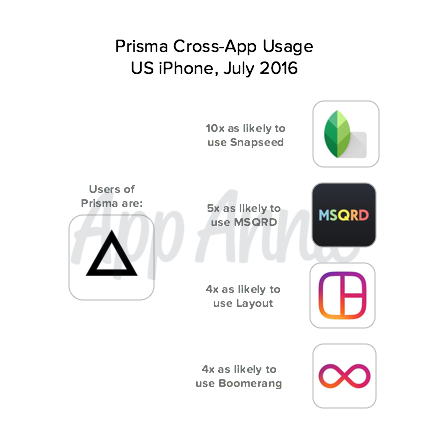 With Prisma's growing popularity, and the increasing competition between Snapchat and Facebook for user engagement, we wouldn't be surprised if someone snapped them up in the near future.
Build a Better App Business
Subscribe to our weekly digest to see more app industry reports, conference updates and guides.
Want to take your app business to the next level? Track the performance of millions of apps across the world with download and revenue estimates from Store Intelligence within App Annie. Request a demo today.