In less than two weeks, Pokémon GO has infiltrated all aspects of society. From childbirth to robbery to an astonishing amount of real-world interactions, this gaming app has grabbed a lot of headlines (and daily users) since its official launch in the United States on July 7. Combining beloved '90s characters with augmented reality (AR), Pokémon GO's utilization of innovative technology and nostalgia created a recipe for the top charts.
The Lure of Pokémon
The premise of Pokémon GO aligns with the brand's catchphrase: "Gotta catch 'em all!" Users are prompted to explore their cities in search of their favorite characters (and Zubats). Overlaying a city's grid lines on the game's home screen, the app employs GPS tracking to follow your avatar as it explores set points of interest, or PokéStops, that provide Poké Balls and other items helpful to leveling up in the game. The game also harnesses AR to superimpose Pokémon into the real world, which has been key in prompting sharing of Pokémon-related photos online. Special features like Lures Modules, which are placed on PokéStops and attract additional Pokémon and entice users to make in-app purchases.
The game's home screen shows a map of your city (left) and utilizes your phone's camera to have Pokémon characters digitally render in front of you (right).
Publisher Niantic, Inc. pulled from a Google Maps April Fools' Day joke back in 2014 and some infrastructure already in place. Niantic's less-mainstream sci-fi hit Ingress contributed this data, as real-world exploration is also core to its gameplay.
The Billion-Dollar Question for Nintendo: Does Pokémon GO Have Staying Power?
So far, Pokémon GO is proving to have lasting pull.
"I can easily envision a run-rate of over $1 billion per year with less server issues, a worldwide presence, and more social and player-vs.-player features."
Fabien-Pierre Nicolas
Vice-President, Marketing & Communications, App Annie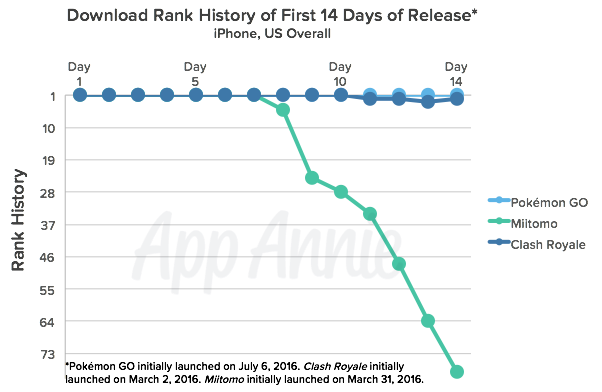 Pokémon GO has yet to leave #1 for iPhone downloads.
Outperforming these mobile chart toppers certainly attests to the popularity and excitement that couldn't be predicted for Pokémon GO. According to App Annie Intelligence, approximately 1 in 10 Americans with smartphones are playing the game every day with about 1 in 5 in the 13–24 year-old age group with the app installed. Maintaining this #1 spot is telling for how Pokémon GO will hopefully perform in the coming months.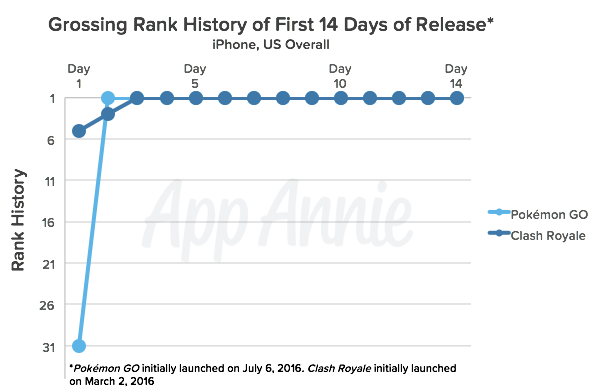 Pokémon GO claimed the #1 spot in grossing rank its second day in the US App Store, a full day before Clash Royale achieved the same feat.
Pokémon GO hit the #1 grossing app for the US faster than the popular Clash Royale from Supercell. This quick leap to the top after starting at #31 is a confirmation of success and shows no signs of dipping as of yet. Beyond this downloading power and astounding user growth, Pokémon GO is keeping the average US user engaged for over an hour a day playing the game. With regular feature updates (and hopefully the addition of in-app social features) these new offerings could keep users engaged and returning in the long run.
Dissecting Pokémon GO's Launch: Soft Launch to Global Craze
The app soft-launched in Australia and New Zealand on July 5, moving to the US soon after. Following suit, Europe was next to get access, with Germany on July 13 and the UK on July 14 and additional European countries soon after. These 20 countries are spending well over $3 million per day, claiming the #1 spot in downloads and grossing for both Google Play Store and iOS App Store. After a last-minute delay, the app launched in Pokémon's home country of Japan on Friday, beginning the official rollout of a sponsored locations partnership with McDonald's. For now, the app now maintains the top spot in all countries where it's live with no sign of slowing down.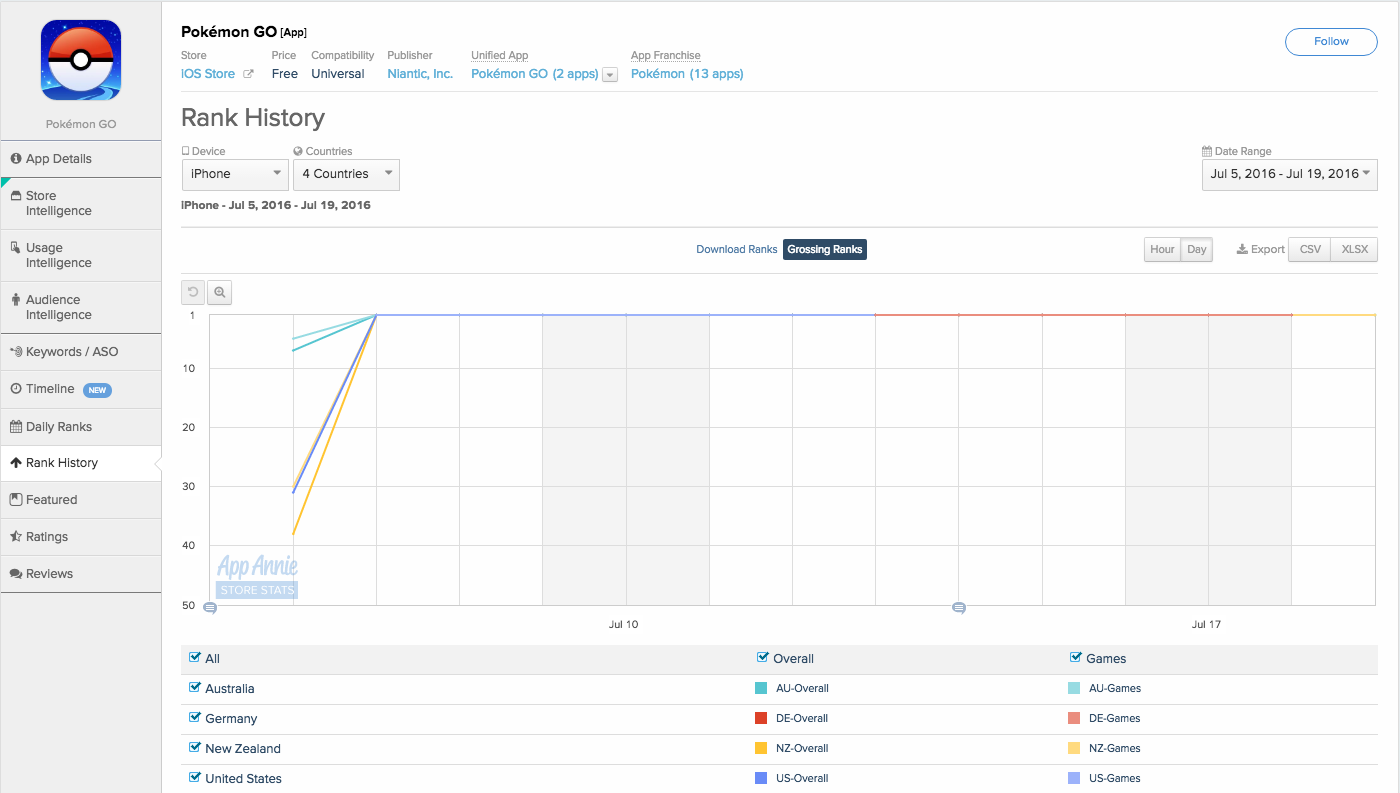 Pokémon GO snagged the top grossing rank in multiple countries.
Pokémon GO Turns AR Into a Business Opportunity
These in-app wins had a ripple effect, with Nintendo's share price has jumped about 70% on and continuing to climb while increasing the company's market value by nearly double to $42.5 billion. Brick-and-mortar businesses took note when many found they were listed as (or close to) PokéStops. Early adopters took advantage of this luck and began advertising as rest stops for weary Trainers looking to refuel on coffee or pizza — and Poké Balls. A pizza bar in Queens, New York noticed sales bumped by 75% compared to other weekends because of Pokémon GO promotions. These marketing tactics inspired Niantic to offer businesses sponsored location packages to set up long-lasting Lure Modules and hopefully drive more customers. It was smart of Niantic to quickly capitalize on the opportunity to roll out advertising options to eager businesses. We look forward to seeing how else they'll monetize the app over the next few months.
Businesses place signs sporting Pokémon GO promotions to attract customers (left). Lyft offers discounted rides to San Francisco Pokémon Trainers (right).

Launch Assessment

Where Niantic Excelled

Soft launch: Niantic Inc.'s soft launch in Australia and New Zealand was used as testing ground for any serious bugs that needed to be addressed, and to gain an understanding of how users felt about the mobile game as a whole. Taking care to soft launch in a smaller app market will provide timely and actionable feedback for developers before taking an app worldwide.
Built-in word-of-mouth marketing: Both on and offline, people are driving the success of the game by spreading the word about Pokémon GO while outside playing. Facebook events are popping up around the US to join fellow Pokémon Trainers in their efforts to "catch 'em all." Niantic was clever to engineer real-life social interactions as a means of generating awareness of and interest in the app.

Launch Opportunities

Lack of Built-in Social Components: Currently the app doesn't include any sort of social component. As a result, users feel a lack of in-app social interaction with other Pokémon GO players. Feeling this void, an enterprising third-party created GoChat to connect players, allowing them to interact and strategize capture tactics (although this has since been removed from the iOS App Store). Offering messaging, trading and even battling functions with friends in a future update would add a collaborative element to this already social game.

Server Scalability: With the initial launch of any game there are bound to be bugs that need addressing. From frozen screens, to the game unexpectedly quitting, users felt their gameplay was impeded. In addition to these glitches, an overloaded server was definitely the main pain point for users (especially in the first few days after launch). Nintendo and Niantic had no way of predicting the sheer success of the game with such an influx of downloads and new users. Stabilizing the server and fixing bugs first and foremost should help them see steady daily users (and potentially an increased amount of time spent in the app).

Learning from Pokémon GO's Undeniable Success

Not every app can — or will — be the next Pokémon GO. But there are definitely takeaways publishers can apply to their mobile strategy. For instance:

Strong IP Is Invaluable: Capitalize on a well-known (and well-loved) brand. If your mobile game can be adapted to include a brand or even a celebrity you can increase your app's monetization potential.
Innovative Technology Can Be A Strong Hook — at Least at First: Utilizing technology in a new way can that can grab a user's attention. Pokémon GO's AR technology is a fun and different way to incorporate the use of virtual reality for a mobile game.
Use Soft Launches to Your Advantage: Launching in a smaller market resembling your target audience offers time to test user response and identify any final bugs in a controlled environment. It also gives you a chance to test monetization and server stability (though if you're launching anything as popular as Pokémon GO, it may be difficult to predict true demand).

Pokémon GO's app has proven itself to be an early hit. We're interested to see what new features Niantic incorporates in future updates to diversify the game and keep users coming back for more.

Build a Better App Business

Subscribe to our weekly digest to see more app industry reports, conference updates and guides.

Want to take your app business to the next level? Track the performance of millions of apps across the world with download and revenue estimates from Store Intelligence within App Annie. Request a demo today.