Nintendo has been one of biggest video game companies since the 1970s. While the company is well-known for console and handheld games, it's only recently branched out into apps through a partnership with DeNA. Miitomo is Nintendo's first foray into social app categories. Thanks to brand recognition and strong marketing, Miitomo quickly climbed up the download rankings in the United States and Japan during April 2016.
Miitomo's rapid popularity put the app on billions of devices, allowing for an incredible monetization opportunity. Below, we'll take a look at how Miitomo caught on with users and what other app publishers can learn from its success.
Bringing the Miiverse to Mobile
Miis, the player avatars featured in Miitomo, have been a Nintendo staple since their release on the Wii in November 2006. Miis eventually got their own games, Tomodachi Collection and Tomodachi Life, on Nintendo DS and 3DS respectively. While Tomodachi Collection was a Japanese exclusive, Tomodachi Life exposed Western users to a Mii-focused game.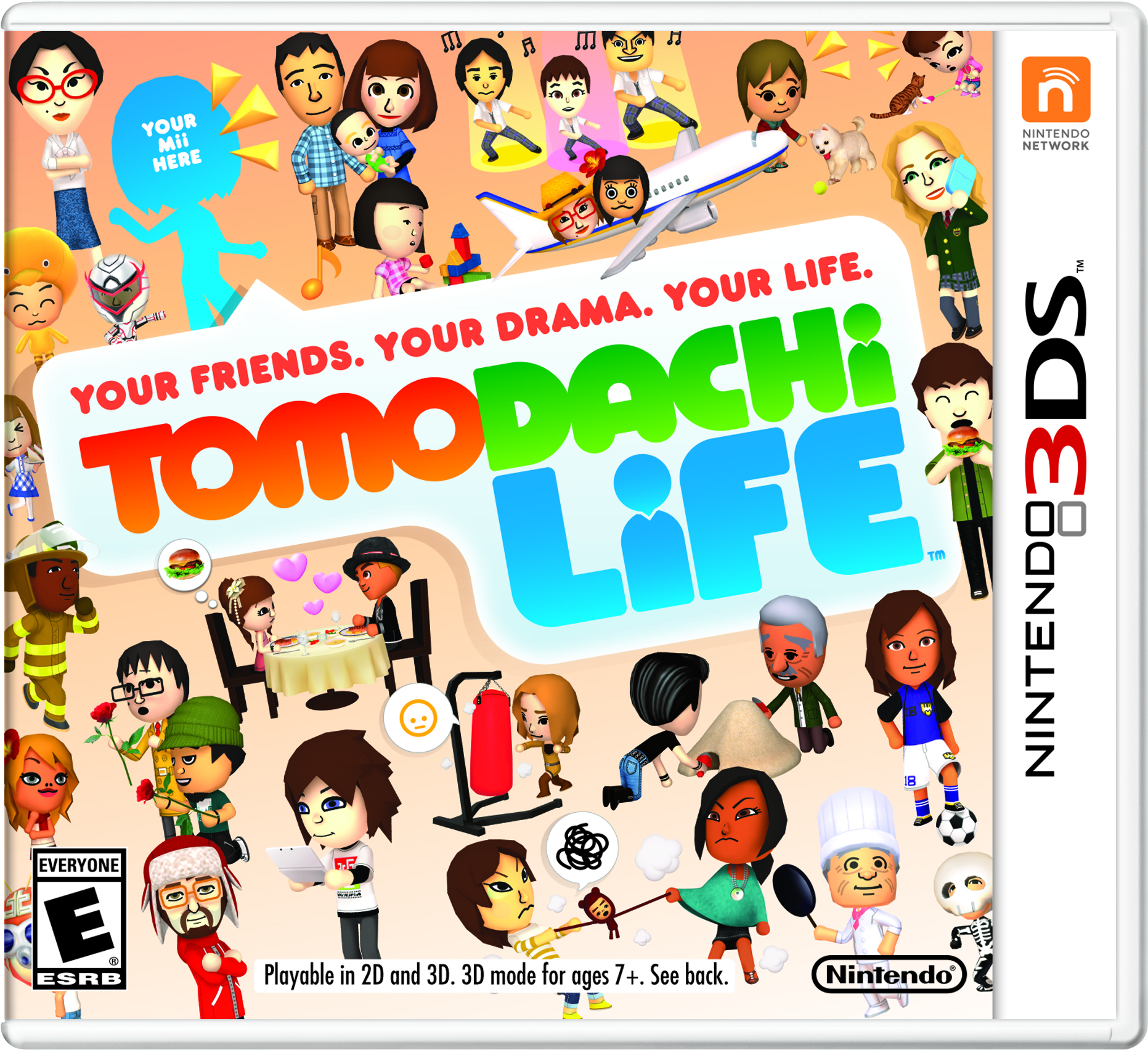 Tomodachi Life was the most recent Mii title on the Nintendo 3DS and serves as the basis for Miitomo's gameplay.
Miitomo is a continuation of the Tomodachi series and features similar gameplay and settings. Players' Miis can be imported from their Wii or 3DS via their Nintendo accounts, or newly created in the app itself. Once customized, the user observes their Mii, answers questions from them, and purchases clothing with coins (the app's in-game currency).
Where Miitomo's Racking Up the Downloads
Miitomo released on iOS and Google Play in Japan in mid-March and the United States on March 31. The app saw rapid success within these two regions, quickly gaining several million downloads.
Miitomo is also gaining traction in Europe with total iOS and Google Play combined downloads in the United Kingdom, France and Germany only slightly behind Japan. Despite both Nintendo and DeNA being known for games, Miitomo is categorized under Social Networking on iOS and Social (Applications) on Google Play. The app has a very social feel and may be attracting users that might not browse the Gaming category.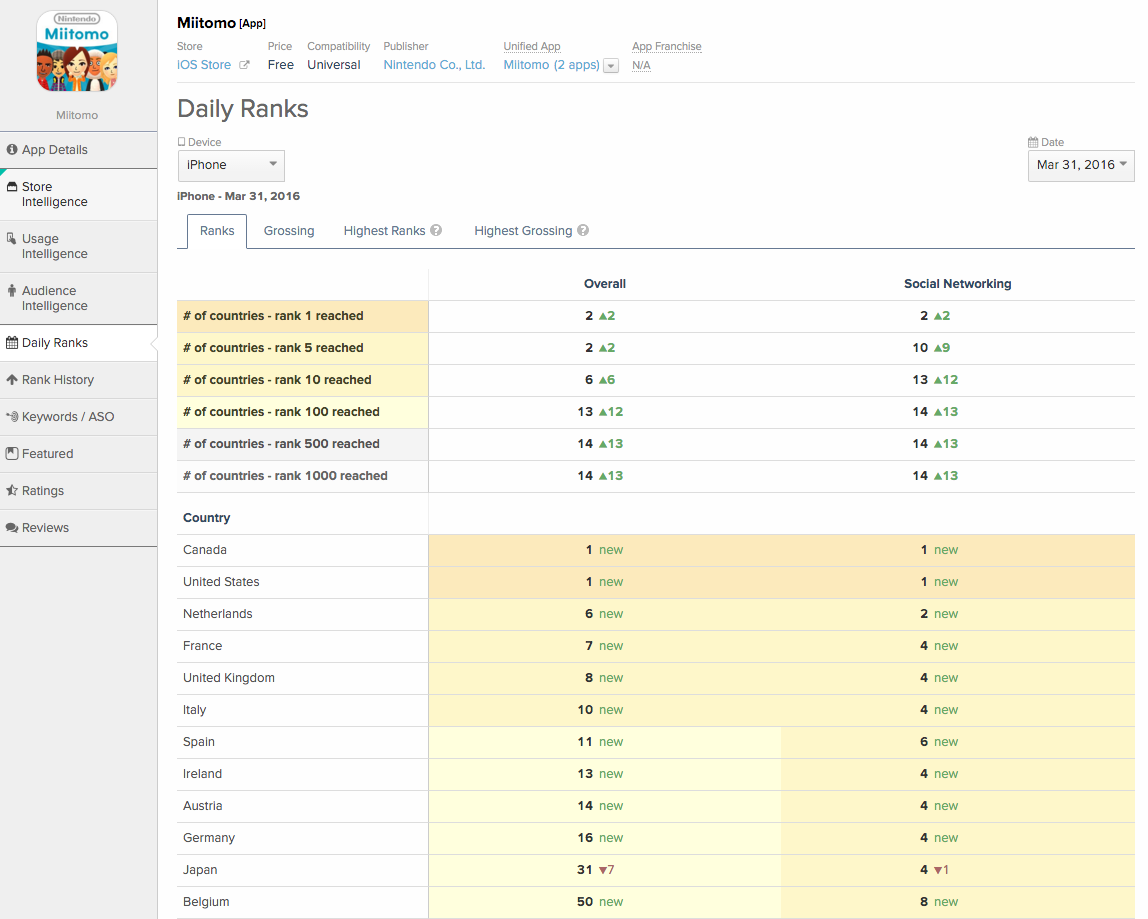 Since its release, Miitomo has remained in the top 10 (by downloads) of the iPhone Social Networking category in the United States, the United Kingdom, France, Germany and Japan.
Miitomo's download performance is interesting, as it had much lighter marketing compared to other mobile apps like Clash of Clans and Game of War. Nintendo did give players incentive to pre-register the app for additional rewards and has been making advertisements aimed at millennials.
Many downloads may simply be a result of Nintendo's immense brand recognition and the heavy promotion it's received from iOS App Store's featured pages.
How Nintendo's Monetizing Miitomo Players
With a large amount of downloads in major markets, Miitomo is an important investment to position Nintendo as a formidable mobile brand and provide another monetization stream.
Completing social activities — adding friends, leaving and receiving comments — rewards users with coins and tickets which players can use to buy items or play Miitomo Drop, a pachinko-themed game where players can win unique clothing items.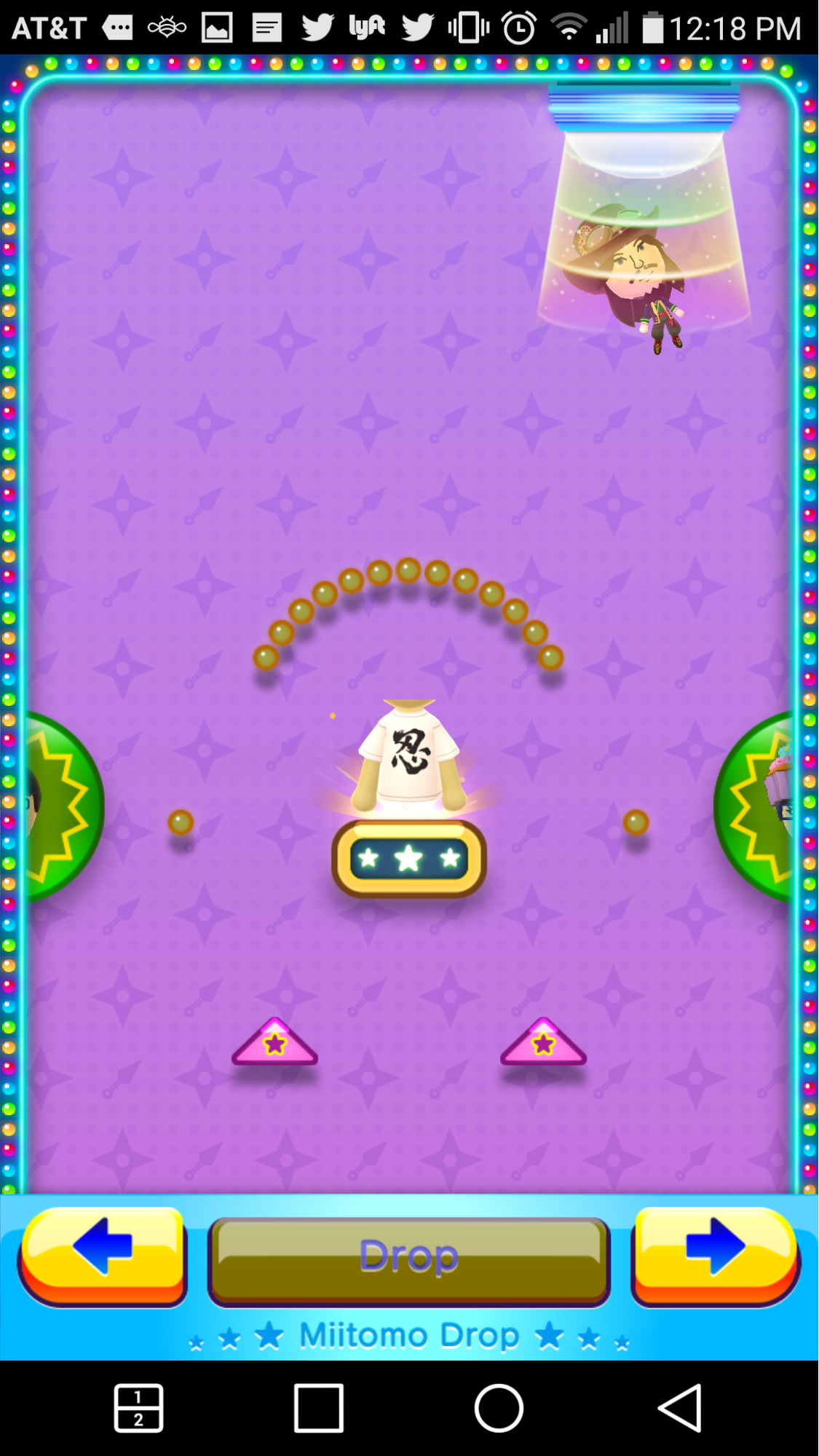 Mii Drop allows users to win exclusive clothing and accessories not available in the coin store.
It's through clothing customization and in-app purchases that Nintendo can turn its large free user base into one that can provide steady revenue. The majority of clothing items cost hundreds to thousands of coins while players are rewarded with 5–10 coins for simple game interactions. Users wanting specific outfits quickly may opt to purchase large coin bundles.
Making Miitomo a Daily Habit
Miitomo is a social app where the main draw for users is to interact with their friends. When another Mii visits, users can answer private questions noted as "Between Us" and browse through that friend's answers. The app's main draw comes from reading question responses and making comments back to their friends. Miitomo also keeps users engaged with daily check-in rewards, daily photos and updates to the shop and Miitomo Drop.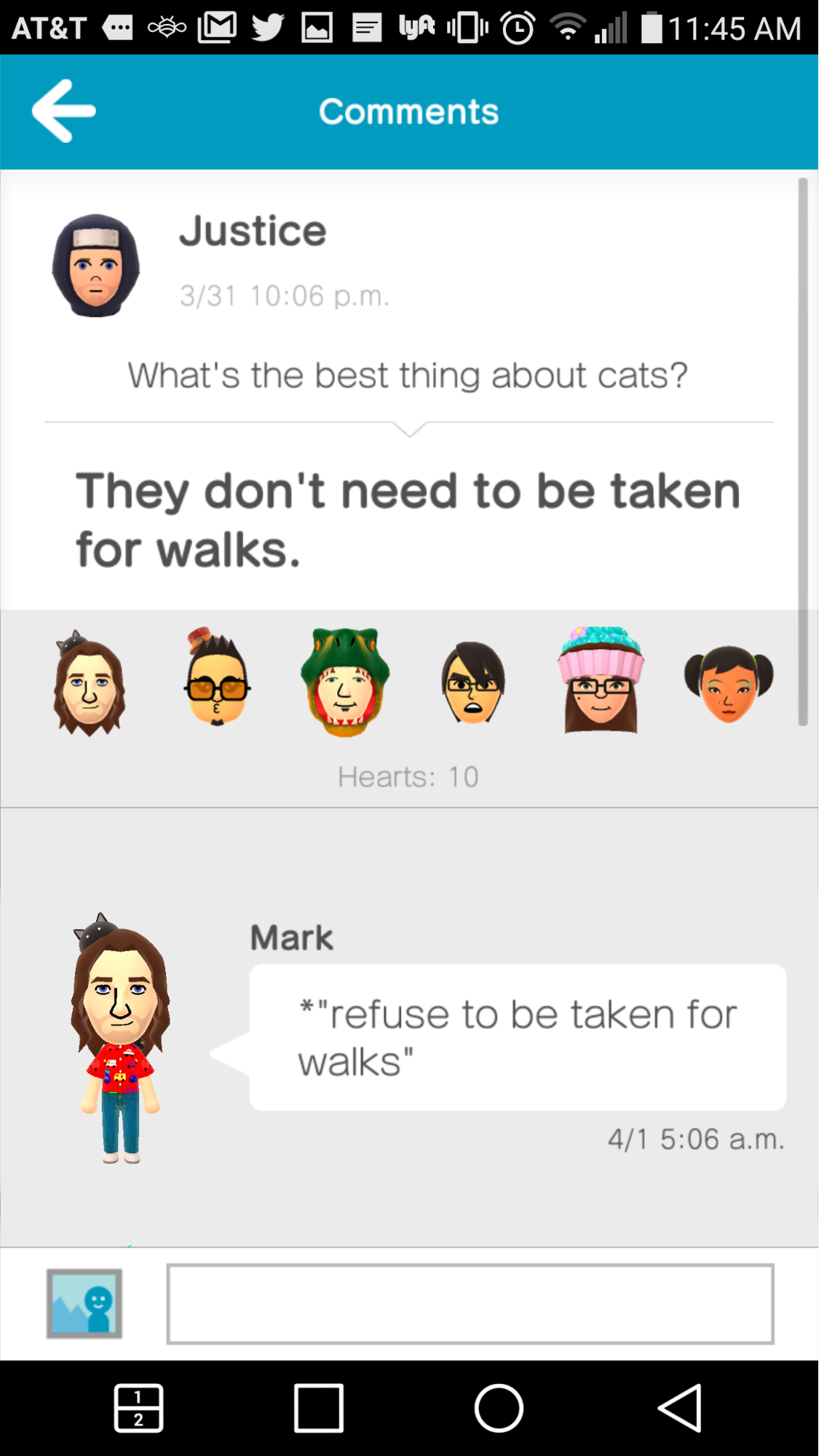 Users can comment and give hearts on friends' answered questions.
With a loyal fanbase, Nintendo is making sure that Miitomo is interconnected with services outside the app — particularly social networks.
Linking the app to an existing Nintendo account not only allows importing a Mii, but also various rewards for completing "My Nintendo Missions" that can range from answering three questions in one day to changing your Mii's clothing daily.
The app also features Facebook and Twitter integration to quickly find friends, share in-app activities and gain one-time or daily rewards. Miitomo also has regular push notifications to let users know of new comments, friend requests and other updates — most of which organically pop up soon after events and are clear and to the point (which is how we suggest writing your push notifications).
From Console to Mobile
Nintendo is making the leap from console gaming to mobile apps. Miis are only one of the company's staples and they have plans to release more apps with their most popular characters — likely Mario and other flagship names. This strong branding can serve Nintendo well and may allow them to mimic similar mobile success as other console developers turn mobile like Square Enix and Konami.
Miitomo has basic app monetization in place, and future Nintendo titles can go the extra mile. Rather than simple cash shops and mini-games accessible in menus, the next apps could have revenue tied into gameplay and social interactions, activating a significant revenue stream in the process.
To recap, here are some key lessons from Miitomo:
Leverage your existing IP. Repurpose games for mobile with some engagement and monetization tweaks.
Think about monetization. Simple, transaction-based mechanics like clothing shops and mini-games are a good way to test monetization strategies.
Build in reasons to come back. Social features like daily rewards, getting coins for interactions, and push notifications make players want to regularly return to the app.
Include shareable content — and make it easy to do so. Integrating social networks like Facebook and Twitter makes it simple to share photos and find friends — which leads to increased awareness and app engagement.
IP holders and publishers moving into mobile should take note of what Nintendo and DeNA are doing — there are valuable lessons that can apply to a range of existing franchises.
Start Building a Better App Business
Subscribe to see more app industry reports, conference updates and guides. Have something to add? Share your questions and comments on Twitter.
Want to take your app business to the next level? Create a free account to dive deeper into Store Stats or request an Intelligence demo.