The world is hungry for more streamable content on mobile, but the global market is fragmented due to different content preferences and emerging trends (see: cord-cutting). This rings especially true for Asia, where a handful of live streaming apps are taking off.
By augmenting the interactive nature of live streaming and offering unique content, the apps we investigate below are driving downloads and high levels of engagement, which should lead to revenue for both the platforms and the personalities streaming on them. Finding these top apps is easy — it just takes looking at Store Stats — but the factors causing their success is the real insight.
We found that localizing your app to your target market, both in terms of content and features, can have huge benefits. More importantly, this focus developing for local users is the leading factor driving this trend across Asia. And this kind of mentality spans categories — the lessons below could easily apply to apps in Social Networking, which are influenced by users and how they interact.
A Winning Combo for South Korea: Eating and Live Streaming
South Korea is arguably the region's leader in live streaming. One popular live streaming app, AfreecaTV  ("Anybody can FREEly broadCAst TV"), first launched on the Web in 2006 and secured broadcasting rights to sports games and broadcasting jockeys (commonly knowns as "personalities" or "content creators") viewers can follow.
The uniqueness and popularity of AfreecaTV lies in its food channels. These channels aren't just about cooking food. They're live streams of jockeys eating in front of their own cameras (known as "Meokbang" in Korean, which translates to "broadcast eating"), appealing to the increasing number of solo diners in South Korea. Together they keep each other company.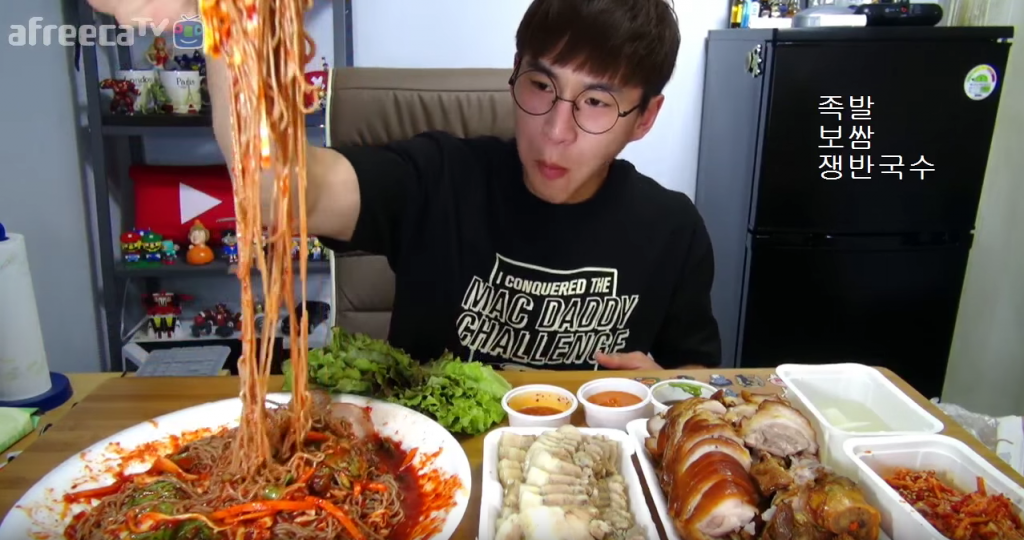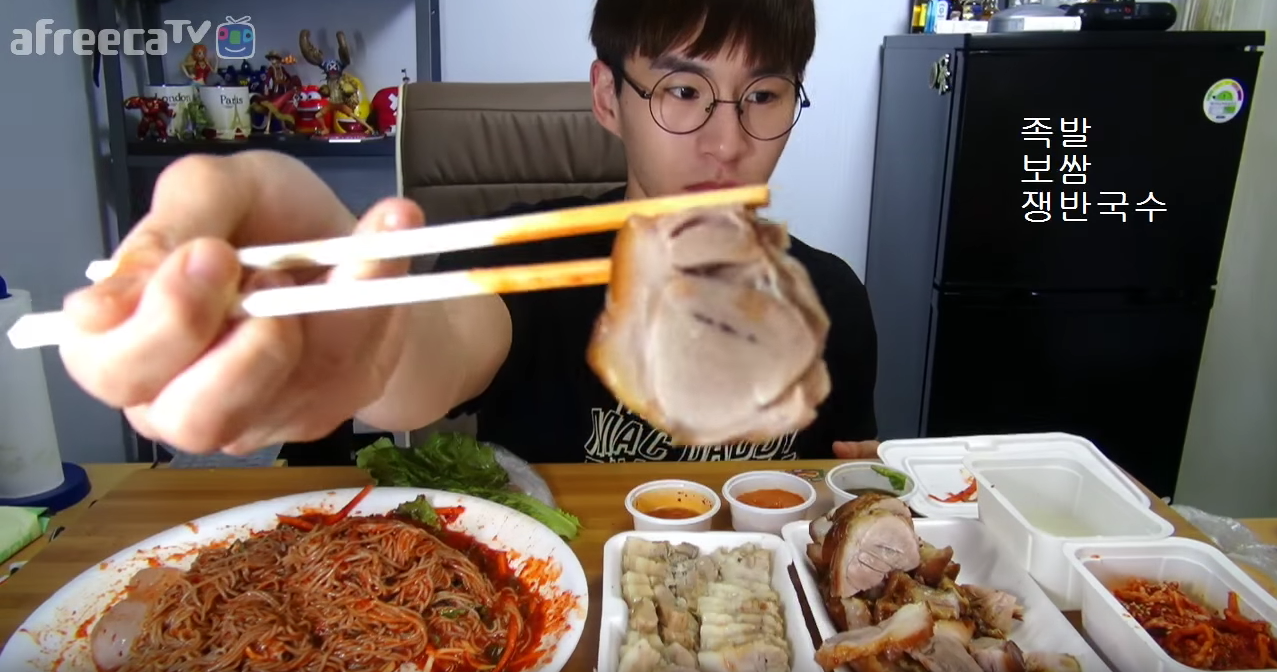 Screenshots of Meokbang live streaming on AfreecaTV. 
AfreecaTV is an interactive platform, allowing their viewers to live-chat with jockeys as well as with each other. Live chat wasn't enough for viewers, so it implemented other features like "star balloons." Users can send jockeys balloons as signs of appreciation and in return, the jockeys are able to exchange those balloons for real cash and make money from live streaming. These lucrative opportunities tied to Meokbang have drawn more people to AfreecaTV. As a result, the app has been a top-10 downloaded app in the Entertainment category on iOS for the past 12 months in South Korea.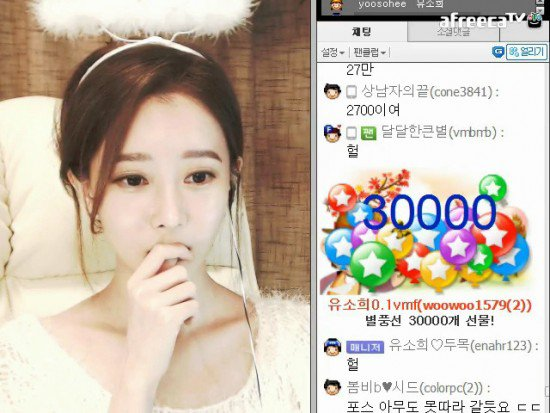 AfreecaTV viewers can send "star balloons" to broadcasting jockeys, which can be exchanged for real local currency.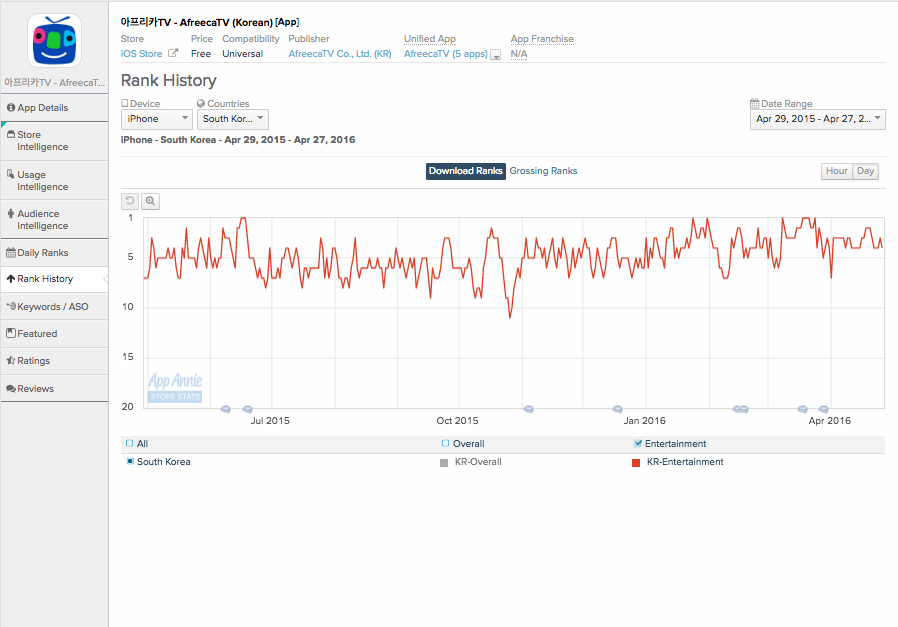 AfreecaTV stayed within the top 10 by downloads in Entertainment on iOS for most of the past 12 months in South Korea.
Noticing AfreecaTV's success, NAVER joined in by launching its celebrity real-time broadcasting app V in July 2015 on Android and later in August on iOS. V secured key partnerships with K-Pop celebrities, getting them to broadcast their lives and interact with their fan bases, which helped the app become even more successful.
Within a month, V was a top-ranked Entertainment app not just in South Korea, but also Hong Kong and Taiwan on Google Play. Now more than eight months old, V is still going strong and is already expanding into new markets in Asia like Vietnam.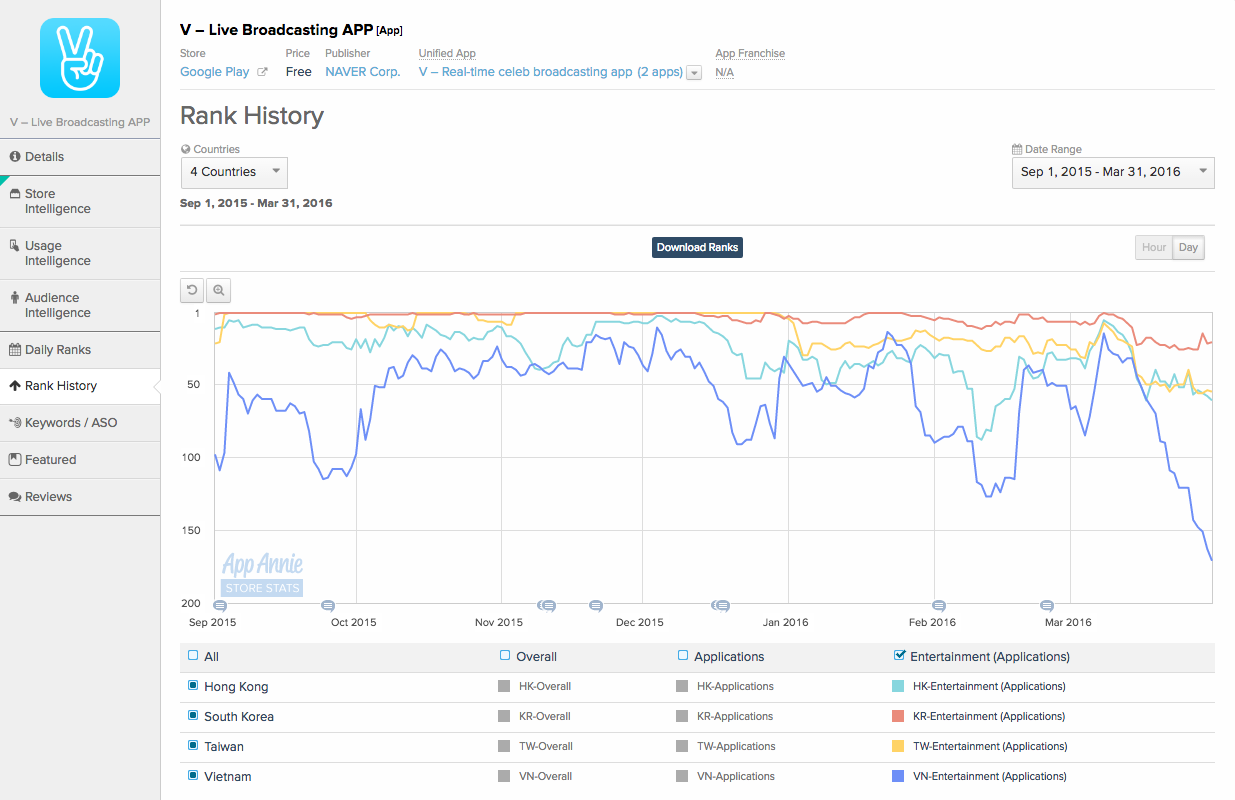 Live streaming app V quickly climbed the rankings in Entertainment over the last six months. It's still performing well in many Asian markets.
V has been strengthening its content offerings each month. From celebrities to beauty channels, its team signed contracts with online personalities from other platforms like YouTube to broaden its user demographics, attract more advertisers, and increase its monetization opportunities.
17 Takes the Lead in Taiwan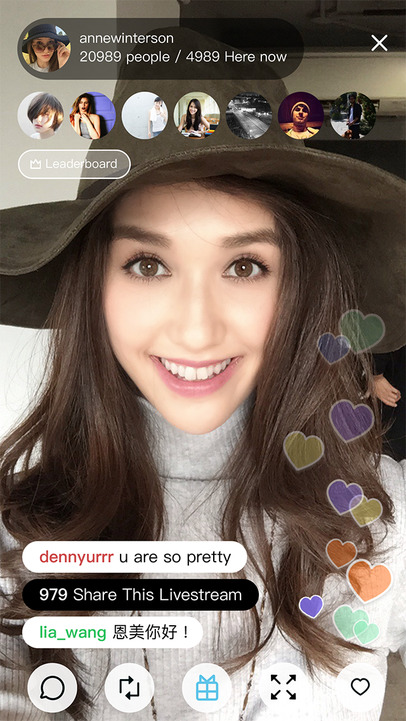 Live streaming apps are attracting users in other parts of Asia too. For instance, Taiwan has a popular app called 17 that combines the features of Instagram (letting users add filters to media and sharing them) and Periscope (live mobile broadcasting). Just like AfreecaTV, 17 provided incentives to its personalities by offering monetary rewards based on viewership. As the app gained users, engagement rose and revenue spiked both in Taiwan and other regions within Asia. From late February to early March, 17 remained in iOS's Photo and Video top 10 by revenue in Taiwan and Hong Kong.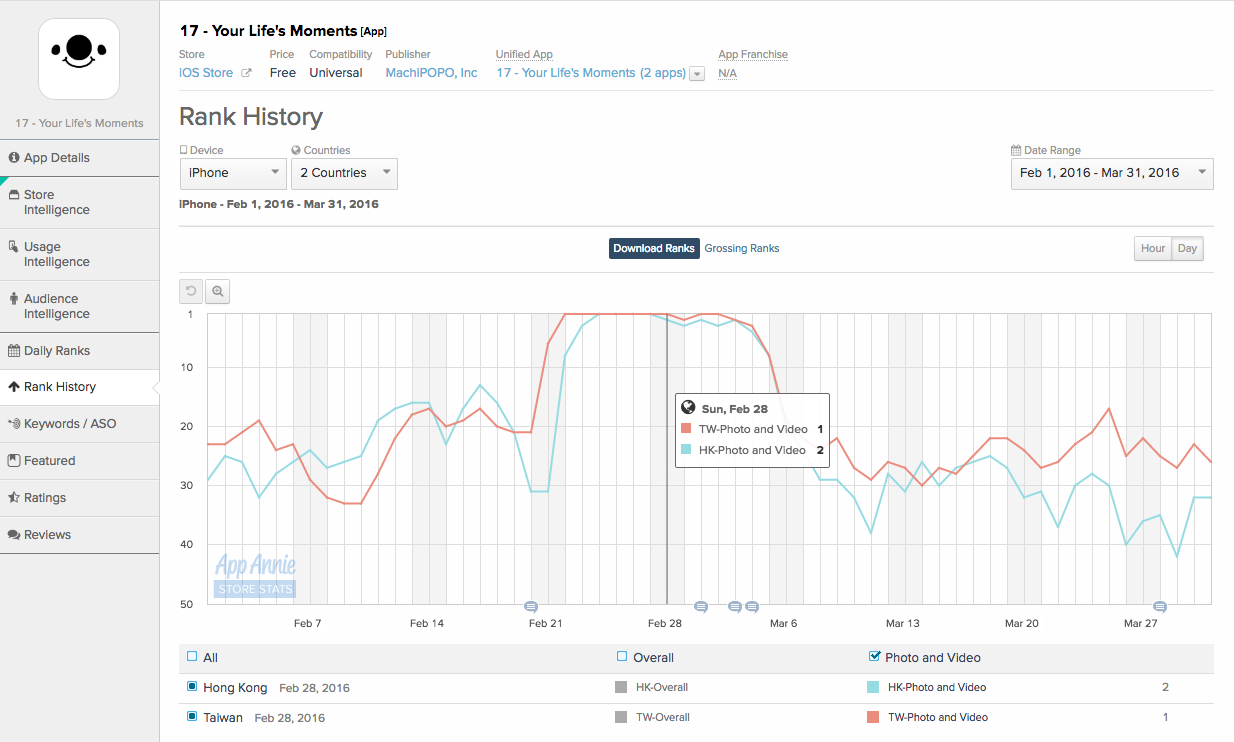 17 stayed within the top 50 in iPhone's Photo and Video category (by downloads) throughout February and March, both in its home market Taiwan as well as Hong Kong.
What's Next for Asia's Live Streaming Apps? Expansion.
Live streaming apps have taken hold in Asia by securing unique content that fits the culture in a format that engages viewers in real time. These apps are hitting high ranks by implementing features that appeal to local markets. The next big opportunity is to move beyond Asia into foreign markets by partnering with local companies and studying what appeals to people in those markets. (Watching personalities eat on camera might not work quite as well in Brazil as it might in South Korea — or maybe it might. Either way, publishers looking to expand need to test the water.)
The unique-yet-captivating content of live streaming apps is making some top players consider expansion. Naver announced the global roll-out of its V broadcasting platform, citing the universal appeal of K-Pop singers and idol bands. The company also added subtitles for nine languages to cater to a more global audience. On the flip side, non-Asian app publishers are finding ways to adapt to Asia's preferences, with Facebook partnering up with Korean entertainment agencies to strengthen its foothold in the market.
The message is clear: To succeed in Asia, publishers need to adjust to what resonates with users in the market. Beyond live streaming apps, this rule could apply to a range of app categories like social networking or (non-live) video streaming services.
But for these publishers making it big in Asia? The next challenge will be to replicate their performance outside of Asia by finding opportunities in new markets. We're looking forward to seeing what they can do.
Start Building a Better App Business
Subscribe to see more app industry reports, conference updates and guides. Have something to add? Share your questions and comments on Twitter.
Want to take your app business to the next level? Create a free account to dive deeper into Store Stats or request an Intelligence demo.