NCAA Tournament fans embrace mobile to meet their live streaming needs.
The annual NCAA March Madness is what many would consider the pinnacle of the college basketball season in the United States. The three-week tournament features 68 men's college basketball teams from around the country. Sports fans nationwide — and worldwide for that matter — not only zealously watch games but intensely participate in brackets, where users predict the outcome of the tournament. Even former President Barack Obama is in on the fun.
Only one week into the tournament, apps providing coverage of 2017's March Madness tournament have already shattered engagement records. CBS Sports and NCAA March Madness have seen huge gains in downloads and engagement during March Madness as exclusive streamers of live game coverage. The can't-miss nature of live games makes them a natural fit for mobile viewing. Live sports are increasingly being viewed on our handheld devices as people are becoming more conditioned to watching video on the go.
Even though both apps are seeing gains from the tournament, they operate in different ways. CBS Sports covers sports year-round with March Madness being a prominent event covered each year. NCAA March Madness, on the other hand, is specific to the annual tournament. On a market level, these apps are highlighting key trends for sports streaming apps in 2017.
Annual Events Create Major User Acquisition and Engagement Opportunities
The first market trend highlights the significant seasonal impact that the NCAA men's basketball tournament has had on downloads of CBS Sports. While the app is designed for year-round use, March Madness is far and away the single biggest contributor of downloads. During the first week of the 2017 tournament, CBS Sports generated nearly 12x the average weekly iOS and Google Play combined downloads of the four weeks prior in the US. Furthermore, the first week of the tournament contributed over 15% of downloads for the entire period from April 2016 through the first week of the tournament, which far exceeds the roughly 2% which would be expected of a regular week. Seasonal events such as this continue to be a powerful way for a year-round app to drive up downloads and usage.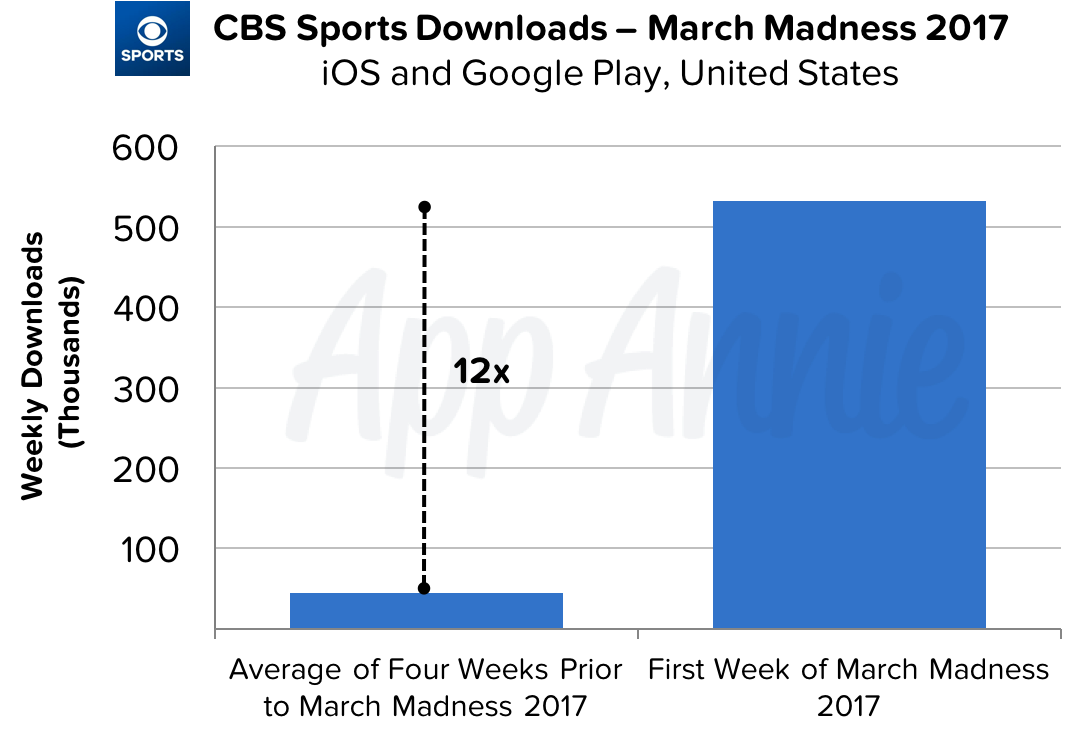 Mobile Live Streaming Captured Basketball Fans' Attention
US consumers are increasingly embracing mobile live streaming, particularly for sports. During the first week of March Madness 2017, users spent record levels of time in the CBS Sports and March Madness apps on Android phones in the US, reaching 30% of total time spent in the top 10 Sports apps on Android phones. This is no small feat. While brackets and news coverage draw users into other Sports apps during this time, watching live tournament games dominated people's time and attention.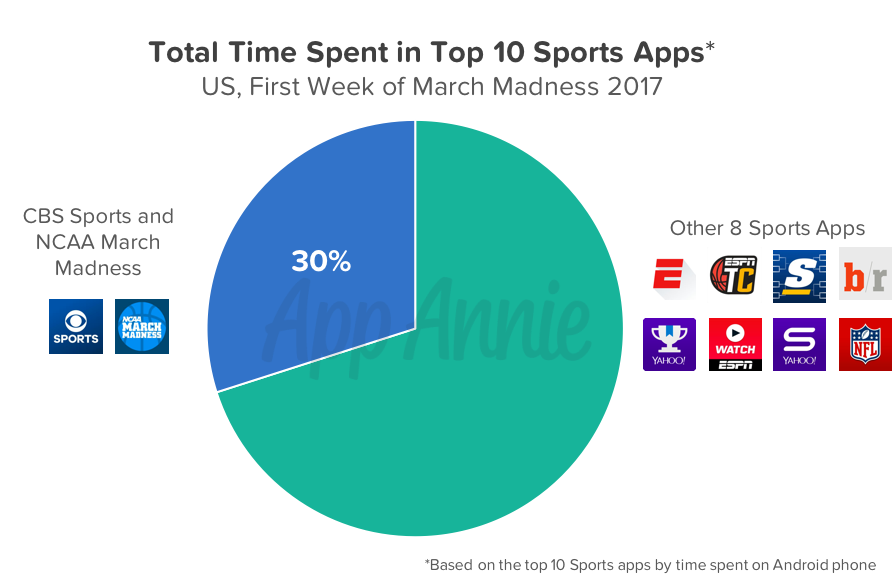 Sports Apps Must Embrace Live Streaming to Meet Fans Needs
The recent performance of CBS Sports and NCAA March Madness is indicative of a much larger trend: Sports fans are increasingly turning to mobile for their favorite games. There is a huge opportunity for apps to capitalize on the confluence of shifting viewing habits and seasonal sports fandom. For more general sports apps like CBS Sports, which cover sports year-round to capitalize on viewership, it is imperative to deliver a positive app experience and stay relevant to users throughout the year. Event-driven apps like NCAA March Madness need to stay up to date and on top of the latest app innovations. Users are comparing them to apps like Instagram and Netflix, huge apps with sophisticated design, and they will expect a seamless experience drawing from the most up-to-date technology and features available.
Exclusive streaming rights and demand for live streaming on mobile offer huge potential for engagement and future revenue streams in Sports apps. Yearly events like March Madness should be leveraged in apps to meet users' viewing expectations and needs. Furthermore, mobile offers unparalleled insights into consumer viewing behavior when compared to traditional channels like television. Sports leagues and content distributors should prioritize mobile to leverage these insights for a better user experience for its viewers.
Download our Sports Streaming Report to uncover best practices from leaders providing superior live streaming experiences.