Instagram Stories marks the photo-sharing app's play to compete with Snapchat for user engagement and advertising dollars.
Instagram's launch of Stories reflects Facebook's most recent attempt to compete with Snapchat. The new feature, which houses sticker-friendly montages that chronicle its users last 24 hours, is remarkably similar to Snapchat's "My Story" feature, which debuted in late 2013 (even Instagram CEO Kevin Systrom agrees). Now that they're nearing feature parity, the challenge will be to claim users' eyes and time and, in turn, attract advertiser dollars.
This is just the most recent event in the arms race between Facebook and Snapchat for ownership over users' personal moments. The fast-growing Snapchat claims 150 million daily active users and has outpaced Instagram downloads through the first half of 2016 in the US. At its launch, the app — represented by a ghost icon — forged a strong identity around vanishing photos and video. At the time, there was little overlap between Snapchat and Instagram. But over time the former has added more social features, including voice and video chat and ways to follow live events, and the much-loved and highly entertaining photo filters and stickers.
Another app that is well known for its photo filters is MSQRD, which Facebook acquired in March; the acquisition was widely viewed as a way for Facebook to more directly compete with Snapchat. However, launching Stories on Instagram over MSQRD was a better strategic choice, as the photo-sharing app remains Facebook's best opportunity to spread Stories to an audience large enough to maximize competitive impact, yet social enough to embrace the feature. For its part, Snapchat has also added major functionality recently. It diverged from its vanishing media legacy just last month when it launched Memories, a searchable archive of photos that can be inserted into stories.
The convergence of the two apps' feature sets comes as their demographics begin to see greater overlap, with an older generation increasingly encroaching on millennials' digital turf (to their chagrin). Now, the next battleground for both apps is increasing user engagement to drive ad revenue. In June, Instagram led Snapchat for average session time on iOS according to App Annie Intelligence; this was likely driven by one of its core features, the post Feed, which invites near-endless exploration of friends' shared photos.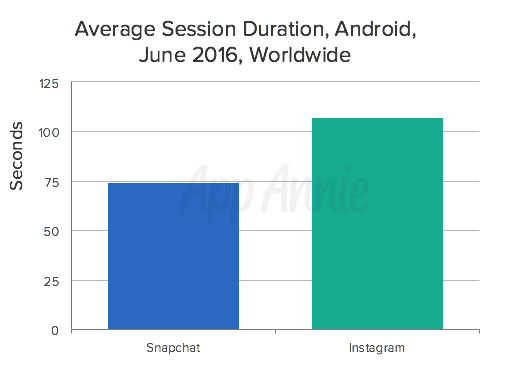 However, Snapchat led Instagram in terms of average sessions per user as those eager to see the latest snaps checked them out before the photos disappeared.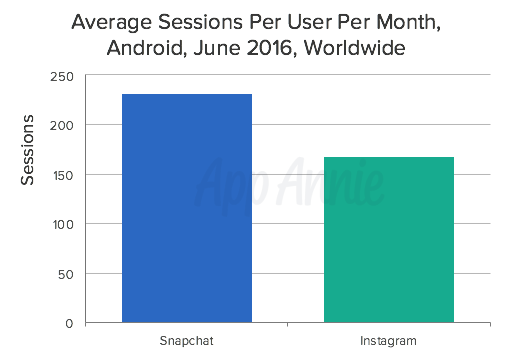 Instagram and Snapchat both built their networks on simple and unique value propositions. But now, both are large enough to transcend at least some of what originally differentiated them. Adding features that have proven successful elsewhere allow them to expand their audience and drive higher engagement while bringing long-time users along for the ride with the experience those users value. As noted in the first App Annie app forecast, increased usage is an important indication of the growing value of an app and is central to expanding publisher monetization, in this case via advertising.