As the game marches on toward $1 billion, publishers wonder what the impact will be on the app ecosystem.
Pokémon GO remains on the lips of major app and game publishers. All concede the app has been a breakout success; in fact, the game just surpassed yet another massive revenue milestone. But questions remain, such as:
How enduring will

Pok

é

mon GO'

s success be?

Is

Pokémon GO

's success adversely affecting

my

app's performance?
While it's difficult to predict the long-term performance of a record-setting app, we can look at recent data to start to answer these questions.
Pokémon GO is the Fastest Game Ever to Hit $500M
In early August, we wrote that consumer spend was on its way to exceed $350 million. In less than a month since, we've seen some significant updates to revenue. Now, after debuting in early July, Pokémon GO has surpassed $500 million in worldwide customer spending for Google Play and the iOS App Store. This puts the game solidly on track to hit $1 billion in revenue by the end of 2016, as we predicted the month of its launch.
The game was able to hit the $500 million milestone in just over 60 days, whereas Candy Crush Saga took over 200 days and Clash of Clans and Puzzle & Dragons took over 400 days.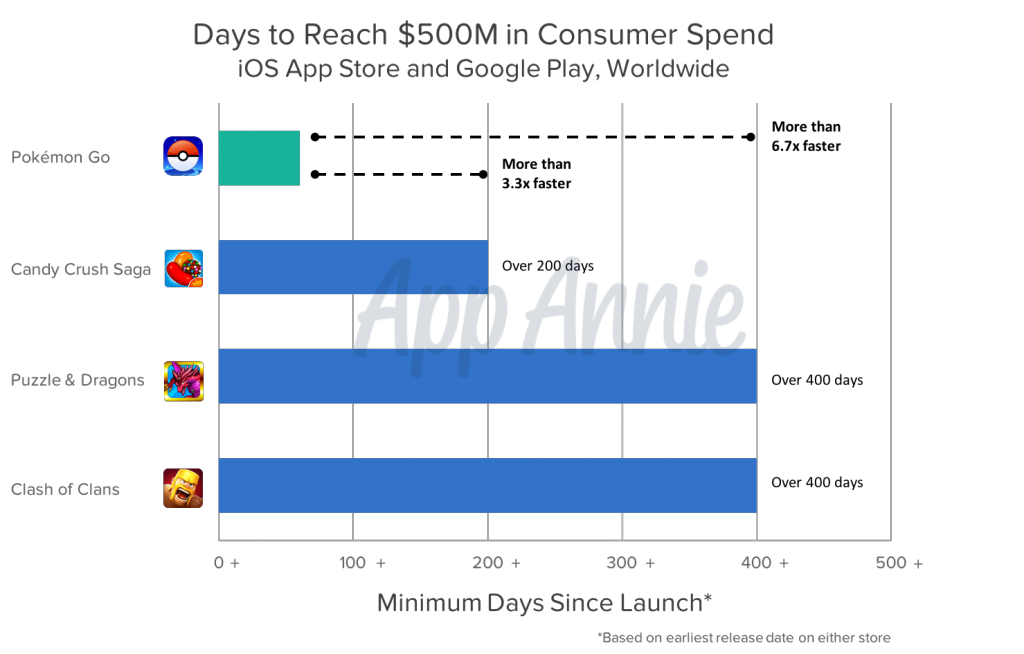 And that's not the game's only source of income. In addition to McDonald's Japan, SoftBank announced a partnership with Niantic at the start of September. Under this alliance, the company's 3,700 stores will be categorized as either PokéStops or gyms.
But How Is Pokémon GO's User Retention?
The answer: pretty good! We looked at the top Android phone apps by monthly active users (MAU) in the US to see which games had the top 30-day retention rates. While Pokémon GO is behind the highly addictive Words With Friends, it is ahead of mega-hits Clash of Clans, Clash Royale, and Candy Crush Saga.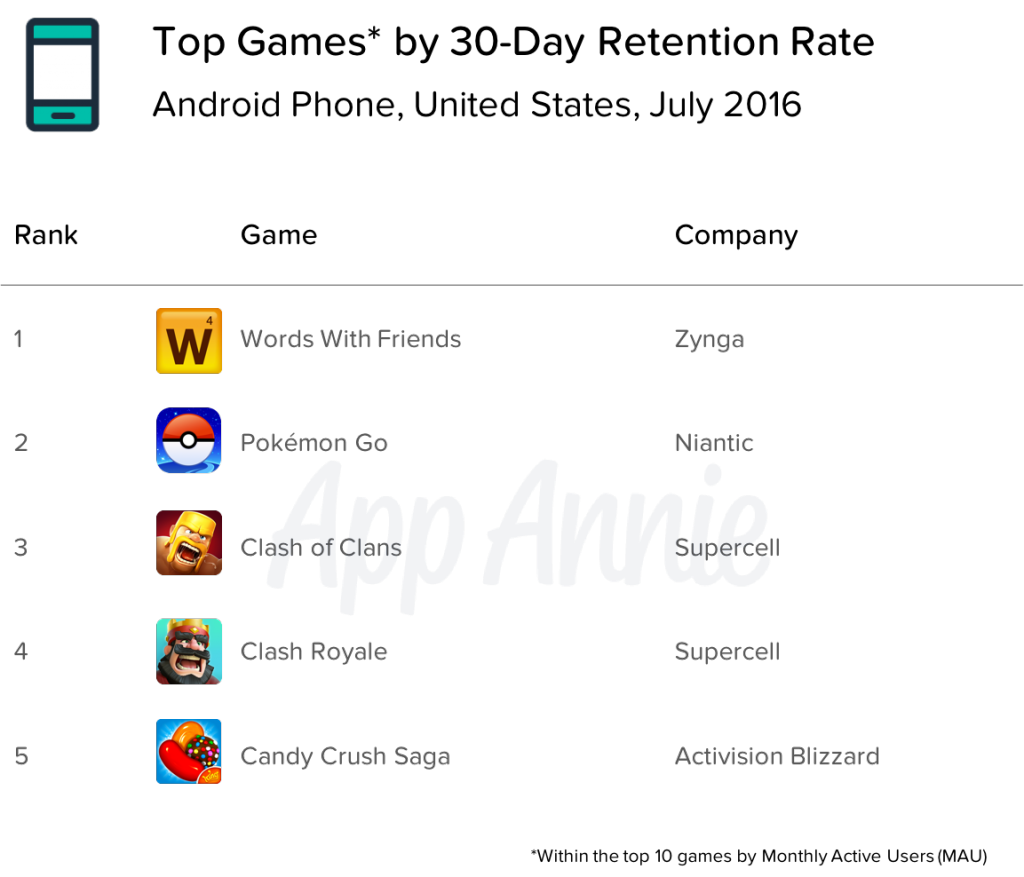 So It's Still Successful. Is It Cutting Into My App's Usage?
Overall, it doesn't look like the success of Pokémon GO has had a meaningful impact on time spent in non-gaming apps.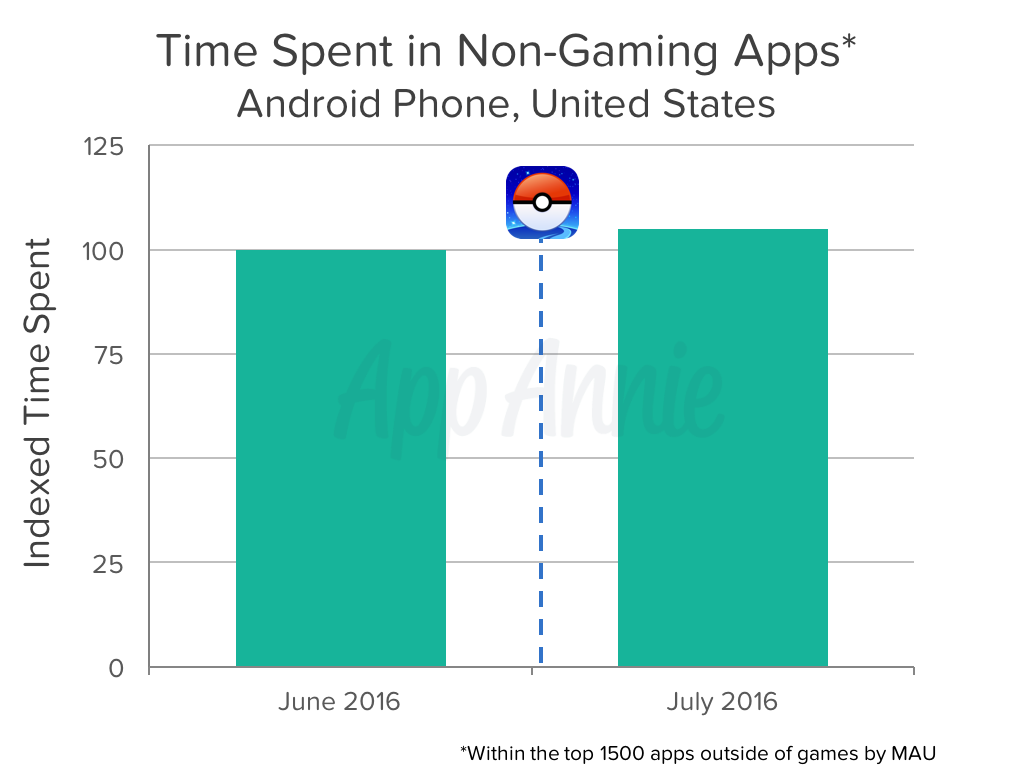 Looking at the top 1,500 non-games on Android phones in the US, indexed time increased slightly (5%) between June and July 2016. This is in line with a previous post on Pokémon GO's impact, where we mentioned that based on the data and app's gameplay, rather than claim time from other apps, Pokémon GO was more likely to be claiming what was previously considered "non-mobile time."
The story of Pokémon GO is one that's still being written. There are new features to launch and new countries to enter which will help determine if the game truly has staying power. Niantic's announcement on Pokemon Go's expansion to Apple Watch, for instance, indicates an innovative approach to leveraging the on-the-go nature of this platform and its fitness tracking capabilities, which could increase user retention or foster engagement. One thing's for sure: Pokémon GO has made apps from all categories sit up and take notice. We're eager to see what lessons they apply to their respective mobile strategies.
Build a Better App Business
Don't miss a single app-related update — subscribe to our blog to get more free app industry reports, conference updates and guides. Have something to add? Share with us on Twitter.