LINE Corporation, the company behind popular Japanese messaging app LINE, recently applied for what will be one of the world's most anticipated — if not biggest — IPOs in 2016. For those in the tech industry, however, this comes as little surprise: LINE has hinted at an IPO twice before, and has shown explosive growth on its way to global success.
For the past three years, LINE has dominated top spot for global non-gaming revenue rankings. The app's in-store monetization success is particularly remarkable, given that no other publisher of messaging or social media apps ranks in the top 10.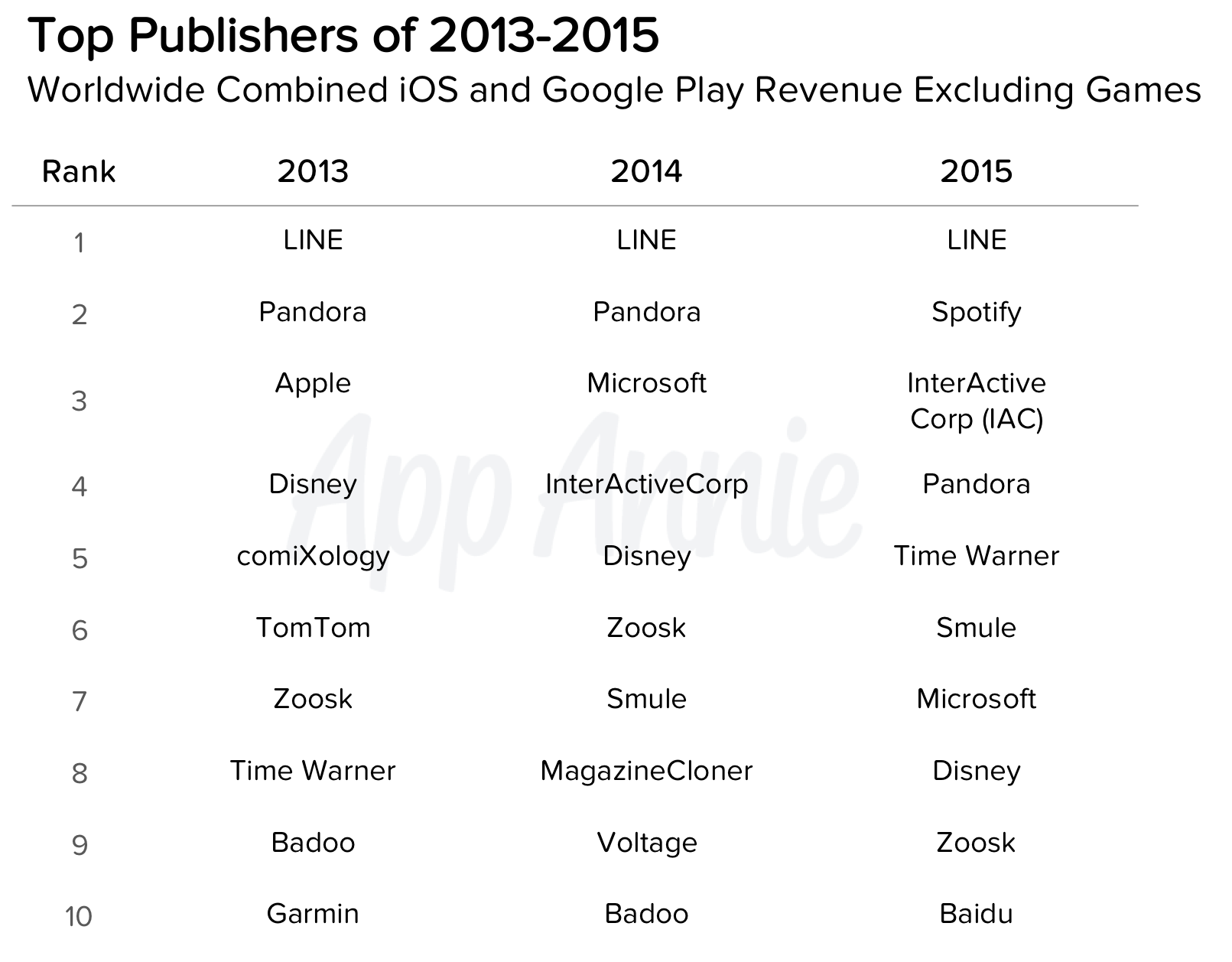 LINE has taken up the top spot on global non-gaming revenue rankings since 2013.
LINE first made a name for itself as a messaging service in the immediate aftermath of the tsunami and earthquake in Japan in 2011, but has more recently evolved into an all-conquering and fully fledged platform. But what is it about the platform that makes it so successful?
Global Appeal Leads to Supercharged Growth
When it comes to messaging apps, there's a well-known strategy that predicates success: the network effect. That is, the faster a communication or social media service can add new users to its network of existing users, the more successful and dominant it becomes.
Originally the LINE team had been exploring different types of social networks, including an Instagram style photo-sharing app as well as a messaging service not dissimilar to WhatsApp Messenger. Then the earthquake and tsunami struck in March 2011. Japan's telecommunications infrastructure struggled in the aftermath of the disaster and LINE's engineers were unable to contact each other. The team acted quickly: They dropped their photo app and focused solely on the messaging app, capitalizing on the absence of domestic competition in Japan in the process. They released the messaging app a few months later in the summer of that year.
The velocity of LINE's rise is particularly pronounced, even when compared to other messaging apps such as WhatsApp and Viber. Within two years of launching, LINE had over 100 million users. The company recently announced at its LINE Conference Tokyo 2016 press event that it has since surpassed 1 billion users  and 215 million monthly active users globally.
LINE's ability to acquire users from abroad — even when the app was still new —  has been key to its growth. Aside from being hugely popular in Indonesia, Taiwan and Thailand, LINE has topped the iOS App Store download rankings in 70 different countries and 16 countries on Google Play to date.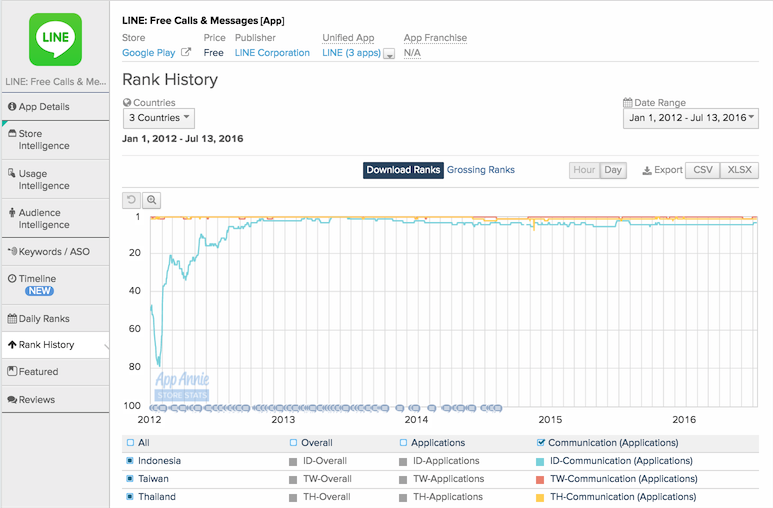 LINE ascended to the top in Indonesia, Taiwan, and Thailand and has stayed within the top five Google Play Communication apps since.
Much of LINE's success in expanding globally can be attributed to its deft user acquisition strategy. The company has calibrated its strategy so that it's customized appropriately for each market. The stickers inside the app, for instance, are localized for each country and culture, as are certain functions such as Hidden Chat and other peripheral services elsewhere on its platform.
How LINE Successfully Transformed Into a Platform
While Facebook Messenger and other apps from Western publishers are now transitioning toward becoming fully fledged app platforms, this trend has existed for quite some time among Asian messaging apps such as LINE.
After establishing its sizable user base on its core messaging app, LINE didn't rest on its laurels. The company leveraged this advantage to produce a diverse portfolio of integrated apps, which has since become a pivotal factor behind LINE's stable revenue growth. Looking at the top apps by revenue in Japan demonstrates the diversity of LINE's product offerings.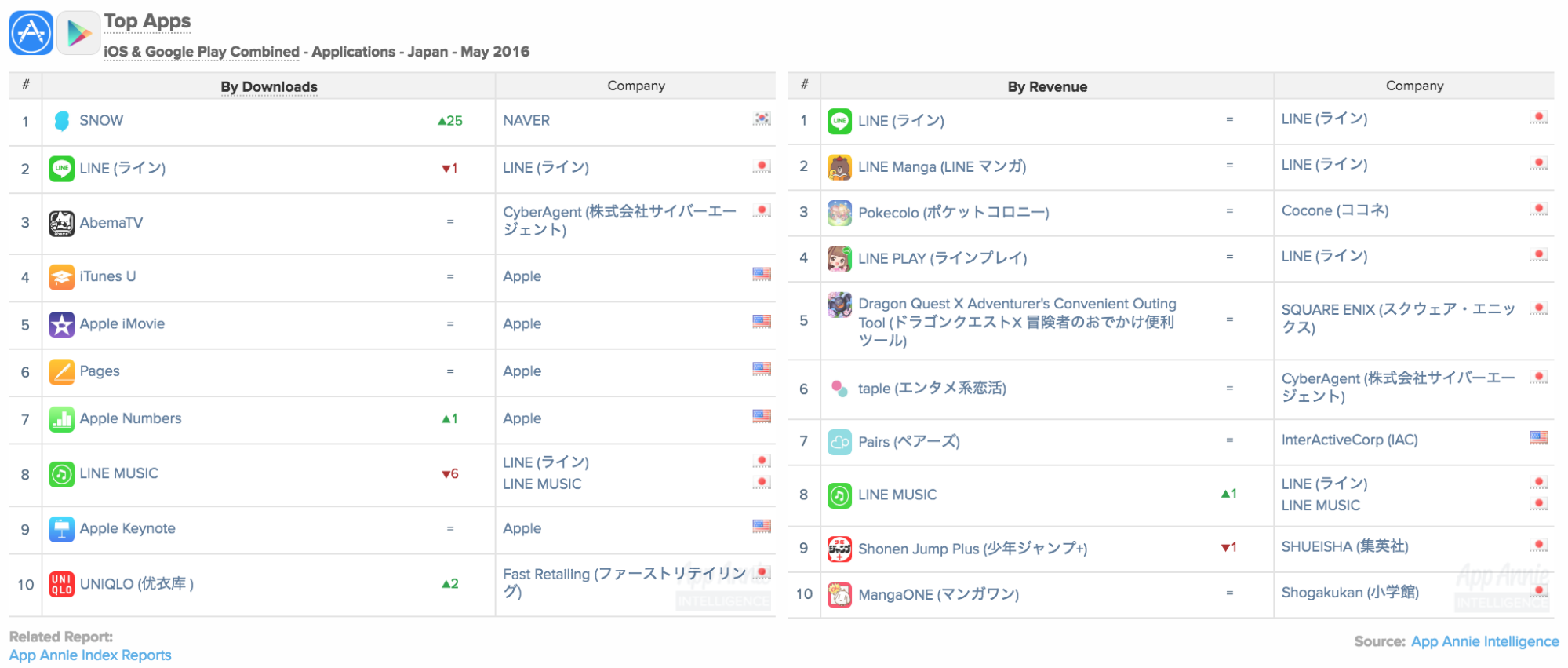 Four different apps from LINE ranked in the top 10 for revenue in Japan in May 2016.
Integrating With Manga and Music Streaming Apps
LINE's platform is notable because the company explicitly drives deeper integration between its services, capitalizing on its existing user base. Going beyond basic cross-promotion between apps and simple log-in integration helped ensure the company was able to easily introduce its messaging app users to its full portfolio.
Take one of the most successfully grossing non-gaming apps, LINE Manga. While the app alone offers online manga, certain titles are sold with a set of special stickers created for the characters in the title. Users can then download and send these stickers within LINE's messaging app, and when the recipient of one of these stickers clicks on the sticker, LINE Manga is either launched or suggested for download.
Another successful example of LINE's integration magic can be seen in LINE MUSIC, its music streaming app. Earlier this year a feature was released that allows users of LINE to have music play on their profile page. This is enabled by LINE MUSIC, which surged up the download rankings following the feature release on LINE.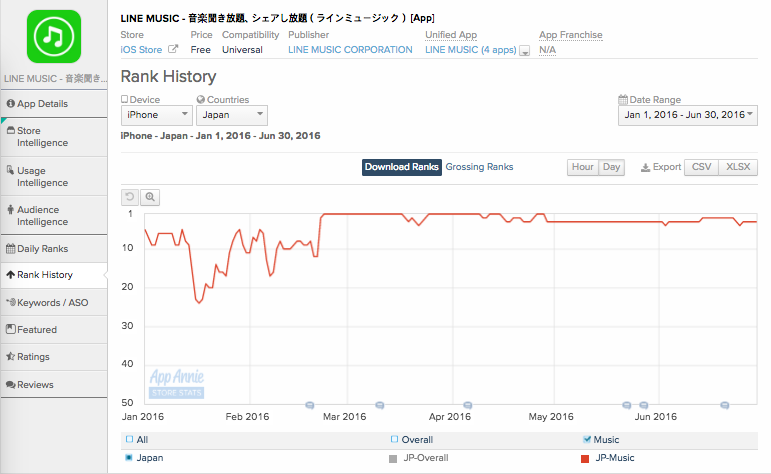 LINE MUSIC quickly climbed up the download rankings immediately after its integration into LINE's profile page.
Best-in-Class Localization Strategy
Unlike other platform apps that have chosen to translate their existing service and then export the result into international markets, LINE is unique in how it develops apps specifically for certain regions.
For instance, take its recently launched app Foodie, a camera app optimized for taking photos of food. The app is a clever response to a growing culture in Asia of capturing photos of culinary experiences. The app has seen success in South Korea, Taiwan and Thailand.
Elsewhere, LINE released a feature in Indonesia that played on Indonesians' tightly knit alumni networks. LINE collaborated with the smash hit film Ada Apa Dengan Cinta (What's Up With Love?) to run a YouTube marketing campaign where main characters in the film are reunited by using LINE's Alumni function following a decade of separation. The clip has been viewed over six million times and has helped LINE's popularity surge in Indonesia.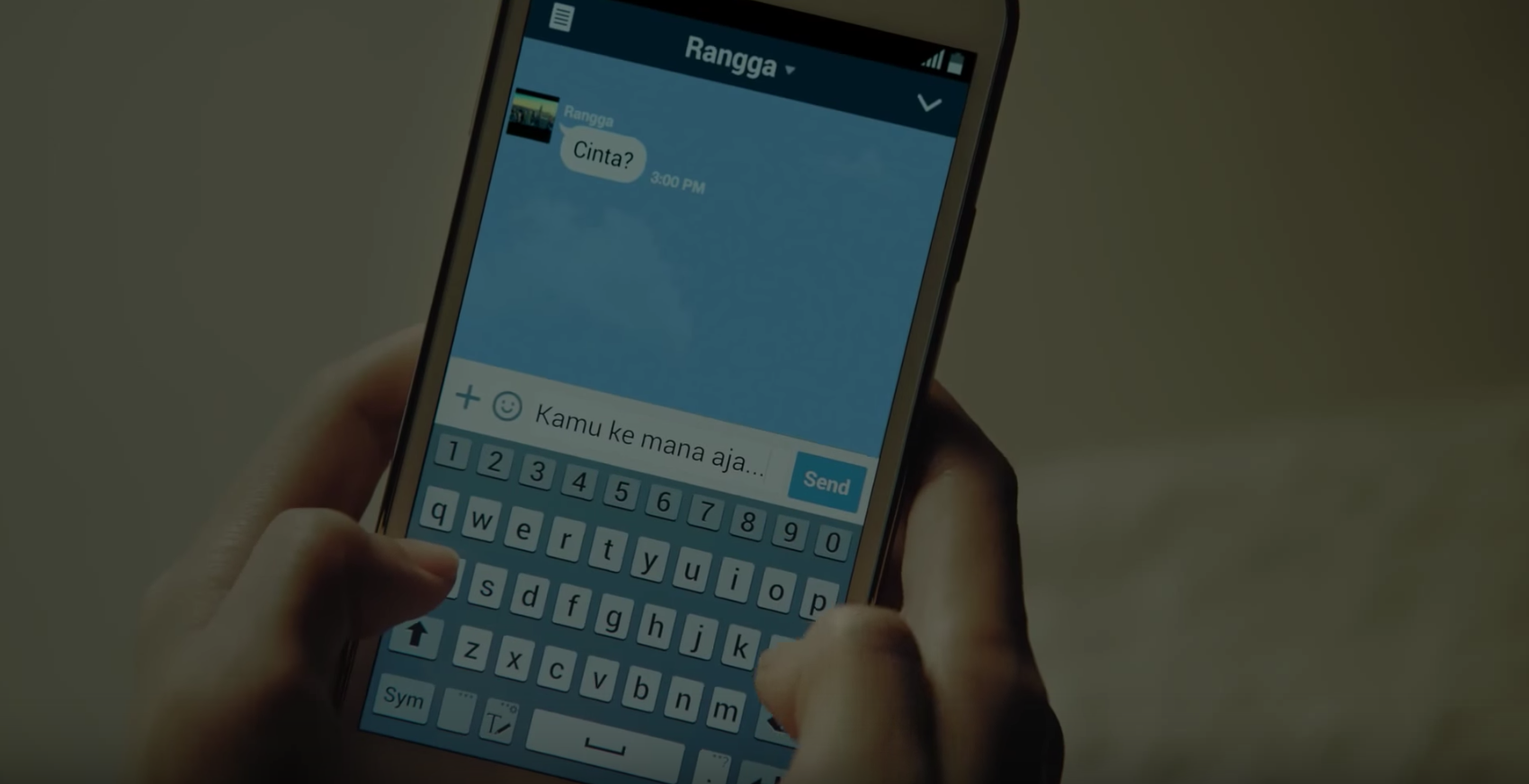 LINE was featured in a mini drama Ada Apa Dengan Cinta (What's Up With Love?) which has been viewed over six million times.
Skillful Use of Intellectual Properties (IPs)
LINE's success as a platform can also be attributed to its utilization of character IPs. The characters found in LINE's stickers are widely popular as an emoji replacement in Asia. LINE has used the characters' popularity with great success in its gaming apps such as its puzzle game LINE Pop and LINE Ranger, a tower defense game particularly popular in Taiwan and Thailand.
In Japan, character IPs have been the inspiration for new anime TV shows, while 44 official character merchandise stores have opened in 11 countries to roaring success.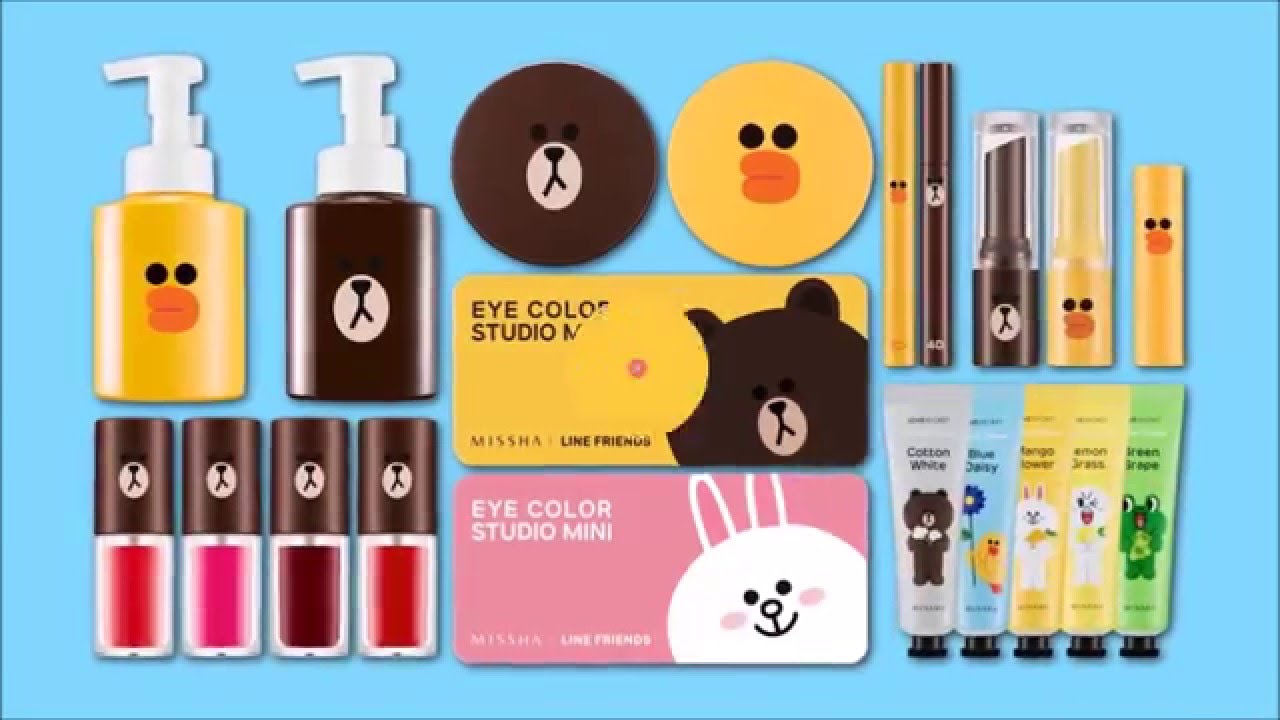 LINE has succeeded in localizing and licensing its LINE FRIENDS characters. For instance, the company collaborated with Korean cosmetic brand MISSHA to include the characters in packaging.
LINE Heads for the Biggest IPO of This Year
While LINE may have started out with humble beginnings, the company has since transformed into a successful global platform. By offering seamless integration between its core messaging app and other services, as well as implementing successful strategies including developing different apps for different regions and leveraging its character IPs, LINE has managed to build a highly successful portfolio of apps with over a billion users and a MAU of 215 million. We look forward to seeing all that LINE will accomplish after its IPO.
Build a Better App Business
Don't miss a single app-related update — subscribe to our blog to get more free app industry reports, conference updates and guides. Have something to add? Share with us on Twitter.