Japanese resale shopping app Mercari chases global success through influencer marketing.
Japan has long been known as a huge mobile market that's difficult for Western app publishers to successfully enter. Conversely, apps that have made it big in Japan have largely found making it out of the country rather difficult.
Nevertheless, there are some notable exceptions: LINE, the messaging app which saw biggest tech IPO of 2016, and more recently e-commerce app Mercari, which recently encountered notable success in the United States. On July 28, the app surged to third spot in the iOS App Store by overall downloads in the US for the first time since its release in February 2013.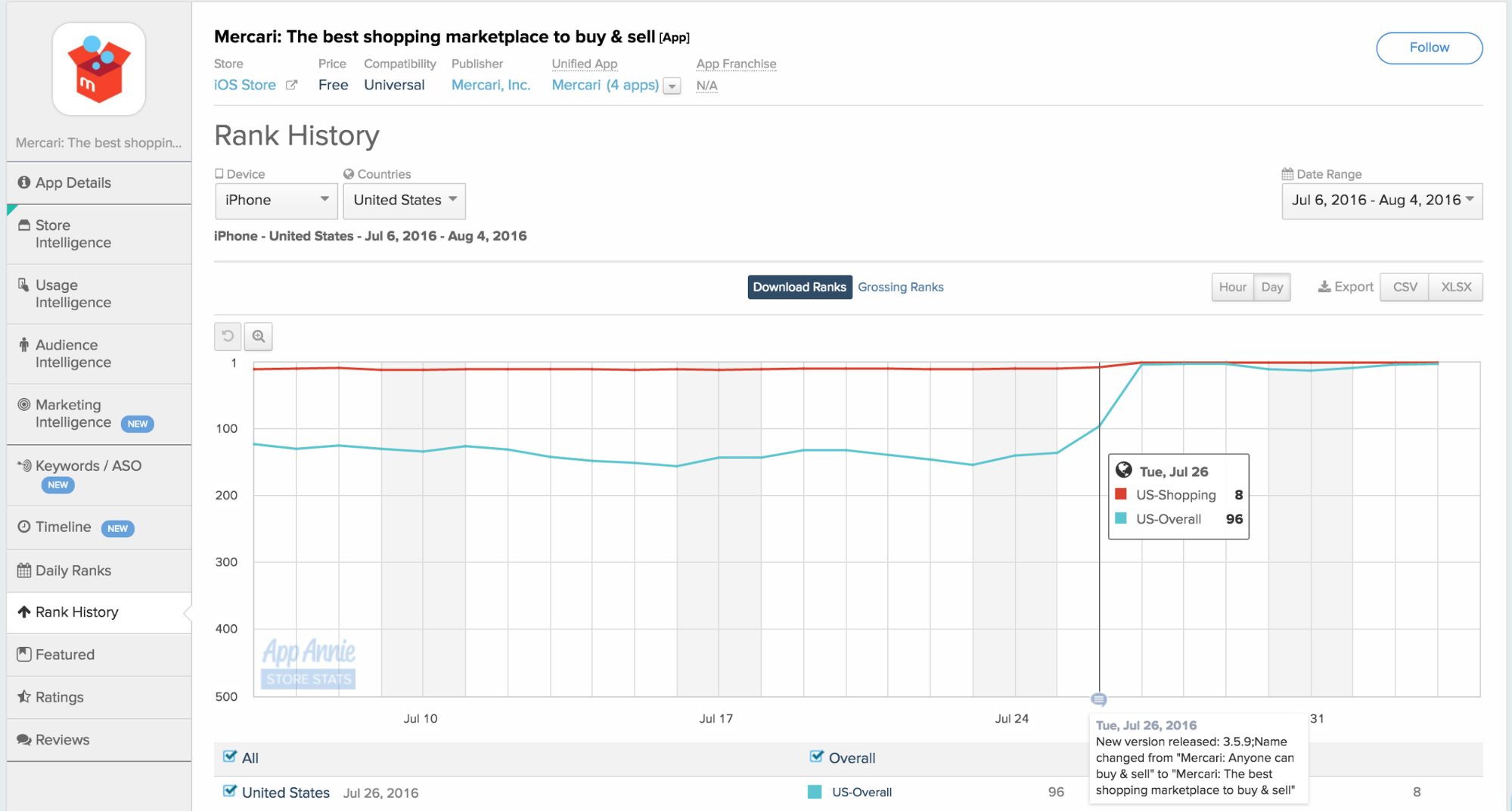 Mercari's ranking spiked in the iOS App Store in the US after July 26.
Furthermore, Mercari utilized app store optimization (ASO) by changing the name of the app from "Mercari: Anyone can buy & selI" to "Mercari: the best shopping marketplace to buy & sell" with its latest update. Using App Annie's ASO feature, we observed that the tactic may have paid off; within six days of the app's update it shot up to #16 for the keyword "shopping" on iOS.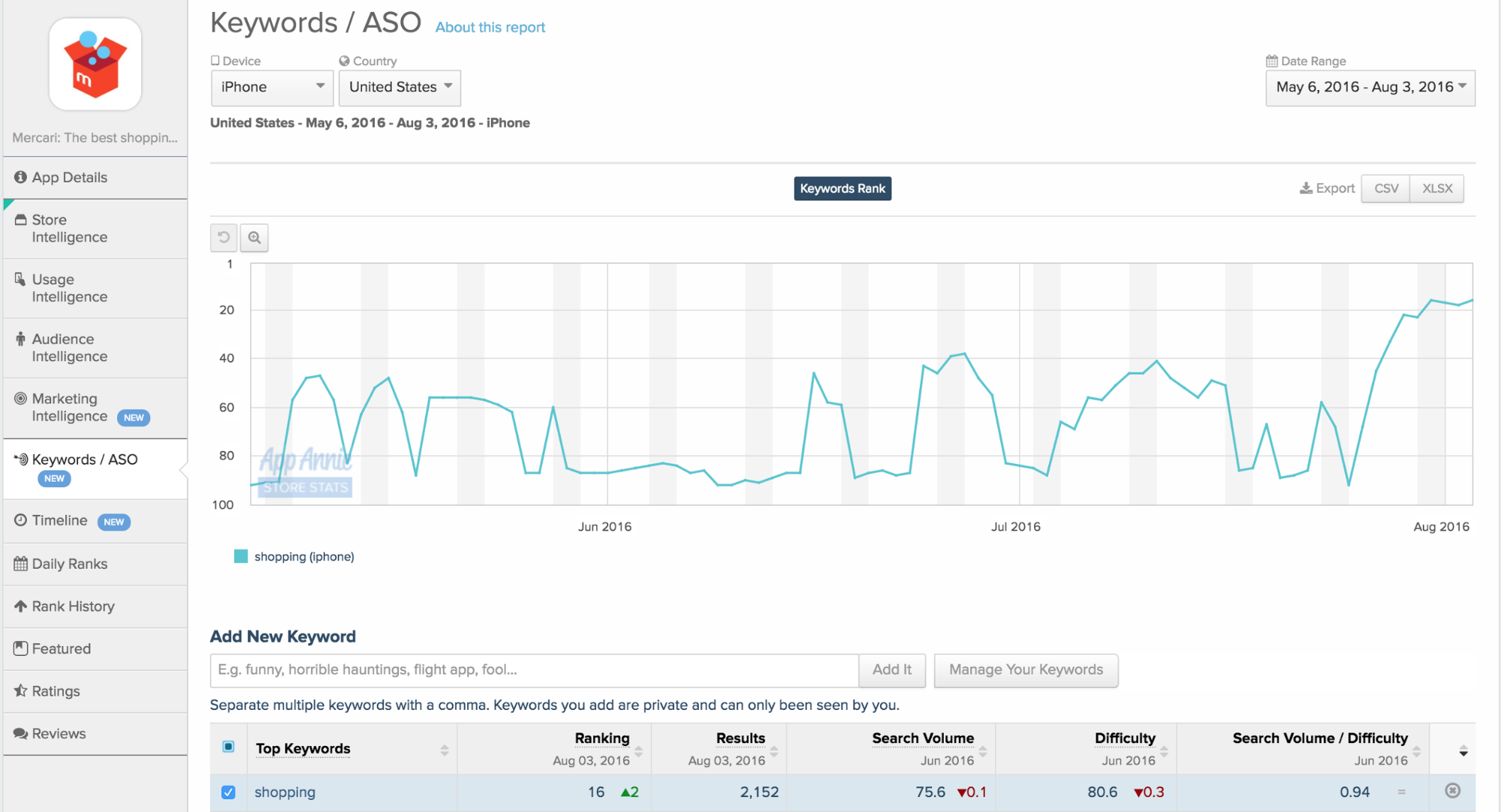 Mercari's ranking under the keyword "shopping" surged after its latest update (Jul 26) on the US iOS App Store.
Founded three years ago, and recently touted as Japan's next "unicorn", Mercari operates like a peer-to-peer (P2P) mobile flea market. Users post photos of items they wish to sell, and buyers negotiate the price and shipping.
The app quickly rose to prominence in Japan, a market without significant domestic mobile-first competition. In March 2016, it raised $74 million in Series D funding in a push to expand its service into the US.
But what made Mercari successful in the first place, and how much of that is it taking with it on its — so far successful— international expansion?
Mobile-First Strategy Fast Tracks Success
Much of Mercari's original success stems from the existing popularity of online auctions in Japan, such as Yahoo! Auctions and Rakuten Auction, the latter of which CEO Shintaro Yamada helped found while still in university.
Mercari, however, differentiated itself from the legacy players with a savvy and simple mobile-first strategy. While Yahoo! Auctions allows vendors to set up shop for free, it then makes them wait days or weeks to complete a sale. By contrast, Mercari has successfully simplified and streamlined the entire transaction process for both the seller and the buyer.
"In the smartphone era, waiting a week for an auction to close is just far too slow. The existing online auction sites, at the time when we launched, had cash payments after delivery and buyers had to give their address to the seller. This scared off a lot of users who were wary of the potential for fraud," CEO Yamada said in an interview.
Mercari simplified the problems users faced in making transactions. Unlike existing clunky and difficult-to-use web services, Mercari vendors simply upload a photo — which the app helps them edit with filters similar to Instagram — of the item they wish to sell, and it is almost immediately listed for sale.
Buyers can make one-click purchases that close the sale instantly and complete payments either within the app with a credit card, in cash at ATMs and convenience stores across the country, or by using "Mercari Points" or existing credit accumulated through sales of their own.
Mercari's partnership with Japanese logistics giant, Yamato Logistics, also helped differentiate the service. Once an item has been purchased, the seller receives a QR code of the buyer's address to print for packaging, negating the need for privacy-conscious consumers to share their personal information with the vendor, while tapping into the extensively developed infrastructure of Japan's leading logistics firm. Yamato's drivers also generally pick up postage from the seller's location rather than requiring them to physically post the package from a service center, further streamlining the process.
Localization With a Twist
Where Japanese apps are typically cluttered with text and what can seem an overload of information, Mercari's US apps are visually simple, clear and intuitive for the native English eye.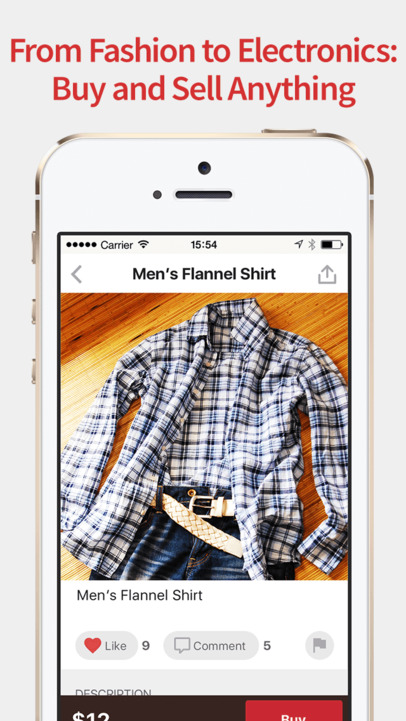 To better cater to the international market, Mercari offers a simple and intuitive shopping experience.
For payments, the app has partnered with Braintree Payments, and replicated its end-to-end logistics model in Japan by partnering with USPS and FedEx.
Summer 2016 Breakout
After receiving its Series D funding, the company pumped cash into its marketing and recruiting efforts in the US, particularly on social media. This helped Mercari finance an aggressive social media advertising campaign starting in April. This partnership saw mobile app installs grow by 51%, and CPI drop by 30%. "For the time being, our numbers in Japan are of lower priority. Rather than focusing on beating our domestic competitors, we are more cognizant of the need to win in the US," said CEO Yamada.
Late last month, Yamada spoke publicly about the company's successful marketing strategy that targets social media influencers and their networks to aggressively promote discount codes in the US. "They are people with huge numbers of followers. We're seeing an abnormally high number of (promo code) retweets from them, and it's also spreading on Snapchat, too," said Yamada.
And successful it has been. On July 27, Mercari climbed to #3 in the US iOS App Store.
In this way, Mercari offers an instructive example for publishers seeking not only insight into how to disrupt existing players with a distinct mobile-first strategy, but also how to capitalize on the network effect with a savvy social marketing campaign. While Japanese publishers still strive for true global success Mercari's recent breakout hints that maybe a Japanese publisher really can parlay their local success into the American dream.