Streaming is coming.
The battle for dominance in the streaming video space continues to heat up, as app publishers look for new ways to capture users' attention, loyalty and — maybe most importantly — dollars. A space that was once dominated by Netflix and Hulu has become increasingly cluttered with competitors including Amazon, HBO and most recently SHOWTIME.
While video services once competed over getting the rights to existing content, now it's an arms race to win with original programming. HBO — though a newer entrant to the app space — is no stranger to creating compelling series to boost subscribers. Most recently, it's leveraged critically acclaimed programs Game of Thrones and Silicon Valley to attract users to its standalone streaming service HBO NOW.
Launched in April 2015, HBO NOW is the much-anticipated solution for cord cutters across the United States who want to tune into HBO's premium content without having to commit to a cable bill. In contrast to HBO GO — which allows users who already pay for HBO through their cable provider to stream their favorite shows on the go — HBO NOW users have access to all of their favorite programs for a small monthly subscription fee. Hulu is taking note, and will be adding in a live television streaming service in 2017 to cater to younger consumers who prefer to customize their streaming experience.
Premieres and Free Trials Help HBO NOW Climb the Charts
In preparation for the new seasons of Game of Thrones and Silicon Valley, HBO pushed 30-day free user trial advertisements, with banner features on iOS Entertainment leading up to the premieres.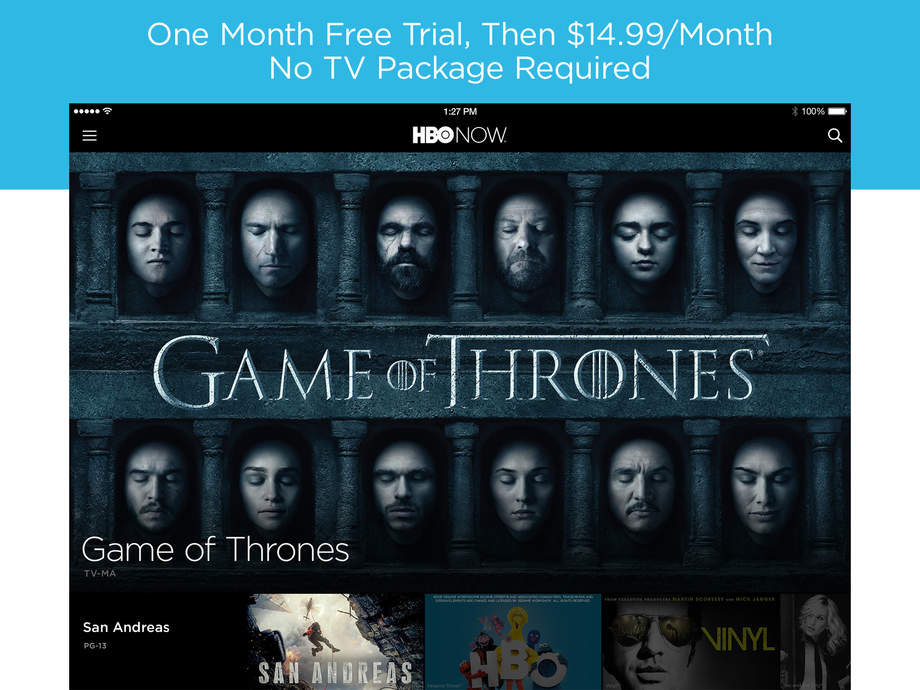 HBO NOW advertises free one-month trials alongside promotions for their flagship shows
With help from advertisements and free trial incentives, HBO NOW jumped to the top spot in iOS's Entertainment category during the last weekend in April during its two flagship shows' premieres, and hit the #4 spot for the US overall. The momentum continued following the premieres, with HBO NOW remaining in the top 10 for Entertainment through the beginning of May.
HBO NOW remains steady in the top 10 for iOS Entertainment for the past month in the United States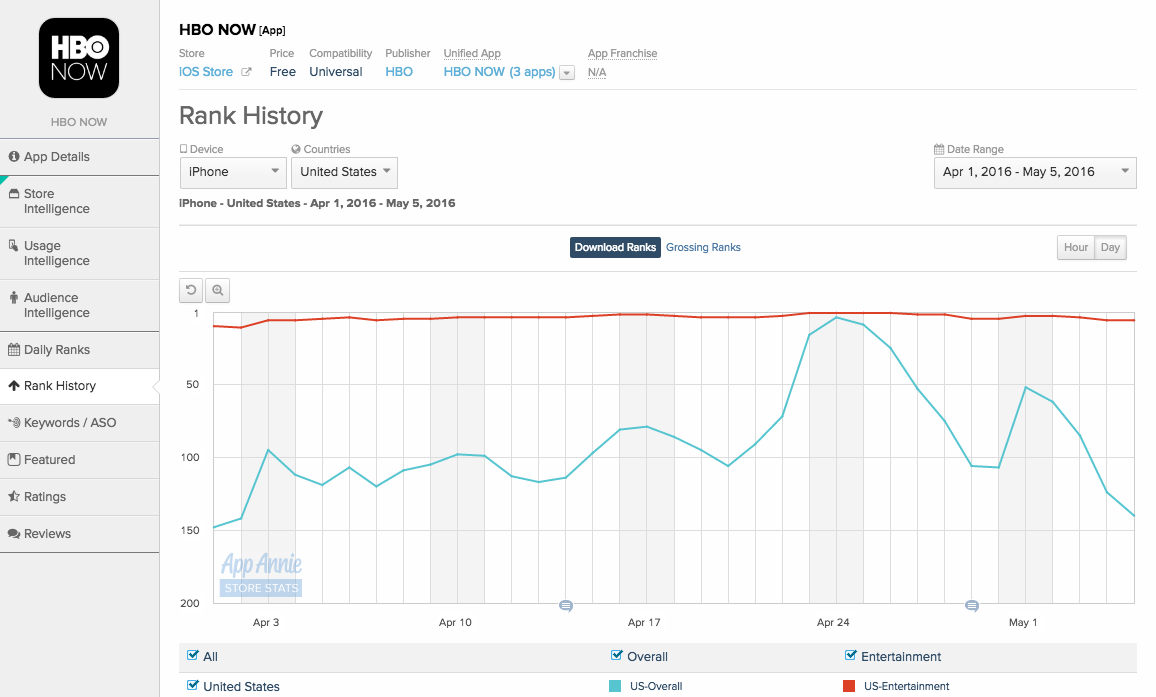 HBO NOW remains steady in the top 10 for iOS Entertainment for the past month in the United States
HBO NOW Racking Up Revenue
HBO NOW is proving to be a money maker. In-app subscription purchases allow users to set up an HBO NOW account without leaving the app experience. In addition to the increase in downloads, we anticipate that HBO NOW will experience a spike in revenues in May as users' trial periods expire. Taking a look at the revenue garnered from HBO NOW's initial launch in April 2015 during Game of Thrones season five premiere, we can see a revenue surge the following month following the end of the free trial period. This drastic revenue increase continued for the next few months as users were still actively accessing their accounts to stream the remaining episodes of Game of Thrones, with a drop off in July and August when the season ended. HBO NOW should anticipate this same revenue pattern for 2016 with a spike beginning next month from subscribers.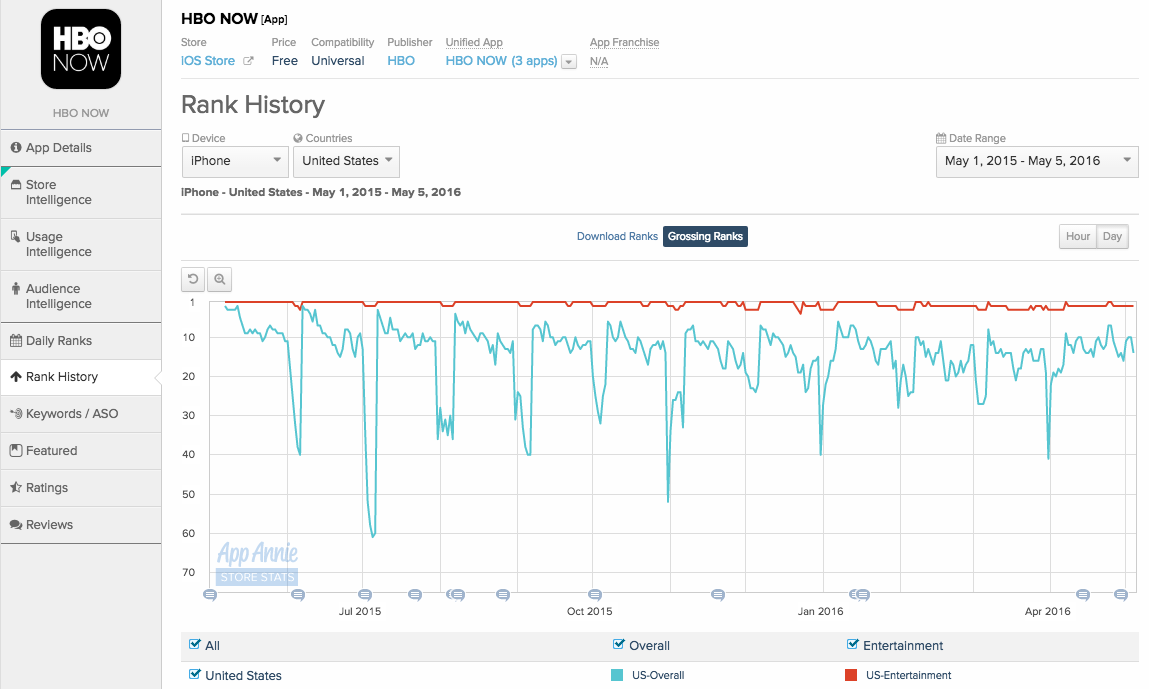 HBO NOW saw consistent gross rankings for iOS App Store Entertainment while their overall ranking fluctuated for the past 12 months in the United States
However, this increase in users streaming also came at a cost for HBO. Many reported outages during both the 2015 and 2016 premieres of Game of Thrones as bandwidth was tested with such a large influx of users.
Streaming media has continued to prove itself as a lucrative opportunity on mobile. HBO NOW's next challenge will be keeping these monthly subscribers active in between seasons of its flagship shows with the production of more original and relevant programming.
Build a Better App Business
Subscribe to see more app industry reports, conference updates and guides. Have something to add? Share your questions and comments on Twitter.
Want to take your app business to the next level? Create a free account to dive deeper into Store Stats or request an Intelligence demo.