Pokémon GO isn't just a mobile phenomenon; it's an entertainment juggernaut. We look at the must-know stats for the year's biggest game.
Pokémon GO isn't showing signs of slowing down, and has become the largest launch in mobile history. The app, which launched in the United States a little over a month ago, continues to add new users and countries, while driving an astounding amount of revenue.
We've compiled some of the need-to-know facts and figures based on the latest available data.
Let's Talk Dollars and Cents — Pokémon GO Is Well on Its Way to $1 Billion
At this rate, App Annie anticipates the game will breeze past $350 million in consumer spending across iOS and Google Play in the coming days.
"So far, the game is on pace to exceed our $1 billion prediction from early July and surpass any previous mobile game yearly revenues."
Fabien-Pierre Nicolas
Vice-President, Marketing & Communications, App Annie
With earnings like this, Pokémon GO isn't just a mobile phenomenon: It's an entertainment juggernaut. At its current rate, the game has the potential to exceed worldwide box-office numbers for 2016's highest-grossing film, Captain America: Civil War.
"If console mega-hits like Call of Duty or Grand Theft Auto can achieve $500 million in a few days, mobile games like Pokémon GO can top the charts for three-plus years," said Fabien-Pierre Nicolas. "Consider, for instance, the long-standing performance of Puzzle & Dragons, Clash of Clans and Candy Crush Saga."
The Game Is Still Making It Rain on Small Businesses and Big Sponsors
Pokémon GO is sharing the wealth. Thanks to a strategic partnership with the game — where its 2,900 locations across Japan became designated PokéGyms —  McDonald's Japan posted its first profit in two years, with sales jumping 27% in July.
But companies lucky enough to be in proximity of pre-existing PokéStops are also capitalizing. Savvy businesses have run Pokémon-centric promotions to draw all players in or reward specific teams, but small businesses who've inadvertently found themselves in the eye of the storm have also benefitted. Most recently, a small ice cream shop in Washington claimed that Pokémon GO helped save their business, regularly doubling daily sales. Online retailers are also getting in on the action, with online sales of Pokémon-related merchandise increasing 105% compared to July 2015.
It's Not Just Your Imagination: Nearly Everyone Is Playing Pokémon GO
Pokémon GO is the leading game across all demographic segments of iPhone users in the US. However, its appeal is strongest with the 13–24 segment, where it ranks in the top 20 for all apps, surpassing even Spotify and Pandora Radio.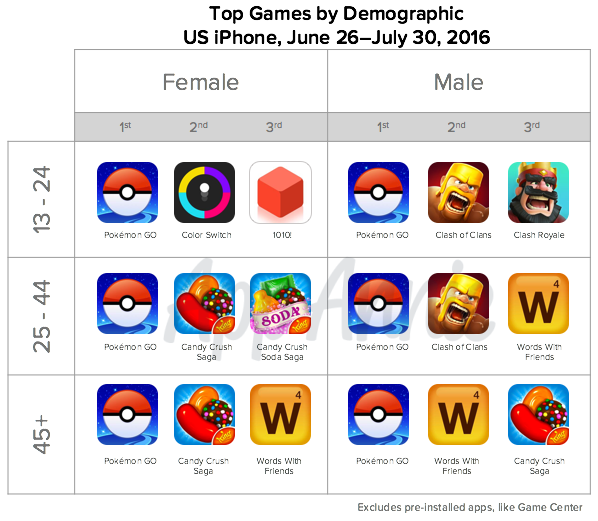 Across all age and gender segments, Pokémon GO ranks as the most popular game.
Using App Annie Intelligence, we also looked at cross-app usage to get a better picture of the average Pokémon GO player.
The average Pokémon GO player is three times as likely to use Twitch, Steam and Clash Royale. This helps paint the picture of a core gamer, more likely to have intense gaming habits leading to a strong investment in time and/or money.
There Are Still Countries to Conquer
Analysts who've pointed out that downloads and spending aren't continuing to grow at July rates may not be considering that there are three major markets where the game still hasn't launched: China, South Korea and India.
"China surpassed the US for the iOS App Store as the #1 mobile gaming market in terms of global revenue. While Pokémon GO will have to deal with the need to pick a local map technology and host local servers, this seems like one opportunity too good to ignore for Niantic," said Fabien-Pierre Nicolas.
The Pokémon Marketing Machine Is Just Taking Off
Given the massive spike in revenue growth right after launch, it might be possible that Pokémon GO has already acquired its whales. But there are a few things to take into consideration: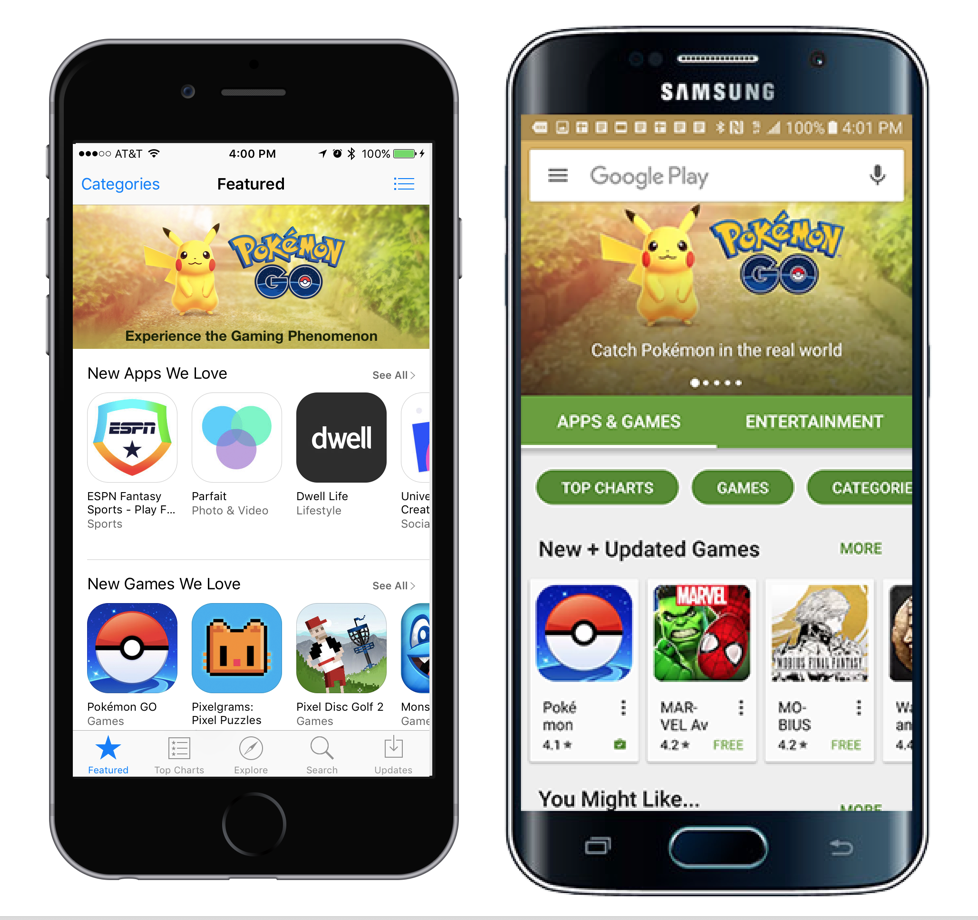 On August 8, Pokémon GO was featured on both iOS and Google Play.
To the first point, there's additional organic and paid marketing channels Pokémon GO hasn't fully exploited yet, like app store features. The app didn't get its first homepage feature until this past week.
There's also paid user acquisition. Right now, there appears to be little-to-no paid advertising in market. But if that changes, it could easily supercharge current efforts and tap into new prospective user bases.
In less than six weeks, Pokémon GO has smashed App Store records and helped bring augmented reality to the mainstream. We're looking forward to seeing how the game continues to mature, and to see how it inspires other app developers.
Build a Better App Business
Don't miss a single app-related update — subscribe to our blog to get more free app industry reports, conference updates and guides. Have something to add? Share with us on Twitter.