When looking back at the global app economy in 2015, it's clear that American and Asian companies comprise the majority of top publishers by downloads and revenues. In fact, in our annual list of the Top 52, only one non-gaming company came from Europe: Spotify from Sweden.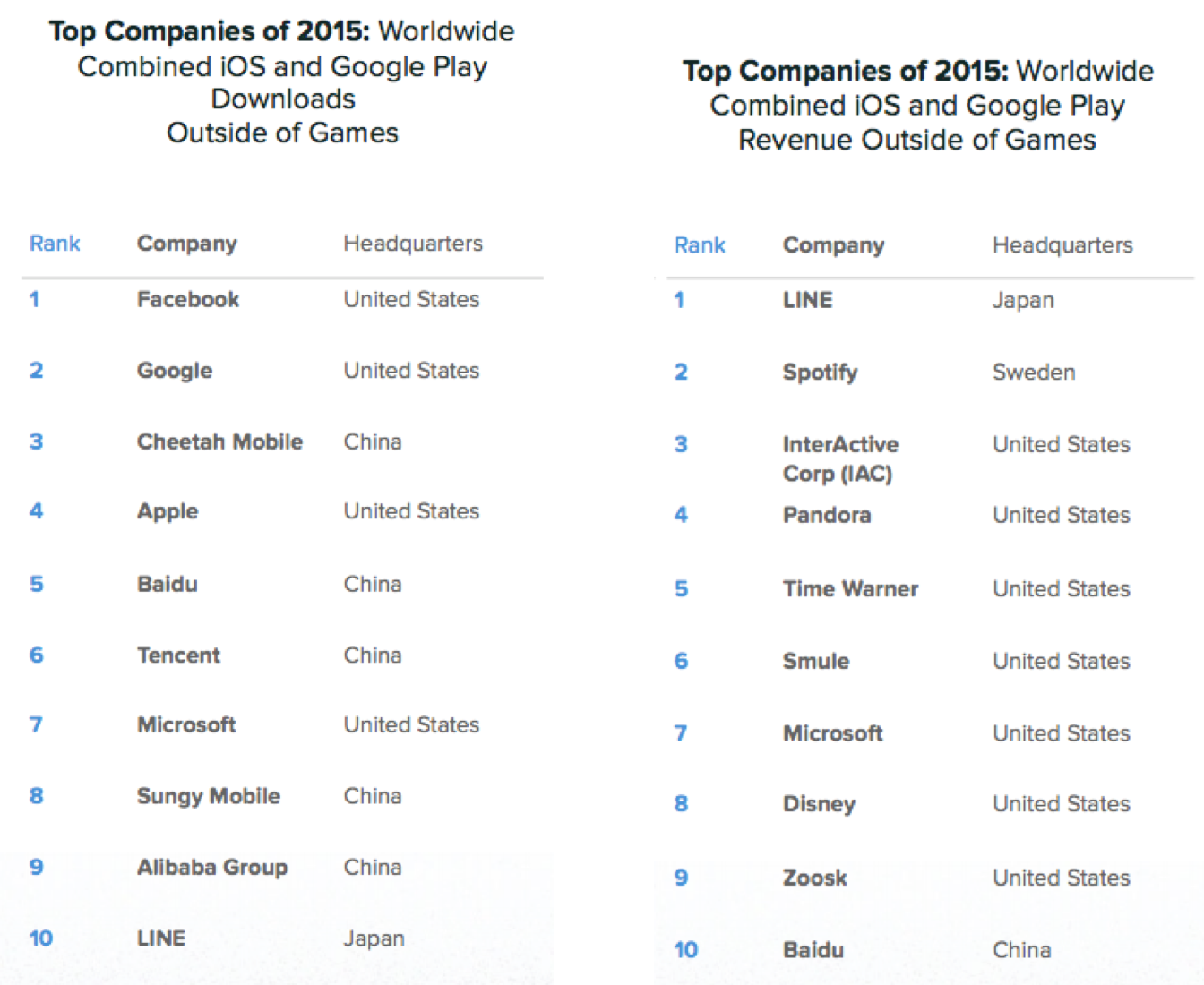 The top-ranked companies outside of Games in 2015 feature mostly American and Asian companies, with Google and Facebook ranked #1 and #2 by downloads.
However, the app economy also offers market opportunities for local European publishers. How can they carve a space out for themselves and climb the rankings on their home turf?
We took a closer look at the European continent to understand country-level nuances and see what impact local publishers are having.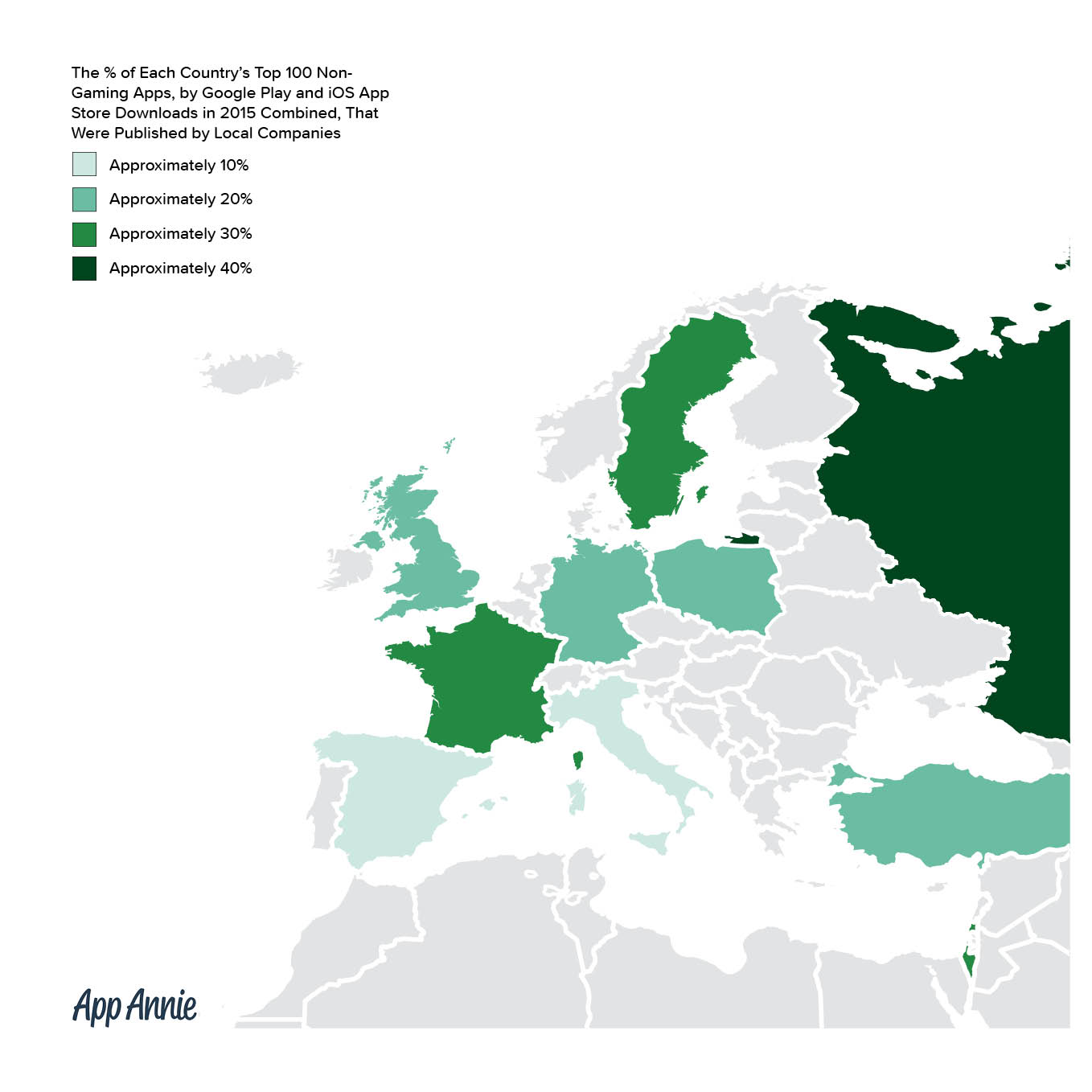 Map of local success 1: The above map shows the percentage in each country of apps created by local publishers, out of the top 100 most downloaded apps in 2015 (iOS & Google Play combined, non-games only).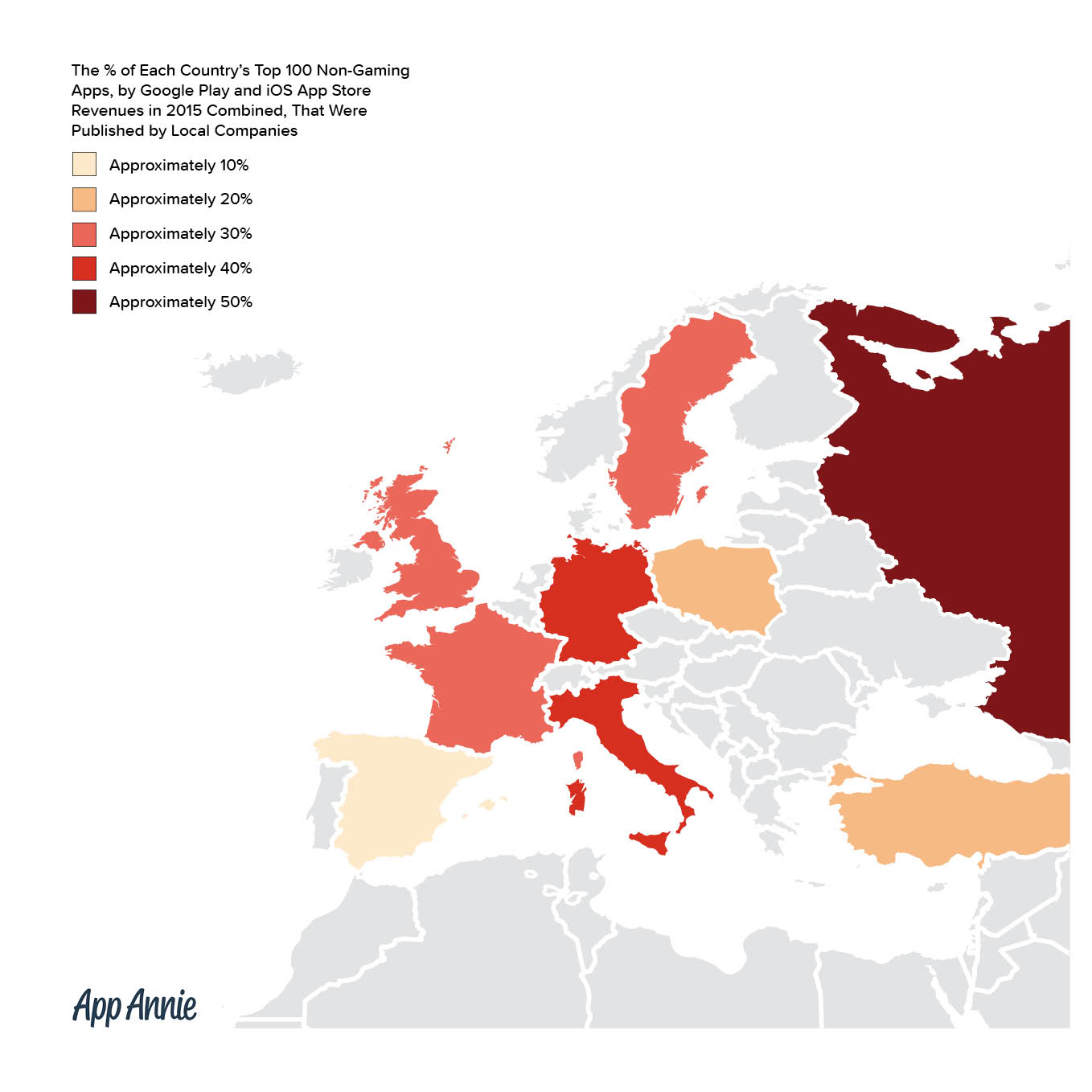 Map of local success 2: The above map shows the percentage in each country of apps created by local publishers, out of the top 100 highest revenue-generating apps in 2015 (iOS & Google Play combined, non-games only).
Local European Publishers More Present in the Top Revenue Rankings
App Annie examined the top 100 non-gaming apps — iOS and Google Play combined — of 2015 by downloads and revenues in major European markets. Across each market we saw that between 10% and 50% of the top apps were from local publishers. Russia was distinct in that half of its top 100 highest revenue-generating apps were made in Russia, which should come as no surprise to those following the country's thriving developer scene. So while global players may dominate, there's still plenty of room for homegrown apps to make a name for themselves.
In the UK, Established Media Companies Have a Strong Foothold

The top apps in the UK include BBC iPlayer, Badoo and the Guardian
When looking specifically at the UK's top apps by downloads in 2015, it can be observed that numerous media companies have managed to place their apps in the top charts — the most downloaded UK app being BBC iPlayer from the BBC. The BBC has successfully propelled six of their apps into the top 100 downloads, while competitors such as iTV , Channel 4 and Sky are also in the top 100 most downloaded apps in the UK.
Among the highest revenue-generating apps in the UK in 2015, UK-based dating app Badoo took the first spot. Media companies have also been successful in monetizing through mobile, and several UK newspapers — including the Guardian, Daily Mail Online and the Telegraph — are in the top 100 by revenue. This is a concrete example of newspapers' potential to remain relevant in a mobile era and drive revenue via in-app subscriptions. .
German Startups Monetize Their Local Market

The top apps in the Germany include DB Navigator, LOVOO and Freeletics
In Germany, the most downloaded German app is DB Navigator from Deutsche Bahn, the country's national trainline. The app is an absolute must for traveling across Germany by train, and include timetables, ticket reservations and travel planning. The German railway company has been keen on deploying a strong mobile strategy and is now managing 15 apps, the latest being a navigator app for the city of Augsburg, Augsburg Navigator.
Just like for the UK, the app which generated the most revenue in Germany in 2015 is a local dating app: LOVOO, headquartered in Berlin. The startup was founded in 2011 and now claims more than 40 million users worldwide. Other German startups included in the top 100 apps by revenue include fitness company Freeletics —  ranked #4 — and language-learning app Babbel. This highlights the success of German startups to develop their business models with app monetization in mind.
The Dating Business Benefits French Firms

The top apps in France include Deezer, 6Play and AdoptAGuy
One of the most downloaded apps in France in 2015 was Deezer, a French music streaming app claiming six million paying subscribers. The company, battling against Spotify in the music streaming space, recently launched an app for the Apple Watch and signed a partnership with Huawei to have its app pre-installed in the manufacturer's phones. Apart from Deezer, apps from France's national TV channels, such as 6Play, MyTF1 and MyCanal are also in the top charts.
It would appear as though love is in the air across Europe's major markets. Similar to the UK and Germany, the homegrown app generating the most revenue in France for 2015 was AdoptAGuy from GEB AdoptAGuy. As the dating market is booming in France, many French companies have started to tackle this market — no fewer than seven French-made dating apps were featured in the top 100 apps by revenue,  with AdoptAGuy, Happn and Mektoube taking the lead.
Russia Has a Strong Local App Economy Across All Verticals.

The top apps in Russia include VK, Odnoklassniki and LovePlanet
Russia's app market is indicative of the opportunities which are offered for local companies in the mobile space, as many local companies have taken over the top charts. The top Russian apps by downloads in 2015 were social media apps VK and Odnoklassniki, both owned by Mail.Ru Group and claiming respectively 62 and 52 million daily users. Another observation is the importance of Yandex in the Russian app economy: 10 apps from the company are in the top 100 chart by downloads, offering a vast array of services such as browser, Internet search, GPS navigation, maps, email, music streaming and taxi services.
When looking at the highest revenue generating apps made in Russia in 2015, Odnoklassniki was #1 and is a good example of how to successfully monetize a social network via apps. The app allows users to buy virtual money in order to buy and send gifts to friends, play online games, download music or activate an incognito function, allowing users to hide their identity when visiting other people's profiles. Dating apps are popular in Russia too, and  local dating app LovePlanet made the #6 position in the rankings by revenue.
How Local Publishers Can Succeed Across Industries
It's clear that while global players may have scale, local brands are in a good position to succeed on mobile by activating their existing offline web user bases and enhancing their experiences through apps. Take, for instance, the BBC in the UK or the Deutsche Bahn in Germany. Publishers cross verticals — including media, transportation, and social and dating — are able to make a mark on their local markets through brand recognition and a strong understanding of the culture.
Furthermore, it's interesting to note that many European startups have taken the top charts by revenue in the markets they originated from: this being especially true in the dating industry. For publishers looking to enter new markets, this underscores the importance of understanding the nuances of each market as well as key local players, as there may be a need to compete head to head with incumbents, such as Deezer for music streaming in France, or VK for social networking in Russia.
Start Building a Better App Business
Subscribe to see more app industry reports, conference updates and guides. Have something to add? Share your questions and comments on Twitter.
Want to take your app business to the next level? Create a free account to dive deeper into Store Stats or request an Intelligence demo.