The ESPN mobile app has become the latest blockbuster product to join the $1 billion club – and the newly launched ESPN BET app is primed to continue the brand's momentum on mobile
Disney turned 100 on October 16 – and it's just had a late birthday present. Its ESPN app has officially generated $1 billion in lifetime consumer spend, according to new metrics from data.ai. The Walt Disney Company bought ESPN in 1995 (when it purchased Capital Cities/ABC Inc, which owned 80% of ESPN). It proved to be an astute purchase. In the decades since, revenues from sports broadcasting have skyrocketed. Indeed, just weeks ago, it was reported that the ESPN sports network is currently valued at $24 billion.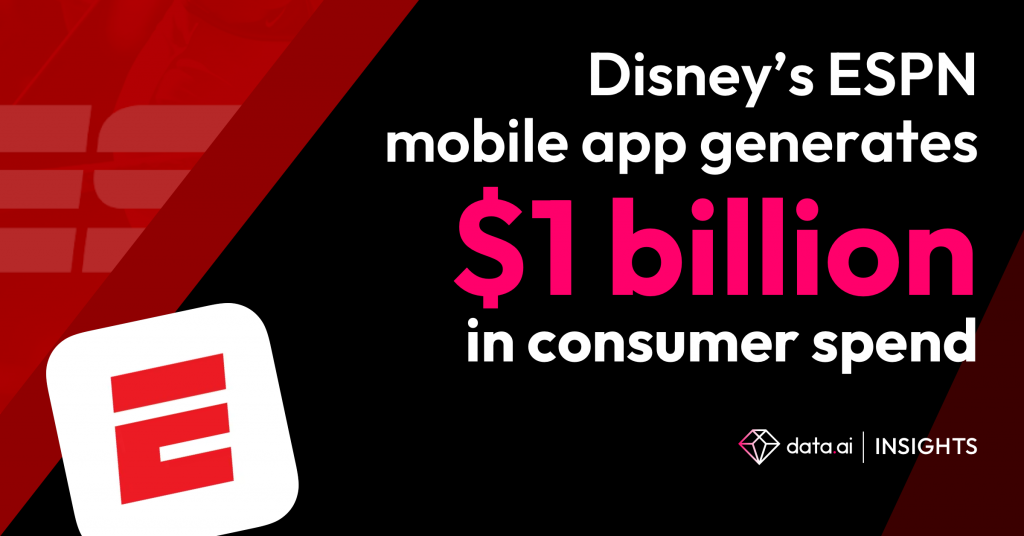 A Decade Of Accelerating Growth, As Lifetime ESPN Downloads Hit 166M
The app business has certainly played its part in that growth. The ESPN app was launched on iOS in May 2009 and Google Play in June 2010, and has since been downloaded close to 166 million times in total. The product offers sports fans free content around news, scores, highlights, and expert analysis. But it also has a premium subscription option – the ESPN+ streaming service – which gives access to live sports such as NFL, NBA, MLB, NHL, XFL, College Sports, Golf (The Masters), Tennis (Wimbledon, US Open, Australian Open) and more.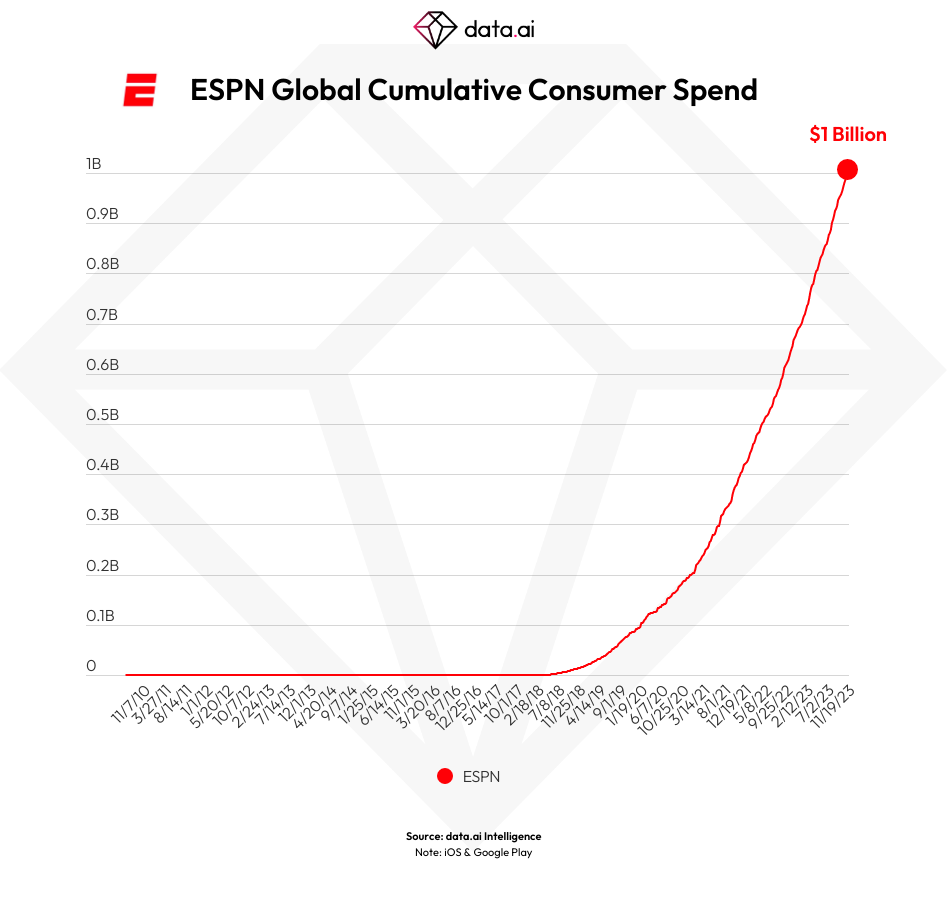 It's this premium option that has powered the ESPN app into the $1 billion club (the $10.99 monthly ESPN+ plan is the most popular choice). And it might not be too long before the $2 billion milestone is reached. The new numbers from data.ai reveal that ESPN has generated about $303 million in consumer spend so far in 2023. This is 26% more than it had grossed by this point last year ($240 million).
2023 also saw the app break its record for revenue in a single month. That was in March, when ESPN+ banked around $35.5 million thanks to the March Madness basketball event and the return of Major League Baseball. The total was almost 70% greater than the revenue made in March 2022. 
The Home-Grown Hero: 99% Of Espn's In-App Revenue Comes From Us Sports Fans
Given ESPN's strong focus on American sports, it's little surprise that its app's revenue skews overwhelmingly towards the US. In fact, our new data found 99% of its lifetime revenue came from the US ($991 million), with 0.59% from Canada ($593,000) and 0.18% from the UK ($186,000). Platform wise, close to three quarters of the app's lifetime consumer spend is from iOS.
In terms of downloads, the US still dominates, but not to the same extent. Of ESPN's lifetime 166 million downloads, 131 million are from the US, with 4.2 million from Mexico, 3.5 million from Brazil, 3.2 million from India and 2.5 million from Argentina. The app has been downloaded close to 15 million times so far in 2023 – up 10% over 2022.
Don't Bet Against It: ESPN Bet Enters The App Charts At #1 — Garnering Half A Million Downloads in Five Days
Now, the ESPN brand looks set to continue its mobile momentum thanks to its newly launched ESPN Bet app. To be more precise, ESPN Bet is a joint launch with gaming specialist PENN Entertainment. In August, PENN paid $1.5 billion to licence the IP and create an official ESPN sportsbook product.  It launched the product on November 14/15 in 17 states where sports gaming is legal: Arizona, Colorado, Illinois, Indiana, Iowa, Kansas, Kentucky, Louisiana, Maryland, Massachusetts, Michigan, New Jersey, Ohio, Pennsylvania, Tennessee, Virginia, and West Virginia. It was an immediate success. ESPN Bet went straight in at #1 by iOS downloads – not just among Sports apps, but all apps and games.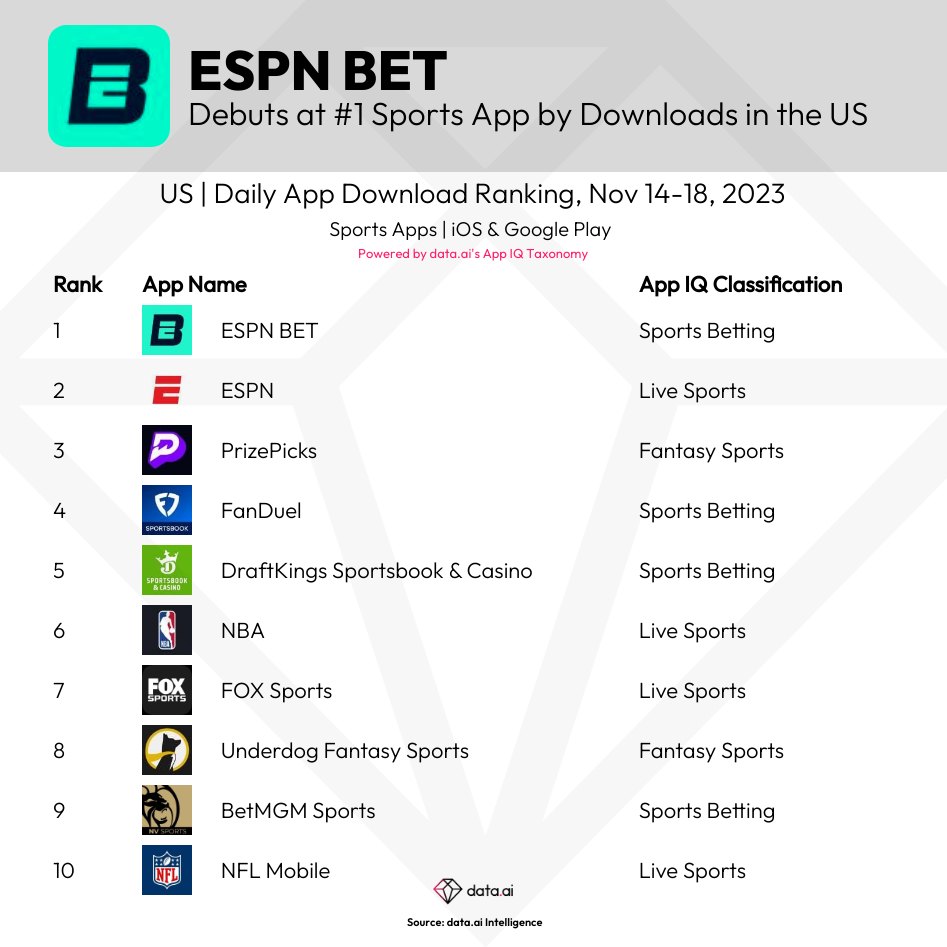 Get the Full Picture of Where Mobile Apps are Headed in 2023 and Beyond
Download our State of Mobile 2023 report and see more of the powerful insights available only at data.ai.