sorry I'm late to the party guys I was busy cashing my 80 million video game check & transferring 53 million into our joint account

— Kim Kardashian West (@KimKardashian) March 7, 2016
Confirmed by Kim Kardashian herself — celebrity apps are a hit. Mobile Role-Playing Games (RPGs) give super fans and curious gamers alike the chance to play as a rising socialite, aspiring singer or even beginning chef with coaching and guidance from their favorite celebrity. Most of these games operate on a freemium system with free gameplay and the option to speed up completing tasks, or unlock the latest premium gear through in-app purchases. When Kim Kardashian: Hollywood hit the app stores in late June 2014 — subsequently maintaining a steady stream of downloads and revenue to date — other celebrities took notice. More importantly, app publishers are starting to see celebrity IP as an effective way to drive engagement and revenue while relying on celebrities' existing fan bases to reduce user acquisition costs.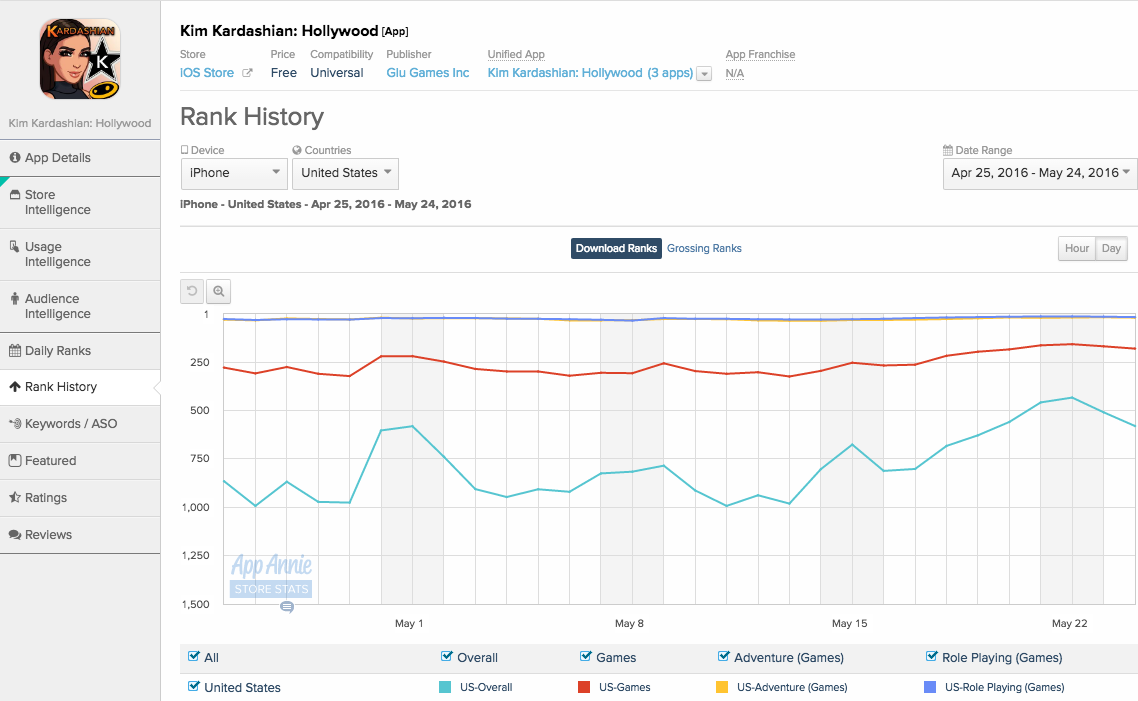 Two years after Kim Kardashian: Hollywood's launch, the game still holds its own on the ranking charts.
The Glu Connecting Celebrity Games
Kim Kardashian's hit has prompted enterprising celebrities and app publishers to explore new RPGs. Perhaps best known in this space is app publisher Glu, which has been working hard to add some of today's hottest celebrities to its portfolio. One of its most recent hits also stemmed from the Kardashian brand, when Kendall and Kylie Jenner launched their app namesake, Kendall & Kylie, on the iOS App Store in November 2015. These sisters saw similar success to Kim's with high in-app monetization and downloads from a similar audience. And they were able to tap into Kim's fan base, as US users who play Kim Kardashian: Hollywood on iPhone are about 150 times more likely to also play Kendall & Kylie.
Glu also boasts Katy Perry Pop, and most recently, Britney Spears: American Dream, which soft-launched in New Zealand early February, and debuted globally mid-May this year. Teed up for launch later this year are apps for Hell's Kitchen's Gordon Ramsay, Taylor Swift and Nicki Minaj, underscoring how much the publisher is investing in IP.
Glu's newest games, Kendall & Kylie and Britney Spears: American Dream, rely on its stars' passionate fan bases for organic user acquisition.
Needless to say, Glu is dominating the celebrity RPG space, though others have tried to cash in as well. Demi Lovato released her app with publisher Pocket Gems in August 2015 showcasing her Path to Fame. Since this launch, Demi's seen consistent downloads — but demand just can't keep up with Kim Kardashian: Hollywood.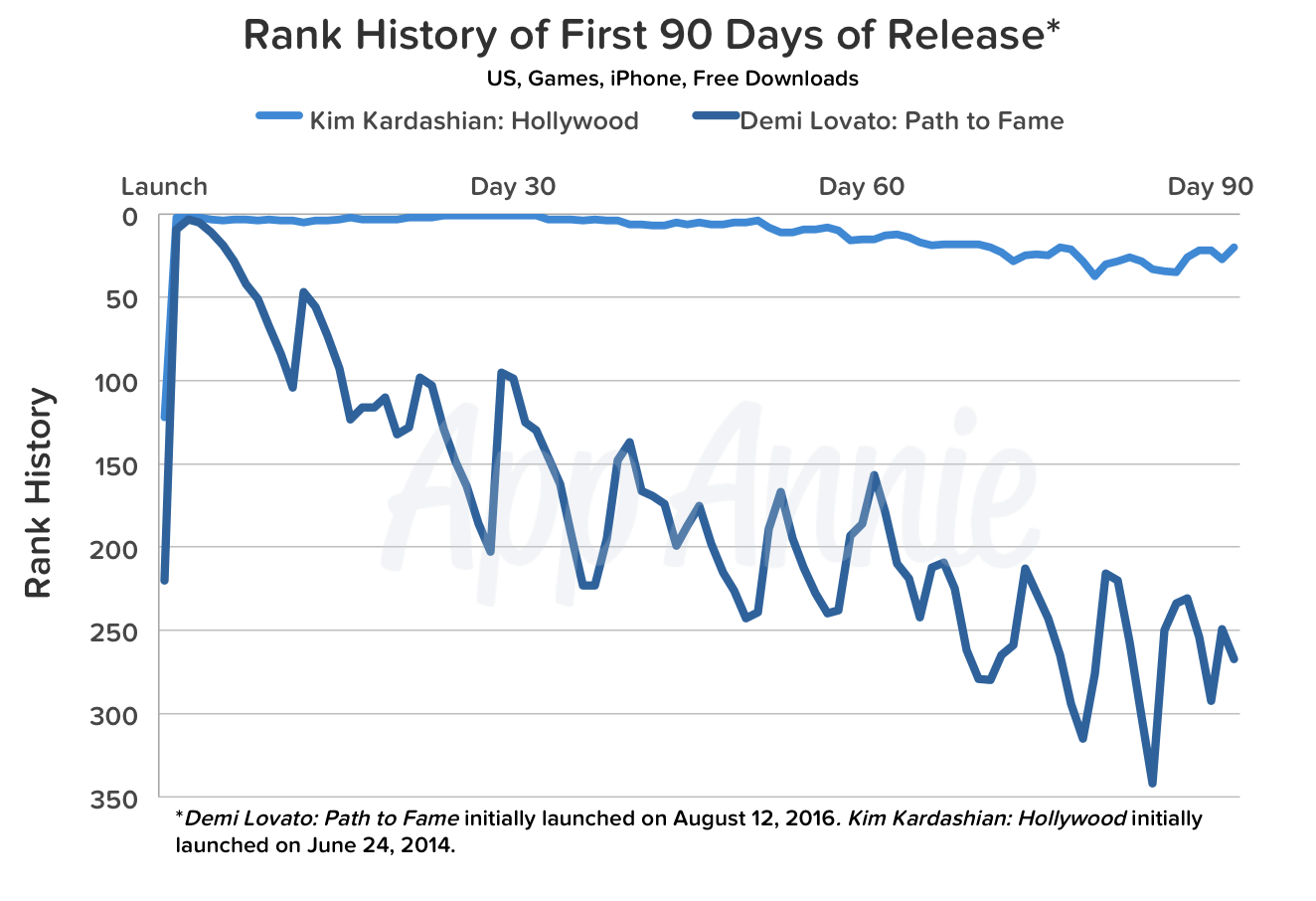 Kim Kardashian: Hollywood consistently remained in top ranks for iPhone Games during its first 90 days of release, in comparison to Demi Lovato: Path To Fame.
Some celebrities have moved past the RPG space entirely to produce apps spanning a variety of categories. Ellen Degeneres' Heads Up, Tom Hanks' Hanx Writer and BJ Novak's li.st are just a few of the successful apps that celebrities are creating and promoting to build or extend their brands. Globally, different categories of celebrity IP apps are gaining more traction as well. India saw its first release of a celebrity IP app from Bollywood star Sonam Kapoor who launched her own lifestyle app in late April of this year.
But partnering with a celebrity on an app doesn't guarantee a hit — the execution as well as the celebrity's cachet can make or break its success. Other publishers like Pixelberry have dabbled in celebrity partnerships via in-game takeovers — like Glee's Lea Michele guiding users through the hallways in High School Story. However, the partnership underperformed, with no meaningful impact on download growth. Lindsay Lohan also briefly flirted with mobile apps, partnering with Space Inch to create Lindsay Lohan: The Price of Fame — which fell flat and has since been removed from the app stores as of June 2015.
The Kardashian Clan's Winning Recipe
The Kardashians are a branding empire — with clothing, makeup, TV shows and iPhone keyboards only representing a small portion of where they've stamped their name. While Kim's foray into mobile apps may not have been a surprise, the level of success it was able to achieve may well have been. Topping the download charts and raking in the revenue in the US, Kim is certainly a force to be reckoned with. This marketing maven heavily promoted her app via social media, and devoted fans were quick to download — and purchase upgrades. Kim Kardashian: Hollywood not only saw a massive level of downloads, but from a demographic that hasn't quite been recognized in the gaming world.
The elusive female gaming demographic is gaining traction as an audience that is worth your marketing spend. With females making up about 55% of mobile gamers in North America, the rise in female-driven celebrity apps should come as no surprise.
One of the Kardashians' keys to success is that their art imitates life. Kendall and Kylie rose to fame through reality TV and their avid use of social media to connect with their fan base. Following suit, Kendall & Kylie features in-app social media feeds similar to Instagram and Twitter so users can harness selfies and status updates on their own journeys to stardom. For those looking to leverage celebrity IP, this is a good reminder that the functionality should be on brand and something that resonates with the celebrity's fans.
Kendall & Kylie launched in February of this year — just one month after Katy Perry Pop — but saw a dramatic difference in downloads and revenue from in-app purchases.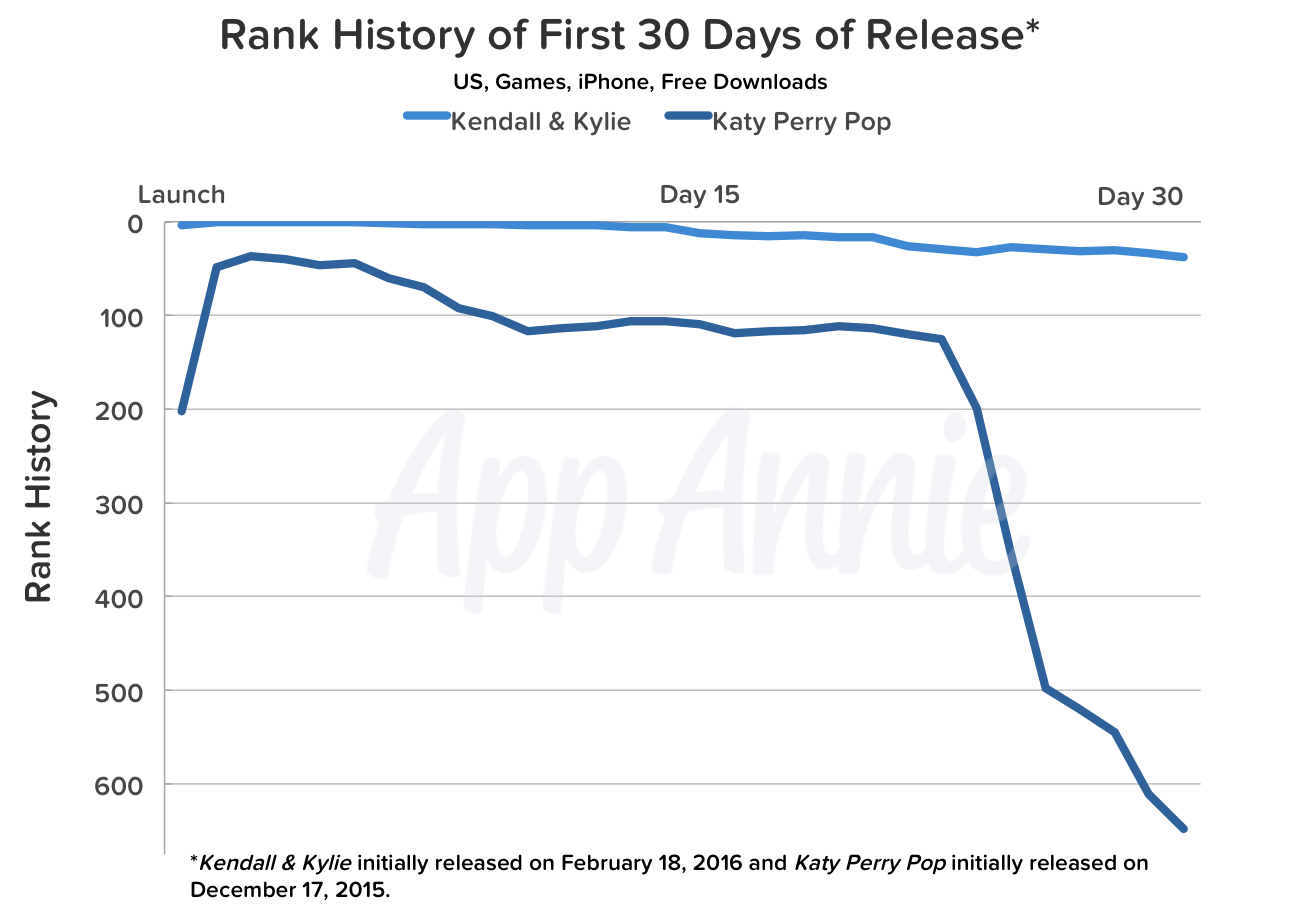 Glu credits this less-than-successful launch for Katy Perry's app to the lack of music within the app, and has resolved this in its newest partnership featuring pop star Britney Spears. This discrepancy drives home the point that UX and staying true to a celebrity's unique brand are critical to the success of an app.
What App Publishers Can Learn About Leveraging Celebrity IPs
Celebrity IPs are a powerful tool that app publishers can utilize, and if done so correctly, have the potential to reach a wide and monetizable audience.
Here are some key takeaways to consider when crafting your IP strategy:
Celebrity IPs allow app publishers to capitalize on a pre-existing fan base, which  can decrease user acquisition costs and bump up the lifetime value of a user — though those following the space may note that there's still a need to solve for long-term user retention.
Even using celebrities to promote an app can lead to a big jump in downloads, and is a viable option if building an app around a celebrity IP doesn't align with branding. Of course, a celebrity spokesperson may not be realistic for all budgets.
The key to successfully utilizing celebrity IP is understanding what celebrities resonate with your target audience and the features that will drive the highest level of engagement.
Though the Kardashians currently claim the top spot, future IP partnerships on the horizon promise to demonstrate new and innovative ways to attract and monetize app users.
Start Building a Better App Business
Subscribe to see more app industry reports, conference updates and guides. Have something to add? Share your questions and comments on Twitter.
Want to take your app business to the next level? Create a free account to dive deeper into Store Stats or request an Intelligence demo.