Worldwide App Annie Index for Games April 2016

Each month, the App Annie Index highlights the top-performing games and apps for the iOS App Store and Google Play. Our analysis covers trends among the leading apps across countries and categories, and is the industry standard for professionals looking to compare leading apps and publishers.

You might also be interested in:
This Month's Top Games
slither.io Becomes April's Top-Downloaded Game
Released in late March on iOS and Google Play, slither.io rapidly climbed the downloads charts in just over one month.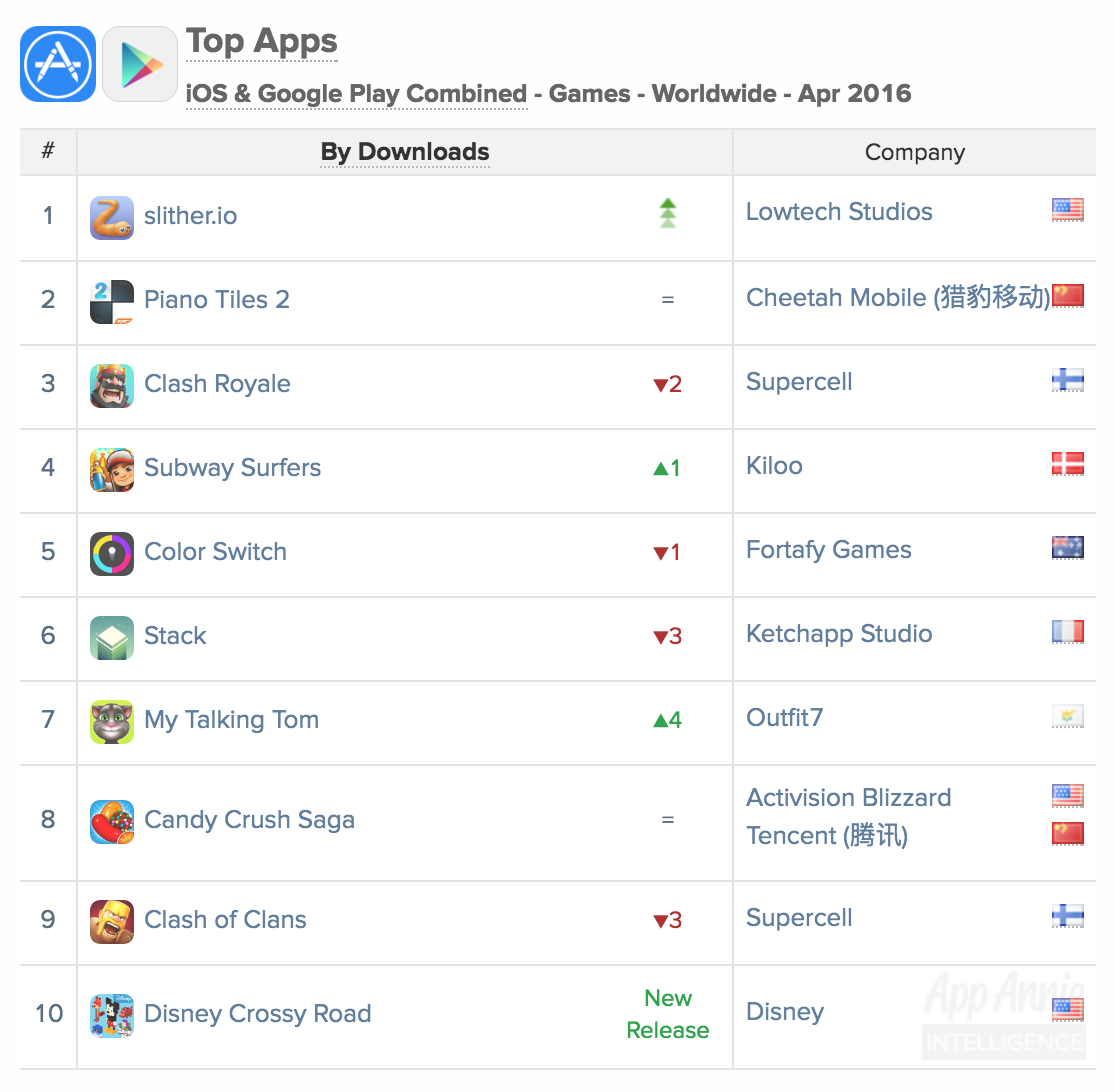 Similar to the smash success Agar.io, slither.io is a free multiplayer game capitalizing on simple, addictive gameplay. It follows in the footsteps of other successful mobile interpretations of tried-and-true games such as Crossy Road and Angry Birds, which both featured similar mechanics to Frogger and online game Crush the Castle, respectively. Slither.io is a modern take on the widely-known Snake Nokia mobile game from the 1990s where the object of the game is to become the longest snake.
This simple and familiar gameplay helped slither.io become a widespread hit across the world in its first month. Much like Agar.io, it takes advantage of the synergy from having a complementary web version of the game. As identified in our Agar.io report, a successful web app can garner support and marketing before or alongside the launch of its mobile app.
While the intuitive gameplay is appealing to all age levels, it does show a clear skew towards the younger demographic. In the US market, 13–24 year olds are nearly 3 times more likely to use the game than the general population on Android Phone.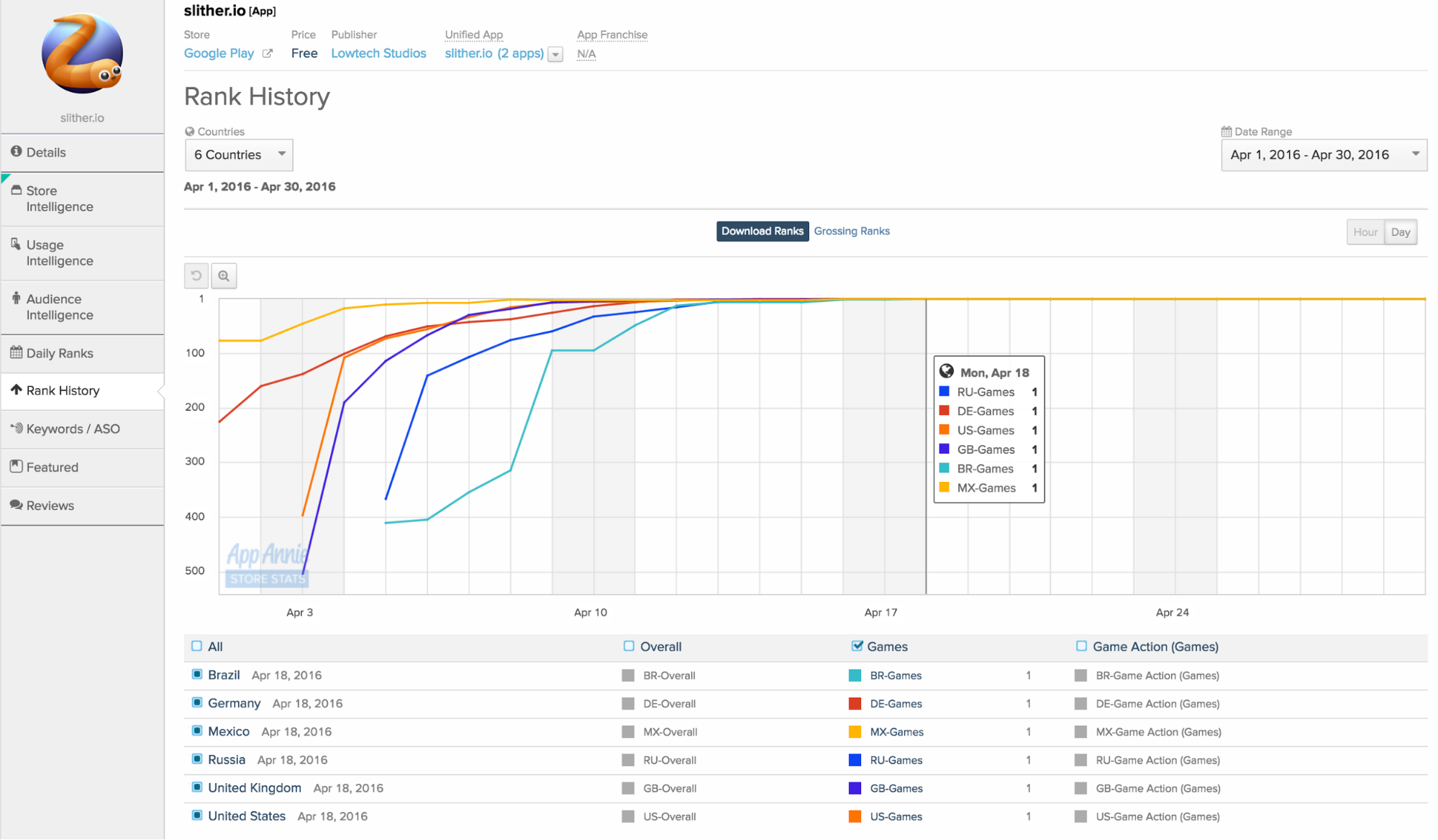 slither.io rose swiftly up the downloads charts hitting #1 in Brazil, Germany, Mexico, Russia, the US and the UK on April 18 and maintained this rank through April 30.
With such a large download base across many diverse countries, slither.io already has significant market potential for monetization. While the game already supports in-app purchases on its Google Play app, the overall freemium strategy is not yet clear.
Disney Crossy Road Debuts on the Worldwide iOS Download Rankings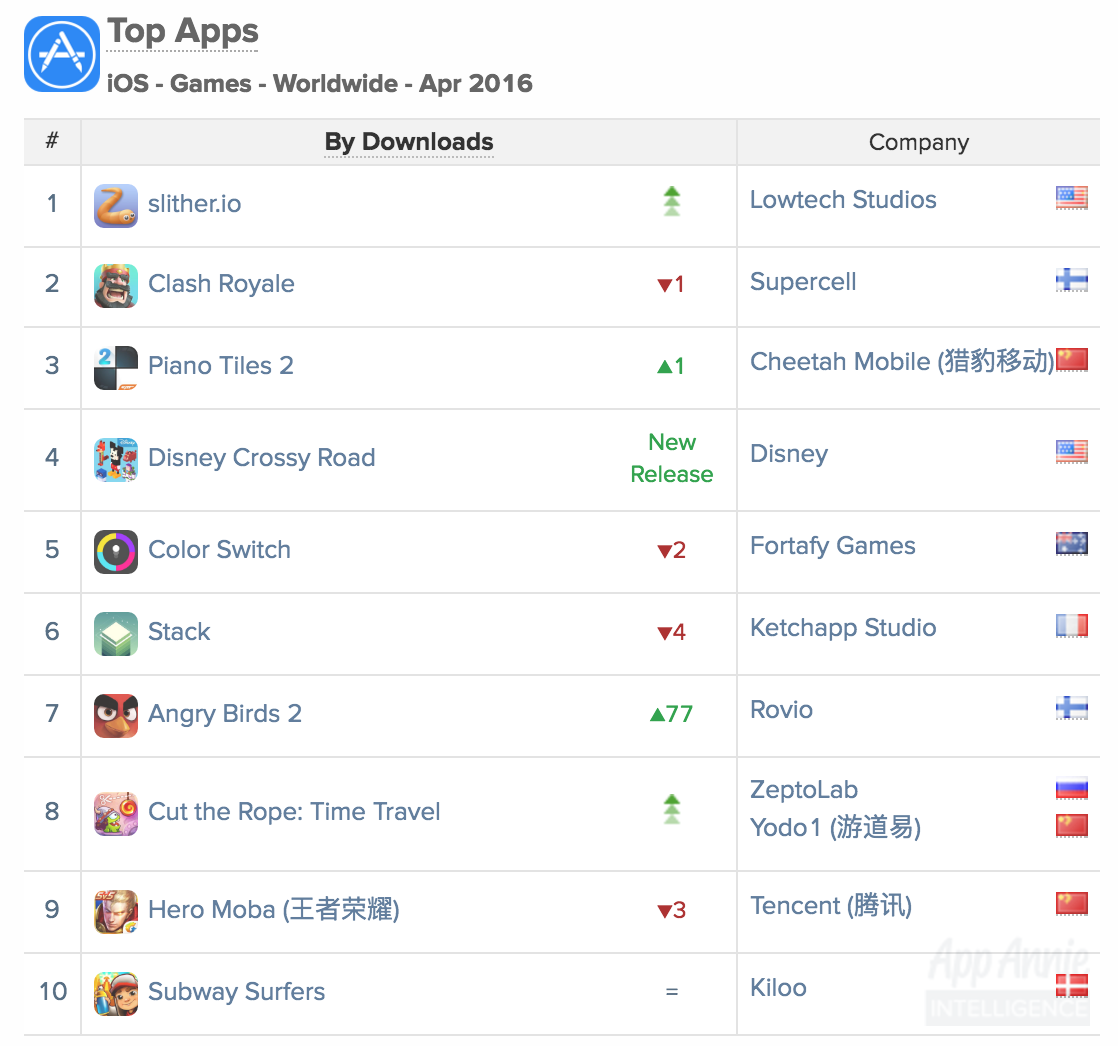 Disney Crossy Road experienced global success breaking into the top iOS downloads chart less than a month after its April release. Disney is again leveraging its IP licenses with popular publishers to achieve widespread mobile success. This time, Disney partnered with Hipster Whale, the publisher of the smash hit Crossy Road, to put a Disney spin on its 8-bit arcade-style interpretation of Frogger gameplay.
Disney's version follows Crossy Road's divergence from the typical use of in-app purchases which assist a user's game progression to those that alter the gameplay through new characters. This strategy performed well with Crossy Road, garnering high ratings and earning the publisher $10 million in revenue from 50 million downloads during its first 90 days of release. Coupled with the fanatic appeal of classic Disney characters, there is potential to reap the benefits of this monetization method in Disney Crossy Road. The changing characters and gameplay environments allow for re-branding possibilities from both new Disney releases and past favorites. This strategy is similar to how Subway Surfers maintains high interest with continual changes to its background city, a tactic that helped it to become Google Play's most downloaded game of all time.
There are few games that find success in both the United States and Japan. Disney's IP may have provided an opportunity to achieve that. The US and Japan played a large role in Disney Crossy Road's initial success, driving a majority of iOS downloads. Disney Tsum Tsum has also historically performed well in Japan, remaining in the top 15 grossing games on iOS in Japan since February 2014, reiterating the brand's strong appeal in the country. While different in gameplay to Disney Crossy Road, Disney Tsum Tsum benefits from both LINE's stronghold with users and the power of Disney's IP licensing. An important market for mobile gaming, Japan represents a compelling potential avenue for the success of Disney Crossy Road on both iOS and Google Play.

Disney Tsum Tsum has remained #1 by MAU on iPhone in Japan for 21 months, indicating long-term appeal for both its content and gameplay.  
Initial interest in Disney Crossy Road drove high downloads, so their focus now shifts to keeping users coming back each month and securing a sustainable revenue stream. If Disney Tsum Tsum and Crossy Road are any indication, we won't be surprised if Disney Crossy Road breaks onto other top usage and revenue charts in the coming months.
The Angry Birds Movie Fuels Angry Birds 2's Surge on iOS
Angry Birds 2 flew up the worldwide iOS downloads rankings to #7. While this download growth was global in scale, a large portion of this increase was driven by the US. Given The Angry Birds Movie makes its debut in theaters on May 20 in the US, part of this resurgence could be a spillover from promotions for the animated movie as well as it being featured on the iTunes homepage during the month of April. With nearly 10 million YouTube views on one of the official trailers in just over 3 months, this franchise has undoubtedly reached a large audience in the buildup to its movie release.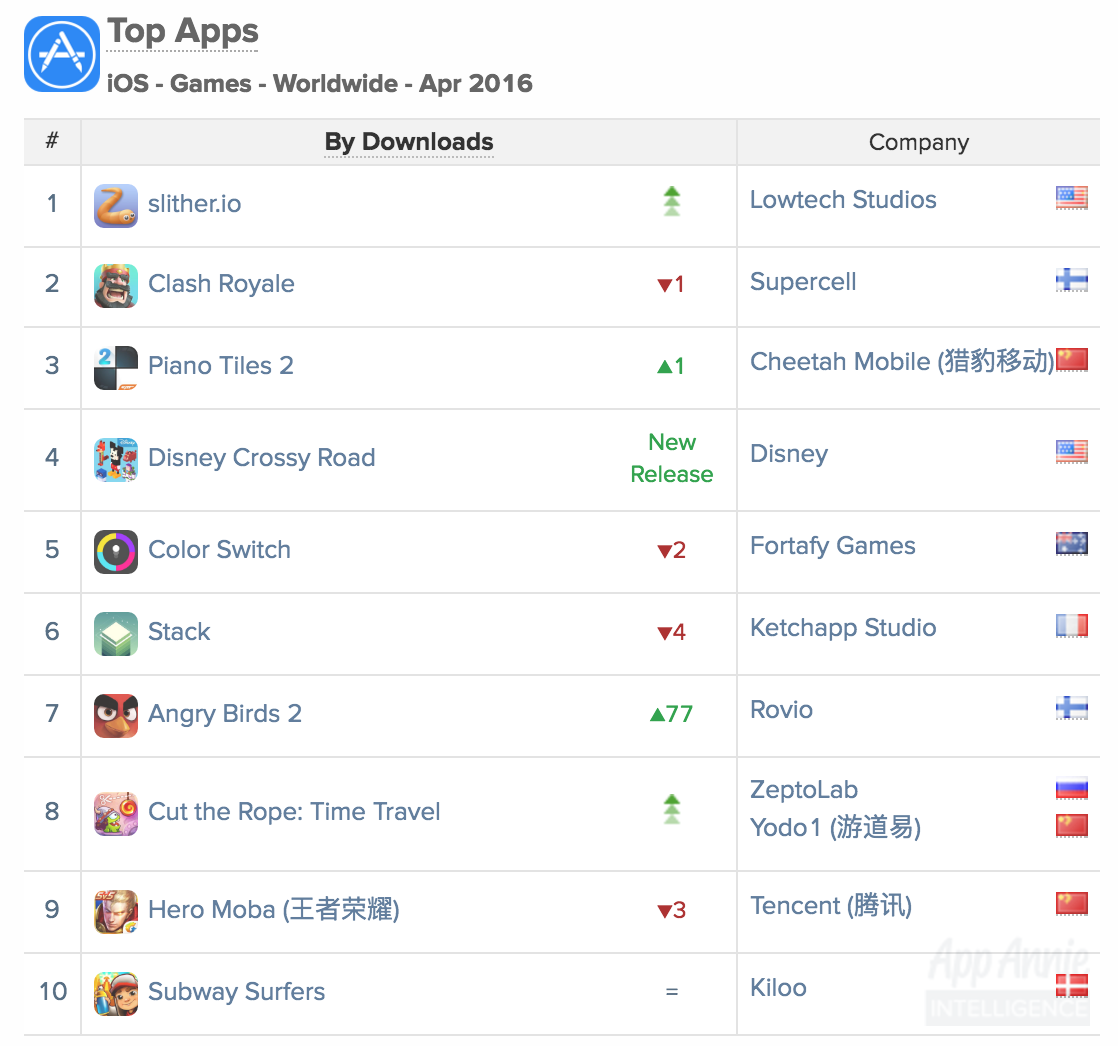 Rovio recently spoke with App Annie about its latest Angry Birds campaigns:
"With the release of The Angry Birds Movie around the world and a global movie marketing push in virtually every territory, we have been able to capitalise on the unprecedented integration of Angry Birds Action! with the film and many of our partners' products, from LEGO playsets to McDonald's Happy Meals. On top of that, with our unique ability to do heavy cross-promotion across our entire portfolio — and with other Angry Birds games also being updated for movie universe and characters — we are driving significant numbers of new downloads while also further heightening awareness of the film. The movie, our games and our product partners are completing a virtuous circle." –Ville Heijari, CMO Games at Rovio
The Angry Birds franchise is an example of how mobile apps are at the center of our lives. Angry Birds began as a mobile game launched on the iOS App Store in December 2009. Six and a half years later, it has migrated to the silver screen boasting promotional partnerships with some of the world's top brands including McDonald's, The Home Depot and Ziploc.
Rovio is bringing its success full circle by leveraging these partnerships to incorporate exclusive movie-related content in its new app: Angry Birds Action!. A new area of the game will unlock during the credits if you open the app to scan an invisible digital watermark or purchase a McDonald's happy meal.
Rovio has shown how continual innovation and strategic IP licensing can lead to gains both in and out of the app stores.
The Technology Behind the Index
The information contained in this report is compiled from App Annie Intelligence, the leading market data solution for the app store economy. To see how our app store download, revenue, demographic and usage estimates can help guide your critical business decisions, request a demo today.
---

---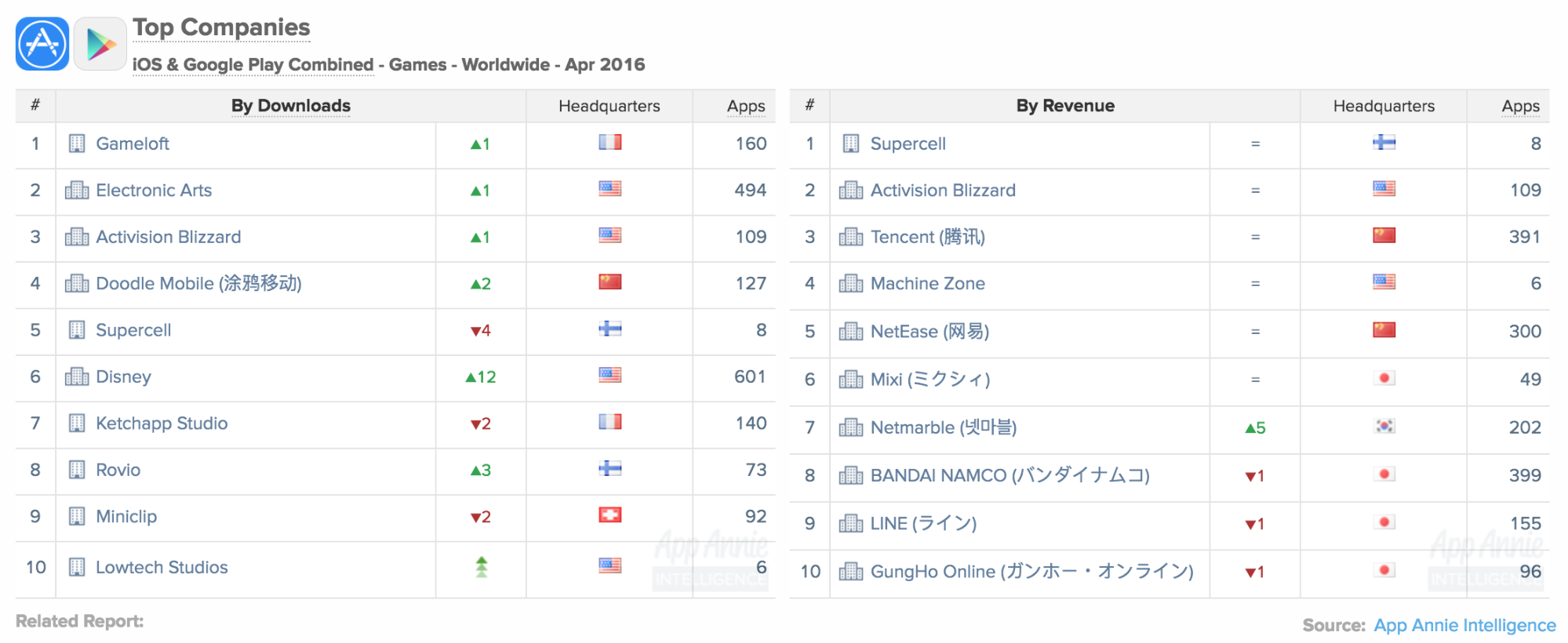 For the complete list of April's top apps and app publishers around the world, click the chart above.
Notes:
The publisher and app rankings reported in the App Annie Index are based on the download and revenue estimates available through App Annie Intelligence. The daily rank history charts and the homepage feature app data are available to all users through App Annie's app tracker solution, Store Stats.
App Annie Intelligence is currently available for the iOS App Store and Google Play. It does not currently provide estimates for other app stores, such as the Amazon Appstore. While iOS and Google Play represent a significant portion of the app market in many countries, that is not the case for some countries. For example, China has a number of sizable third-party Android app stores.

While the Index for Games covers games, the Index for Apps provides app tracking on everything but games. Note that the Top Company rankings in the Index for Games are based solely on the publisher's games downloads and revenue, while the Top Company rankings in the Index for Apps are based on the company's downloads and revenue from apps excluding games.

Company and unified app rankings in the App Annie Index for Games and Index for Apps are based on individual apps that ranked in the Top 1,000.

Download rankings are based on individually downloaded apps and exclude downloads of app bundles. Revenue rankings are based on download revenue from individually downloaded paid apps as well as in-app purchase revenue from both individually downloaded apps and app bundles.

In the first month in which an app becomes unified, its rank change in the Index will compare the unified app that month vs. its highest-ranking individual app in the month prior. As a result, rank changes for newly unified apps may overstate ranking increases from March 2016 to April 2016.

In the iOS App Store, an app can be categorized under a Primary Category as well as an optional Secondary Category. If an app has a Primary Category of Games and a Secondary Category of Entertainment, it is a candidate to be included in this Index for Games. If the app's Primary Category is Entertainment and its Secondary Category is Games, then it will not be included in this Index for Games; it is a candidate for the Index for Apps.

Note that the ranking approach used in the App Annie Index differs from that used in the iOS App Store. In the latter, app rankings for a given category will include all apps whose Primary Category or Secondary Category matches that given category. So an app can appear in the rankings for more than one category within the iOS App Store or in App Annie Store Stats rankings.

In Google Play, an app can be categorized under only one category, so there is no double-categorization.

Occasionally, a publisher may decide to shift an existing app from one category to another category. In these cases, the App Annie Index will rank that app based on its categorization in the subsequent month. Given that the App Annie Index has a Games report and an Apps report, the only scenario where an app's recategorization could shift it from one Index to another is if its category changes from Games to a category other than Games or vice versa.
In the App Annie Index, all apps and publishers are reported under their parent companies, where available; for example, the Plants vs. Zombies™ 2 app is reported under its parent company Electronic Arts, rather than its direct publisher PopCap. Note that if you view the Electronic Arts parent company page on Store Stats, you will see the publishers that roll under the parent company Electronic Arts, including PopCap. The Plants vs. Zombies™ 2 app will be listed under the PopCap publisher page.

In February 2016, Activision Blizzard completed its acquisition of King. As a subsidiary company, downloads and revenue from King apps now appear under the parent company Activision Blizzard in the Games Index.

Company and app rankings are based on the App Annie DNA relationships at the time of publications. App Annie DNA relationships are subject to change over time.

App Annie Usage Intelligence data for smartphones and tablets were derived from mobile usage data collected from a large sample of real-world users, combined with additional proprietary data sets.

App Annie tracks usage at the device level using a privacy-protective hashed device ID. Data is only reported to third parties in aggregated format.

App Annie Index revenue rankings are based on revenue that the iOS App Store and Google Play earned from paid downloads and in-app purchases. They do not include revenue earned from in-app advertising.

Certain trademarks and/or images used in this report may belong to third parties and are the property of their respective owners. App Annie claims no rights to such trademarks or images.