Amazon is likely to see its biggest mobile shopping day yet with its annual Prime Day on July 11, 2017.
Americans are poised to spend over 5.5 million hours collectively in Amazon's Android phone app during this year's Prime Day, equating to more time spent in the app than any day ever before. Now in its third year, Prime Day offers a day of deals exclusive to Amazon Prime members, spanning both day-long promotions as well as flash deals.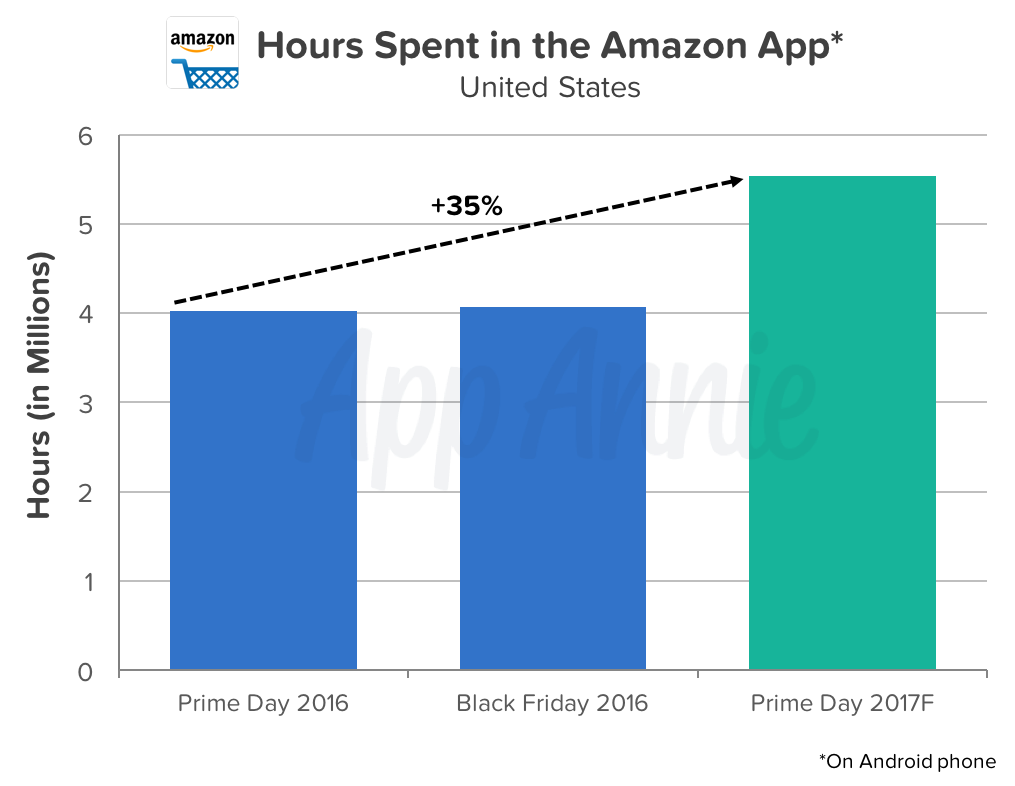 In the United States, Prime Day has been very successful. In 2016, it ranked second for time spent in a single day on Amazon's Android phone app, behind Black Friday. This year, however, we predict Prime Day to grow considerably, surpassing both Prime Day 2016 and Black Friday 2016 by an impressive 35%. If Prime Day is any indication of the growth in mobile shopping, we anticipate Black Friday and Cyber Monday in 2017 to drive even greater time spent in the Amazon app.
Available in 13 countries this year, Prime Day extends Amazon's influence beyond the US and has carved out an important niche among British consumers. In 2016, Android phone users in the UK spent slightly more time in the Amazon app on Prime Day than they did on Boxing Day, a traditionally popular shopping day after Christmas. This made Prime Day the second largest day by time spent after Black Friday 2016. This year, we expect time spent on Prime Day in the Amazon app to grow nearly 40% in the UK. As Amazon's footprint increases around the world, we're interested to see if Prime Day closes the gap with Black Friday.
With its recent acquisition of Whole Foods, Amazon is set to put mobile at the center of the retail experience, forming a new paradigm for the industry. As retailers begin to prepare for the upcoming holiday season, it is imperative to look to best-in-class apps like Amazon and emulate their mobile-first retail strategies. We will be watching closely to see how Amazon raises the bar in retail with its upcoming Prime Day and how retailers drive the continuing shift to mobile in their preparation for this year's holiday season.