As the world celebrates the best of TV we celebrate how video streaming apps have transformed television for millions of people.
Streaming services have made their mark on the 2017 Emmy nomination list. Collectively, Netflix, HBO, Hulu and Amazon Video racked up 236 nominations, with HBO leading the pack at 111, followed by Netflix at 91, Hulu at 18 and Amazon Video at 16.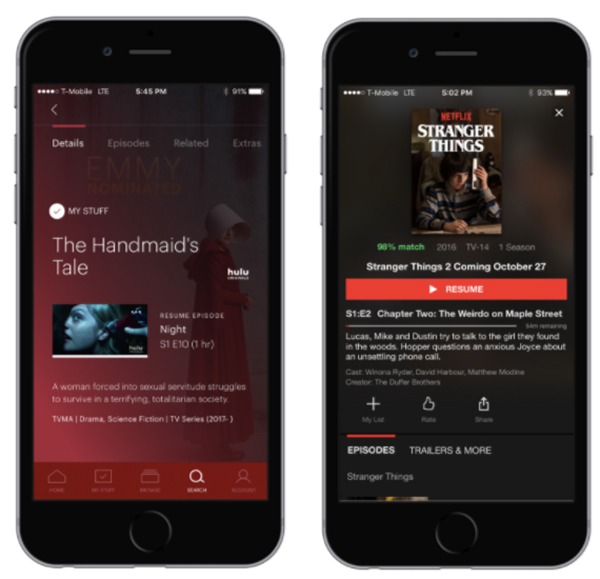 The Hulu app advertises "Emmy Nominated" in the background of The Handmaid's Tale as a testament to the quality of its original program.
Video streaming services have redefined television for tens of millions of Americans. Consumers no longer solely rely on pay-TV providers or even a television to watch their favorite content. Americans are increasingly turning to their mobile devices to view their favorite shows, spending nearly 12 billion hours in the top 10 video streaming apps on Android phone in the twelve months ending July 2017. This figure grew 45% year over year and isn't showing signs of slowing down.
As evidenced by their impressive number of Emmy nominations, it's clear these video streaming companies are creating quality content — content that millions of Americans are spending significant time consuming in mobile apps. To measure the growth at which Americans choose apps when they seek out TV content, we took a look at the top video streaming apps used by Americans in the last twelve months, by monthly active users (MAU), total time spent and revenue.
Video Streaming Apps with the Largest Viewer Base
To get a sense of which video streaming apps command the largest audiences, we evaluated smartphone monthly active users (MAU) by both peak month of MAU and average MAU within the last 12 months ending July 2017. This allows us to account for seasonality such as sports seasons or series premieres, while also providing a holistic view on performance throughout the entire time period. YouTube, Netflix and ESPN ranked in the top three spots by both of these measures. YouTube's size is particularly impressive, with a smartphone user base in the US more than double the size of that of the next most popular video streaming app. YouTube has also extended its influence to compete directly with cable providers through the launch of YouTube TV, where for $35 a month consumers can stream major networks through its app. Recently it has expanded YouTube TV's coverage to 50% of households in the US and is getting into content creation, two moves that directly compete with cable and satellite providers.
The Video Streaming Apps Capturing Americans' Time
Time spent in-app is a strong measure of viewership. We took a look at the peak time spent in a month as well as the average time spent over the 12 months ending July 2017. Similar to MAU, YouTube and Netflix dominate for both peak time spent in app and average time spent in a month. Americans spent just shy of 1 billion hours in YouTube's Android phone app in July 2017 in the US, the largest amount of time spent in any one video streaming app in a single month. YouTube alone accounted for 80% of the 12 billion hours spent in the top 10 video streaming apps by time spent during the twelve months ending July 2017. This equates to 9.5 billion hours spent in YouTube alone on Android phone in that twelve month period.
Notably, YouTube Kids ranked highly for time spent but was not in the top 10 apps by MAU. This indicates that its user base is highly engaged with each user spending many hours in the app, even if its total viewer base is smaller than some of the general audience apps. The same principle applies to Hulu, a video streaming service often viewed as a substitute for cable. Hulu offers a large amount of content from networks and recently launched a live TV subscription option as well as a partnered bundle with Spotify. It also produced original content like The Handmaid's Tale, one of the 10 most nominated shows of the 2017 Emmys.
Video Streaming Apps Bring in Hundreds of Millions of Dollars
While many Americans are using video streaming apps to complement their content consumption, it is clear that for many, mobile is the first screen. This is evident from the volume of revenue flowing through these apps, most of which comes through in-app subscriptions where users opt to start their subscription from the app instead of from one of their other devices such as a laptop or smart TV. Subscription services have become increasingly popular in mobile, particularly as the app stores are taking a smaller cut of revenue.
Americans spent over $570 million in the top 10 video streaming apps during the past twelve months ending July 2017 in the US. This is an 80% increase year over year, which shows more consumers than ever are leveraging apps to watch shows, sporting events and movies. Eight of the top 10 apps by revenue did not rank in the top apps by time spent or MAU during the same period. This indicates a highly engaged user base that derives a lot of value from the app and is paying for that value. It is particularly impressive that HBO NOW ranked #2 by both average monthly revenue and peak monthly revenue, given that it did not break into the top 10 video streaming apps by time spent or MAU. Exclusive content like Game of Thrones has helped fuel this success with more and more Americans purchasing HBO subscriptions via the app. Optimizing the timing of content creation and programing could help these apps retain more paying customers throughout the year. It is important to note that HBO has its pay-TV business, which drives the vast majority of the company's revenue and users, a key differentiation for HBO compared to other video streaming apps.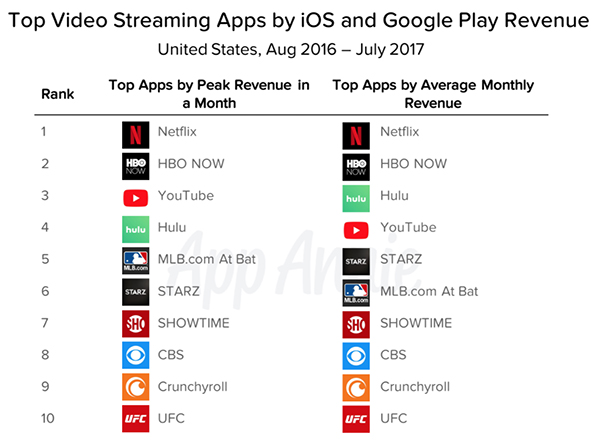 Video Streaming Apps Are Redefining Television
Video streaming companies are not only providing a new experience for consuming content, they are stepping up their game for the content they produce — as evidenced by their 2017 Emmy nominations. Exclusive content is a key tenet of their value proposition, differentiation and ability to attract and retain users. Investment and Emmy competition will only heat up as Apple has widely been reported to be investing $1 billion into its own original programming over the next year. It will be interesting to see how many Emmys go home with the innovative video streaming companies that are continuing to set new standards for how Americans — and those around the world — consume content. Content is no longer anchored to the television; it is increasingly migrating to the device that is always with us: our smartphones.
App Annie delivers the world's most trusted app market data and insights. Its research, analysis and data is widely considered the global gold standard and has been cited in earnings calls, S1 filings and leading publications.
To unlock the latest global best practices for video streaming apps, fill out the form below. Customers who log-in will be able to see those best practices immediately below.