Stay tuned to your audience with the power of Advanced Reviews. Now also on Android.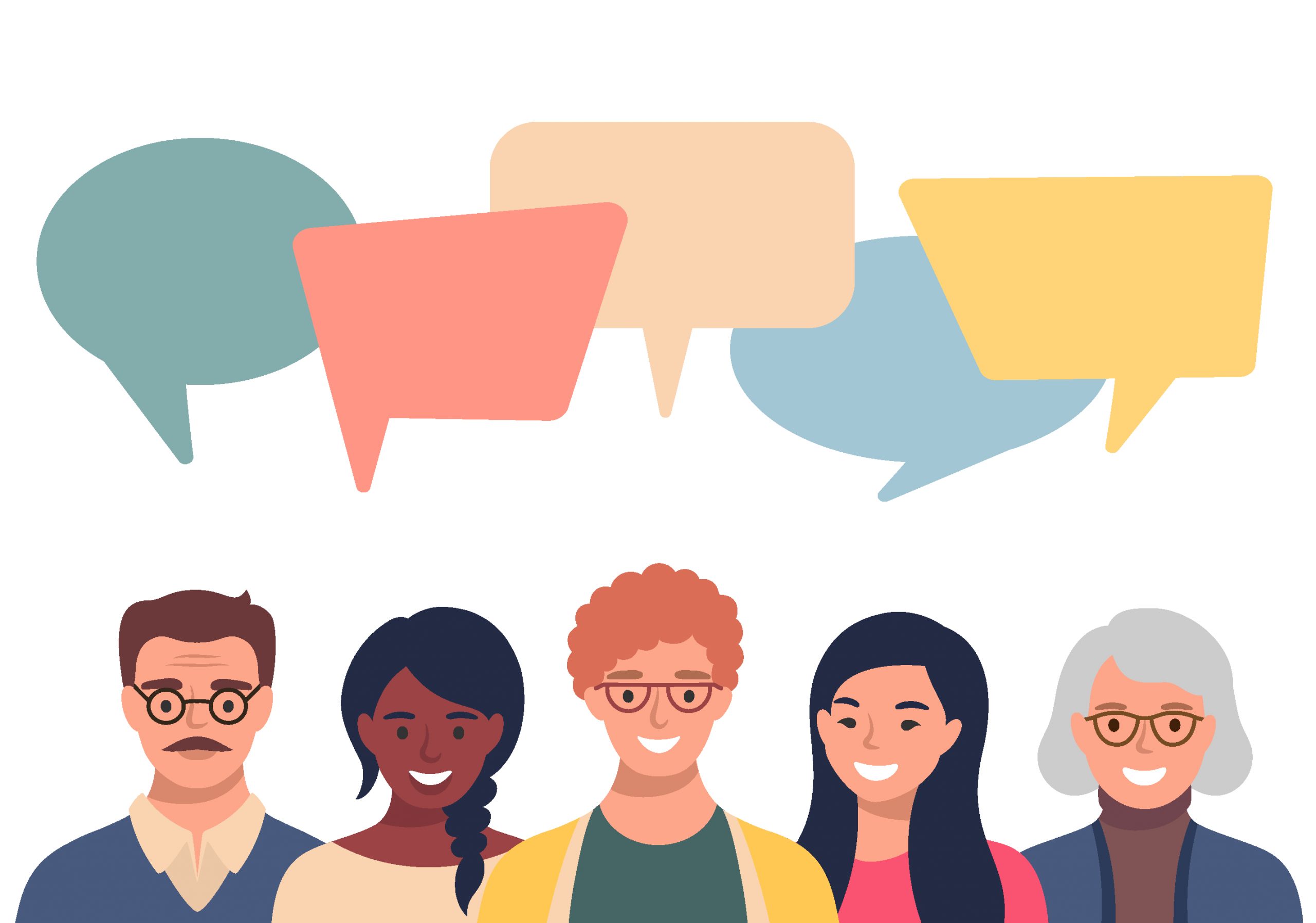 "If there's no meaning in it,' said the King, 'that saves a world of trouble, you know, as we needn't try to find any. – Chapter 12, "Alice in Wonderland"
Consumers today are vocal. They LOVE to speak out, speak up and share what's on their minds and hearts online. That's why Sentiment Analysis and general use of Natural Language Processing (NLP) to study what is being said and infer positivity, negativity or neutrality are such powerful tools. In fact, big brands today pay VERY CLOSE attention to what's being said online, seeking tools to keep up with the chatter and take action swiftly. 
When thinking about the app market, customers are definitely not shy and look for the App Store or Play Store reviews section to spread their love or share their discontent and frustration with app developers. This is why app reviews are such a rich source of customer insights for app developers. Monitoring app reviews help you figure out if your customers are happy with the experience you are offering them. These insights guide you in where to focus on improving your product, enhance discoverability and help you foster a connection with the people who use your app. It's also a great source of competitive insights as you can study what users are saying about your competitor apps - what they like and what they dislike.
Find meaning, easily, quickly
Who does have the time to sift through ALL of the words users put on app stores AND make sense of what it means to their app? We suspect that's a question that popped into your mind. But you need not worry - we got your back! Starting June 2022 we are offering you our Advanced Reviews taxonomy, a Natural Language Processing (NLP)-powered capability that tags reviews into topics (themes) and terms (keywords) on both the Apple App Store and Google Play Store (NEW) and presents these insights in an easily digestible fashion. As Android device share is significant, having visibility into Play Store reviews is crucial.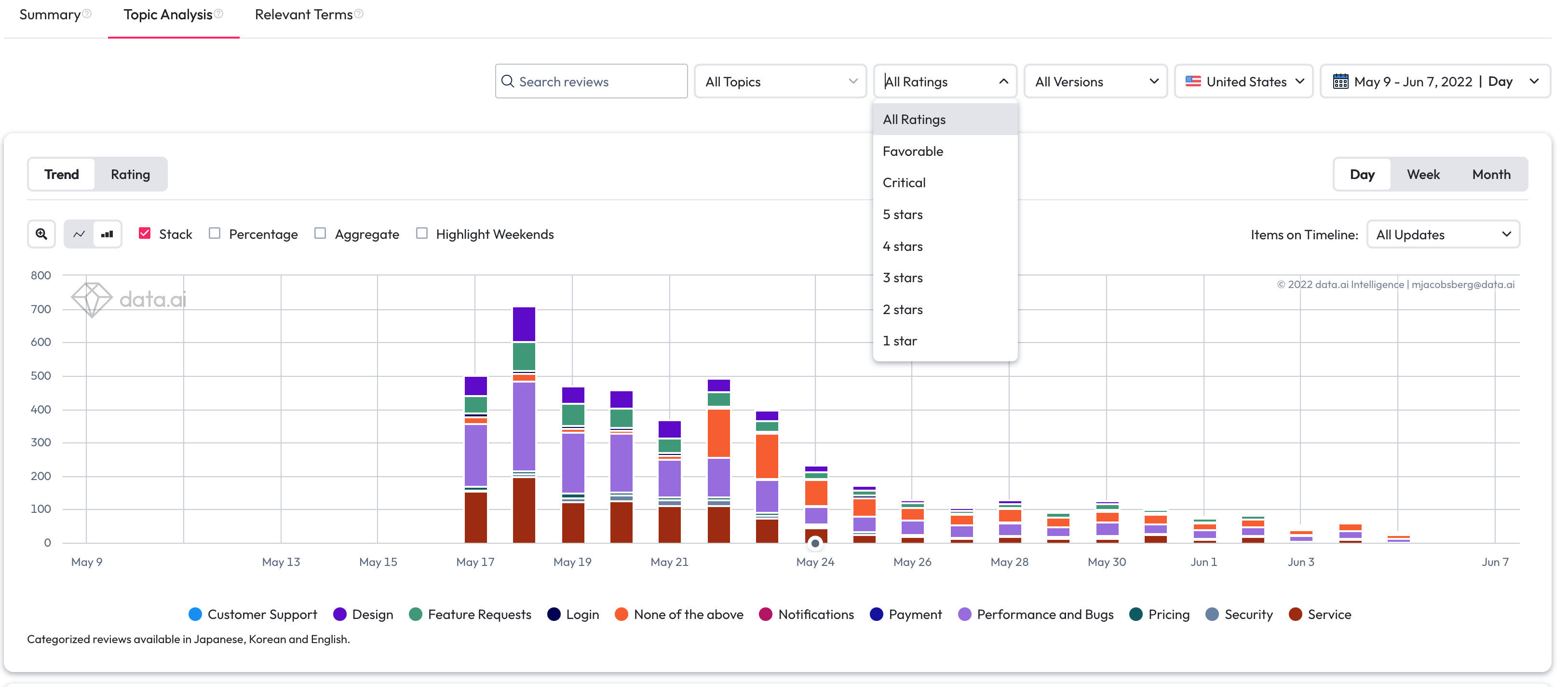 With Advanced Reviews you can effortlessly figure out what your users are saying, as we extract and study reviews data for you with our NLP algorithms, and sort them into meaningful topics such as "Design", "Subscription", "Feature Requests" or "Pricing" to name a few. We then aggregate and summarize output to actionable feedback. By focusing on actionable review terms related to your mobile apps, you can identify possible product gaps or service issues and ignore non-actionable reviews.
The bad, the good, and the ugly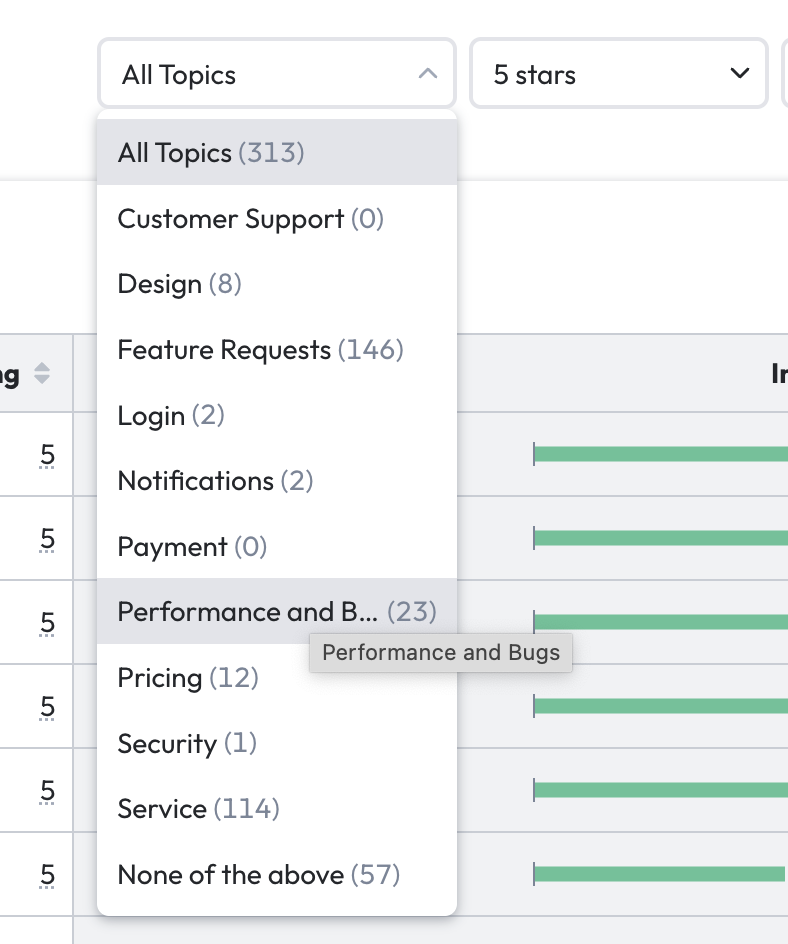 The way the insights are organized for you, makes it easy to focus on the type of feedback that is most interesting for you in any given moment. As an example, you launched a new app version including app stability fixes, improved usability and updates to your notification feature. You want to see if the reviews change over time to see if any of the changes make an impact. You can quickly see a breakdown on topics before and after the change to see if customers noticed, like, disliked or are neutral with the changes. 
With % share of topic or term you can easily quantify issues and other elements of your app to figure out where to focus or how customer satisfaction or dissatisfaction changed. You can also simply filter by review type such as 5 stars or Critical to keep a pulse on how issues or new features impact your rating so you can prioritize product investments.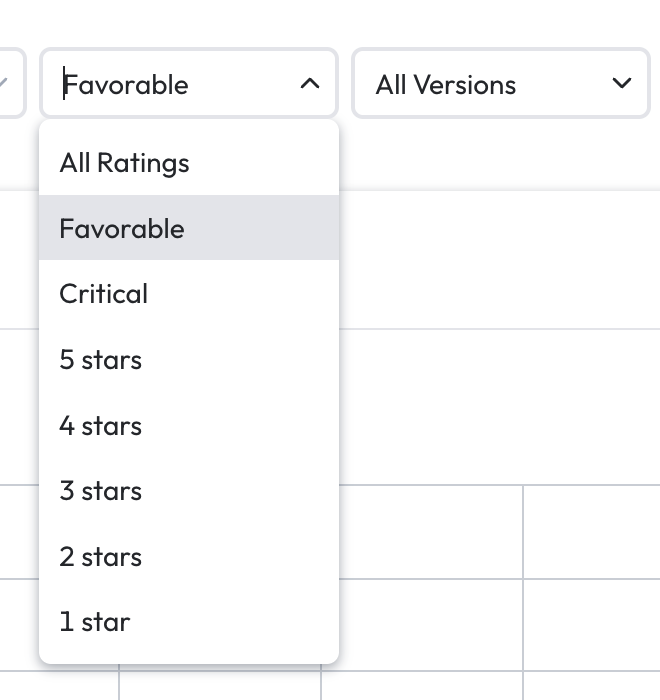 Impact score for features AND content!
Once you identify specific terms, you can see what fraction of the overall reviews they take and also how important those terms are. The terms are broken down for you by their rating so you can figure out what are some positive drivers and what are less favorable. With the impact score you can understand if a certain term matters.

In addition, the terms are certainly not limited to features, and you can also learn a great deal of what content your users appreciate. For instance you can see what type of titles, events or other add-ons your customer talks about and appreciate.

This approach often helps to translate qualitative feedback to quantitative insights.
It's also about the competition
The same way you look at your own apps, you can easily benchmark against the competition. As an example you can see how many times the term "Pricing" or "Costly" repeats for you and for your competitor in a given period. Armed with this knowledge you can make better pricing or marketing decisions. For instance if your customers think your product pricing is more favorable than your competition, you may have more wiggle room to adjust pricing or perhaps keep pricing as is and leverage this advantage in your marketing campaign.
Understanding what your users are saying in their language
For a global publisher, understanding what customers say and think in their own language matters. That's why in addition to extending Advanced Reviews to Android, we are expanding from English, Japanese and Korean languages to now include German, French and Spanish as supported languages. 
Wrapping this up - with Advanced Reviews on iOS and now Android you become immediately insightful: 
Understand what's top of mind for your customers based on what they are saying online.

Make data-backed product, marketing and customer success decisions. 

Identify weakness and strengths in your competitors' apps based on what their customers are saying.
You may have noticed, we totally geek out on the power of NLP and what it can do for you. As soon as you start diving into Advanced Review, we are confident you'll become a fan too. 
Want to boost your sentiment, store rankings, downloads and more? Contact us today to explore.