Intelligence users, you can now create custom app groups, track app changes over time and more.
Over 40,000 apps get released on the app stores each day. With so many apps being published at a time, it's difficult to keep track of recently launched apps and monitor long-established publishers. It can truly be a daunting (and time-consuming) feat to keep tabs on everything.
We're rolling out three updates aimed at solving pain points facing anyone tracking apps in the ever-expanding app stores. This month, Intelligence customers will now have access to:
Custom App Groups: Create custom app groups to keep tabs on — and compare — your competitors in one dashboard.
App Timeline: See every update an app makes in a timeline format to track changes and review the impact of those changes.
Hierarchy Navigation: Quickly navigate between the different levels of an app, starting with the company and narrowing down to the individual app to view customized results.
It's a Big App Store — Group It Up
Doing category- or market-level competitive analysis involves tracking multiple apps at a time, which can be a very manual process. Intelligence users can now make custom groups (like "Music Streaming Apps" or "Note-Taking Apps") to identify trends and keep tabs on competitors on a single dashboard.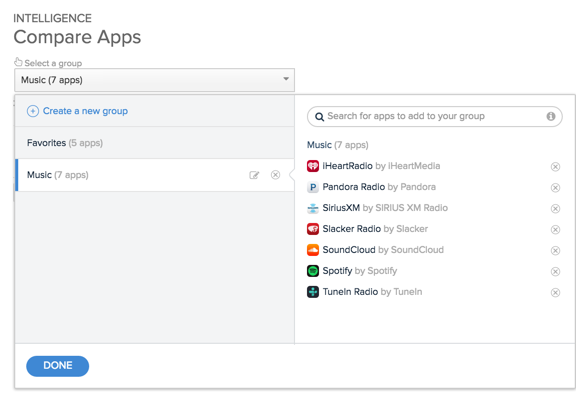 New custom app groups can contain up to 200 apps.
Once you create a custom app group, you can compare download, revenue, usage metrics and more through App Annie's web interface.
For example, let's say you wanted to compare all of Facebook's apps. Or maybe you're analyzing messaging apps and want to compare performance of APAC- and US-headquartered apps in a market. You can now create groups for these apps — which can be saved and edited — for your custom analysis.
Don't Miss a Thing With Timelines
Curious what the competition's up to? Wonder no more. Every change to an app's name, icon and description (and much more) is viewable by clicking Timeline.
Intelligence users get access to Timeline for all apps tracked in our database. (As a bonus, App Analytics users get this feature for their own apps.)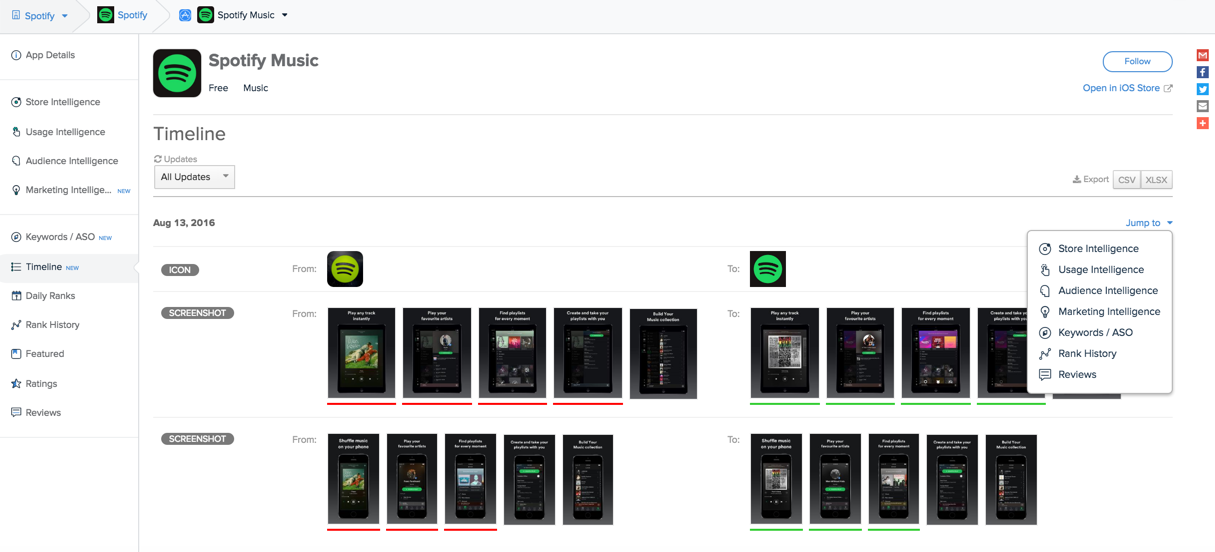 A timeline of Spotify's changes, plus a "Jump to" drop-down letting you quickly look at how those changes affected app performance.
Here's a full list of updates Timeline tracks:
App Name
App Icon
Price
Publisher Name
Version and Release Notes
Description Text
Screenshots
To help you quickly navigate to areas of interest, we're including a filter to isolate changes by type. This way, you can easily see each time an app changed its icon or price to focus your analysis (and save time).
Tracking changes is key to any ASO strategy, but what really matters is seeing how these updates affect app usage and engagement. Jump right into Store Intelligence or Rank History right from this view, with date ranges automatically set around the date of the selected update, to see how it impacted the app.
Navigate Easier With Hierarchy
Investors found out last month just how embarrassing it can be when you can't tell which company made an app. Pokémon GO was a smash hit, but investors attributed the success to Nintendo, which only had a small stake in the company. The company seeing the most benefit was Niantic, as we all now know — but that was a costly lesson for many who bought the stock.
Our database is full of data for millions of apps (and their publishers).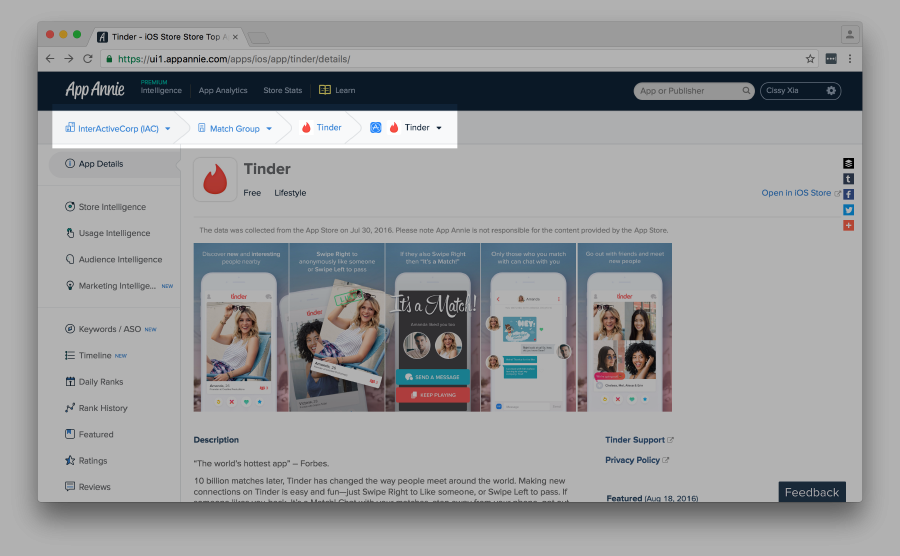 Our header now displays an app's hierarchy, from company to publisher to app.
We're excited to bring you all these updates — and you can be sure there are many more in the pipeline. Watch our blog for more updates.
Build a Better App Business
Subscribe to our weekly digest to see more app industry reports, conference updates and guides.
Subscribing to App Annie Intelligence gives you access to all the updates above and also lets you track the download, revenue, demographic and usage performance of millions of apps around the world. Request a demo today.