RPD, Soft Launches, Align By Launch, and Cumulative Downloads and Revenue Now Available in Intelligence
App Annie clients, especially industry-leading gaming customers, have requested a number of specific features to help them discover the latest mobile game launches, and to measure and visualize the performance of these games. Our team is excited to announce 4 new critical metrics and reports in our Intelligence platform.
RPD (Revenue Per Download)
Want to compare monetization strategies between games or other apps? Our new RPD metric can show you.
RPD = Cumulative revenue /  Cumulative downloads
RPD is the ratio between an app's All-time Revenue and All-time Downloads. It gives a clear signal as to how well the app is monetizing its users — especially for games that have just been launched — and can also be used as an indicator for an app's LTV or ARPU.
Let's walk through an example. Pulling up our Top Games report, we take a look at the top Core > RPG games from the last 6 months. We click into the RPD view and begin our analysis.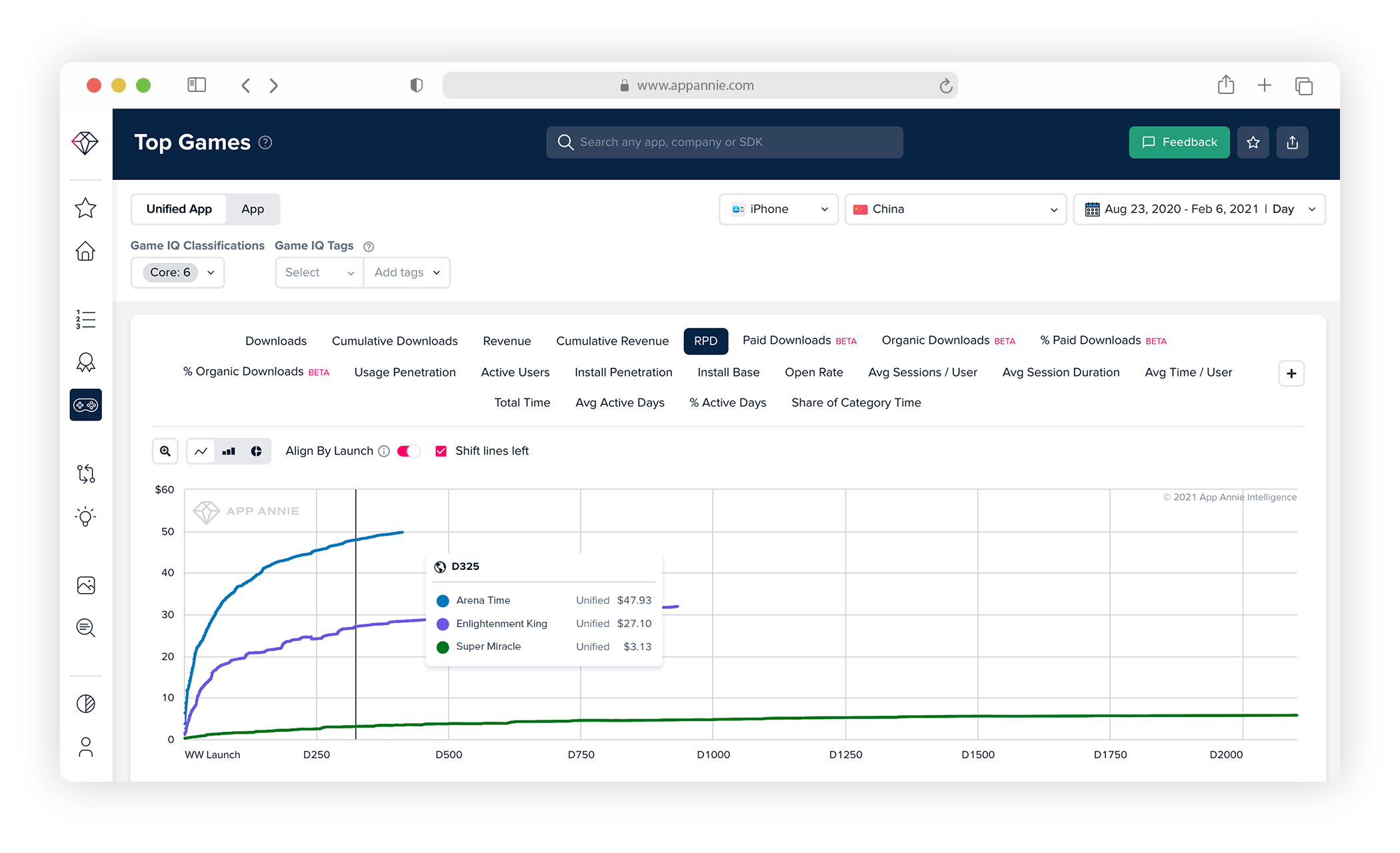 Overall, the game Arena Time (blue line) has shot up quickly since its launch, leading in RPG games for the amount of Revenue per Download ($47.93 at where we've hovered in the line chart, 325 days after launch). It quickly overtook Enlightenment King (purple line), which is now earning around $27.10 per download for the same number of days after its launch.
So why did Arena Time and Enlightenment King monetize so well and so quickly, while Super Miracle (green line) hasn't? RPD gives you a starting point into analyzing different games' growth strategies. 
The following Intelligence Reports now include the RPD metric:
Compare Apps

Top Charts

Single App Downloads, Revenue

Device breakdown

Country breakdown

Company - Downloads, Revenue

App breakdown

Device breakdown

Top Games (requires Game IQ add-on)
RPD is also conveniently included in App Annie CSV exports and API v1.3.  
Align Apps By Launch
Let's say that we now want to compare the worldwide launches of 3 top Match + Build Puzzle games.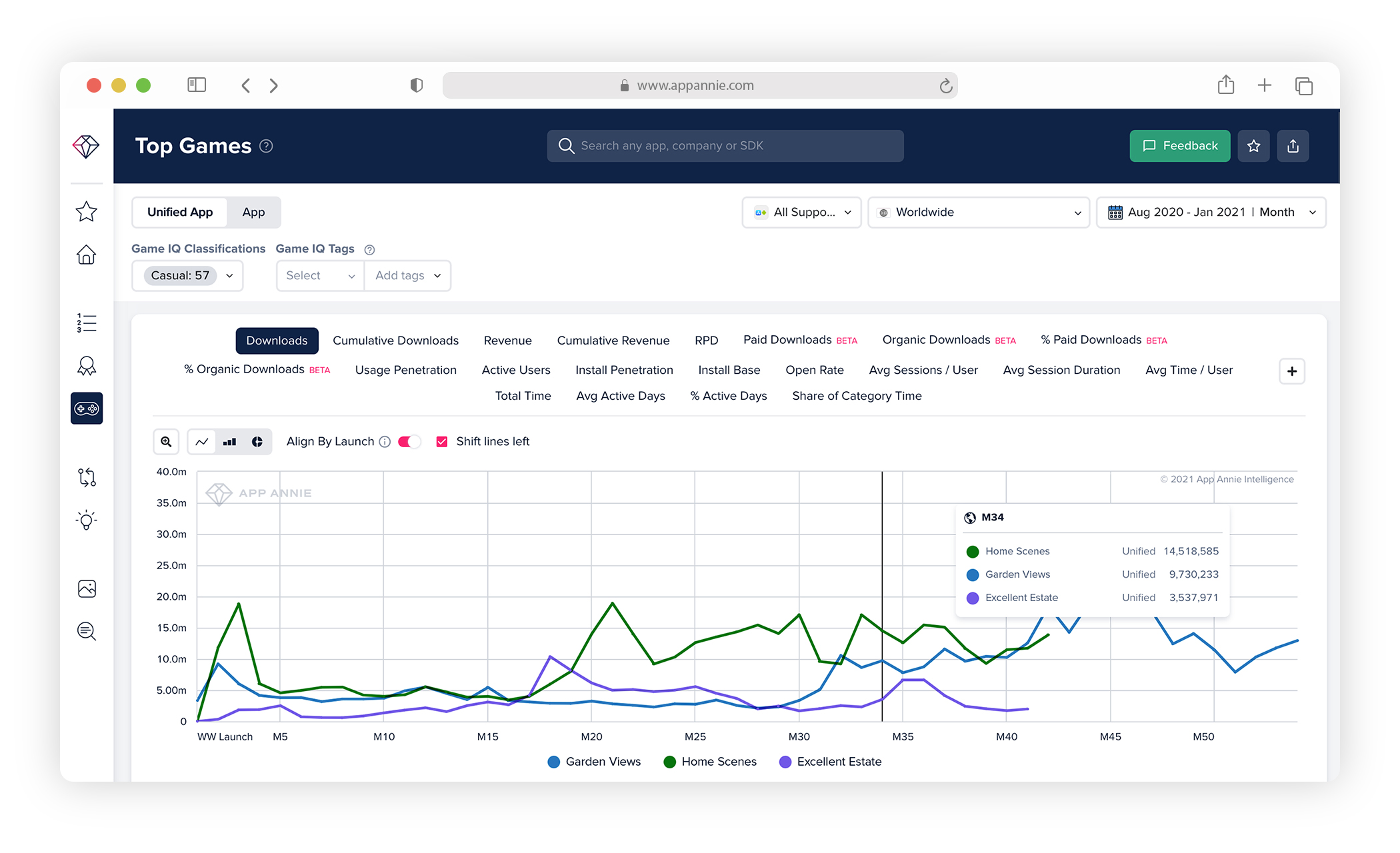 In the report screen above, you can see a toggle for "Align by Launch" at the top left, above the line chart. This new Intelligence feature aligns apps by their worldwide launch dates. By aligning similar apps by launch dates, you can easily compare performance across the lifespan of the apps.
Above, we've decided to align Downloads by launch. It looks like Home Scenes (green) spiked and took the lead closely after its launch.
Let's try something new to see if anything changed over time, by looking at Cumulative Downloads for these same games, and aligning them by launch. Cumulative Downloads and Cumulative Revenue, also new metrics in Intelligence, are calculated by summing all of the app's downloads or revenue for all time. These new metrics give you a convenient view of the app's all-time performance, directly within App Annie reports.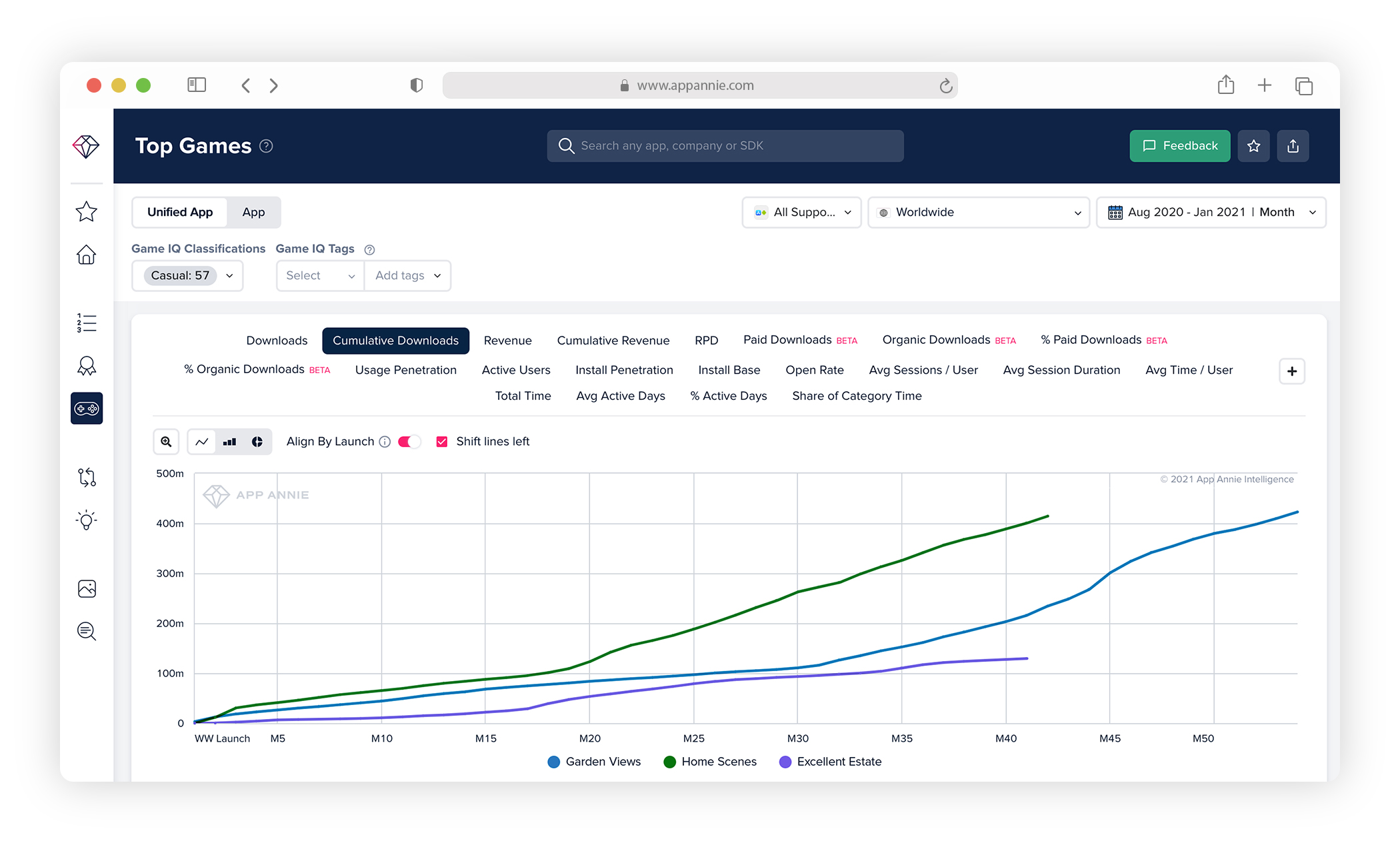 When we look at Cumulative Downloads, we can see that Home Scenes has remained in first place over time, and started to pull way ahead of the others at around M20 (20 months after launch), demonstrating the game's continual, improving acquisition growth over time. 
Intelligence metrics that can now be Aligned by Launch include:
RPD

Downloads

Revenue

Cumulative Downloads 

Cumulative Revenue
Cumulative Downloads and Cumulative Revenue are now available in the following Intelligence reports: 
Compare

Top Games (requires Game IQ add-on)

Single App - Downloads & Revenue: Device breakdown, Country breakdown

Unified Analysis - App breakdown, Device breakdown, Country breakdown

Company level - Downloads & Revenue - App breakdown, Unified App breakdown, Device breakdown, Country breakdown
Soft Launches Report (Labs)
Before being widely released or announced, new games are often soft launched by their publishers to test initial performance. App Annie Intelligence now allows you to find and track these soft launches with our new Soft Launches Report in App Annie Labs.
Use this report to see which games have soft launched during a certain time frame, or by a certain company. Then examine the countries in which the games have launched, and their performance around acquisition and monetization. Get ahead of competitors and track the directions in which they are investing.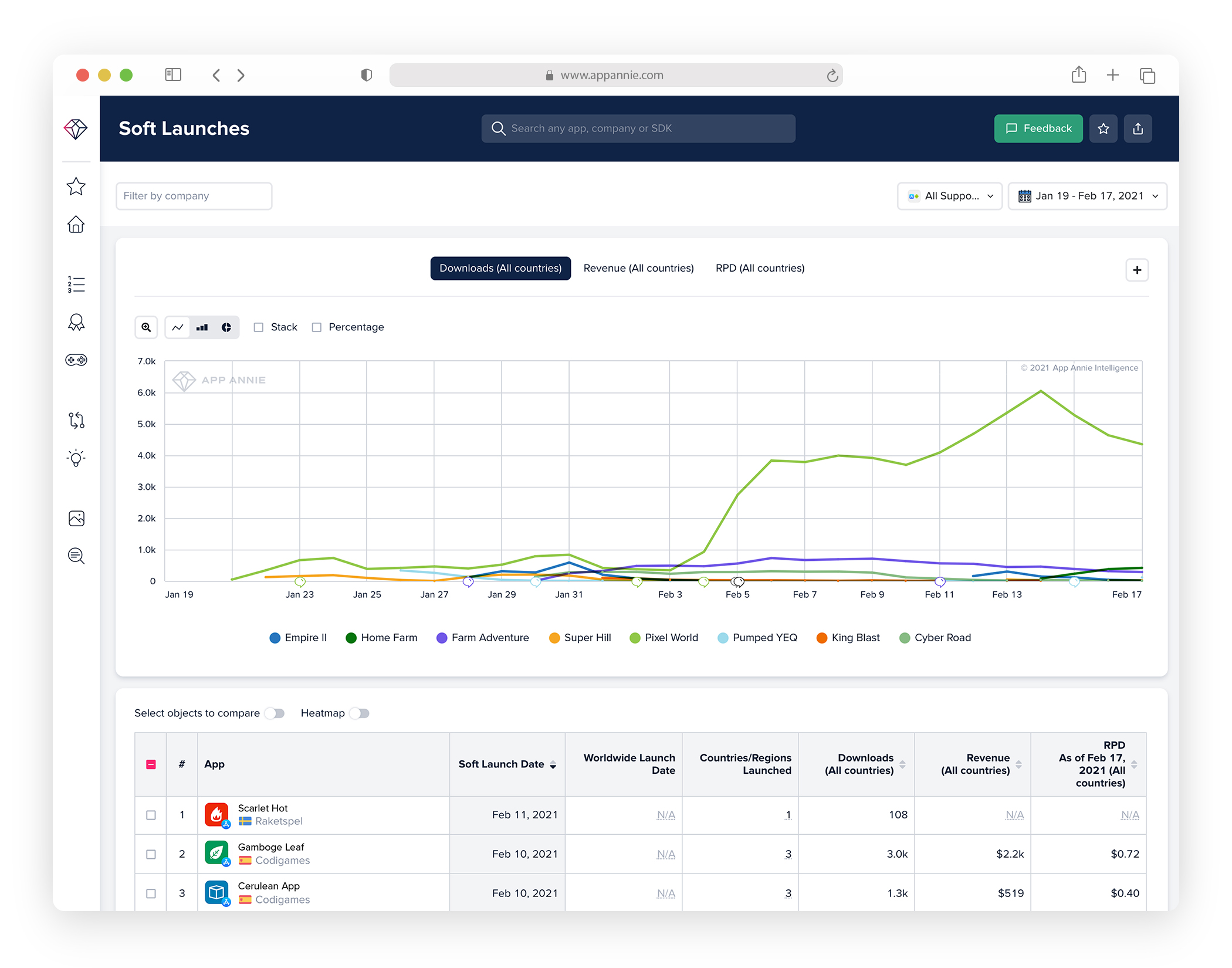 Coming soon: Soft Launch Alerts to notify you about the soft launches that are most important to you. You'll also see soft launch information in other Intelligence reports.
All of these reports and metrics are included with a paid Intelligence account.
Haven't upgraded your App Annie account yet? Get in touch with the App Annie Sales Team to get access.