Introducing new data integration solutions for Snowflake and Salesforce to streamline access to mobile app metrics in your business-critical platforms
The future of mobile is rooted in accessing high quality, impactful market insights in the systems that businesses use every day. App Annie is excited to launch new data integration solutions with Snowflake and Salesforce to expand access to mobile insights directly in the mission-critical systems used by our customers.
Some of the biggest challenges data and analytics leaders face today include: 
Migrating to the cloud successfully

Capturing tangible ROI through data systems

Effectively managing and maintaining a data warehouse

Implementing simple, self-service reporting
---
"With our new integrations through Snowflake Data Share and a Salesforce Connector, customers can quickly and easily integrate mobile app metrics to the systems they are using everyday to run their businesses. Our new data solutions put relevant insights at their fingertips when they need them, whether that's benchmarking performance or working to improve pipeline velocity."

- Steve Soulsby, Global VP - Engineering at App Annie

---
Snowflake Data Share & Marketplace
App Annie and Snowflake have partnered to make it simple for data teams to access and transform a wide variety of mobile estimates - delivered live and continually updated - into business-shaping insights without costly API calls or delays.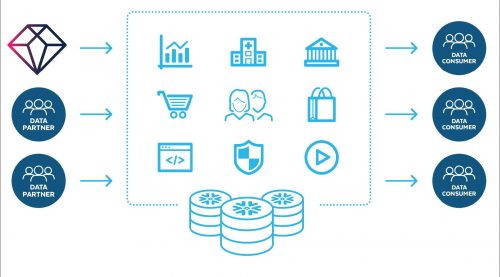 App Annie customers can leverage the partnership to:
Analyze DAU, MAU, downloads, revenue, and other key metrics in the intuitive Snowflake cloud warehouse

Query for the most important App Annie metric and report tables in a snap through the standard Snowflake SQL tools

Access large stores of App Annie estimates in a single source of truth

Seamlessly share curated report data with other analysts, key stakeholders, and executives
Salesforce Connector
The new App Annie Intelligence Salesforce Connector has been designed to help our customers build a better pipeline through mobile-metric enriched CRM records. From downloads and revenue to usage, ratings, and reviews at their fingertips in Salesforce Enterprise, customer-facing teams can more efficiently qualify and prioritize pipelines with high quality mobile estimates to convert leads and opportunities into sales.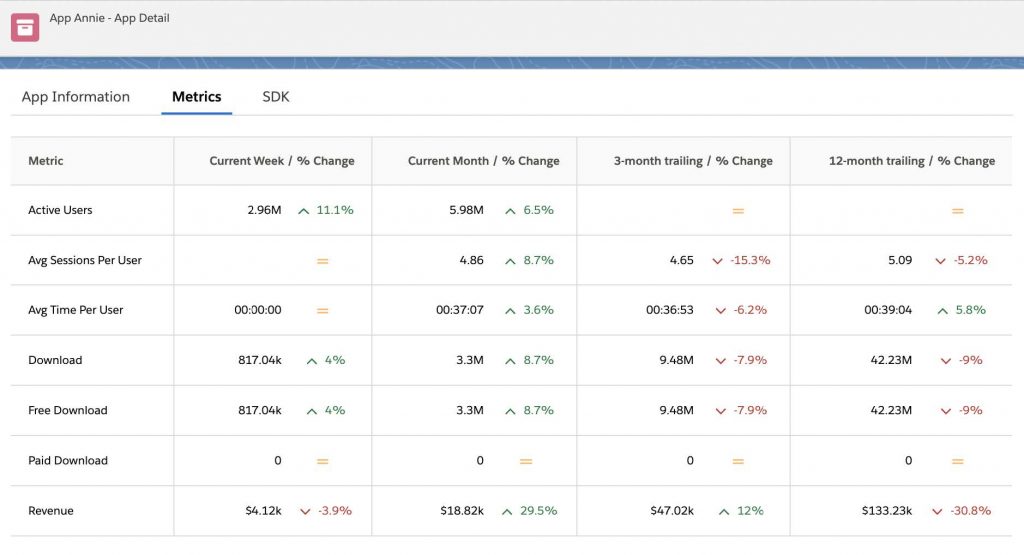 Integrated mobile metrics in your CRM makes it easier to:
Score, segment, and prioritize leads with app downloads, revenue, and usage metrics

Identify trends and account insights using Salesforce reports and dashboards to manage deal flow  

Proactively engage accounts and customers when their mobile business changes 
The Next Phase of Accessibility
The need for accessible information that interacts and coexists between teams and platforms is constantly evolving. Exploring this need for access to information is part of our product mission to our customers. App Annie is expanding access to high quality mobile estimates through Snowflake and Salesforce to help mobile analysts and field teams improve the way they interact and grow in the mobile economy. 
"Sites need to be able to interact in one single, universal space." 

- Tim Berners-Lee (Creator of the World Wide Web)
Speak with one of our Solution Architects to learn more at snowflake_requests@appannie.com and salesforce-connector@appannie.com.
DISCLAIMER: 
App Annie is a mobile market estimate service provider. App Annie is not registered in any investment advisory capacity in any jurisdiction globally, and does not offer any legal, financial, investment or business advice. Nothing contained in this communication, or in any App Annie products, services, communications, or other offerings, should be construed as an offer, recommendation, or solicitation to buy or sell any security or investment, or to make any investment decisions. Any reference to past or potential performance is not, and should not, be construed as a recommendation or as a guarantee of any specific outcome. You should always consult your own professional legal, financial, investment and business advisors. Additionally, by providing the information herein, App Annie does not make any representations or warranties and does not undertake any legal or contractual obligations whatsoever. No liability may accrue to App Annie as a result of providing this information to you.