App Annie's release gives marketers and user acquisition professionals the one-two punch of driving users to their apps through organic search while harnessing the power of paid search ads to ensure their apps remain visible.
Sixty-five percent of app downloads come from organic search in the App Store. Mobile marketers and user acquisition professionals need the one-two punch of driving users to their apps through organic search while harnessing the power of paid search ads to ensure their apps remain visible. This comprehensive app marketing strategy is the core of our redesigned app store optimization (ASO) capabilities. 
With App Annie's revamped ASO capability, customers can understand market trends and the competitive landscape to increase confidence and certainty. Customers gain the ability to succeed in app discoverability and sustainable user acquisition. This improves an app's ability to compete, both on the organic and paid fronts. App Annie is unique in offering a comprehensive ASO capability, while also offering a larger suite of marketing intelligence products that enable app professionals to launch and enhance the world's best apps. 
Success in the app stores ultimately lowers customer acquisition cost. You'll drive more downloads for less.
App Annie's Enhanced ASO Features
What can you expect in this all new ASO feature set?
ASO Keywords: Includes new keyword discovery features and reporting views.
Keyword Analysis:

Learn about keyword rank, search volume, difficulty, and which keywords are driving your traffic share. 

Competitor Analysis:

Track your traffic share and keyword rank for specific keywords among your competitive set. 

Keyword Opportunities:

Visualize which keywords to try out with keyword opportunities mapped by their search volume and relative difficulty. Also, learn how the difficulty and search volume has changed over time to ensure you pick the best keywords. 

Discover Keywords:

View up to 1,000 ranked and competitor keywords. Then, get organic keyword suggestions by typing in a seed keyword of your choice.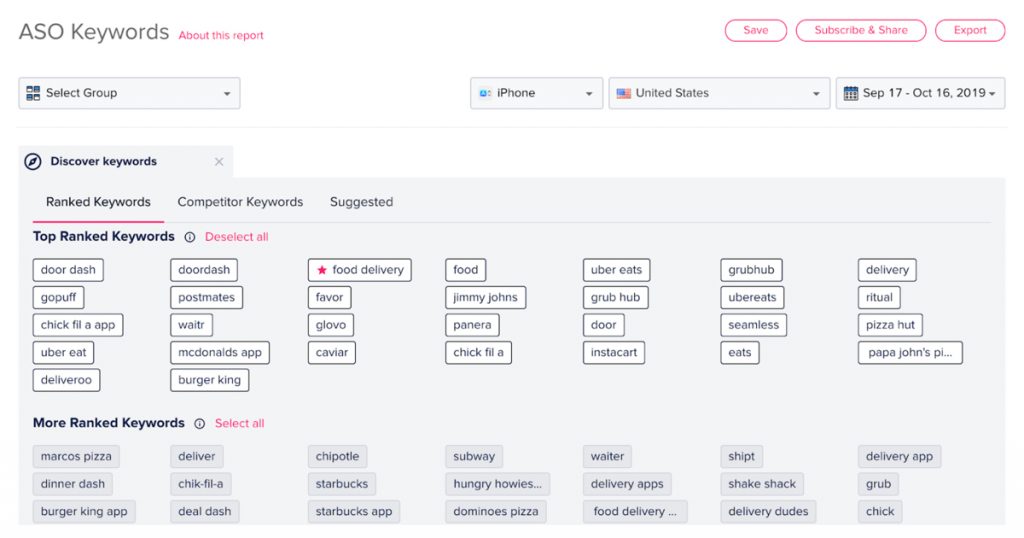 Keyword Search: Search for a keyword, find all of the apps that rank organically for it, and also discover competitors that are bidding for it.
Organic Keyword Rank:

Explore which apps are displayed organically by the app stores for different search terms.

Paid Keyword SOV:

Understand which apps are placing ads on certain keywords and the share of voice for each. 
Paid Search: Insights for an app's paid search activity.
Uncover your competitors' paid search strategies to inform your user acquisition plan. Dive deep into all of the keywords on which a competitor is placing ads and see the share of voice per app advertiser, all in a single view. 
Keyword Defense: Find out which of your organic keywords are most at risk from competitive paid search, so that you can protect your organic traffic.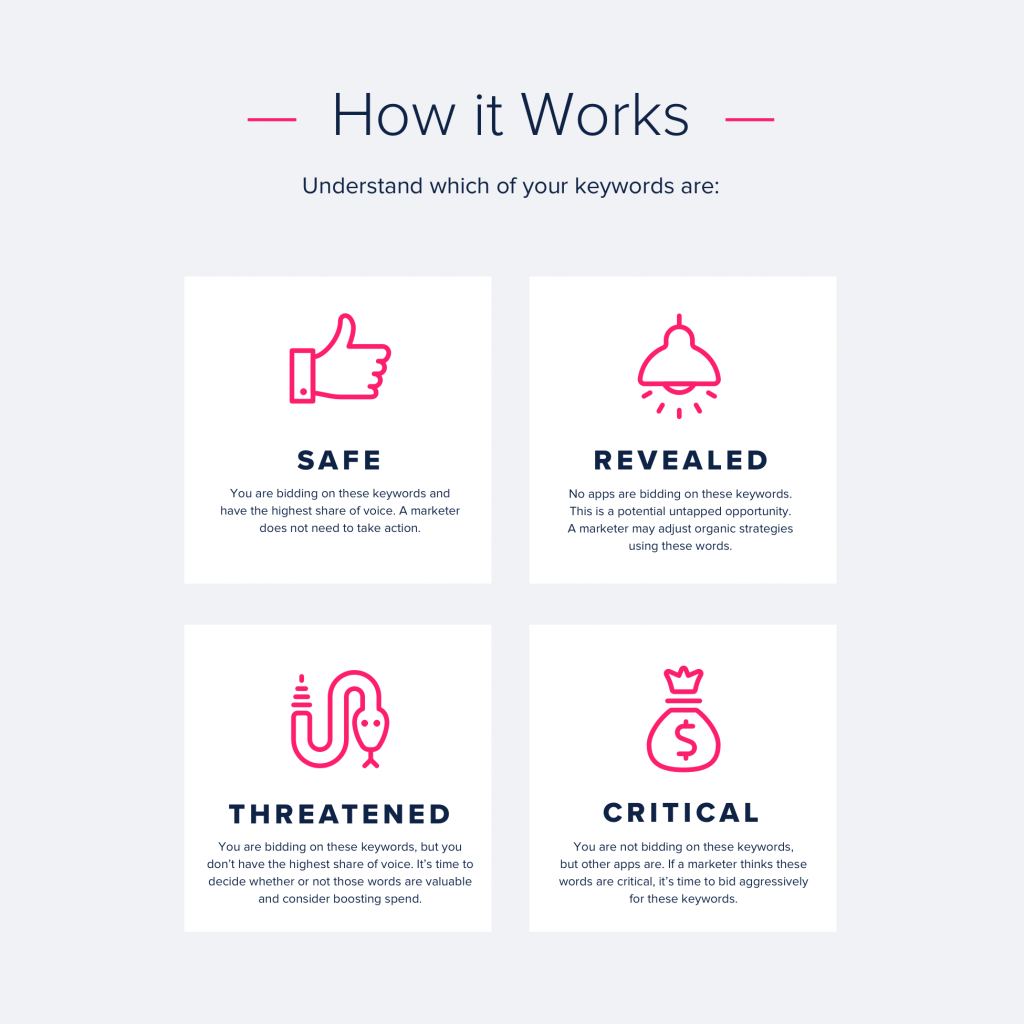 8 Ways This New ASO Functionality Helps You Outrank the Competition
Speed

: Find the right keywords faster with Keyword Discovery and Keyword Analysis all in one place.

Keyword Improvement:

Get automated keyword suggestions to add to your mix.

Competitive Insights:

Understand competitor keywords and share of voice alongside your own data. 

Increased Opportunities:

Visualize keyword opportunities by difficulty and search volume. 

More Data, Faster:

Review up to 1,000 ranked keywords for an app.

Competitor Strategy:

Refine your UA and ASO strategies based on competitor activity on Apple Search Ads and Google Play App Ads.

Discover Ad Competition:

Find all of the apps that place ads on a keyword to determine how competitive it is. 

Defend Your Organic Traffic:

Understand where search ads are stealing your organic thunder and take action at the right time.
Our new ASO and Paid Search capabilities make it easy to uncover the actionable data needed to drive your ASO strategy. Get in touch with the App Annie Sales Team to learn more about our new ASO functionality.