The first and only platform to navigate the entire app lifecycle
Today I am pleased to announce the launch of the App Annie platform, the first and only platform designed for businesses to navigate the entire app lifecycle—from strategy and customer acquisition to engagement and monetization. Our groundbreaking platform is the backbone for developing actionable insights and app strategies that create extraordinary success and a lasting advantage over the competition.
Since our founding, we have been guided by one unwavering belief, that data is the most vital asset for developing the best app strategies. Our platform builds on this belief: it extends our unmatched scalability and reliability in delivering app and market intelligence with new capabilities that enhance and streamline the business workflows and communication channels our data touches. In addition, our platform is the foundation for rapid development of exciting features and accelerated releases of new datasets in the future.
Our decision to launch the App Annie platform rests on a few key observations. The app market continues to enjoy meteoric growth. Businesses have vast opportunities for expansion—but only if they have a nuanced, timely understanding of competitors, customers and emerging trends. Moreover, businesses must contend with growing threats at an unprecedented pace. To win in this dynamic market, they need even richer insights and exceptional agility to make intelligent, data-driven decisions.
We also realized the immense value we could provide by releasing new datasets even faster so customers would never overlook emerging opportunities or threats. We saw the benefits of allowing customers to tailor the App Annie experience to their unique business needs and of promoting collaboration by streamlining the delivery and dissemination of app data organization-wide. We envisioned the myriad ways we could reduce the friction in how customers use, manipulate and share App Annie data in their workflows, business processes and communication channels.
To bring these new capabilities to life, we developed the App Annie platform to serve as the backbone of those workflows and channels. Our platform augments the battle-tested reliability and scalability we created—with the flexibility needed to introduce new data sources, capabilities and technologies at a speed unmatched by any other company in the industry. The App Annie platform integrates and streamlines our comprehensive data foundation and cutting-edge data science with an engaging data experience.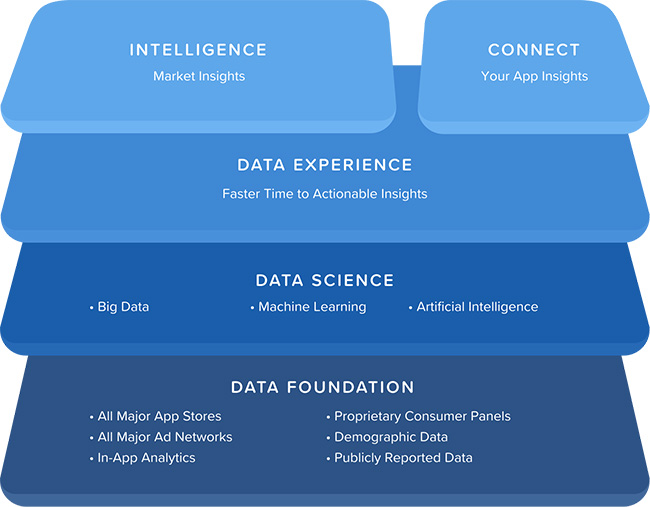 Through the platform, you benefit from:
Comprehensive Views: The App Annie platform presents a comprehensive view of app performance, including but not limited to the performance of your apps, competitors' apps and the overall market. You can also use the data to determine the effectiveness of new features and other app decisions on customer acquisition, engagement and monetization.
Notifications: You can receive timely alerts about changes to specific apps or markets delivered to you via web, mobile app, email or Slack—so you can spring to action whenever new opportunities or threats arise.
Integration: App Annie delivers app data and insights via web, mobile app, CSV export and API at scale. However you work, App Annie has you covered.
Personalization: You can tailor App Annie to the needs of your role, industry and business challenge by creating custom app groups and reports and saving those that you rely on most.
Collaboration: Teams work better when they work together. Easily create teams to share data for your own apps and quickly share app market data reports to stay on the same page.
You can learn more about our platform by visiting our platform webpage. We have only scratched the surface of what is possible, and over the next few months, we will release new app data sets, capabilities and application integrations that will significantly enhance your App Annie experience and ability to make the right decisions for your business.
I look forward to sharing more about this next phase of our journey in the coming months. - Aaron Mahimainathan, Chief Product Officer at App Annie