We're excited to now offer rare data visibility into the world's largest mobile app economy, beginning with these major insights
The Chinese mobile market towers over most other markets in more ways than one. It has over one billion mobile devices, and total yearly spend on mobile (including mobile commerce, app store purchases, and in-app advertising), which now approaches $800 billion, is expected to reach $2.59 trillion by 2021 — about 41% of global mobile spend. By any measure, China represents enormous opportunity when it comes to mobile.
The problem thus far has been that data from Android phones, which garner more than 80% of the market share in China, is notoriously difficult to accurately measure because users can purchase apps through more than one hundred third-party app stores.
However, we are excited to announce that App Annie has been hard at work to develop best-in-class Chinese Android app usage metrics. This builds on our existing iOS App Store and usage metrics to deliver the the industry's most comprehensive China and global app market data to our customers.
As we roll out the most complete picture of China's app economy yet, we wanted take this opportunity to highlight some of the first key takeaways we discovered as we began to sift through this new data.
When looking at the most used apps globally for Android phone and iPhone combined, China's leading apps hold a commanding presence in the top rankings: 1 of the top 5 most used apps* and 4 of the 5 most used games came from China.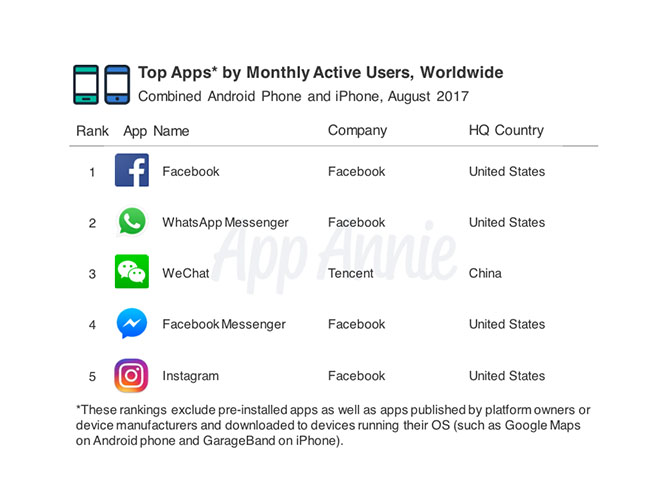 For most people in China, messaging platform WeChat is already a household name. Its feature list extends far beyond messaging. It allows you to pre-order food from a restaurant, book a taxi, get directions on foot, pay for meals (or split a bill with friends), check movie times and book tickets, and shop online — all within the convenience of a single app. For many users, it has become an integral part of their daily lives.
It is hard to overstate the importance of the major social apps (especially WeChat) to the mobile ecosystem in China. For foreign app publishers seeking to expand into China, a thorough data-driven understanding of these apps and its users is vital to a successful expansion strategy.
However, WeChat's dominance doesn't mean the app ecosystem in China is any less vibrant than its global counterparts. On the contrary, from shopping to video streaming a vast number of unique home grown apps have emerged in China, creating one of the world's largest and fastest growing app economies.
In particular, China already has the largest mobile gaming market in the world by active users, and it is only continuing its rapid growth over time.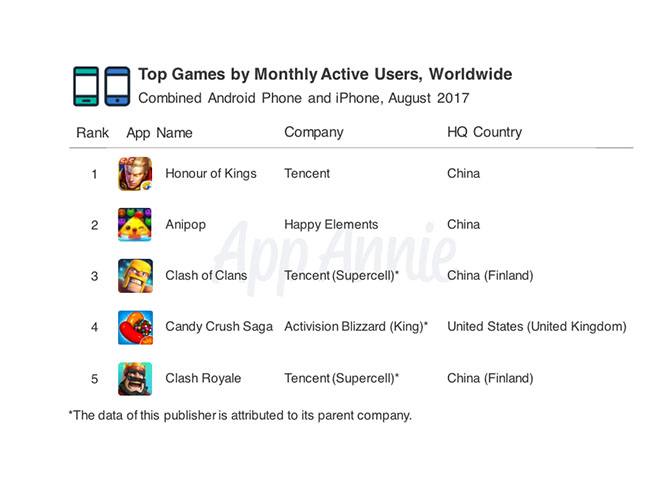 While tech giant Tencent continues to dominate the domestic mobile gaming market, thanks to the reach of WeChat, Chinese game publishers are increasingly looking overseas for expansion opportunities. Tencent itself acquired western gaming powerhouses Supercell, Miniclip and Riot Games — quickly extending its influence into international markets. However, international publishers have struggled to make similar headway in China and 4 of the top 5 most played games in August were owned by local companies. This includes two apps from Tencent's Supercell acquisition — Clash of Clans and Clash Royale — that are both performing well in China.
Topping the biggest mobile games in the world was Tencent's Honour of Kings. Released in late 2015, it has only gotten more successful over time. The game is a multiplayer online battle arena (MOBA) in the vein of international PC hits Dota 2 and League of Legends. This is just one example of the success of so-called "hardcore" mobile games inspired by PC and console games. Particularly in the APAC region, this type of game tends to dominate any list of top performing games by per-user monetization. That Honour of Kings dominates the active user rankings despite being a far cry from casual is testament to its success.
Honour of Kings is also an example of another major trend: overseas expansions on the part of Chinese game publishers. The game has been localized in English as Arena of Valor, and has been available in numerous countries across EMEA and APAC since earlier this year.
This isn't to say that casual games have dropped out of popularity in China, as Anipop, a colorful match-3 puzzle game, has continued to be one of China's most popular games.
Insights like these are only scratching the surface and we're excited to share this new trove of China Android data with our customers. After all, with more data from the most trusted source for app market data, you can build a better roadmap for your business, both inside and outside of China.
For an exclusive look at the China Android rankings and commentary for apps in the Shopping and Video Players and Editors categories, fill out the form below. Customers who log-in will be able to see those rankings immediately below.